Gone are the days of putting boxed convivence food into your freezer and forgetting about it!
Your freezer can be your best tool for streamlining meals by building a Freezer Pantry and having meals, ingredients, or meal starters ready at your finger tips!
Starting to build a freezer pantry
Starting to build a freezer pantry can feel overwhelming. Don't try and build up a whole new freezer in a day - that is impossible.
Rather, make a list and plan what is most useful to your lifestyle and family tastes. Then over time, build it up. Let me show you how!
Freezer Space
First thing to consider is how much freezer real estate you have to work with. If it is in your budget and you have the space, I highly suggest getting a secondary freezer.
If you have access to only the freezer attached to your fridge, have no fear, all of the information in this post is still relevant, you will just have to be highly selective of what you choose to put in your freezer pantry.
We have a post on organizing the small fridge freezers that might help you with your limited space.
I have both an upright and chest freezers and they both have their advantages and drawbacks.
I love my upright freezer because is is far easier to organize and access my freezer goods and they take up a smaller footprint of space.
However, they are more prone to be accidently left open and lose your freezer treasures, and they tend to be more expensive.
What to put in your Freezer Pantry?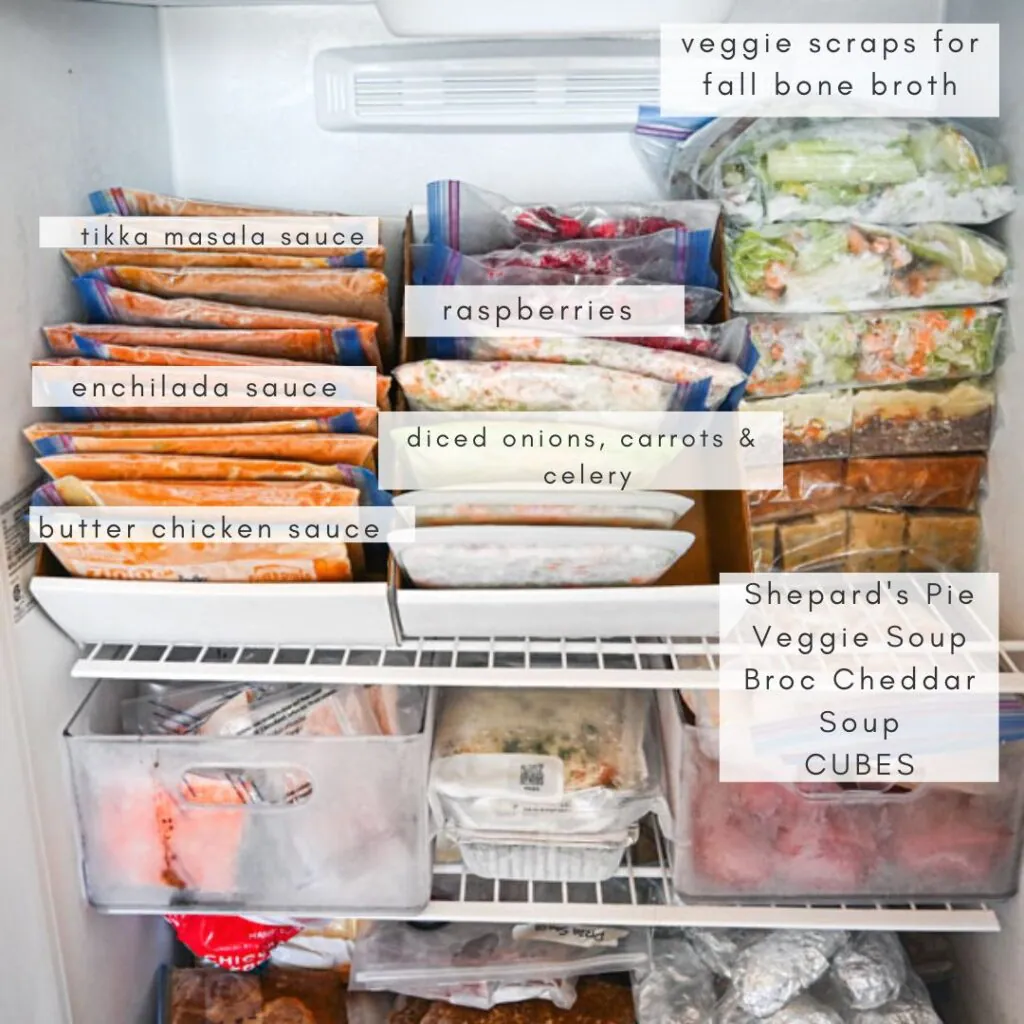 Think about your lifestyle and your own personal preferences and style of cooking, and decide which types of freezer items will work best for you.
Here is a list of some options of types of items to build your freezer stock up.
Cooked Meals for Reheat
This type of meal can get a bad reputation. Usually that is because meals that are not great for the freezer, or reheat are chosen. Let's fix that.
This type of meal is great for if you don't love to cook from scratch and don't enjoy the cooking process daily. With this method you can do a prep marathon weekend and stock your freezer with many meals and have easy, low effort weeknights.
Our Meal Planner, The Meal Plan Collective makes building a stash of cooked meals easy by allowing you to drag and drop the recipes of choice into a meal plan, and a grocery list is automatically generated. You then prep the meals and freeze them!
Family Style Casseroles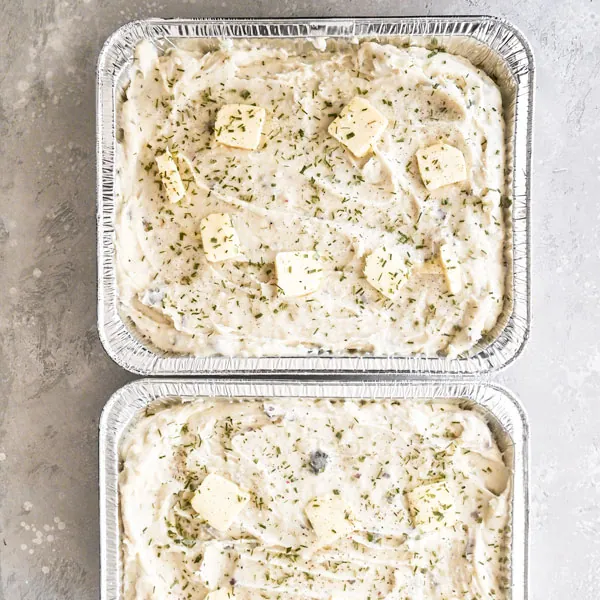 I do this type of freezer cooking for larger family style casserole style meals. These are often in larger foil pans and some great recipes that work for this method are:
These work great for bigger families but less ideal for students, singles, and couples.
Individual Cooked Freezer Meals
For singles, couples, students and anyone's lunches, individual freezer meals that just need to be reheated are the way to go!
I used to stockpile my freezer with these types of meals in glass or plastic containers, but that did take up a ton of space and tied up a lot of my containers into the freezer...... until Jake and Michelle at Souper Cubes created their brilliant silicone trays to freeze individual meals.
Not just for soups, I use Souper Cube trays to make all my lunch meals or if I am road tripping and in hotels, or camping, these cubes travel well and make for the easiest meals.
You can check out their recipe section of their blog for a ton of inspiration too - be sure to check out the posts I wrote over there - Chicken Pot Pie, Meatloaf, Pizza Kits, & One Pot Veggie Mac & Cheese.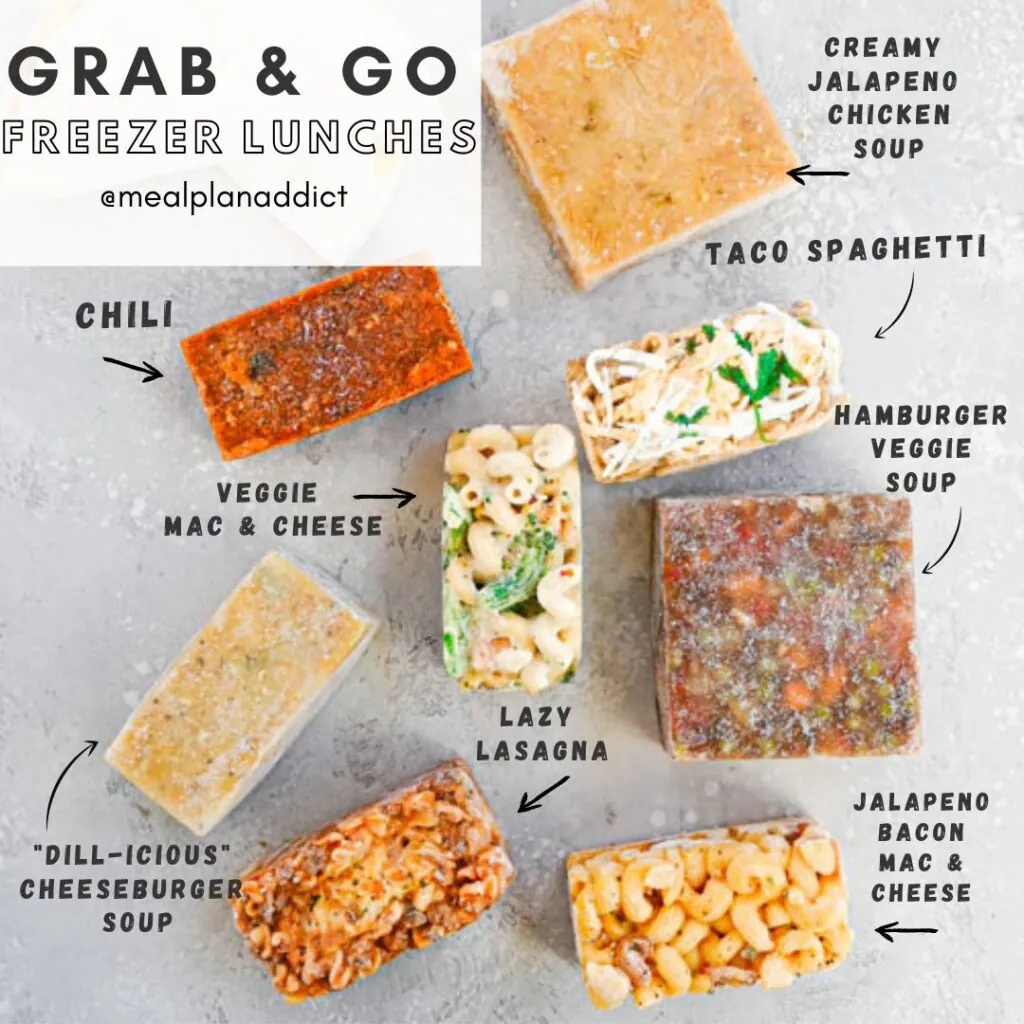 Looking for inspiration to build your freezer with these types of meals? Here is what is often in my freezer frozen in individual portions:
Freezer Meal Starters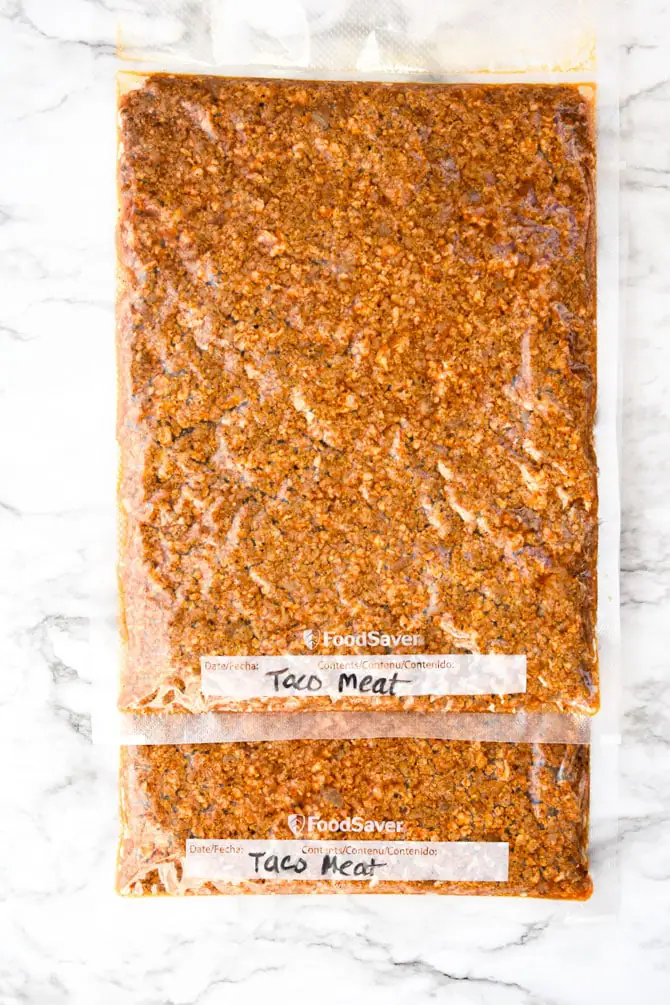 Freezer meal starters are a component (usually the most time intensive) part of a full meal that can be thawed and added to fridge ingredients to make a quick dinner. Typically, you add a fresh component to these to make a complete meal – in a fraction of the time.
As an example this Pantry Staple meatball soup uses freezer meatballs and you can use your freezer broth and freezer veggies, too!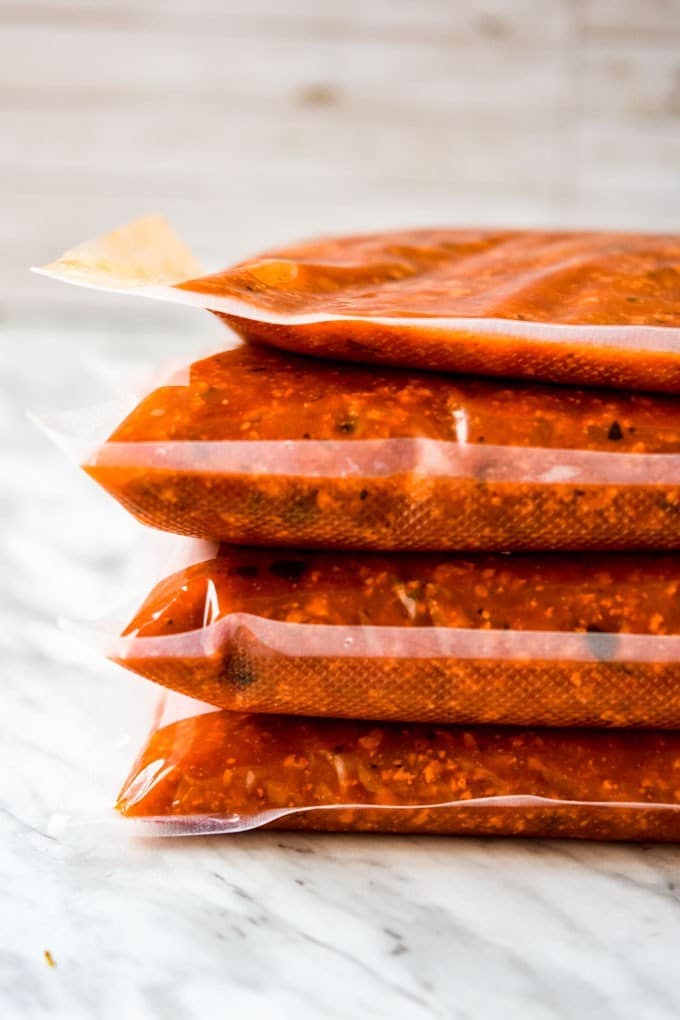 With this method you can often prep just a handful of staples that can be used to make hundreds of different recipes. Seriously. See how I use FIVE meal starters and can create FIFTY different meals.
My go to freezer meal starters:
Prep, Freeze, and Cook
Often referred to as "dump and go meals" this type of prep has you preparing meals in bags with limited to no cooking on the day of prep.
When you want to have a fresh meal, the bag is thawed and the contents cooked - usually in a slow cooker or Instant Pot.
Ingredient Freezer Stash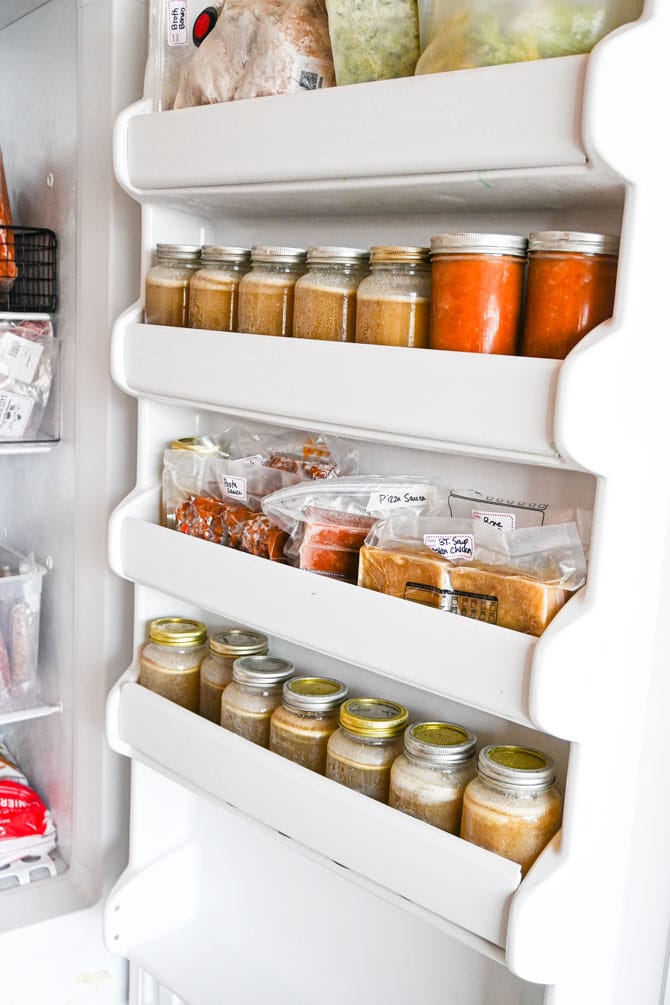 Like a traditional pantry, you freezer can be a source of ready to use ingredients. You can really go next level here, and prep your ingredients in the souper cube trays I mentioned earlier so that your most commonly used ingredients are already portioned and ready to toss into your meals.
Yes, of course you can buy many ingredients already frozen from your local grocery store.
Usually, my freezer pantry ingredients are made when things are headed south and I don't want to use it now, when I find a good sale on something but can't consume it all before it goes bad, and when I preserve my garden in the summer.
My freezer pantry often has these ingredients ready to go.
So, there you have it, all the ways I create my Freezer Pantry!
If getting into the freezer game is what you want, you may want to check out some other freezer content we have here!