Forget everything you know and hate about kale chips. The game just changed. You will not find kale chips as addictive as these.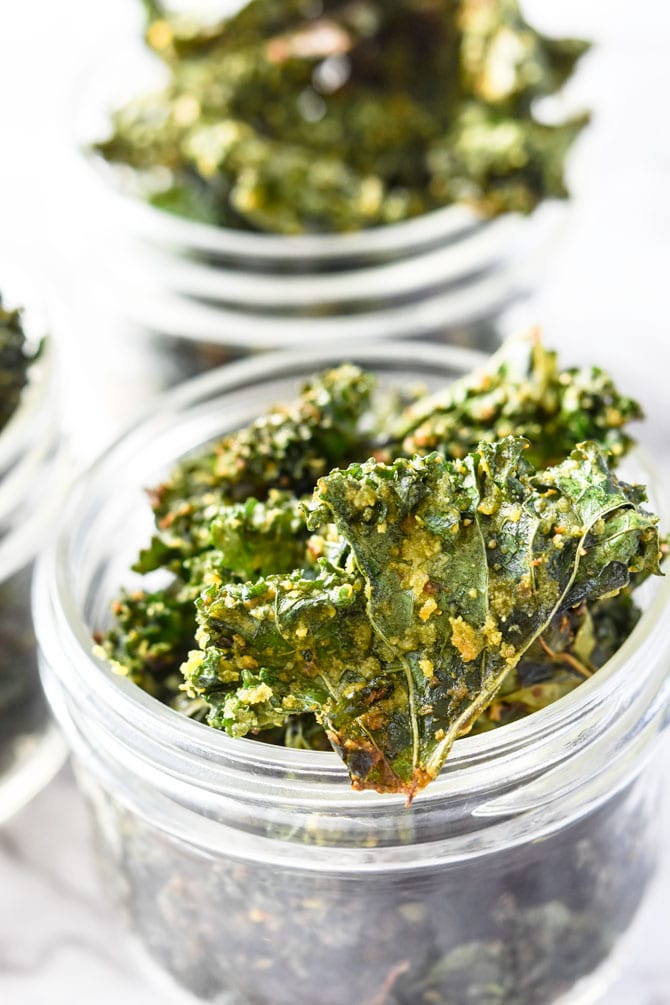 First of all, Kale Chips have NEVER been my game. I have tired a few different brands off the shelves, and I was a hard nope on all of them.
I basically gave up on kale... until I created Kale Chips Crack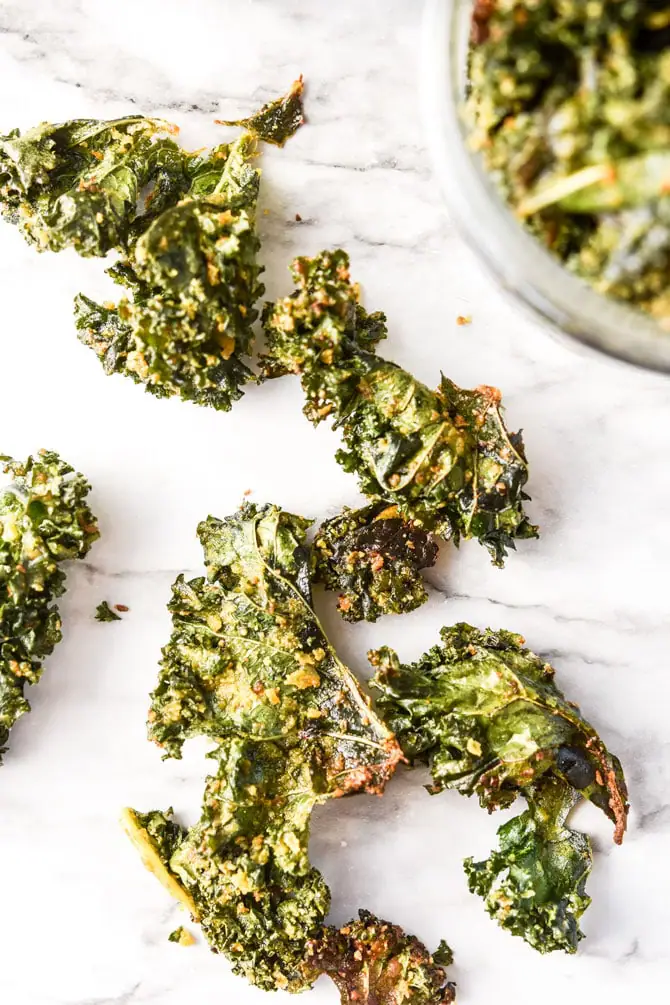 I blame the girls at work for this.
Every damn day, 3 of them would carry around these little bags of kale chips. EVERY SINGLE DAY.
Then, one day they were gone.
The bags of kale chips, not the girls. The kale chips vanished.
Apparently, these 20 something girls were basically spending all of their pay checks on kale chips. I know, it is strange. One day, they decided to band together and have a kale chip intervention with each other a quit cold turkey.
I obviously took this as a challenge to create kale chips worthy enough to be called Kale Chips Crack so I could help these girls save money for better things in life... like graduate school!
After EXTENSIVE conversation with them around ingredients, methods, oven temps, parchment, no parchment, I set out to test.
Took a couple tries to really nail Kale Chips Crack, but alas I did it.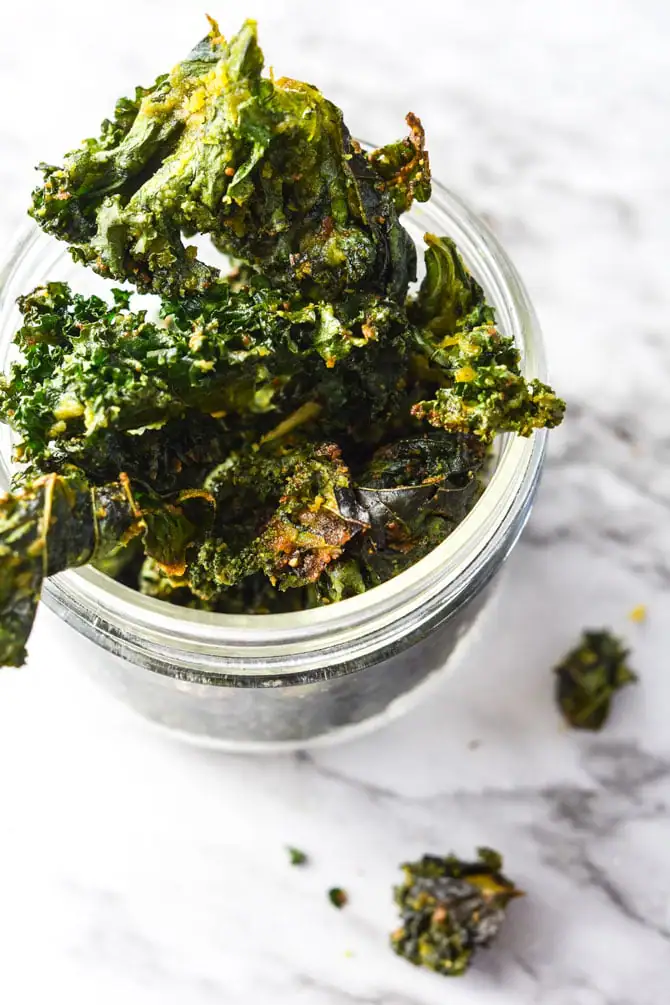 A few key kale learnings:
Making a dressing vs just plain oil to put on the kale is life changing. I use a blender to make mine.
Coating all of the pieces with the mixture is critical. I put gloves on and literally massaged it into the kale. Yup, I went ALL in on this one.
In the last minutes, stand beside the oven and watch. Things go from amazing to FML burnt in about a milisecond, and all ovens are a bit different so cook times will vary.
I tested parchment and no parchment. USE PARCHMENT.
Congrats, you have just been schooled in kale chips. You're welcome.
Recipe
Kale Chips Crack
Print Recipe
Ingredients
1

large bunch

kale

¼

cup

avocado oil

or olive oil

2

tablespoon

nutritional yeast

1

tablespoon

lemon juice

½

teaspoon

cayenne pepper

¼

cup

raw pumpkin seeds

or sunflower seeds

1

jalapeno, seeded and quartered

salt and pepper to taste
Instructions
Combine all of the ingredients, except the kale, salt and pepper into a blender, magic bullet or food processor. This is a small volume so use the smallest option for a container that you have.

Blend the dressing up with a few pulses, don't over blend. It is ok that the seeds stay a bit under blended. Set aside.

Remove the kale from the stems, ripping it into bite size pieces. It will shrink dramatically so err on the larger vs smaller size. Place kale pieces into a large bowl.

Pour the dressing over the kale and combine. You want to make sure every piece of kale is covered. I use gloves and get right in there and basically massage the dressing into the kale. This step is important if you don't want burnt pieces.

Lay the kale pieces out on a parchment lined pan. You will likely need 2. The kale can touch, but you do want only a single layer.

Sprinkle lightly with salt and pepper

Transfer the kale into the oven and bake for 15 -20 minutes. I do a little shake and toss after 10 minutes. Keep a really close eye in the last couple of minutes, things can go to burnt real quick. Every oven is different so you may need a couple minutes less or a couple minutes more to get them crunchy, but not burnt.

Remove from oven and transfer to paper towel to cool. This also allows any excess oil to come off the chips.

TIP: I have been leaving the chips overnight on the paper towel, exposed to air, and the crisp factor goes up big time!

Once fully cool, transfer to air tight container for up to 3 days.
Nutrition
Calories:
289
kcal
|
Carbohydrates:
9
g
|
Protein:
6
g
|
Fat:
31
g
|
Monounsaturated Fat:
21
g
|
Fiber:
3
g
|
Sugar:
2
g
So, there you have it, the one time I made kale to make sure my co worker can now afford to go to graduate school!
If you make this recipe, I want to see it! Tag me @mealplanaddict over on Instagram, or come post a photo in the Meal Plan Addict Community!