Quinoa scramble breakfast muffins are double protein loaded, make ahead, and vegetarian! Make these on meal prep Sunday and have portable breakfast for the week!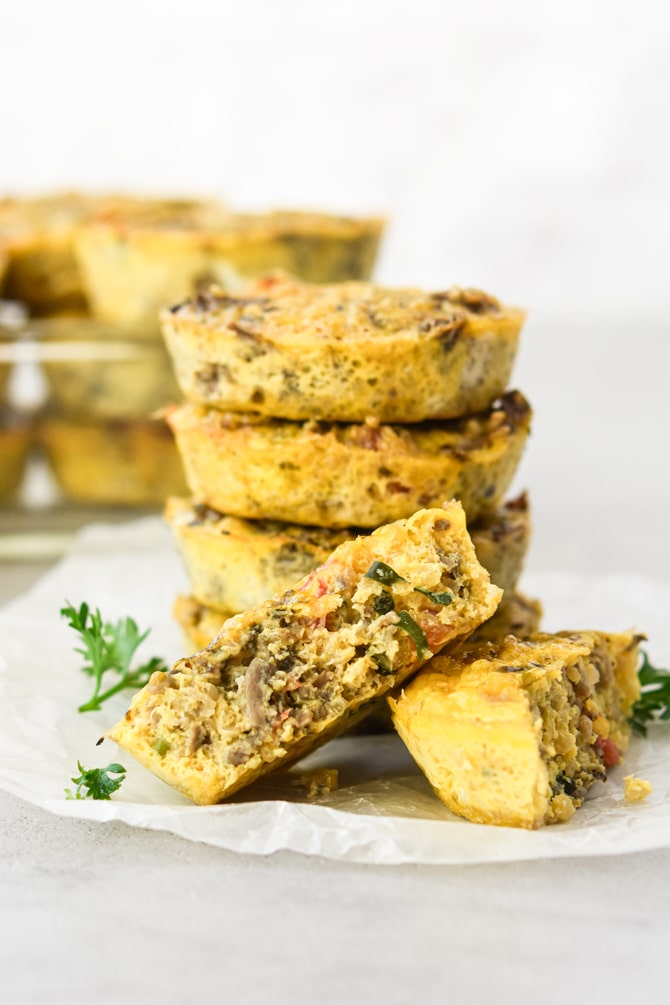 Making breakfast from scratch every day is a hard no for me.
Having a breakfast that can be made once on Sunday and then warmed up (or not) all week is a work week lifesaver.
Bonus points for these quinoa scramble breakfast muffins, too. These are meat free, yet protein packed with both quinoa and egg!
Fun little fact - if you grate mushrooms (just like you do with cheese) the texture is almost like a ground meat!
But, how can I make egg muffins NOT stick to the baking pan?
If you have ever tried to make egg muffins of any sort before, you have probably not tried it again because of the pan situation. Even when you grease muffin tins, it can be torture to get them out, and to clean.
Fear not. There is a a super simple solution.
Silicone muffin "tins".
These these silicone muffin pans are the ones I use and love (affiliate link). You'll need 2 for this recipe.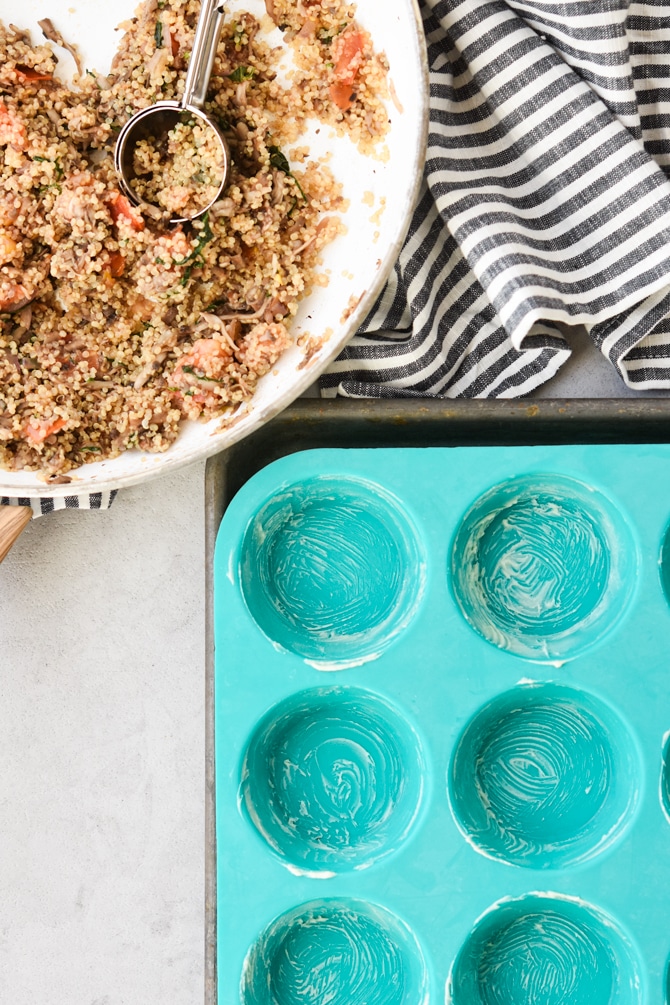 With softened butter and a silicone brush the sticking issue is solved - amazingly!
Here is how to prep and assemble your breakfast muffins!
First thing you want to do is get your quinoa going. You can use a rice cooker, Instant Pot, or stove top method.
While the quinoa cooks, get your veggie mixture going on the stove top. This recipe calls for grated mushrooms. Trust me, you want to do this. It makes a huge difference in the texture of how these muffins come out!
Use a regular cheese grater and grate your mushrooms (not your fingers, please!)
Saute your veggie mixture.
Once you have your quinoa done and your veggie mixture ready, you combine them!
Divide your mixture into 18 muffin cups. I use a cookie scoop for this and get 18 muffins.
Time for the eggs. Whisk them together and pour them into the muffin tins. Then give the wells a little stir to combine.
I don't combine the mixtures and then put in the tins because the quinoa doesn't portion evenly.
Important for baking in silicone pans!
Place the pan on a cookie pan or a rack before you start filling them!
Once the silicone pans are filled, you will have a heck of a time moving them without spilling the contents everywhere. This is a huge difference between these pans and regular tins.
This way, you can now easily move the pans in and out of the oven.
How to store breakfast muffins
Once they are baked, you want them to cool completely before you put a lid on them and put in the fridge.
If you put warm muffins into a container, and then into the fridge, condensation will build in the container and you will have super soggy muffins.
I suggest even leaving the lid a little but off set and not tightly sealed so moisture can escape.
What is the best way to reheat quinoa scramble breakfast muffins?
There are 2 ways I reheat these breakfast muffins:
Put the muffin on a plate, WITH a paper towel under it (important) to absorb excess moisture. Microwave for 30 seconds.
Use an Air Fryer and reheat for 3-4 minutes at 350F.
I prefer the microwave with the paper towel over the Air Fryer as they do come out quite a bit more dry with the air fryer.
Can these be frozen and then reheated from frozen?
Yes!
Do you love make ahead breakfasts?
Me too! Make sure you check out these batch cook Maple Sriracha Breakfast Sausages, Baked Cottage Cheese Muffins, Ham and Egg Breakfast Cups, or these Veggie Loaded Breakfast Pockets!
When you prep these for your week, tag me @mealplanaddict on Instagram or post a photo in the Meal Plan Addict Community!
Recipe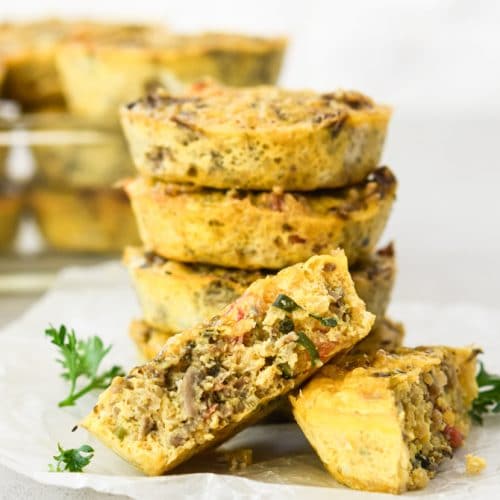 Quinoa Scramble Breakfast Muffins
Quinoa scramble breakfast muffins are double protein loaded, make ahead, and vegetarian! Make these on meal prep Sunday and have portable breakfast for the week!


Print Recipe
Ingredients
softened butter for greasing pans

1.5

cups

cooked quinoa

1

tablespoon

olive oil

3

cups

grated mushrooms

¼

cup

finely diced red onion

1

cup

finely diced Roma tomato

3

tablespoon

basil (sliced chiffonade style)

1

teaspoon

garlic powder

12

eggs

1

teaspoon

lemon juice

salt & pepper to taste
Instructions
Heat a large pan on medium heat on the stove. Add in the olive oil, vegetables, and garlic powder. 

Saute the vegetables until well caramelized. Season with salt and pepper. Set aside.

Add the cooked quinoa to the saute'd veggies. Set aside.

In a separate bowl, whisk together eggs and lemon juice, and season with salt and pepper. 

Using a well greased silicone muffin pan, evenly distribute the quinoa veggie mixture into 18 muffin wells.

Add in the egg mixture to each muffin well - distribute as even as possible. Use a small spoon to mix the ingredients in each muffin mold well.

Bake in a 375 degree oven for 15-20 minutes or until the egg is just set.

Allow the muffins to cool completely and remove from the pan.

Transfer the muffins to a container and refrigerate up to 4 days or into the freezer for 3 months.
Reheat Instructions
Place the muffin on a paper towel (to absorb excess moisture) and microwave for 30 seconds.
Reheat Instructions (from frozen)
Place the muffin on a paper towel (to absorb excess moisture) and microwave for 90 seconds. The muffins will give off much more moisture when reheated from frozen. Make sure you place a paper town underneath your muffin to prevent soggy muffins!
Nutrition
Serving:
1
muffin
|
Calories:
93
kcal
|
Carbohydrates:
4
g
|
Protein:
5
g
|
Fat:
6
g