Simple, minimal ingredients, with a quick 10 minute prep, you can prep these topping stuffed pizza bagels for the freezer quicker than calling for take out pizza!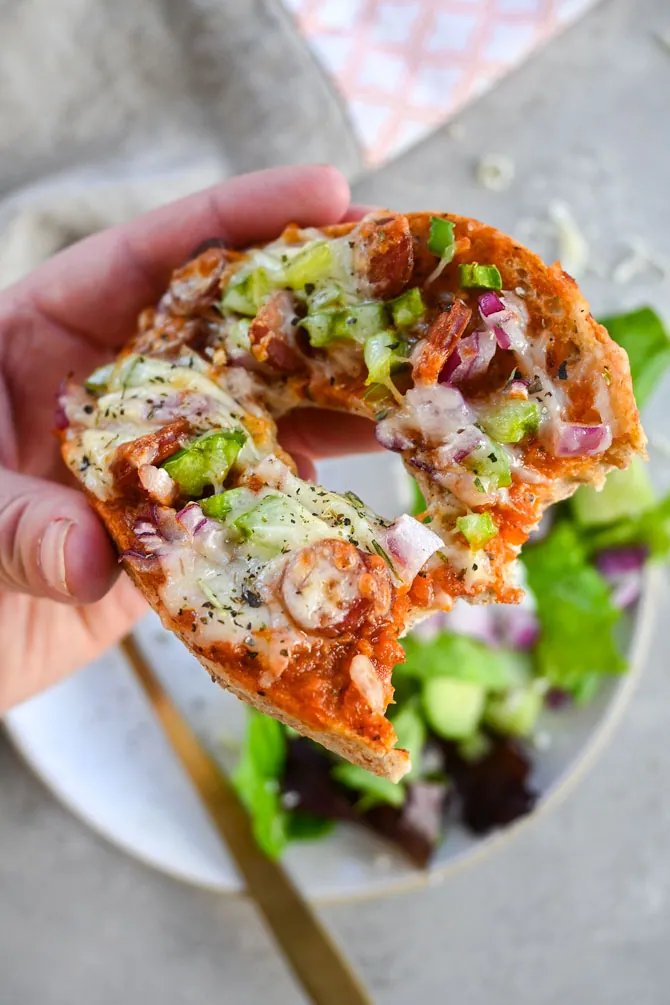 This quick dinner or snack idea is completely customizable and you can use whatever toppings you like. This is also a great way to use up produce at the end of the week!
Batch prep 12 bagel pizzas with a 6 pack of bagels, and that is 12 times when you reach for a quick lunch or dinner on the run, you will be to thankful for past you!
Ingredients and Substitutions
Pizza Sauce - in a pinch, you can use pasta sauce. It will be a bit thinner of a sauce and the flavour not quite the same, but a good swap in a pinch. We make this no cook pizza sauce, but store bought is just fine, too!
Toppings - we chose green pepper, red onion, and pepperoni but feel free to get wild and crazy with the toppings of choice - even pineapple, we won't judge!
Bagels - we chose to use 12 grain bagels but any flavour of bagel will work here.
Shredded Mozzarella Cheese - if you can, shred it yourself and skip the pre shredded mozza. Pre shredded has cellulose added to prevent clumping and that is why you will notice that pre shredded mozzarella doesn't melt quite the same.
Assembly Instructions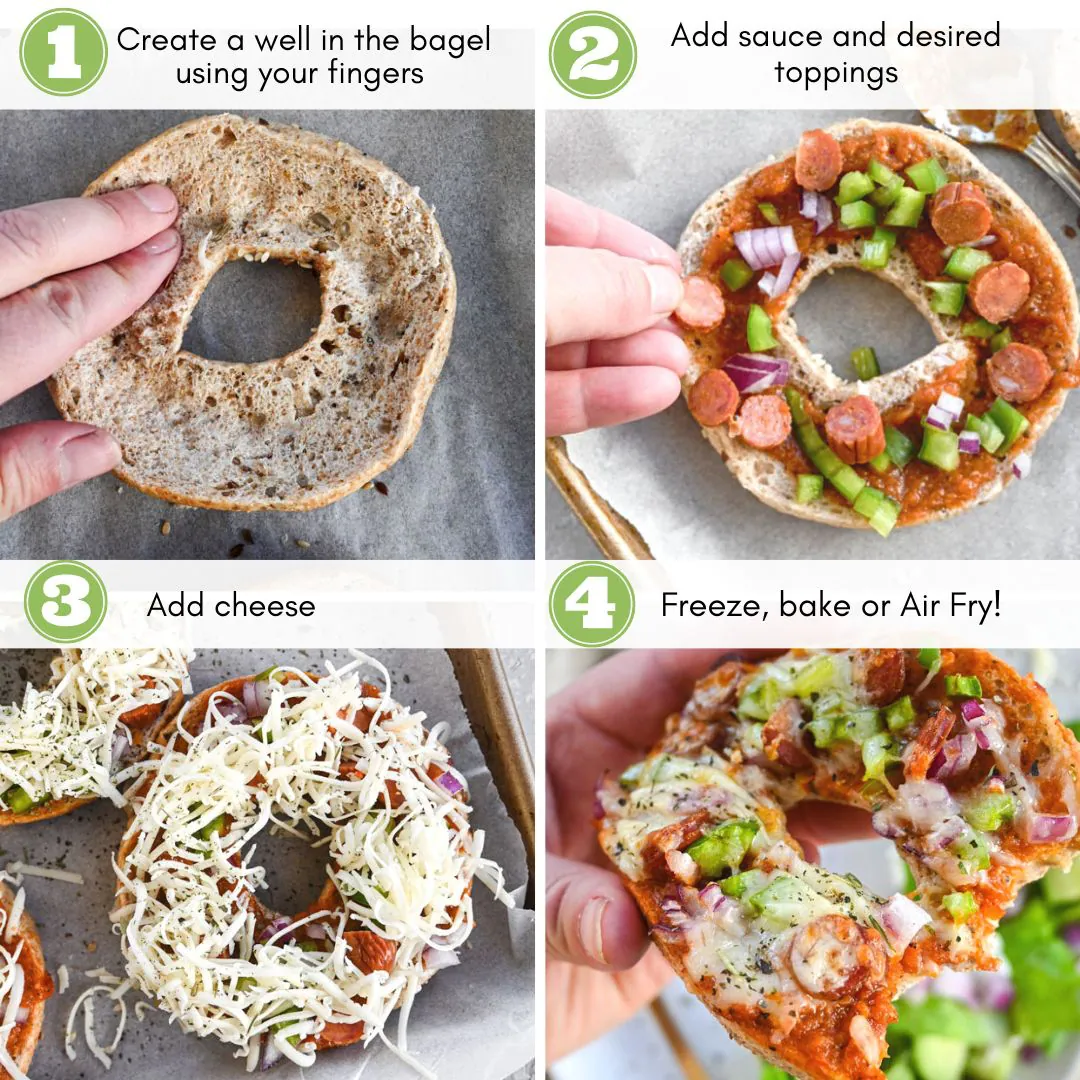 Do you have to pre toast the bagels?
Not at all. We prep them without being toasted. If you choose to toast your bagels before you assemble them, ensure they are completely cool before freezing them.
What topping combinations can I use?
Anything goes!
We love a ham+pineapple, cooked sausage crumbled with mushrooms, or plain cheese for the kiddos!
Freezing and Storage Instructions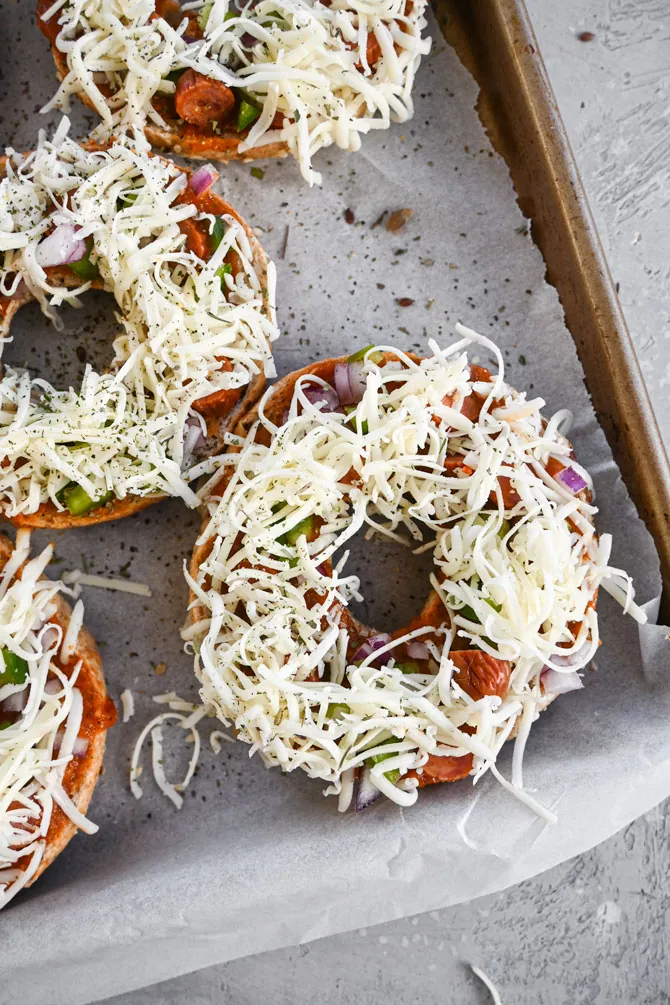 To freeze your bagel pizzas, simply assemble them and then place on a parchment lined sheet pan and they will all freeze individually.
Once frozen solid, you can transfer to any freezer container of choice. For longer storage, wrap each bagel pizza in aluminum foil after they are frozen - before you transfer to a freezer zip bag.
Thaw and Cooking Instructions
There is no need to thaw your pizzas. In fact, they are likely to get soggy if you do thaw them first.
From frozen in oven - bake at 400F for about 20 minutes
From frozen in air fryer - air fry at 350F for 15 minutes. If you don't want a crispy pizza, you can cook the pizza, for the first 10 minutes wrapped in foil.
Fresh in oven - 400F for 10 minutes.
Fresh in air fryer - 5-7 minutes
Cook times are an estimate and may vary by thickness of bagel and how high the toppings are loaded up!
We are Pizza lovers here!
Try our No Boil Pizza Pasta Bake, or our Pizza Stuffed Chicken!
Recipe
Freezer Bagel Pizzas
Simple, minimal ingredients, with a quick 10 minute prep, you can prep these topping stuffed pizza bagels for the freezer quicker than calling for take out pizza!
Print Recipe
Ingredients
6

bagels

sliced in half

1

cup

pizza sauce

2

cup

mozzarella cheese

1

cup

diced green pepper

1

cup

diced red onion

3

pepperoni sticks, sliced thin

sub for deli style pepperoni and slice it
Instructions
Using your fingers, press down on the bagel to make a well.

Spoon sauce onto the bagel.

COOK FRESH : Bake on 400°F for 10 minutes, or Air Fry 375°F for 5 minutes, until cheese melted.

COOK FROZEN: Bake 400°F for 20 minutes or Air Fry 375°F for 10-15 minutes.
Freezer Prep Instructions
Place assembled (uncooked) pizzas on a parchment lined sheet pan.

Transfer to freezer for a minimum of 4 hours.

Once completely frozen, wrap each pizza in aluminum foil and transfer to zip-top bag.
Nutrition