Low carb frozen chicken pizza crusts are made with lean ground chicken and are prepped in bulk and frozen.
Put the work in once and have low carb pizza ready seamlessly for dinner multiple times!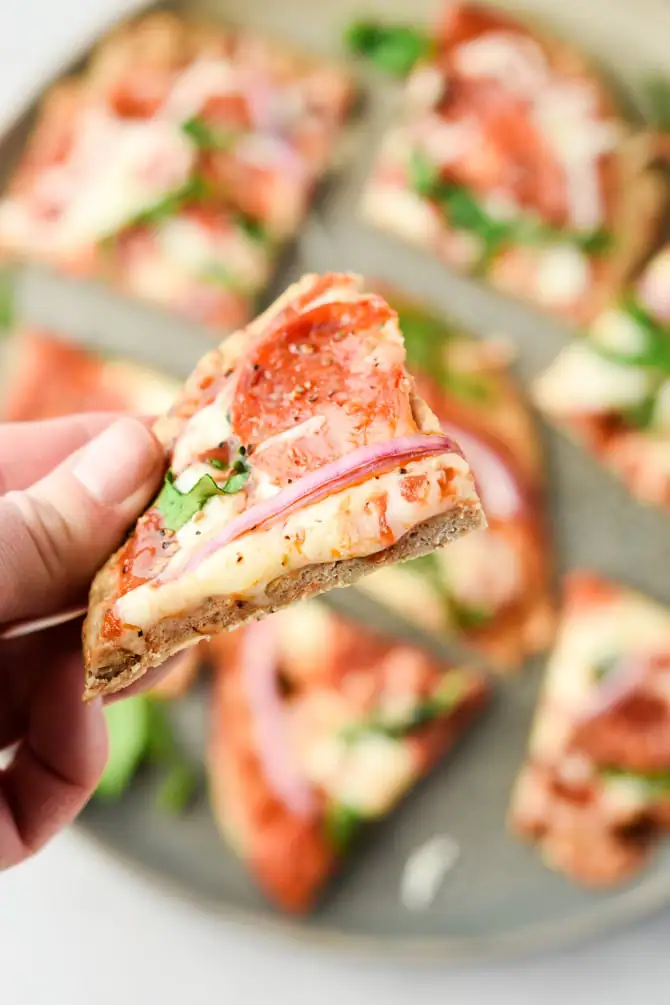 Low carb frozen chicken pizza crusts at your finger tips. This is a real thing people. Low carb pizza, faster than you can order it and have it delivered.
Walk into your house. Preheat your oven. Put your frozen crust (loaded up) into an oven, put your after work pants on, and helllooooo filling, low carb pizza dinner!
If you haven't had or made this kind of pizza crust before, let me give you a quick run down.
What do these low carb frozen pizza crusts taste like?
You know how the number one response to this question is "tastes like chicken" - yeah, that is very true here.
Shouldn't be a shocker, given the crust is made of chicken (or turkey)!
Don't go in expecting carb loaded pizza texture - this is not that.
Can I bake these crusts from frozen?
Yes, in fact, you will want to! I found they were less dry when I re- baked from frozen, vs thaw.
Since the chicken is already cooked, your reheat is just to warm it throughout.
Remove your crust from the freezer, add your toppings, and pop into the oven until warmed throughout!
How do I store the frozen crusts?
A few tips:
Precook them. Storing raw was a mess and a pain. I landed on storing them cooked.
Put a piece of parchment paper between each one so they are easy to get apart if they do freeze together.
Get as much air out of your container as possible - this will reduce freezer burn.
You can use freezer zip bags, or use silicone reusable bags!
These are good in your freezer for up to 3 months.
Do I need a pizza stone or special pans?
You don't need anything more than a parchment lined cookie sheet.
But, a pizza stone does make things crispier. I also use these individual pizza pans so that we all make our own toppings. Heads up, these are affiliate links.
Some other low carb pizza crust lessons learned:
Start with the recipe as written, but you may have to adjust things a bit to get the right texture.
Really moist ground meat is going to require more cheese, to bind it.
MUST use parchment when baking. These crusts stick very very easily, you want to use parchment on your baking surface.
Are you going to add low carb pizza crusts to your freezer stock?
If you do, tag me @mealplanaddict on Instagram or post a photo to show off your work in the Meal Plan Addict Community!
Want more low carb ideas? Check out these low carb tuna melt cups or Pizza stuffed chicken!
Recipe
Low Carb Freezer Chicken Pizza Crusts
Servings:
9
individual crusts
Low carb frozen chicken pizza crusts are made with lean ground chicken and are prepped in bulk and frozen. Put the work in once and have low carb pizza ready seamlessly for dinner multiple times!
Print Recipe
Ingredients
3

lb

ground chicken or turkey

1.5

cups

Parmesan cheese

1

tablespoon

dried oregano

1

teaspoon

red pepper flakes

1

teaspoon

salt

1

tsp

fresh ground pepper
Instructions
Prep for the Freezer
In a large bowl, gently combine all of the ingredients.

Line a baking sheet with parchment paper.

Create as many pizzas as you desire. Add the mixture in a dollop to the pan, and use a spatula or your hands to flatten it into circles or rectangles - your choice! You want to keep them less than ¼" thick.

Bake the crusts for 15 - 20 minutes until the edges have crisped up and the chicken is cooked.

Once cooked, remove from oven an move the crusts to a cooling rack. Let the crusts cool completely before layering them for the freezer. If you don't, the crusts produce steam in the bag with will create freezer burn, and the crusts will stick together.

Transfer the cooked crusts into a freezer container of choice, using a small piece of parchment in between each one.

Store in the fridge for a few hours to ensure they are cooled completely.

Label the container and store in the freezer for up to 3 months.
To make this right now
Follow the instructions to the cook step.

Bake your pizza (without toppings) for 15 minutes.

Add toppings and place back in the oven for 5 minutes, or until cheese is melted.
To reheat from frozen.
Preheat the oven to 400°F

Place the frozen crusts on a baking sheet.

Place them in the oven for 5 minutes to thaw just a bit.

Add your desired toppings and place back in the oven for another 5 minutes, or until the pizza is warm throughout.
Notes
Nutrition information is calculated for 1 crust, if you make 9 from this recipe. 
Nutrition
Calories:
316
kcal
|
Protein:
34
g
|
Saturated Fat:
18
g