Chicken shawarma salad is a perfect meal prep to break out of routine lunch salads!
Drizzled with a bit of sweet garlic sauce makes this meal prep salad on repeat on your meal plans!
This salad recipe was morphed form my original Chicken Shawarma meal prep post. That is just how awesome this chicken marinade is - it gets 2 places on the blog - in 2 different meal prep variations!
This salad version has the MOST SIMPLE sauce to drizzle on as a dressing. Enter sweet garlic sauce.
With only 2 ingredients, this sauce comes together quickly and easily.
This recipe makes much more sauce than you need, and the leftovers can be frozen! I freeze mine in a small mason jar.
What is Shawarma?!
This recipe is not a traditional version of shawarma - at all.
It uses the classic flavors of a shawarma meat and turns it into a simple, quick and meal prep salad.
Traditional shawarma is marinated and slow roasted. This recipe is for the busy meal prepper and isn't slow roasted.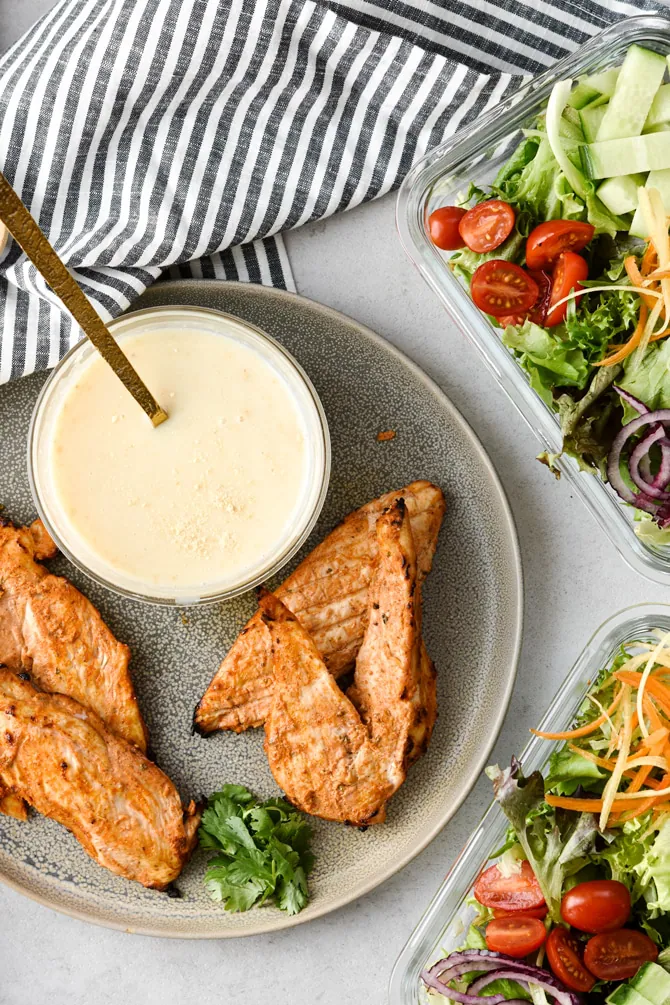 While traditional shawarma is on a vertical spit and the meat sliced into thing strips and put into a pita with veggies, this version also skips the pita and loads up on veggies.
What you get here is the amazing flavor of a shawarma dish but in a fraction of the time, and heavy on the veggies!
Do I have to marinate this?
For at least an hour, yes. Overnight - even better.
These spices and yogurt really need to work their magic before baking!
How to make chicken shawarma?
High heat and using a baking rack are key for this.
Don't put the chicken right on a baking sheet. You want to allow the marinade to drip down and the air to circulate.
Take a cookie sheet and line it with parchment paper, then add a baking cooling rack (or any rack that elevates the chicken) on top of the cookie sheet.
400F oven is also key here. High heat, and finish with a broil.
Is this a low carb meal prep?
If you skip the sweet garlic sauce and sub for an alternate low cab dressing, then yes, you can easily make this a low carb meal! Using the sweet garlic sauce in the recipe will not make this low carb.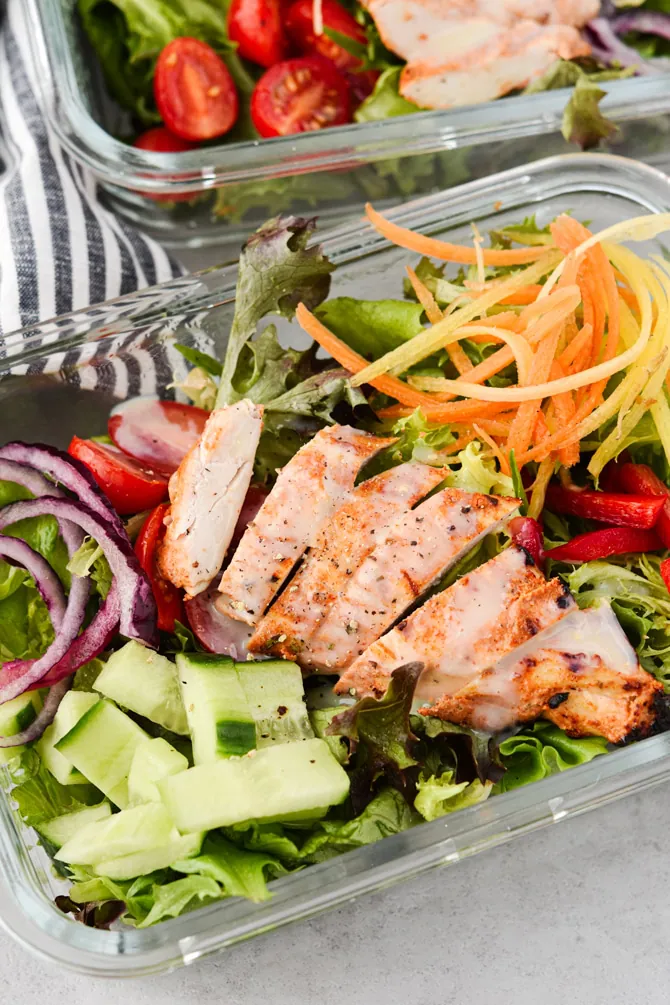 How long will this meal prep last as make ahead?
This meal prep salad is best eaten within 3 days of preparing it.
Leave the sweet garlic sauce off of the salad until right before you enjoy it!
Are you ready to add Chicken Shwarma Meal Prep Salad to your lunch meal plans this week?
When you make this, I want to see it! Tag me @mealplanaddict on Instagram, or come post a photo in the Meal Plan Addict Community!
Recipe
Chicken Shawarma Meal Prep Salad with Sweet Garlic Sauce
 Chicken shawarma salad is a perfect meal prep to break out of routine lunch salads! Drizzled with a bit of sweet garlic sauce makes this meal prep salad  on repeat on your meal plans! 


Print Recipe
Ingredients
Chicken & Marinade
2

chicken breasts, each sliced in half lengthwise

1

cup

Plain Greek Yogurt

1

teaspoon

salt

3

tablespoon

lemon juice

3

cloves

garlic, minced

1

tablespoon

paprika

1

teaspoon

cumin

¼

teaspoon

cayenne

1

teaspoon

oregano

¼

teaspoon

allspice
Salad Ingredients
4

cups

salad greens of choice

8

cherry tomatoes

sliced onion

½

red pepper, diced

1

large carrot, julienne cut or cut into match sticks

½

cucumber peeled and chopped
Sweet Garlic Sauce
300mL

can

sweetened condensed milk

2

teaspoon

garlic powder
Instructions
Marinade
Combine all of the marinade ingredients in a large bowl. Stir until all combined.

Add the 2 chicken breasts (which are now in 4 pieces) to the marinade.

Cover and refrigerate for at least 1 hour.
Sweet Garlic Sauce
Combine the sweetened condensed milk and the garlic powder in a bowl. Mix to combine.
Salads
Assemble the salads by evenly distributing the salad ingredients into 2 meal prep containers. Put in the fridge until chicken is cooked.
To Bake Chicken
Line a cookie sheet with parchment paper.

Add a rack to the pan. You don't want the chicken directly on the baking sheet.

Grease the rack with non stick spray.

Remove excess marinade from the chicken - You want just a thin layer of yogurt marinade.

Place the chicken on the rack on your cookie sheet and bake for 15 -20 minutes (depending on thickness of chicken). Cook to 165F.

In the last 3 minutes of cooking, turn the broiler on to crisp up the chicken a bit.

Let cool. Slice and add to salad.

When ready to enjoy, drizzle sweet garlic sauce onto salad.
Notes
Remember to keep the sauce separate from the salad until time to enjoy!
This salad is best enjoyed within 3 days of prepping it.