Quick and easy comfort food at it's finest with this Instant Pot sticky garlic peanut noodles with chicken recipe. 4 minutes under pressure and a take out fake out dinner is done!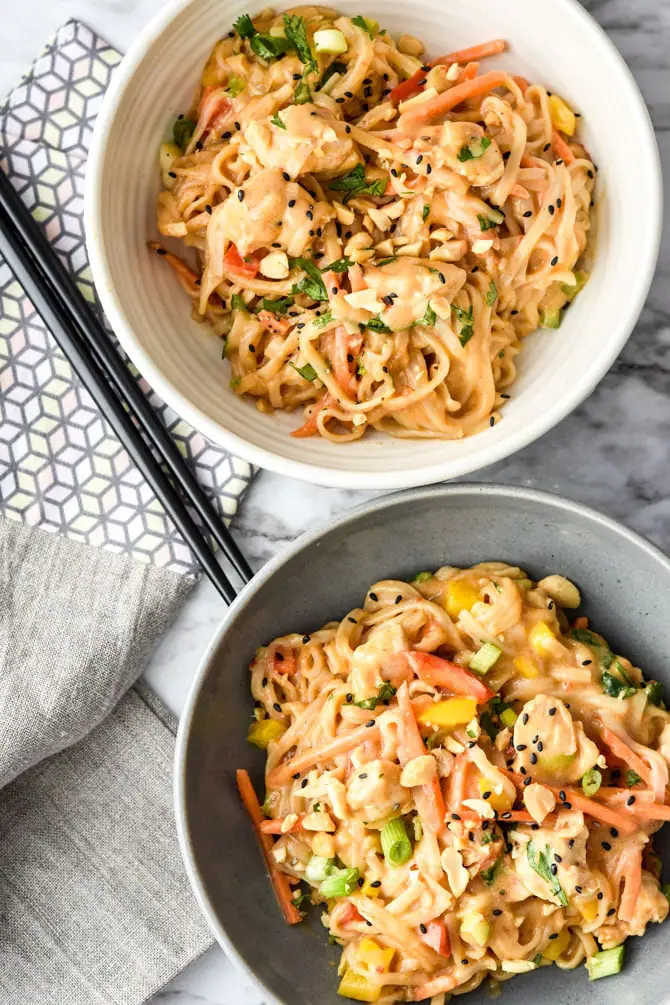 Creating this recipe was a bit of a labor of love. It took me a few times to get the noodle and water ratios right, but alas, I finally created Instant Pot sticky garlic peanut noodles with tender delicious chicken, that is ready to share.
A quick note about rice noodles in the instant pot:
** This doesn't come out like a typical pad Thai dish. Because the noodles are starchy and everything cooks in the sauce, the sauce thickens with the starch (YUM!), the noodles are sticky. NOT MUSHY, sticky - and I just LOVE IT**
But Steph, you cook the chicken in there too? How does it cook in 4 minutes?
It is true! The key here is to make sure your chicken is cut into VERY SMALL pieces. This is where Instant Pot cooking can be bit of a skill. You need to create you ingredients in such a way that everything has a similar cook time.
For this recipe, you can also just omit the chicken if you like.
I haven't tested this recipe with different types of noodles yet, so I can't say it will turn out if you use anything other than rice stick noodles.
I was worried about how these sticky noodles would reheat.
I was shockingly surprised to like this recipe even better reheated for next day lunch. One key thing though, is that I added about a tablespoon of water before I reheated, and it was perfect!
One last tip for this recipe.
When you put the noodles on top of the liquid, push them down as much as you can into the water, and try to spread the noodles out as best you can. Otherwise, you end up with a big clump of noodles.
Ready to give this a try?
Recipe
Instant Pot Sticky Garlic Peanut Noodles
Quick and easy comfort food at it's finest with this Instant Pot sticky garlic peanut noodles with chicken recipe. 4 minutes under pressure and a take out fake out dinner is done!
Print Recipe
Ingredients
1

lb

chicken, cut into small bite size pieces

125g

flat rice stick noodles (not vermicelli noodles)

1

teaspoon

minced fresh ginger

2

cup

chicken broth

½

cup

peanut butter

3

cloves

garlic, minced

2

tablespoon

sambal oelek chili paste

1

tbsp

fish sauce

1

tablespoon

sesame oil

2

tablespoon

soy sauce

½

cup

scallions, chopped

1

cup

matchstick carrots (or julienne)

2

red peppers, diced

½

cup

chopped cilantro

½

cup

peanuts

garnish
Instructions
Press the saute button on your instant pot and add in the ginger, chili paste, fish sauce, sesame oil, soy sauce, peanut butter, and broth into the liner. This allows the peanut butter to thin out so you don't get he burn notice.

Add the chicken to the pot.

Place the noodles on top and push down slightly.

Secure the lid on your instant pot and set on manual high pressure for 4 minutes.

When the pressure cycle is complete, quick release the pressure. Do not let the noodles sit in the pot too long after cooking - they will go mushy - not sticky.

If your noodles are too sticky for your liking, add water in ½ cup increments and stir, to make it more saucy. mmmm saucy!

Add the carrots, scallions, and red pepper into the pot. Stir gently.

Add peanuts for garnish, and serve.
Notes
This recipe has not been tested with other noodles (yet), if you do swap the noodles, let me know how it goes! 
Nutrition
Calories:
479
kcal
|
Carbohydrates:
39
g
|
Protein:
28
g
|
Fat:
25
g
|
Fiber:
8
g
|
Sugar:
9
g
So, there you have it, a quick and easy take out fake out dinner idea using your Instant Pot!
If you make this recipe, I want to see it! Tag me @mealplanaddict over on Instagram, or come post a photo in the Meal Plan Addict Community!
IF YOU ARE INTO FREEZER MEAL PREP, CHECK OUT MY WHOLE INSTANT POT SECTION OF THE BLOG!