Simple and quick 30-minute weeknight meal with a creamy Thai-style coconut curry sauce! Meatballs with bell pepper, spinach, and zesty Thai curry paste, this easily meal prepped dish is sure to be a nutritious and flavorful dinner for the whole family.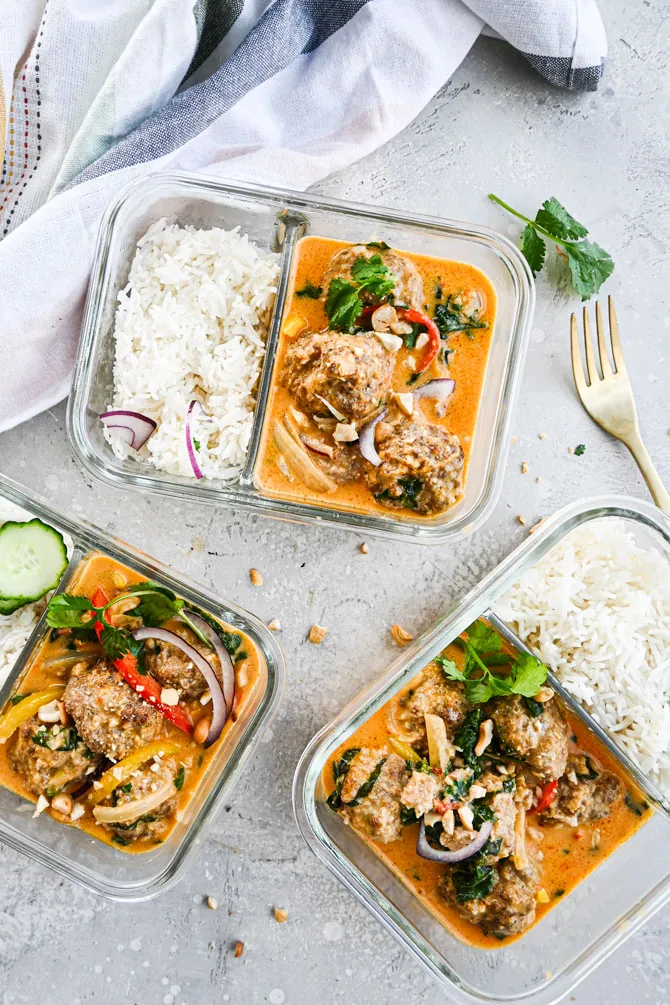 We thought it would be fun to adapt that flavor profile from our ever popular Thai Peanut Pork Stir fry into another freezer-friendly meal prep recipe but this time.... with our favorite freezer item: meatballs.
This recipe can be made with fresh or frozen meatballs of your choice, so whether it's turkey, beef, pork, or veggie that your family loves - the coconut curry sauce is sure to complement them perfectly.
Don't forget to pin this post to save it for later!
Ingredients and substitutions
Use either fresh or frozen meatballs - Be sure to factor in the fresh vs. frozen and the size of the meatball for your bake time. You can use ground pork, ground chicken, ground turkey or ground beef meatballs - the choice is yours.
Coconut milk - Make sure you get the canned coconut milk because in this recipe we'll be using the cream that settles on top along with the milk.
Red Thai curry paste - The spice level in this recipe is dependent on how spicy your brand of red Thai curry is. You can easily adjust the spice level to match your preference. Have yellow or green curry paste, but not red? Either of those curry pastes work, but it'll be a slightly different flavor.
Fish sauce, lime juice, and sugar. We opt to leave out soy sauce, but you can add couple of tablespoons if you want that saltier more Unami flavour.
Red bell pepper and spinach. - Feel free to boost your meal by adding any other veggies! Broccoli and carrots could be a great addition.
Cilantro and fresh basil.
How to make coconut curry meatballs
Make and bake the meatballs. Depending on their size and whether they're fresh or frozen, the meatballs will take about 15 minutes to cook through. You can make yours from scratch, or buy them pre-made. You can even use frozen meatballs! Just place them on a baking sheet and pop into the oven!
Make your coconut curry sauce. While the meatballs are cooking, you'll heat your coconut cream in a large pot and then add the red curry paste to sauté until they make a smooth sauce. That's when you'll add your coconut milk, lime juice, sugar, and fish sauce.
Simmer and garnish. Let your pot simmer while covered on low/medium heat and once the meatballs are done baking you add the meatballs to the saucepot (yay for fewer dishes to clean) along with the vegetables. Let that cook until the vegetables are done to your desired taste, and then garnish with fresh cilantro, basil, and some peanuts for a crunch.
Serve with rice of choice, noodles, or even cauliflower rice if that is your jam!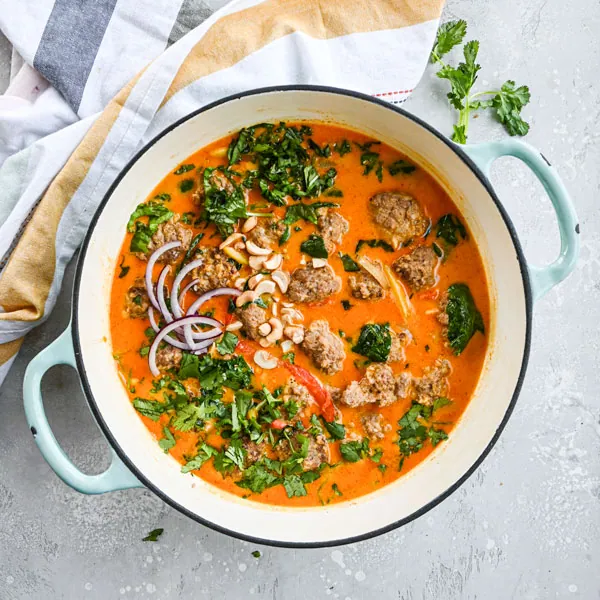 Can this be meal-prepped?
Absolutely!
You can make this dinner and serve it immediately, or you can freeze it for 4-6 months.
You could also use frozen meatballs or make your meatballs and freeze them ahead of time, as well as your coconut curry sauce. Then when you're ready to eat you can throw them together in the same pot along with your fresh ingredients and violá - dinner is served!
You can pair this with...
I typically pair this dish with rice or noodles, but I'd love to hear if you pair it with anything different! I'm always looking for new ideas and you all never fail to inspire me!

Good luck making your Coconut Curry Meatballs - be sure to comment below or tag me on Instagram to let me know how you enjoyed it!
FAQs
Can I cook the meatballs in the sauce without browning them first?
You can, but it will impact the structure of the meatballs. They will likely fall apart easier if you don't brown them first, so if you're going to go this route, I would suggest you increase your simmer time and brown them in the pan before making the sauce.
What type of meatballs should be used?
Chicken meatballs is what we love, but feel free to use turkey, pork or even beef!
Can I swap curry paste for curry powder?
NO PLEASE NO. Curry paste and powder have different flavors and in this recipe, you'll definitely want to stick to curry paste. Your tastebuds will thank me!
Is this recipe freezer friendly?
Yes, that's the beauty of it! You can freeze the meatballs in your curry sauce for up to 4 months. When you're ready to enjoy, thaw it in the fridge and then reheat it in the microwave or on the stovetop.
Recipe
Coconut Curry Meatballs
Print Recipe
Ingredients
20

fresh or frozen meatballs of choice

2

400 mL

cans coconut milk

2

tablespoon

red Thai curry paste

1

tablespoon

fish sauce

1

tablespoon

lime juice

1

tablespoon

sugar

1

cup

red bell pepper, sliced

handful

cilantro

2

cups

fresh spinach

handful

fresh basil, sliced thin
Instructions
Arrange the meatballs on a sheet pan, and bake until meatballs are cooked. 15-30 minutes depending on the size of meatball and if you use frozen or fresh meatballs.

While the meatballs bake, in a large pot, heat 2 tablespoons of the coconut cream from one of the two cans of coconut milk.

When the coconut cream is heated, add the red curry paste to the pan and saute until the coconut cream and curry paste are combined (3 ish minutes).

Pour all the remaining coconut milk from the two cans to the pot.

Add in the lime juice, sugar and fish sauce, allow to simmer (covered) on low/medium heat, until the meatballs are cooked.

Once the meatballs are cooked, transfer them to the pot.

Add in the peppers, and spinach. Turn heat up to medium.

Simmer until the spinach is wilted and bell pepper is desired doneness.

Remove the meatball and sauce mixture from the heat. Stir in the cilantro and basil.

Serve with rice or noodles of choice.
Nutrition
Serving:
5
meatballs in sauce
|
Calories:
435
kcal
|
Carbohydrates:
12
g
|
Protein:
15
g
|
Fat:
37
g