Having freezer meals and ingredients ready in your freezer is only good if you actually use them.
Here are my best freezer organization tips to get your #freezergoals freezer!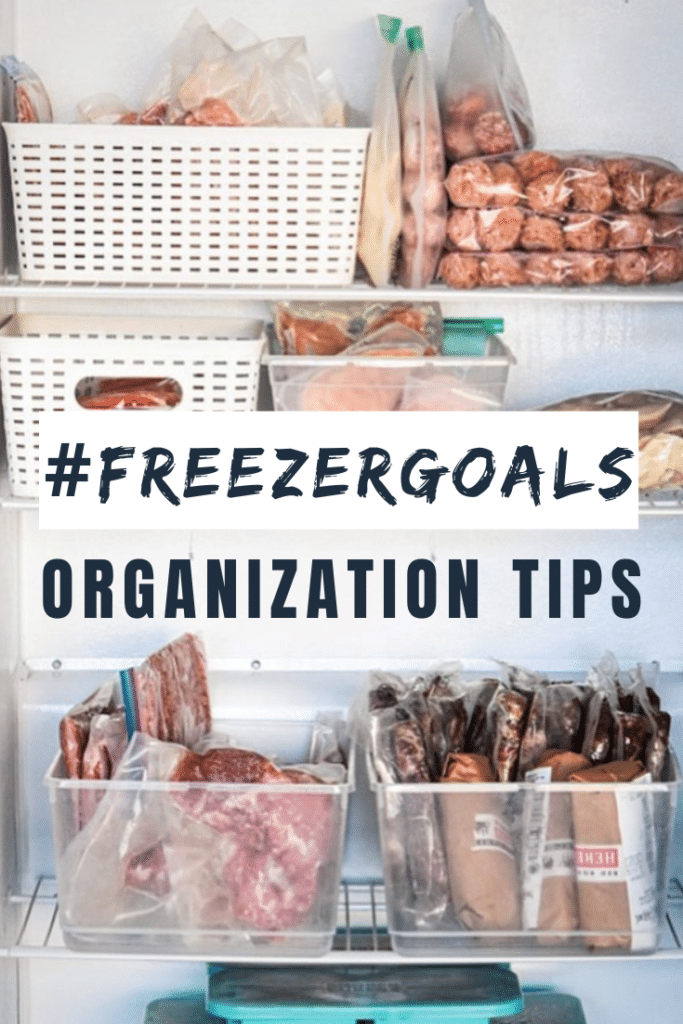 This post was originally published Spring 2017, and has been updated March 2020.
Taking the time for freezer organization helps you save money and reduce waste because you will know what you have on hand, and you will reduce your weekly grocery spend by using what you already have and not over stocking on items.
Bonus savings comes when you prep and freeze individual servings to prevent those costly work week lunches that you are buying.
It doesn't have to be overwhelming to get your freezer organized with my #freezergoals tips
Make sure you label everything that goes into your freezer. ALWAYS
This is probably the number one contributor to food waste. Putting something in the freezer, not knowing what it is months later, and then tossing it.
Depending on what you are storing your food in, here the best ways to label freezer foods:
Glass containers - use a based sharpie chalk pen. Allow it to dry before you touch it and place it in the freezer.
Single use plastic - use a regular ol' sharpie.
Reusable bags like these Stasher gallon sized silicone bags, or these Fresh Menu Kitchen Reusable Freezer Bags - use freezer tape. I have tried different brands and 3M tape is absolutely the best product for freezer tape.
Save space. Ditch boxes, & freeze flat
Boxes are such space wasters. Try and avoid foods in boxes. If you can, take the contents out of the boxes.
I will write directions on the bag (off the box) if needed.
Right now it is difficult and can be costly to find an alternative to single use plastic for bulk purchased meat.
I do try and use reusable bags for my cooked foods, but for bulk purchased meat that is divided up, I still rely on on my foodsaver system.
Related Post - Containers 101 For Once a Week Meal Prep & Freezer Cooking
Invest in a secondary (upright) freezer if you are big into freezer cooking and bulk purchasing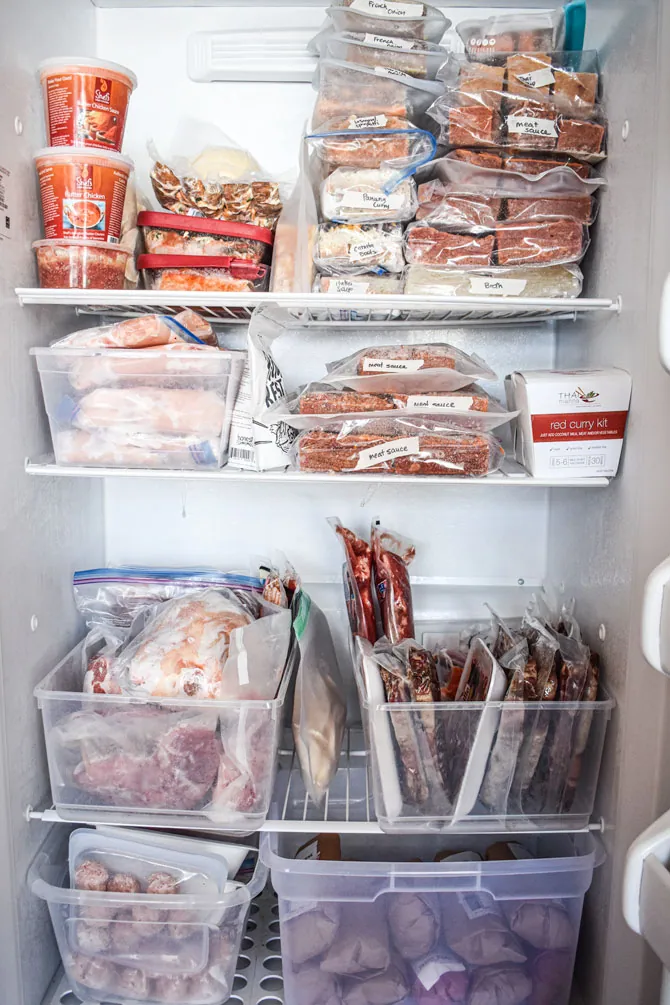 I was initially resistant for a second freezer. I am trying to collect less stuff, and a secondary freezer made me feel like I would just accumulate more clutter.
I was so wrong.
In the end, this allows me to purchase things in bulk for better pricing, and allows me to stock up on prep raw and freeze meals as well as fully cooked single serve lunch portions for the freezer.
Related Post: How I turn $75 of bulk meat into 10 Instant Pot Dinners
Group categories of items together in bins.
My advice is to measure the depth and width of your space to make sure your bins will fit.
When you group like things together, you can easily see how much of a particular bulk product or meal type you have on hand.
This also prevents you from digging through your freezer until the end of time looking for things.
If you have a chest freezer, I have seen reusable cloth bags be your bins and then you can simply pull the bag out when you are looking for something.
The categories in your freezer will be completely dependent on the types of foods and cooking you do.
Take inventory of your freezer - often
Once a month, do inventory on what you have.
Build your weekly meal plan around what you already have on hand. When I plan my week this way, my weekly grocery shop is far less as I am just picking up the fresh items.
Store prepped meals, not just all of the random ingredients.
You are more likely to use up your freezer foods, if they are as simple as thaw, cook, eat.
When I do shop for bulk meats, I will often spend a couple of hours turning that bulk meat into freezer meals.
This doesn't mean I cook all of the meat – this means I make a plan and assemble the meals to the cook stage, and freeze raw.
Looking for prep and freeze recipes, I got you here, and you should also check out The Family Freezer, Sweet Peas and Saffron, and The Happy Money Saver - all of which are bosses at creating delicious freezer meals!
Related Post - How to Fill Your Freezer in a Day!
So, there you have it. This is how to achieve #freezergoals in your own house!
Did I miss a tip? Let me know in the comments below!
This post contains affiliate links. This means if you purchase the products I use and suggest in this post, via these links, I receive a small commission at no extra cost to you. Thanks for supporting my blog!