Instant Pot DIY Sandwich Meat is a regular meal prep staple over here. This is a batch style recipe that can be frozen after cooking. Super easy lean protein snacks, salad add in, or rolled with hummus. Your choice!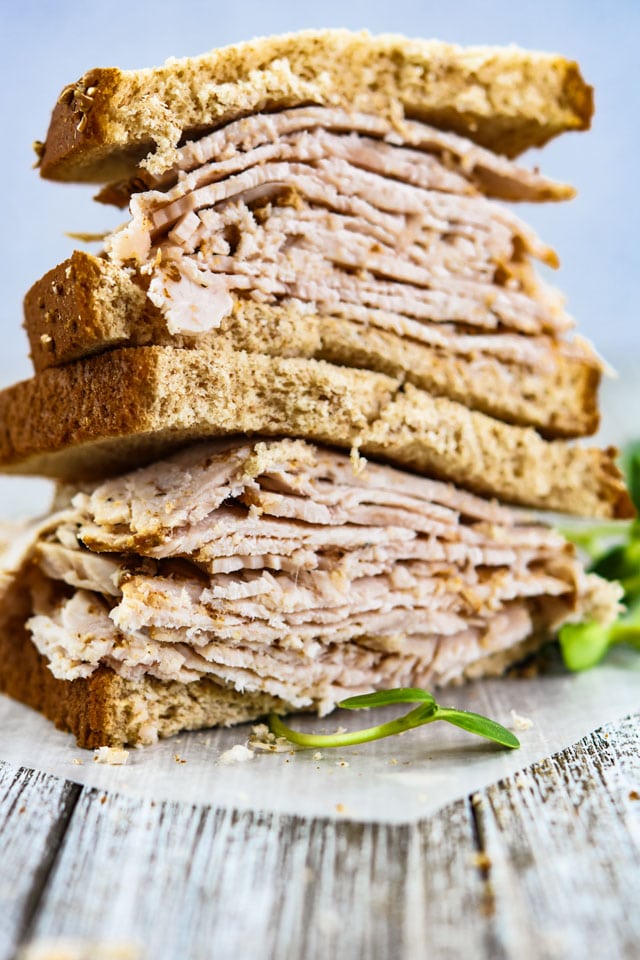 Why would anyone go through the trouble of Instant Pot DIY Sandwich Meat and not just grab some sandwich meat at the local deli? Well… I asked Kristin Brown, Registered Dietician and owner of Grounded Health this exact question.
Kristin advises that compared to years ago, deli meats are not as bad as they used to be , but even today the things to watch out for in deli meats is poor quality meats, sodium content, and the way in which they are processed. Some manufacturers' processing includes the addition of sugar, gluten, and artificial flavours. No thanks!
Sandwich meat has been a go-to for me recently so I wanted to give Instant Pot DIY Sandwich meat a try.
In terms of cost effectiveness, I wouldn't say this is a cheaper way to go compared to the deli. But… you get what you pay for. Cheap often means low quality and lots of additives.
You can pretty much rub whatever you want on these depending on your preferences. If you want to keep this super clean, I would use a blend of your own spices. But, I have tired this with many seasonings over the year and you really can't go wrong.
My fav right now is the seasoning from this Shawarma recipe on the Two Sleevers Blog.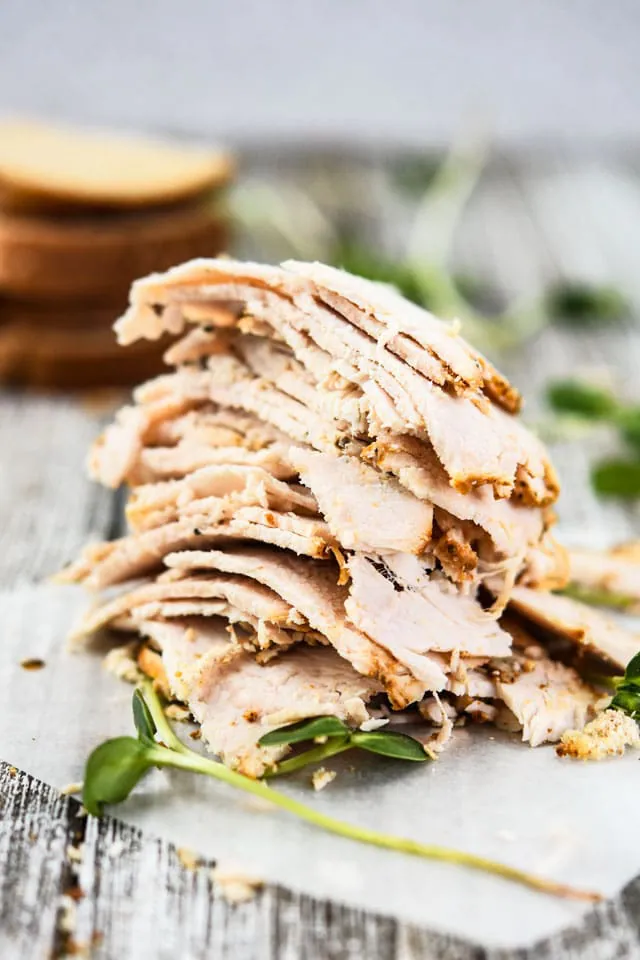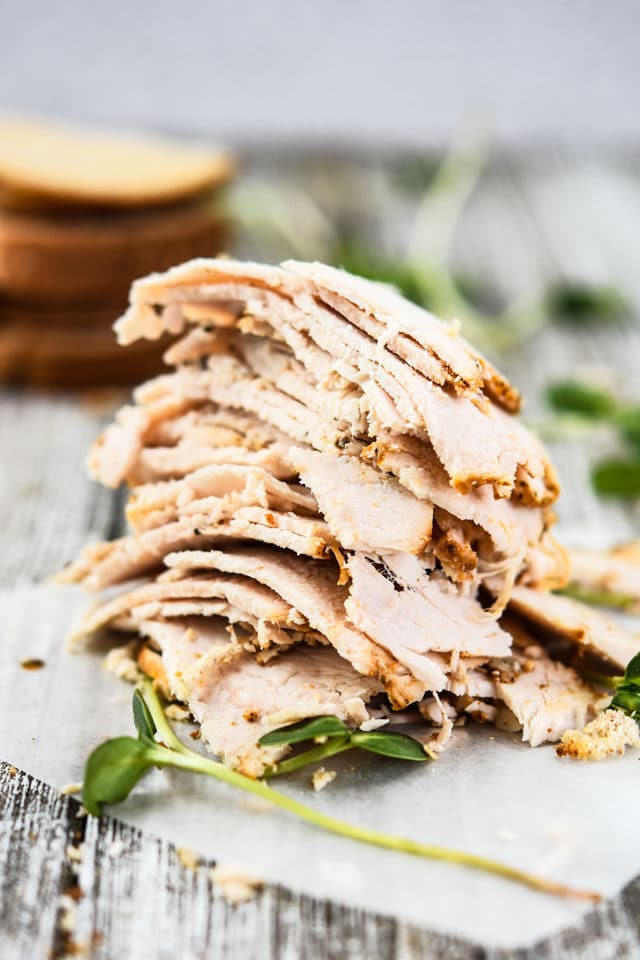 Once you rub your turkey with seasoning, put the trivet inside, and pour in 1 cup of chicken broth. The turkey breast will not be submerged in broth.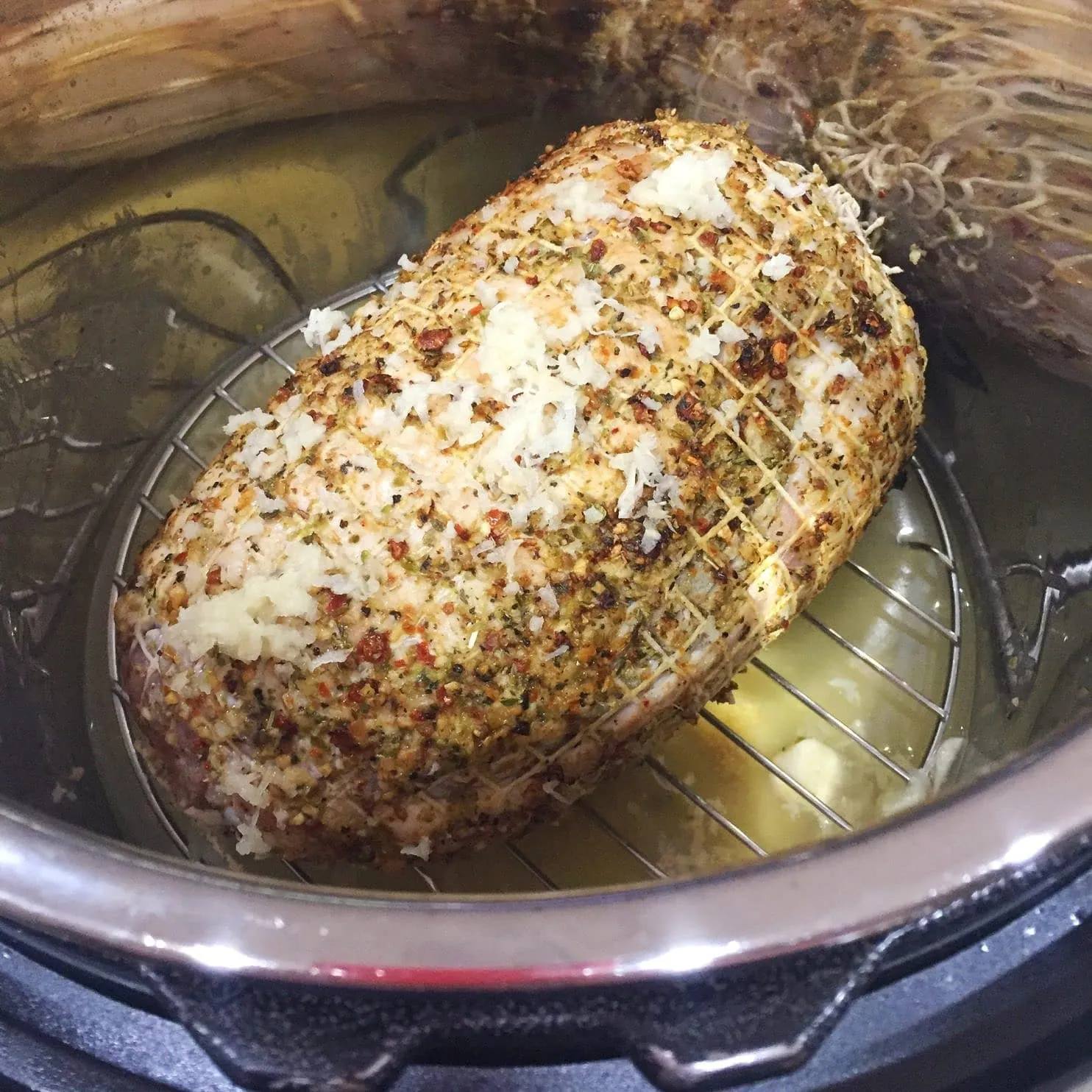 Cook time may vary depending on the size of your breast. Make sure you check that the internal temperature is 165F. If it isn't, put the lid back on and cook a bit longer.
Once cooked, cut off the strings and slice! You certainly don't need a meat slicer like I have. You can cut thinly with a sharp knife but it does take longer.
EXPERT TIP | slice after it is really cold. Either put it in the freezer for 30 minutes or in the fridge overnight.
Recipe
Instant Pot DIY Sandwich Meat
Print Recipe
Ingredients
Boneless

Skinless Turkey Breast, 2-3 pounds.

½

cup

seasoning of choice

2

garlic cloves

minced (optional) I just love garlic!

1

cup

chicken broth
Instructions
Season the turkey with your seasonings.

Insert the trivet into your liner.

Pour the chicken broth into the pot.

Place the turkey on top of the trivet.

Add minced garlic onto the breast (optional)

Using the manual setting, set the timer to 30 minutes.

Once the timer beeps, release the pressure (quick release).

Check the internal temperature and ensure it is at least 165F

Let the meat cool, and then cut the strings off and slice thinly. If you let it sit in the fridge overnight it will be much easier to slice.
Nutrition
Calories:
137
kcal
|
Protein:
32
g
|
Fat:
1
g
If you are interested in more ways to use your instant pot for make ahead and meal prep ways, come join the Confessions of a Meal Plan Addict Community, or check out these posts I did on creating Instant Pot ready freezer meals, or how I use the instant pot for once a week meal prep
So, there you have it, another way to use your instant pot once, and eat many many times!