Instant Pot Carnitas are a modern spin on a a traditionally all day recipe. This version uses the Instant Pot to speed things up, and I am showing you 4 ways to use this Mexican pulled pork for 4 meal prep ideas, too!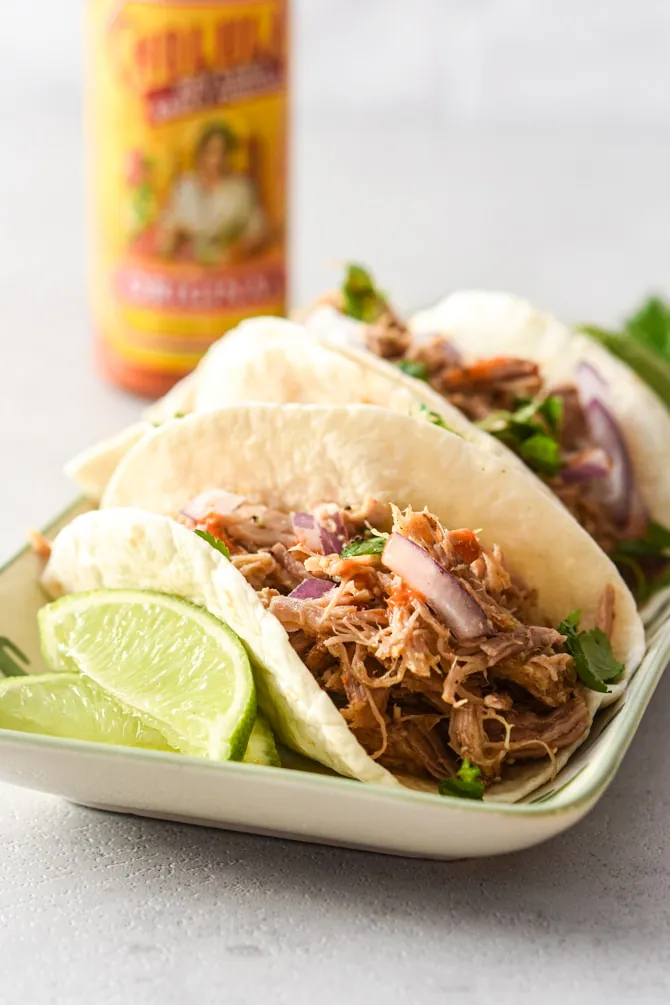 Traditional Carnitas vs Instant Pot Carnitas
This version of carnitas is certainly not authentic, but pretty good runner up when you don't want to cook with lard or slow cook all day.
Traditional carnitas (also known as Mexican pulled pork) is slow cooked all day and uses lard as an ingredient. This Instant Pot version uses none of those things.
What you need to make Instant Pot Carnitas:
List ingredients, put under high pressure:
Pork shoulder: you may also see this called a Boston but. Don't swap this cut with another cut of meat like a pork loin roast or pork tenderloin. These are very different cuts of meat. The pork shoulder is used primarily for it's fat content and is why it shreds the way it does.
Onion & garlic: Don't sub in powder form of either. They are not the same. At all.
Water (or stock): Your choice on which to use. The key to flavorfull meat in your Instant Pot is to use the minimum amount of liquid possible to get to pressure. Using excess liquid dilutes the flavor BIG TIME. Trust me and follow the liquid volumes here.
Jalapeno: Add the whole jalapeno (chopped) if you like a bit more spice, but remove the seeds if you don't. It is the seeds that hold the spice in jalapenos.
Cumin, Oregano, Chili powder: I have no idea if these are tradititional spices in Mexican cooking - but, I use this combo in every Mexican inspired recipe I make.
Juice from an orange: The not so secret ingredient in carnitas. Don't skip this. I juice an actual orange. It is cheaper than buying a whole container of juice, and has no sugar additives.
Limes and lime juice: cut the rind of a lime and toss it in your pot. Then, add some extra lime juice for good measure.
How long to pressure cook pork shoulder for carnitas?
You have a few options here for a 4lb pork shoulder (cook times will differ if the size is different)!
Thawed, cut into quarters - 45 minutes under pressure.
Thawed, whole-60-75 minutes under pressure.
Frozen, whole - 90 minutes under pressure.
Essentially, the smaller the pieces, the quicker you can cook this.
Let's talk making these instant pot carnitas crispy.
You will see many recipes that will pre brown the pork. I really don't see a point to this because when you pressure cook and shred, you will lose the crispiness anyways.
My preference is to put the pork under pressure without pre browning it. More thorough rationale for this preference is here.
Then after it is shredded, you could place the meat on a baking sheet and broil until desired crispiness.
Meal Prep options for Instant Pot Carnitas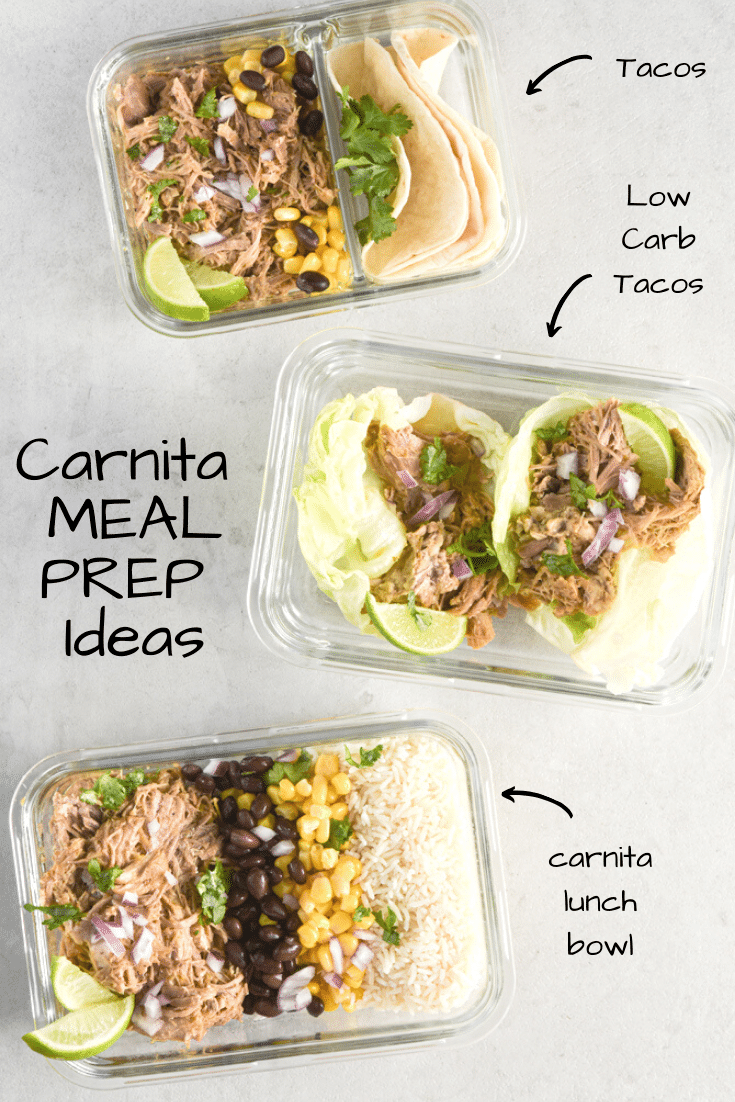 You bet I use this meat for all sorts of meal preps!
Tacos, lettuce wrap tacos, a lunch bowl style with rice, and even a freezer meal!
For tacos, use these 2 compartment glass meal prep containers (affiliate link) and store your corn or flour tortillas separate until time to eat.
If you make the low carb lettuce tacos, store the lettuce separate, and when time to enjoy, build your tacos.
When you choose the carnita bowl, assemble and simply reheat in the microwave.
How to freeze Instant Pot carnitas!
You have 2 options here.
You can assemble the carnita bowl in a freezer friendly container and just freeze it in that.
OR
You can use 2 cup Souper Cube trays (affiliate link) to freeze them. Once frozen, pop them out and now you have single serve carnita bowls ready to reheat.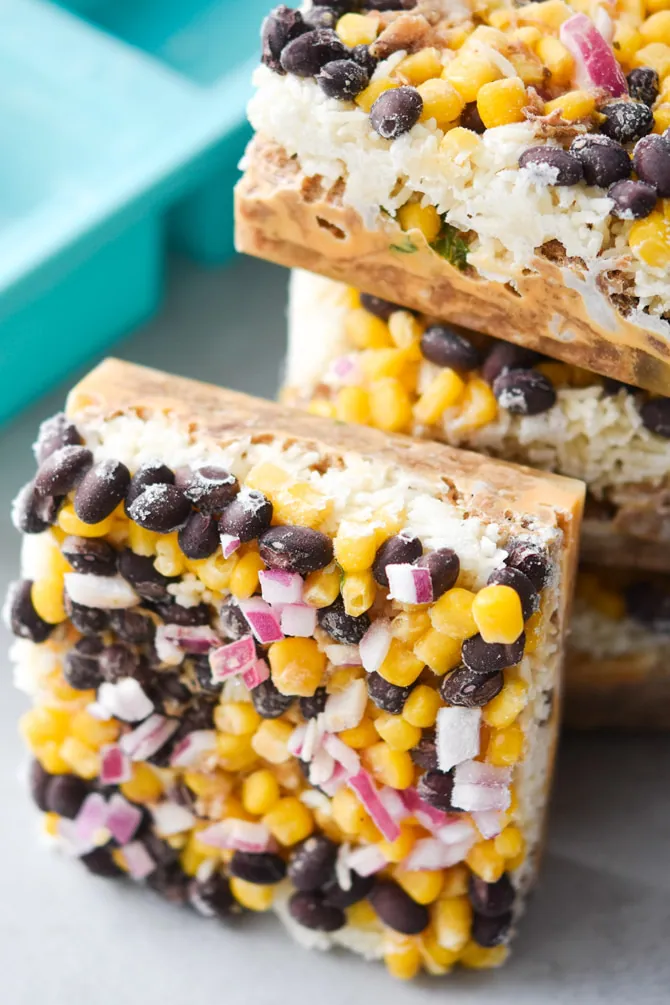 Are there any adjustments for the 3 quart or 8 quart Instant Pot?
If you are using the 8 quart Instant Pot, there are no modifications to be made.
If you are using the 3 quart Instant Pot, half the recipe. The recipe as written is too large for the 3 quart pot.
What if the meat is difficult to shred?
If the pork does not shred easily, it is not ready to come out.
Make sure you allow the pot to naturally depressurize for at least 10 minutes. The pork is actually still cooking during this process and if you quick release it, the meat will not be tender.
Return it to the pot and add an additional 5 minutes. Because the pot is so hot, the come to pressure time will be significantly shorter (about 2 minutes).
Are you ready to add Instant Pot Carnitas to your meal plan this week?!
When you make your carnitas, I want to see! Tag me @mealplanaddict on Instagram, or better yet, come post a photo in the Meal Plan Addict Community and inspire someone else's meal plan!
For more Mexican Inspired recipes to use for meal prep, check out:
Instant Pot Mexican Fiesta Soup
Recipe
Instant Pot Carnitas
Instant Pot Carnitas are a modern spin on a a traditionally all day recipe. This version uses the Instant Pot to speed things up, and I am showing you 4 ways to use this Mexican pulled pork for 4 meal prep ideas, too!

Print Recipe
Ingredients
Carnitas (Mexican Pulled Pork)
1

4lb

Pork Shoulder (no bone), cut into 4 pieces.

½

medium

yellow onion, sliced

3

cloves

garlic, minced

1

large

lime, cut into quarters, and peel removed

1

large

lime, only the juice

1

large

orange, only the juice

1

jalapeno, diced. Add the seeds in if you prefer more spice, leave out if you want mild.

1

tablespoon

dried oregano

1

teaspoon

cumin

2

tablespoon

chili powder

½

cup

water
Instructions
Place all of the ingredients into the Instant Pot.

Secure the lid and set to sealing.

Set Instant Pot to high pressure for 45 minutes. See notes for additional cook time notes.

Allow the pot to naturally depressurize for 10 minutes, then quick release remaining pressure.

Remove the pork from the pot and shred the meat with 2 forks. Return the meat to the Instant Pot.

If you turn the carnitas into one of the meal prep options shown in the blog post, you can refrigerate them for no more than 4 days. You can freeze carnitas for up to 4 months.
Notes
If you use frozen or whole pork shoulder, you will need to adjust the pressure time to 90 minutes, and 60 minutes, respectively.
Nutrition information is for 6oz of shredded pork only. The meal prep you choose to make, and the toppings, will modify the nutrition information.
Nutrition
Serving:
6
0z
|
Calories:
415
kcal
|
Carbohydrates:
3
g
|
Protein:
43
g
|
Fat:
23
g