Sheet Pan Peanut Chicken Curry Bake recipe will surprise you with its simplicity and layers of flavor. Delight your taste buds in just 30 mins.
Sheet pan recipes are great for easy clean up but even better is a sheet pan bowl recipe.
One pan for cooking and one bowl for eating, it doesn't get much better than that.
We love easy sheet pan dinners over here! Looking for more sheet pan or bowl recipes? Check these out.
Sheet Pan Maple Dijon Salmon and Veggies
Sheet Pan Hawaiian Chicken Meal Prep
Over on Instagram Stories, every Sunday, I show how I prep meals for the week.
My method rarely has me cooking on Sunday, and more of assembling "kits" of ingredients so that I have a plan, AND all of the ingredients ready to go.
This way it is really easy for me, or someone else in the family to get dinner started!
How to assemble Peanut Chicken Curry Bake Recipe Dinner Kit
Creating your own dinner kit is a simple way to meal plan for the week.
Create a grocery list of ingredients needed to make the recipe. Make sure to check your pantry for any of the non perishable items you may already have.
Go shopping, or even better, order online and pick up when ready. This is a great way to stick to what you need and your budget.
Assemble. This is the best part of meal kits because it is up to you on how much work you want to do. Using a bin or drawer in your fridge, group all the ingredients needed for the recipe. You can choose to wash and cut now or you can choose to do this when you are ready to make. I recommend measuring out and adding the spices now so that you have everything in one place.
Make sure to use your meal kit within the best before dates on any of your perishable items. Pre cut veggies should stay fresh up to 3-4 days in the fridge - if the moisture is removed as best you can before putting them into a container.
What you need to make Sheet Pan Peanut Chicken Curry Bake
Chicken breast- Always a great heart-healthy lean protein but if you can easily substitute with chicken thigh if you prefer. To make it vegetarian, try using chickpeas!
Veggies- Cauliflower, Broccoli, Red Peppers- No you don't have to eat broccoli if you don't want to. Try substituting with Sweet Potato, Red Potato and Onions.
Canned Coconut Milk- Adds that slightly sweet flavor to the curry and its creaminess.
Peanut Butter-Did you know to make your own peanut butter?! With a high speed blender (like a Vitamix), blend just peanuts. Seriously. Just peanuts. ("Recipe" is here).
Spices- Salt, Pepper, Garlic Powder, Curry Powder and Cayenne Pepper- I don't find this dish spicy, its really just right but if you are worried you can always cut back on the cayenne pepper.
Toppings- Cilantro and Peanuts- For the cilantro haters, green onion is a good option in this recipe.
Make this a meal prep dish for work week lunches!
I do not recommend freezing this dish.
Whether you are putting together a dinner kit or meal prepping, I recommend enjoying within 4 days of making.
Full of delicious veggies and protein you can portion as is. I like to make a batch of rice to portion it with. Totally up to you. You could even make it low carb and serve with cauliflower rice.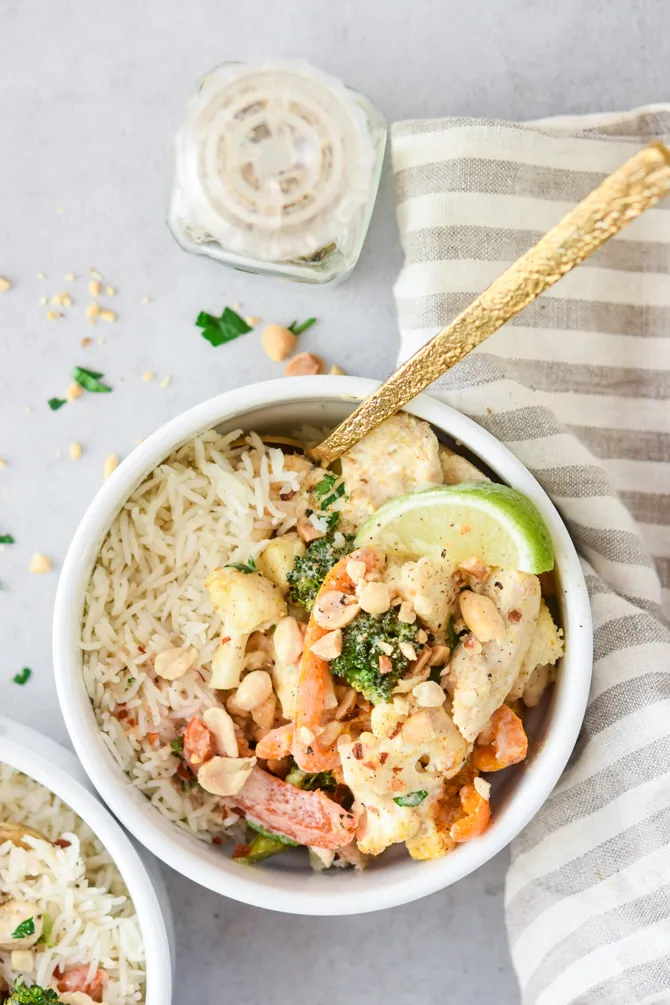 Are you ready to add this Sheet Pan recipe to your weekly meal plan?
If you make this recipe, I want to see it! Tag me @mealplanaddict over on Instagram, or come post a photo in the Meal Plan Addict Community!
Recipe
Sheet Pan Peanut Chicken Curry Bake
A one pan recipe, Peanut Chicken Curry will surprise you with its simplicity and layers of flavor. Delight your taste buds in just 30 mins.

Print Recipe
Ingredients
1

lb

Chicken Breast, cut into thin strips

2

medium

Red Peppers, thinly sliced

1

head

Cauliflower, cut into florets

1

head

Broccoli, cut into florets

3

tablespoon

Olive Oil

1

teaspoon

Garlic Powder

2

tablespoon

Curry Powder

½

teaspoon

Cayenne Pepper

Salt and Pepper to taste

1

cup

Coconut Milk

3

tablespoon

Peanut Butter

½

cup

Peanuts

¼

cup

Cilantro or Green Onion
Instructions
In a large bowl combine chicken breast and vegetables.

Season with spices and salt and pepper to taste. Mix well

Bake at 375° for 15 mins. This allows the flavors of the spices to bake right onto the veggies before you add the liquid ingredients.

While the veggies and chicken bake, whisk together peanut butter and coconut milk.

After 15 minutes, remove sheet pan from oven and pour over the coconut and peanut butter sauce.

Transfer back to sheet pan and cook for another 10 mins. The coconut milk will thicken up during this cook time.

After the additional 12 minutes, remove from oven and top with cilantro and peanuts.

Serve with side of choice. I personally serve this will basmati rice.

If you decide to meal prep this recipe, store in air tight containers in the fridge, for a maximum of 4 days.
Notes
Nutrition information is for the recipe split into 5 servings and is for the veggies, chicken and sauce. Nutrition information will differ depending on chosen side dish.
Nutrition
Serving:
5
Servings
|
Calories:
492
kcal
|
Carbohydrates:
27
g
|
Protein:
41
g
|
Fat:
29
g