Making Instant Pot spaghetti and meatballs is easy and delicious, offering all the goodness of comfort food without all the hassle and mess.

Instant pot spaghetti and meatballs are the perfect addition to your next weekly meal plan.
If your least favorite thing to do in the kitchen is dishes, you are going to love these easy all in one recipes.
Our pasta Instant Pot recipes have been wildly popular, so it was time to get back to basics with easy Instant Pot spaghetti and meatballs!
Once you master this easy recipe you will want to check out the very popular Instant Pot Lazy Lasagna or Instant Pot Chicken Parm Penne
What do I need for Instant Pot Spaghetti & Meatballs?
Uncooked Spaghetti noodles
Water
Frozen meatballs
Jar of Pasta Sauce
You can make this your own by adding Parmesan cheese (after the pressure cycle), or even some Italian seasoning if you want to bump the flavor of your sauce.
Should I use Fresh or Frozen meatballs?
Frozen meatballs actually work better here! They hold shape better.
Keep in mind you won't be able to drain the grease, so make sure you use lean ground beef meatballs, or and even leaner meatball such as turkey or chicken.
Frozen meatballs are a freezer staple in our house and great to have on hand for an impromptu Instant Pot Spaghetti and Meatball dinner. Here is How to Prep & Freeze Meatballs !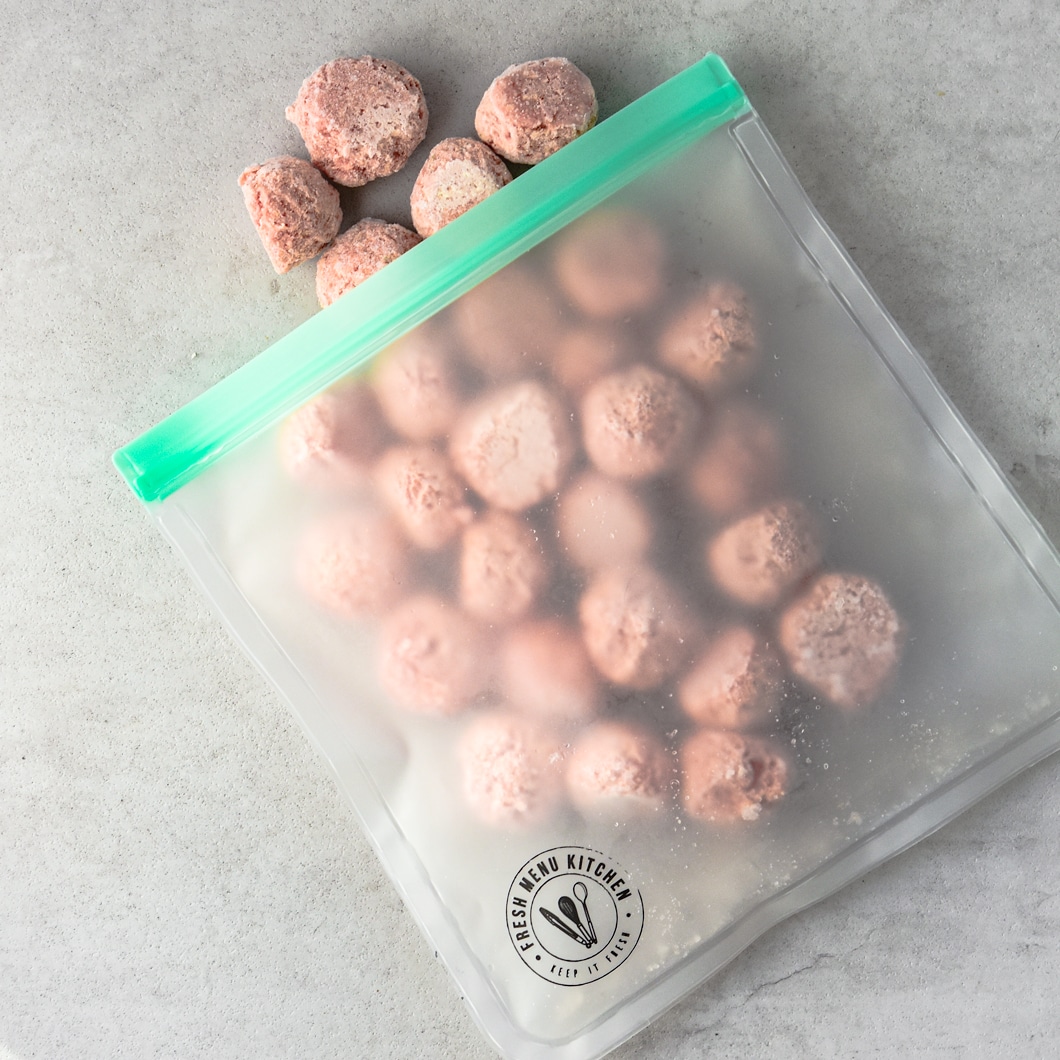 Do I have to use spaghetti noodles?
You can use whatever noodle you like, just make sure to adjust the cook time based on the package suggestion.
Rule of thumb is to ½ the time on the package to get your pressure time.
If you adjust the noodle quantity, be sure to adjust the amount of liquid too. Not enough water will leave you with crunchy noodles, too much water, gives you soup. Only adjust the quantity and type of pasta if you are comfortable adjusting the liquid too.
The order you layer ingredients is important
Place uncooked frozen meatballs covering the bottom of the pot and add 1 cup of water.
To prevent clumping do not just drop noodles in. Break in half and fan out into a "star"- ish (see below).
Add the sauce on top of the noodles to prevent it from making contact with the hot surface of the Instant Pot.
Once layered DO NOT STIR!!!
Tomato sauce often scorches the bottom of the pot and can cause a "burn" error. Layering the meatballs and the noodles before the sauce should prevent the error.
Is the taste and texture of Instant Pot Spaghetti and Meatballs the same as stove top?
This is up for debate (yay the internet!). My thought is no, it is not quite the same. This is because with traditional noodle boiling, you discard the now starchy water. In this Instant Pot version, you don't.
This version leads to a bit more "starchy" texture, which I (and many people) like, but some say it is just not the same.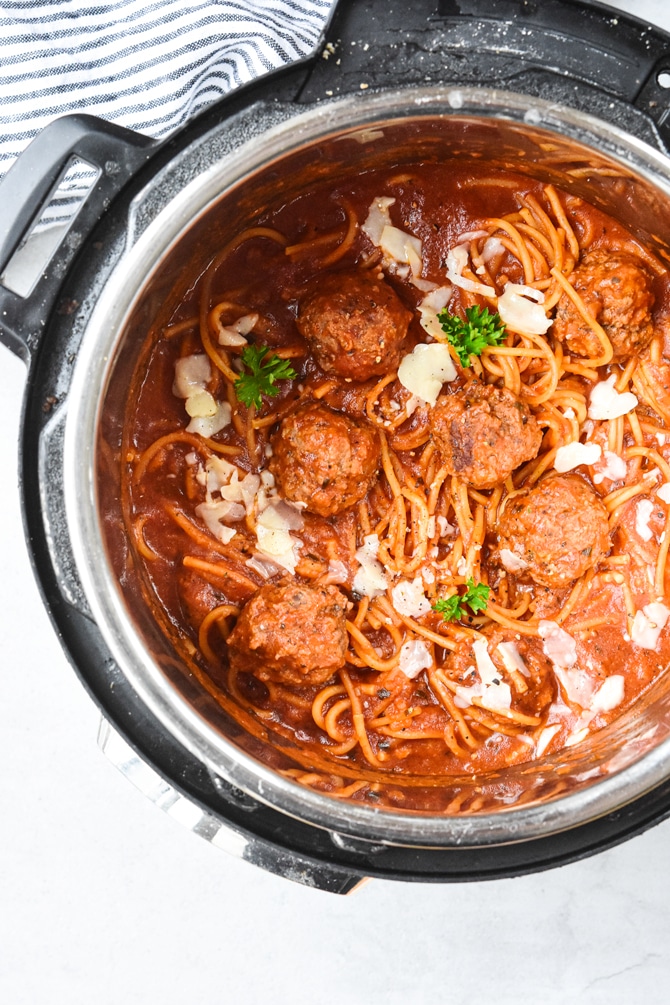 Is it really only 5 minutes to make this?
5 minutes under pressure, yes. Just like an oven preheats or a pot of water takes time to boil, same concept here. The Instant Pot needs to come to pressure prior to starting the cook time.
Pressurizing 10-12 minutes.
Cook time 5 minutes
Quick Release 3-4 minutes
Quick release tips for pasta
Always quick release for pasta, natural release will cause it to over cook.
I recommend using the pulsing method of release for 3-5 seconds, close for 2 seconds, repeating till pressure is released fully.
Starchy food like pasta and rice tend to foam up causing a big mess if you just let it quick release on its own.
Are you ready to try Easy Instant Pot Spaghetti and Meatballs?
If you give this a try, I want to see your version! Tag me @mealplanaddict on Instagram, or even better, come post a pic in the Meal Plan Addict Community!
Recipe
Easy Instant Pot Spaghetti and Meatballs
Making instant pot spaghetti and meatballs is easy and delicious, offering all the goodness of comfort food, without all the hassle and mess.
Print Recipe
Ingredients
1

lb

Frozen Meatballs (approx 15-20)

8

oz

Spaghetti Noodles Broken in half

22

oz

Jar of Pasta Sauce

2

cups

Water
Instructions
Add 1 cup of water to liner.

Add frozen meatballs to water in liner.

Add noodles on top of meatballs- fanning in a star shape to prevent clumping.

Add sauce in top of noodles.

Add another 1 cup of water.

Close lid ensuring valve is in the closed position.

Manual or High Pressure for 5 minutes.

Will take about 10 minutes to come to pressure.

Once cook time is time quick release by pulsing the valve. Open for 3-5 seconds and then close for 2 seconds. Repeat till pressure is fully released.
Notes
It will look a little soupy when you take the lid off- have no fear, once you stir it and it cools a bit, it won't be soupy anymore. 
Nutrition
Serving:
5
servings
|
Calories:
416
kcal
|
Carbohydrates:
55
g
|
Protein:
28
g
|
Fat:
17
g