Instant Pot Chicken Parm Pasta has all yum factor of regular chicken parm, but this version is only one pot and 4 minute pressure time!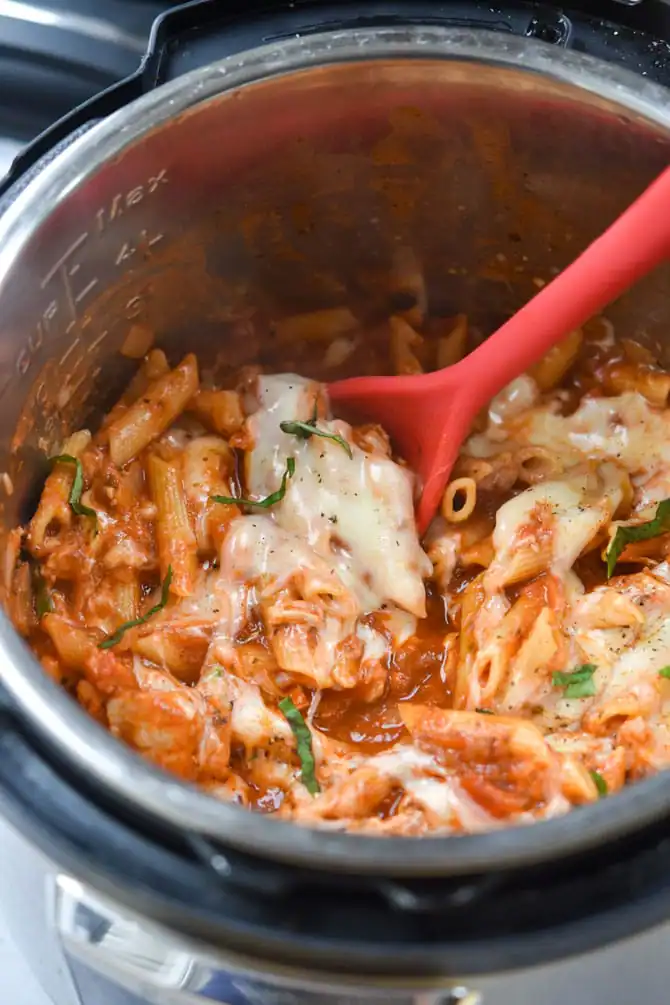 You know I am a girl that loves her veggies, but sometimes a girl just wants some Instant Pot Chicken Parm pasta for dinner.
I know you guys feel me on this. You have made my Instant Pot Lazy Lasagna oh so popular so I know you want this recipe too.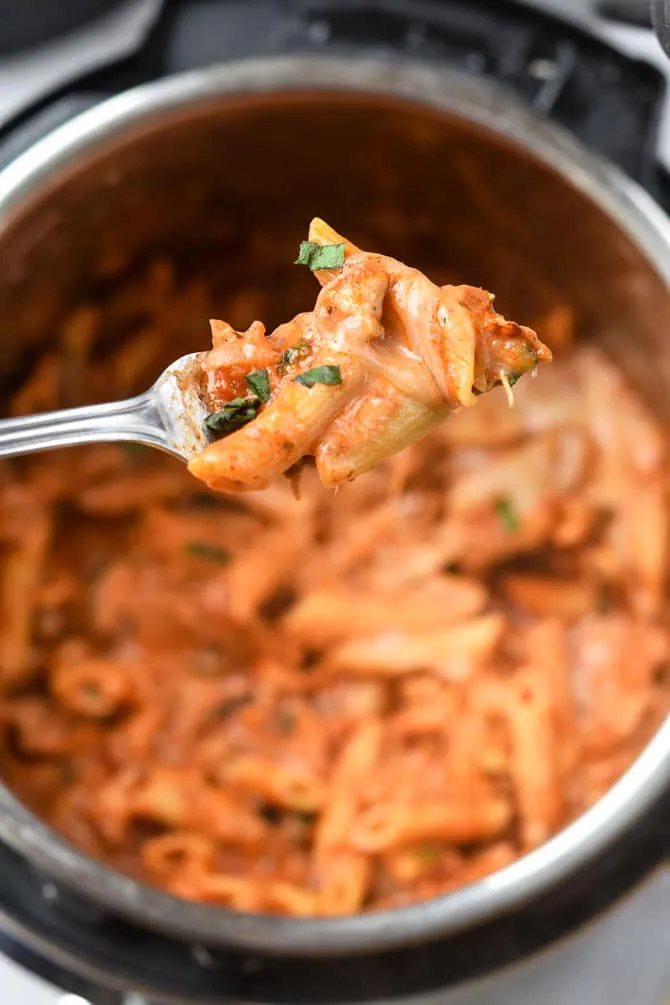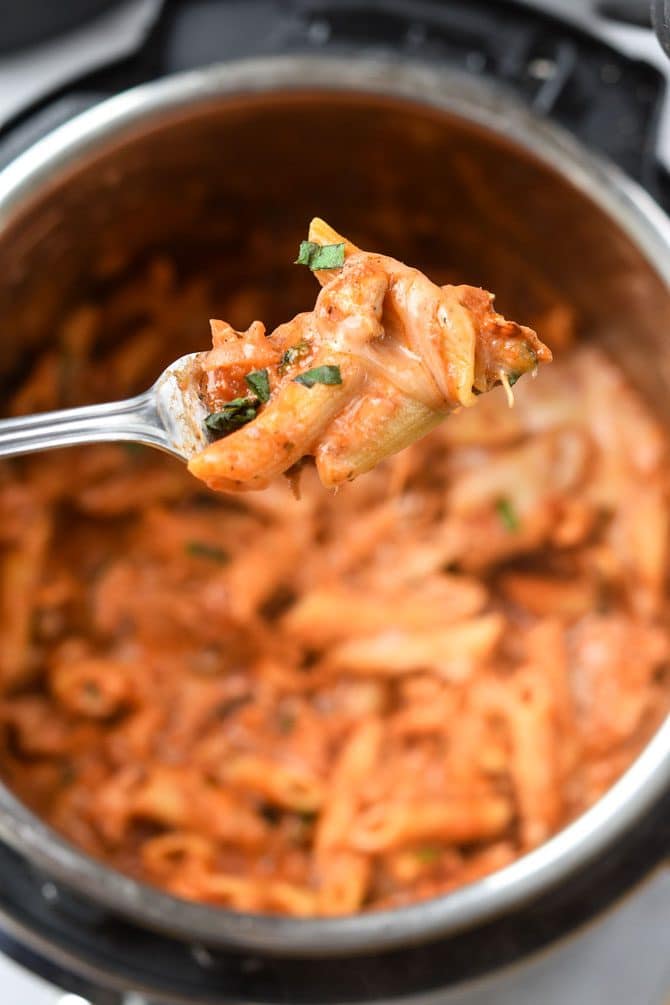 I know that some of you have struggled with pasta in the instant pot and with tomato sauces.
But, have no fear. I have a trick or two for you.
I have no actual evidence from Instant Pot to validate this, but for whatever reason, my personal feelings are that the 8 quart models are either hotter, or more sensitive or something because when I try and troubleshoot with readers on these kinds of recipes, it is more often than not, the 8 quart models.
But Instant Pot size aside, here is how you can avoid the dreaded burn notice.
First of all, don't saute the chicken. Trust me. You can put your raw chicken in with your noodles. As long as you cut your chicken small. You don't want cooked noodles and raw chicken. This part is important. SMALL CHICKEN PIECES.
Pour the water in first, and then put the chicken in.
Like this!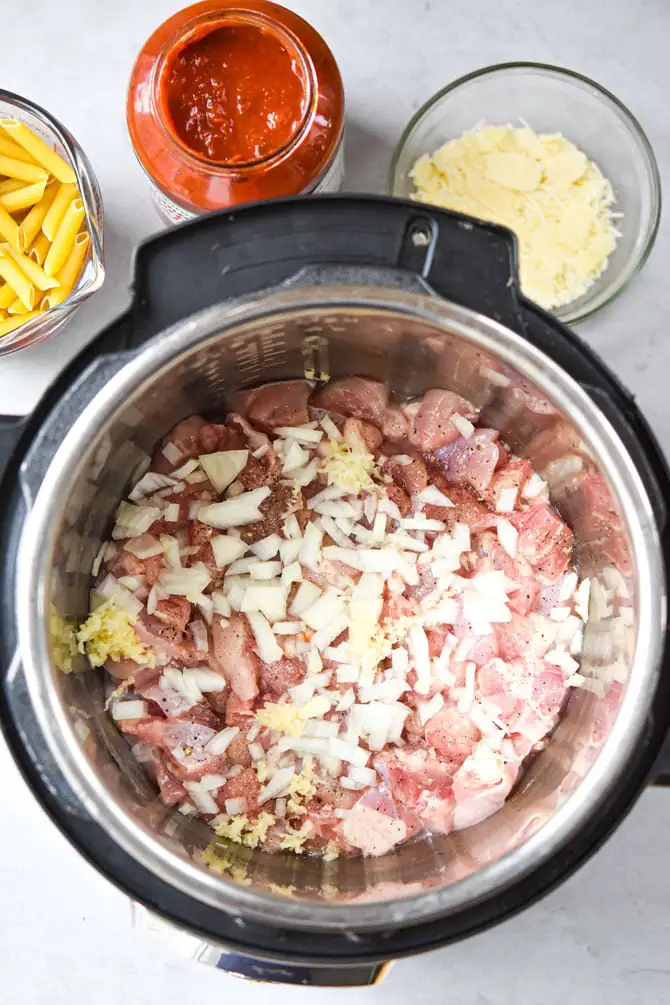 Then put the noodles on top. THEN the sauce.
This way, the tomato sauce has less of a chance to burn to the bottom.
I do spread out the sauce so the noodles are all covered. I even push the pasta down just a bit so no dry pasta is sticking up.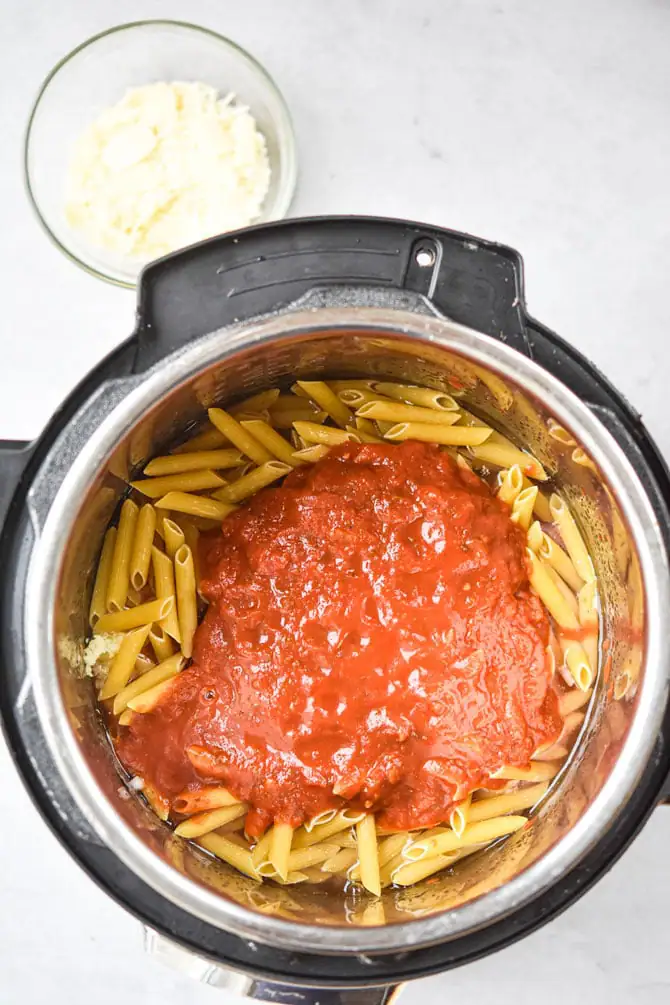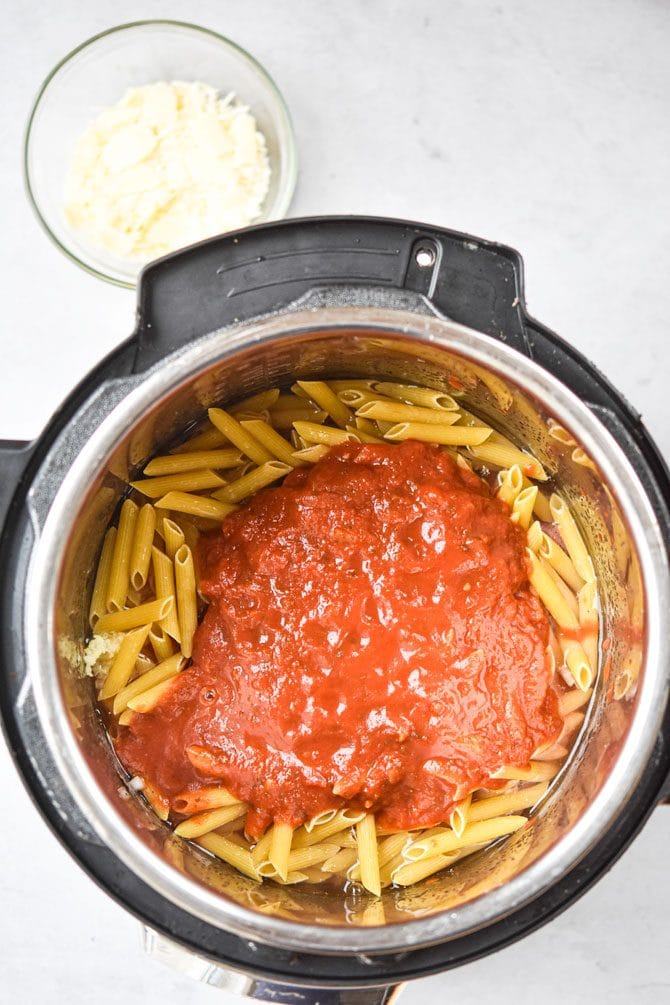 Now, I also want to show you what this looks like when you have released the pressure and opened the lid.
You will open the lid and be mad that you have Instant Pot Chicken Parm Pasta... soup.
You don't. have soup. Promise.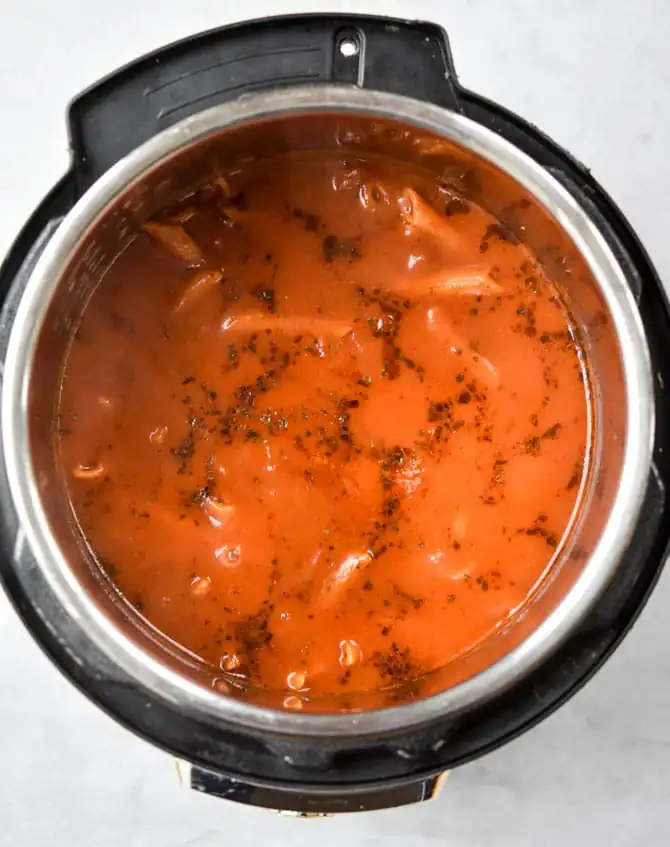 Once you mix it up and let it cool a bit, it will all come together. Plus then you add cheese and you can now relax because this is what you get!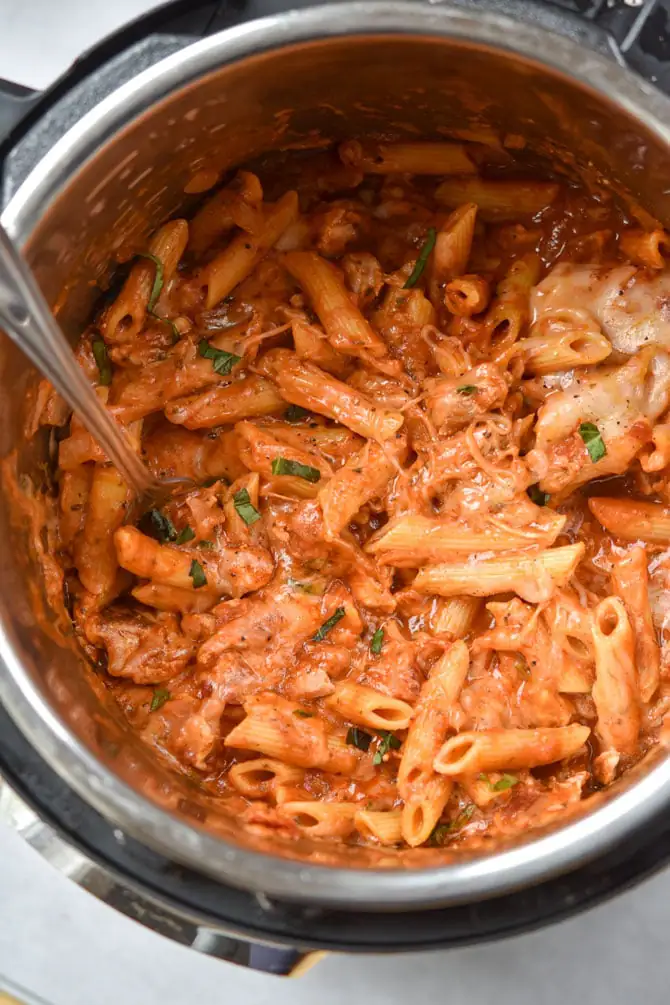 Trust me now?!
Now, yes you can swap out the penne if you like. Simply take the cook time on the package and half it. That is what you set the cook time to. Most pastas are cooked in the Instant Pot in 4 minutes.
I have no idea how gluten free noodles fair for this. If you try it, please let us know in the comments below how it went!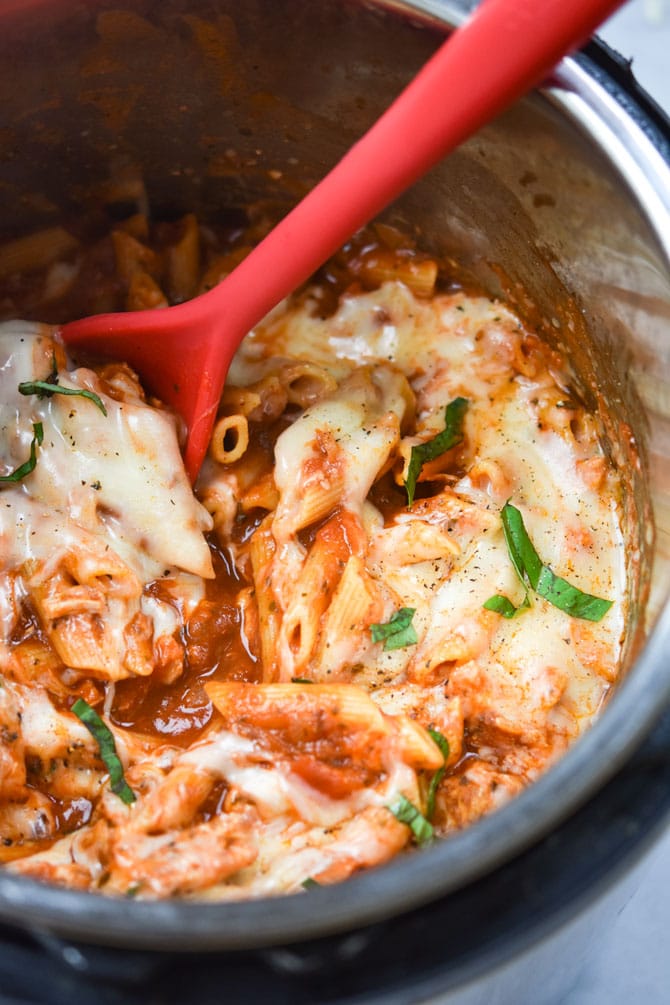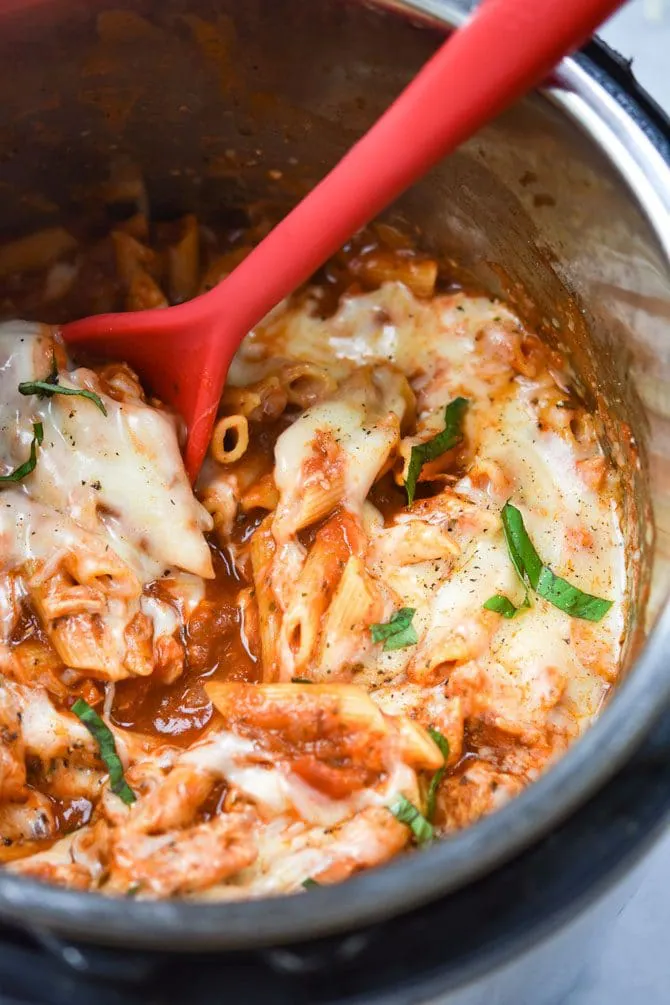 One last thing. Well, you know me, and how I love veggies.
Well, I turn my Instant Pot Chicken Parm pasta this into a meal prep - obviously.
I steam broccoli and add it to my meal prep and then it is just a simple reheat.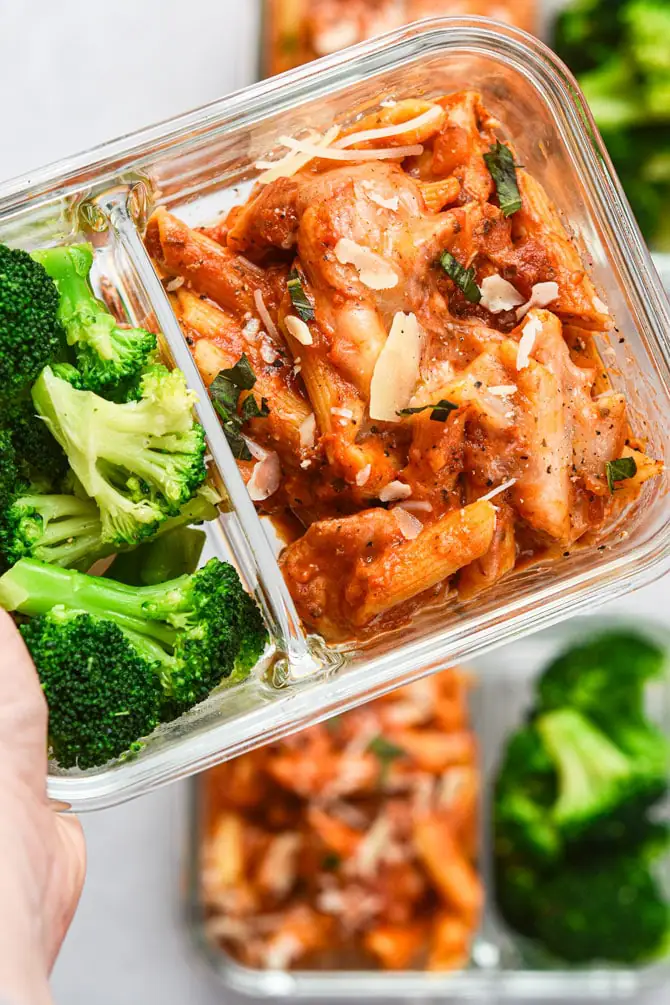 You know I want to see you make this! Tag me @mealplanaddict on Instagram so I can see!
Recipe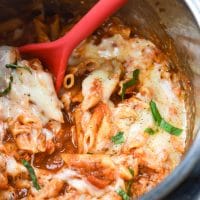 Instant Pot Chicken Parm Pasta
Instant Pot Chicken Parm Pasta has all yum factor of regular chicken parm, but this version is only one pot and 4 minute pressure time! 


Print Recipe
Ingredients
1.5

lbs

boneless skinless chicken thighs, cut into bite size pieces.

1

cup

water

½

cup

diced onion

2

cloves

garlic, minced

8

oz

penne noodles

3

cups

jar pasta sauce

1

cup

shredded Parmesan cheese

½

cup

shredded mozzarella

salt and pepper to taste

fresh basil for garnish (optional)
Instructions
Add the water to your instant pot liner.

Add the chicken, onion and garlic.

Add the noodles ontop of the chicken.

Add the sauce on top of the noodles. You want to do this so the sauce is away from the bottom surface to prevent the burn notice.

DO NOT MIX, but you do want the noodles all covered with sauce. Gently push the noodles down so there is no dry noodle sticking out.

Secure the lid and set to sealing.

Set the Instant Pot to 4 minutes.

After the time is up, carefully quick release the pressure.

Remove the lid. It will look soupy until you mix it and it cools a bit.

Add the Parmesan cheese and stir.

Add the mozzarella and place the lid back on for 2-3 minutes to get the cheese to melt. Or, you can just stir it right it. Your choice.

Add salt and pepper to your preferences.

Serve immediately, or portion into meal prep containers and store in the fridge for up to 4 days.
Notes
This recipe has not been tested in an 8 quart Instant Pot
You can swap the noodles for a noodles of choice. 
The layering order of this recipe is important, as is the no mixing before the pressure cook cycle! 
Nutrition
Calories:
471
kcal
|
Carbohydrates:
30
g
|
Protein:
46
g
|
Fat:
19
g
|
Fiber:
4
g
|
Sugar:
9
g