Air fryer chicken wings are a quick way to get ultra crispy wings, but this version has a homemade stove top sweet chili sauce for those sticky sauce wing lovers!
Be sure to pin this post so you always have it!
Crispy wings are less than 30 minutes away with your Air Fryer!
You could oven bake them, or shallow fry them, or, you can Air Fry them and have the best of both worlds with crispy wings and no added oil!
Best tips for the best Air Fryer wings
Don't over crowd. Can't have them touching. You need the hot air to circulate around them.
Dry your wings! Pat the chicken wings with a paper towel to get them as dry as you can
For dry rub wings - add seasonings after the wings have cooked a few minutes and released some of the natural oils so the rub will stick to the wings.
For saucy wings - add the sauce after the wings have cooked. Remove them, toss with sauce, and then put back into the air fryer for 2 more minutes.
Don't skip the baking powder for crispy wing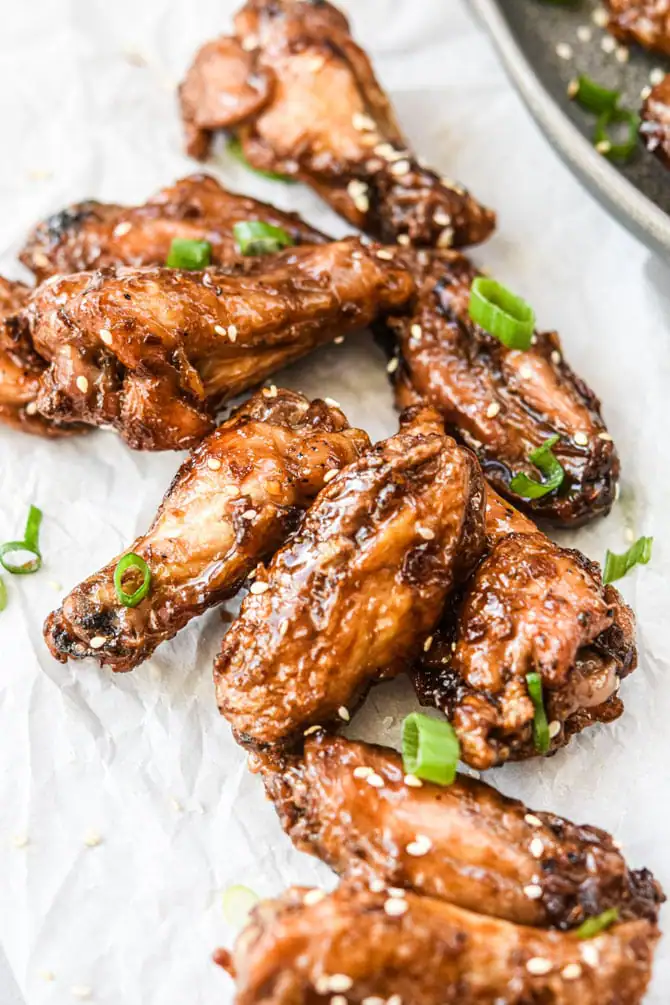 Can I use frozen chicken wings?
Yes, but you will need to add 5 more minutes to the cook time and you won't get quite the crispy texture.
I don't recommend air frying frozen chicken wings.
Frozen wings have a lot of excess moisture. As they thaw, the excess moisture will accumulate in the basket and cause steam - which you don't want.
You will want to pour out that excess moisture as it accumulates if you use frozen wings.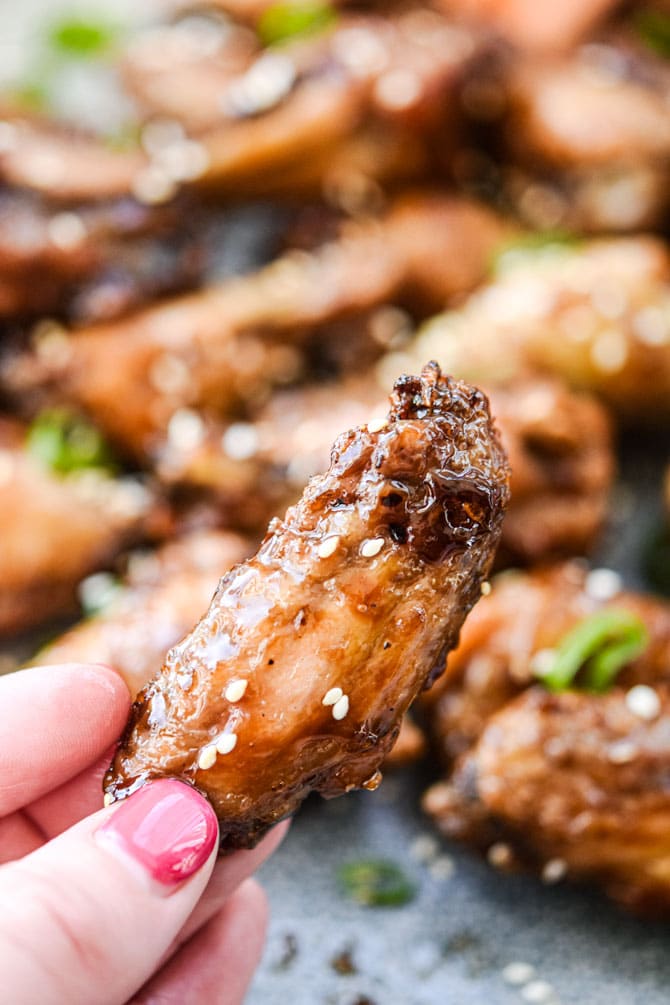 To add oil or not?
Chicken wings have enough fat in them that is released with cooking. You don't need to add additional oil to Air Fry chicken wings.
Sauce or No sauce?
You can keep it simple with dry salt and pepper wings - also good.
Or, you can make this quick stovetop sweet chili sauce to toss your wings in.
I make the sauce on the stove top while the wings cook!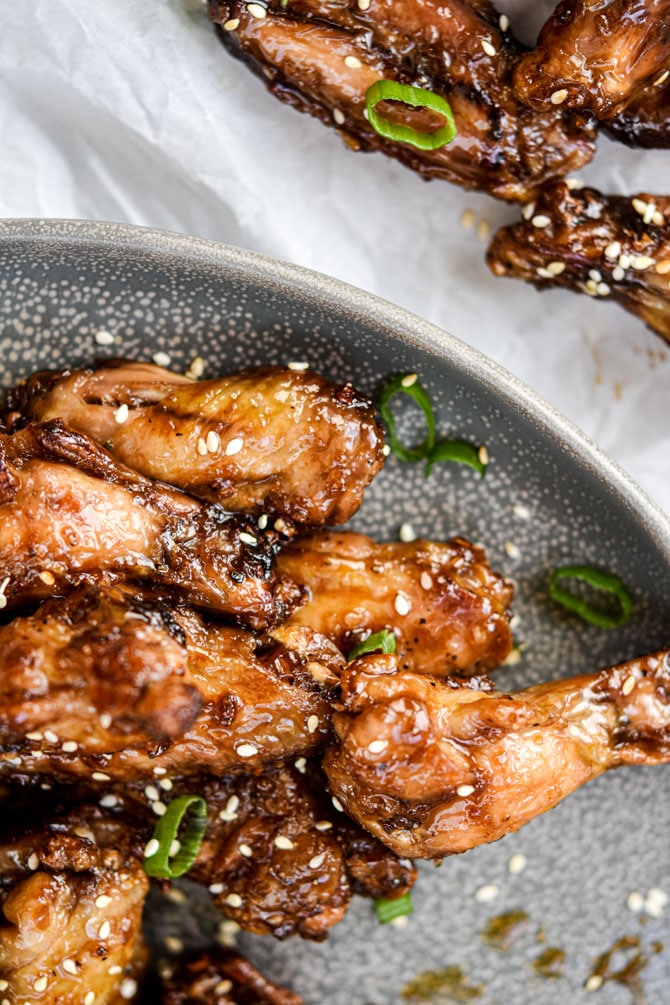 Are you a lover of Sweet Chili Sauce too? Check out these Sweet Chili Chicken Burgers, Sweet Chili Chicken Meal Prep Bowls, or Sweet Chili Chicken Drumsticks!
When you make these sweet chili chicken wings, I want to see your version! Tag me @mealplanaddict on Instagram or come post a photo over in the Meal Plan Addict Community!
Recipe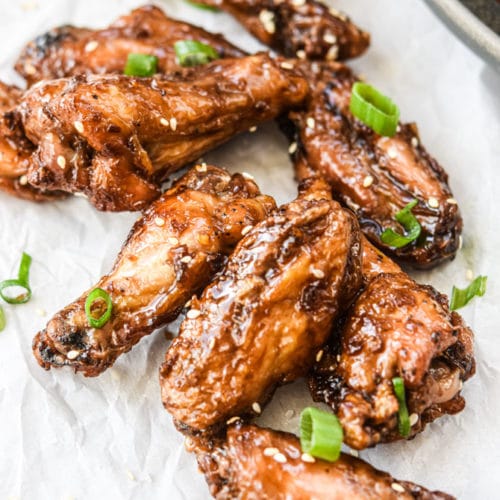 Air Fryer Chicken Wings with Sweet Chili Sauce
Air fryer chicken wings are a quick way to get ultra crispy wings, but this version has a homemade stove top sweet chili sauce for those sticky sauce wing lovers! 

Print Recipe
Ingredients
1

lb

chicken wings

1

tablespoon

baking powder

½

teaspoon

Salt

¼

teaspoon

fresh ground pepper
Sweet Chili Sauce
2

teaspoon

 olive oil

¼

cup

fine diced onion

4

 cloves garlic, minced

½

cup

 maple syrup

2

teaspoon

honey

¼

cup

 soy sauce

½

teaspoon

 red chili flakes 

1 teaspoon if you like things more spicy

1

 lime juice and zest
Instructions
To prepare the Air Fryer Wings
Pat the wings dry with a paper towel.

Toss the wings in a bowl with salt, pepper, and baking powder.

Spray your basket with a bit of oil so the skin doesn't stick to the basket.

Lay the wings out in the air fryer basket so that they don't touch. You want the air to be able to circulate around each wing.

Air Fry at 400°F for 7 minutes.

Using tongs, flip each wing

Cook for another 7 minutes.

Remove the wings from the air fryer, and place into a medium bowl. Toss with sweet chili sauce and return to the airfryer for another 2-3 minutes so the sauce can caramelize a bit onto the wings.
To prepare the Sweet Chili Sauce
In a small pot, heat the oil on medium heat.

Add the onion and garlic until well caramelized and lightly browned. Take care not to burn this.

Add the remaining sauce ingredients and allow to simmer on low for 3-4 minutes or until desired thickness. The longer it cooks, the thicker the sauce will become.
Nutrition
Calories:
302
kcal
|
Carbohydrates:
18
g
|
Protein:
23
g
|
Fat:
18
g