Honey Sriracha Air Fried Chickpeas just changed your snacking game. You think I am crazy throwing the word snack and chickpeas in a sentence together, but just grab your bottle of Sriracha and your honey, meet me over at your Air Fryer and trust me.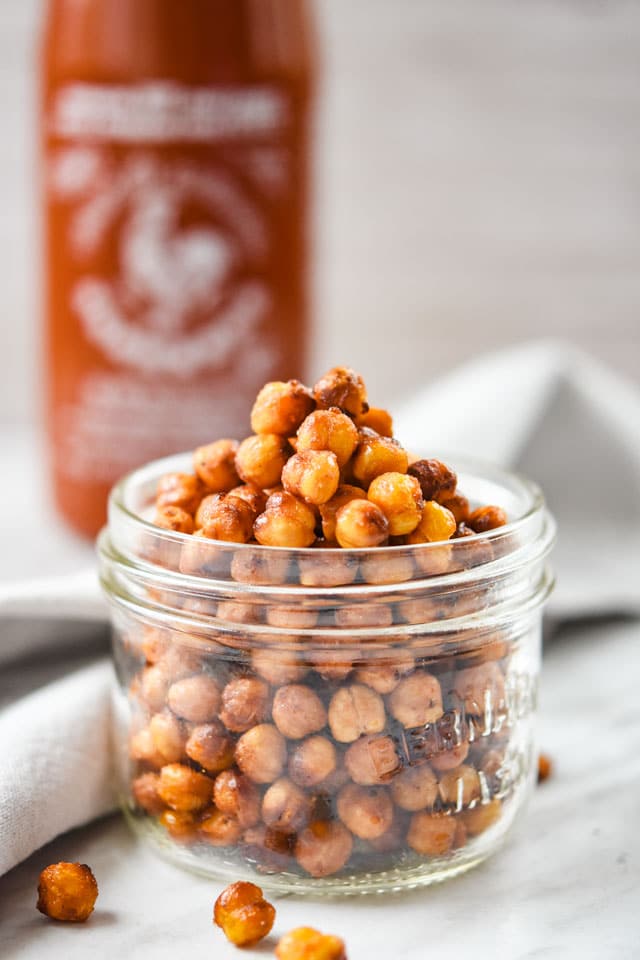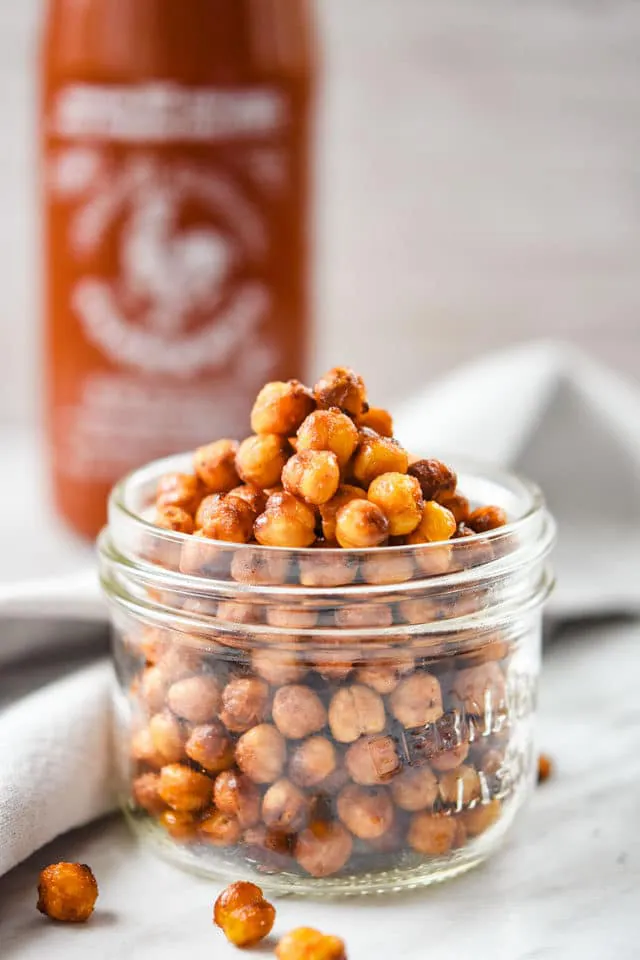 It would appear that the minute I get an idea to test something in my Air Fryer, it becomes a highly addictive adventure for me. First it was this Highly Addictive Vegan Air Fryer Broccoli that I have been eating in an un-human amount, and now I threw chickpeas in my air fryer and O.M.G.
The spiciness. The sweetness. The saltiness. The crunchiness. Its like the trifecta (or whatever the word is when it is 4 things) of badassery.
Consider your snack game revolutionized with these Honey Sriracha Air Fried Chickpeas.
This is one of those snacks you can make at the beginning of the week and have all week. Don't try and double this recipe and do it all at once. The chickpeas will not be in one layer and they will turn out soft. You want a single layer. But, I won't stop you from doing a couple of batches.
You will notice that I add the seasonings in two stages. This is important.
I find the seasonings either absorb or fall off down the little holes of the basket so every time I was making these the flavor was just ok. Until I realized adding a dash of sauce and honey in the final minutes of cooking was the key!
Que the air fryer angels to sing !
Ok, enough of me trying to sell you on chickpeas as a snack. Here is the recipe so you can try them for yourself.
Recipe
Honey Sriracha Air Fried Chickpeas
Print Recipe
Ingredients
1

can (540ml)

Chickepeas, drained, skins removed

1

Tablespoon

olive oil

2

teaspoons

Sriracha

2

teaspoons

Honey

¼

teaspoon

garlic powder

to taste

Salt

to taste

Pepper
Instructions
In a large bowl, combine the chickpeas and oil until all of the chickpeas are coated.

Add 1 teaspoon of the honey and mix gently.

Add remaining spices, and one teaspoon of sriracha.

Add the mixture to your Air Fryer basket

Set the temperature to 390F,and the timer for 5 minutes

After 5 minutes is up, shake the basket and set the timer for another 5 minutes

After the second 5 minutes is up, add an additional 1 teaspoon of sriracha and 1 teaspoon of honey, and set the timer for 3 more minutes.

When the final 3 minute cycle is done, let the chickpeas cool for 10 minutes. They will crisp up a bit more as they cool down. You can also pop them back in in 2 minute increments, if you like a crispier chickpea.
Notes
This recipe was created and tested in the 6qt Power Fryer XL. If your fryer is smaller, you may have to divide this into multiple batches to ensure a single layer of chickpeas. 
Nutrition
Calories:
142
kcal
|
Carbohydrates:
22
g
|
Protein:
7
g
|
Fat:
4
g
|
Fiber:
5
g
|
Sugar:
2
g
So, yea, I did that. Honey Sriracha Chickpeas as a snack food. Bonus points because these keep for a week!
If you want more of this genius kind of inspiration, come find me in the Meal Plan Addict Community, or over on Instagram!