Single serving freezer meal prep game changed with Souper Cubes. These genius trays allow you to freeze food in perfect for meal prep portions. These are all of the ways I use my souper cubes for my freezer meal prep!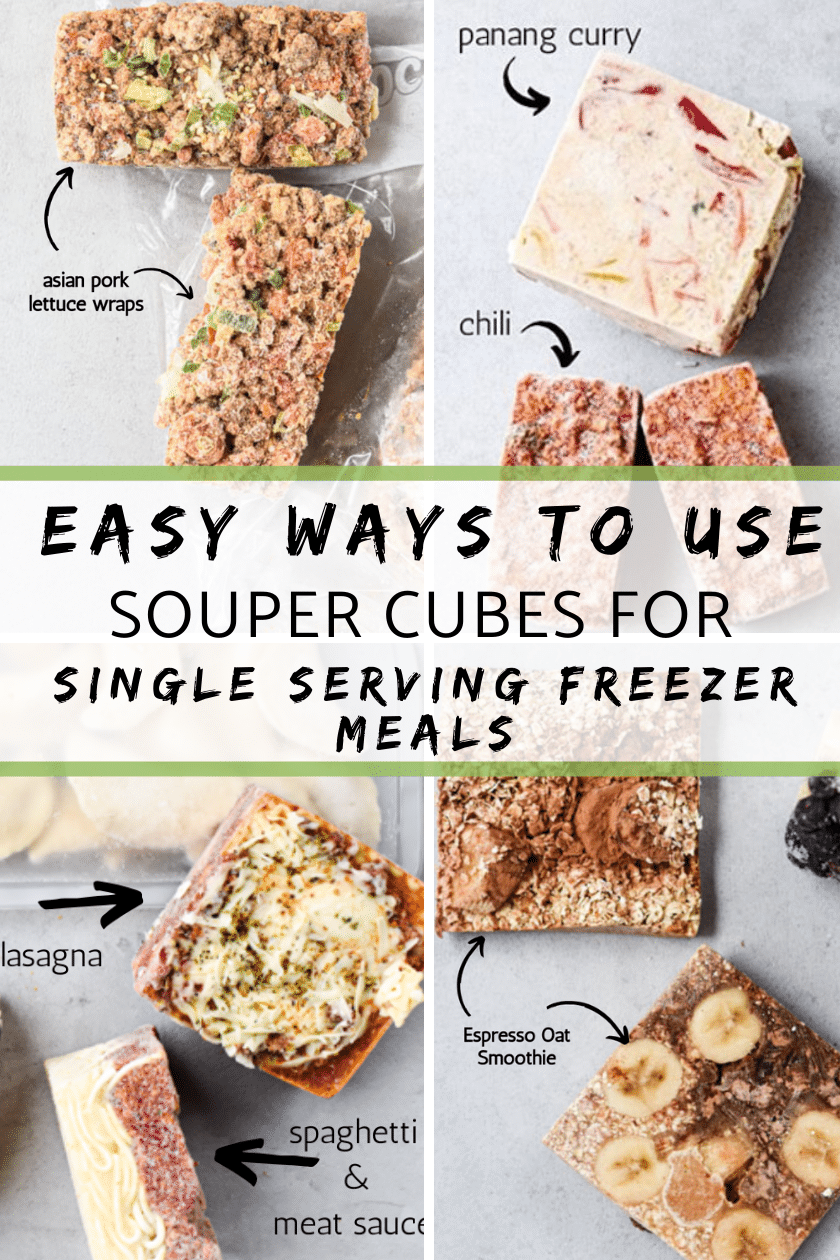 For years, I have been freezing lunches in individual servings to survive the work week.
I typically had been freezing my lunch meals in glass containers.
It is isn't the worst option. But, I it gets heavy in the freezer, and you can't go right to the microwave with frozen glass (it will crack).
Enter Souper Cubes - the greatest invention for single serve meal prep.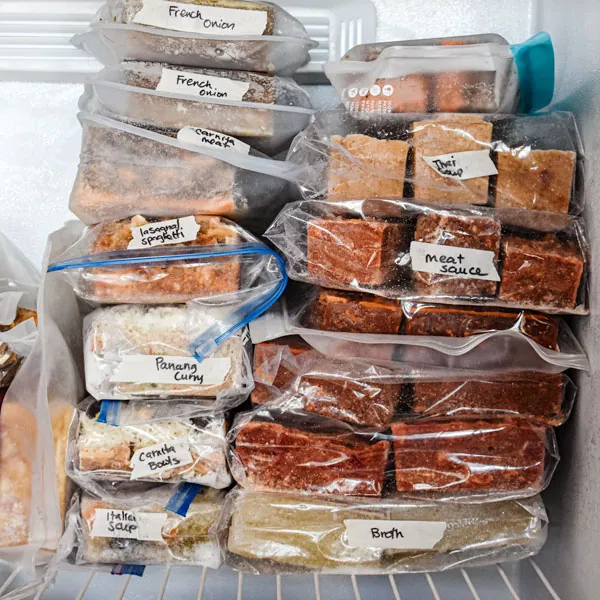 Created by California couple, Jake and Michelle, these trays - which come in 1, 2, and ½ cup sizes, are going to help you fill your freezer with ready to go lunches (and dinners), without having to eat the entire tray of lasagna every day for a week.
I have had my trays for quite a while now, and get asked frequently, how I use them to stock up my freezer, so here are all the awesome ways I use Souper Cubes!
This is not a sponsored post, but this post does contain affiliate links.
When you purchase your Souper Cubes using this affiliate link, I make a small commission for introducing you to the amazing product.
Single Serve Lasagnas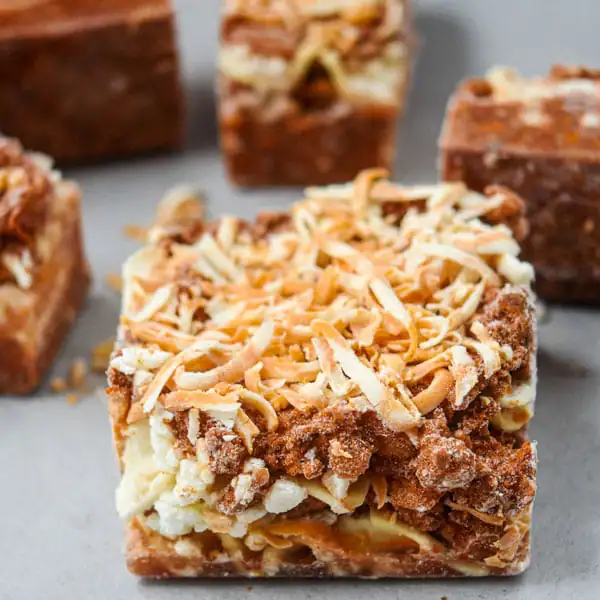 This is probably the #1 recipe I use my 2 cup trays for.
There are a few ways to do this. I personally assemble the lasagnas as you normally would and freeze unbaked. On reheat, I simply microwave until warm through out. It takes about 12-15 minutes to head from frozen.
You can also remove your lasagna cubes from the freezer and transfer to microwave safe container to thaw in the fridge - this way you can reduce the time to heat up.
Jake and Michelle bake theirs (yes, the trays are oven safe), and you can find their recipe and full directions here on their website.
Spaghetti & Meat Sauce
Freezing pasta can cause a bit of a debate in the freezer meal world, but I am on the pro freezing side - most of the time.
I personally don't like to freeze pasta if it is in a broth, like a soup, because the noodles will bloat up and go mushy, but freezing pasta outside of a broth actually works really well.
PRO TIP- When freezing pasta, you want to undercook the pasta just a bit (less 1 or 2 minutes). When you reheat pasta it continues to cook, so try accounting for this when prepping pasta cubes.
I use this sneaky veggie meat sauce for my spaghetti and meatball cubes!
Besides spaghetti and meat sauce, I love to freeze this chili mac in cubes too!
All the Curries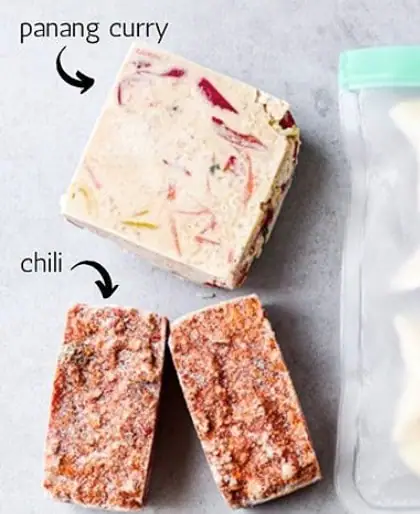 Curries freeze really well and when frozen in single serve cubes, lunch has never been so easy.
My favs are:
PRO TIP - Freeze the rice on top to prevent the rice from absorbing the liquid from your curry sauces.
Meal Prep Bowls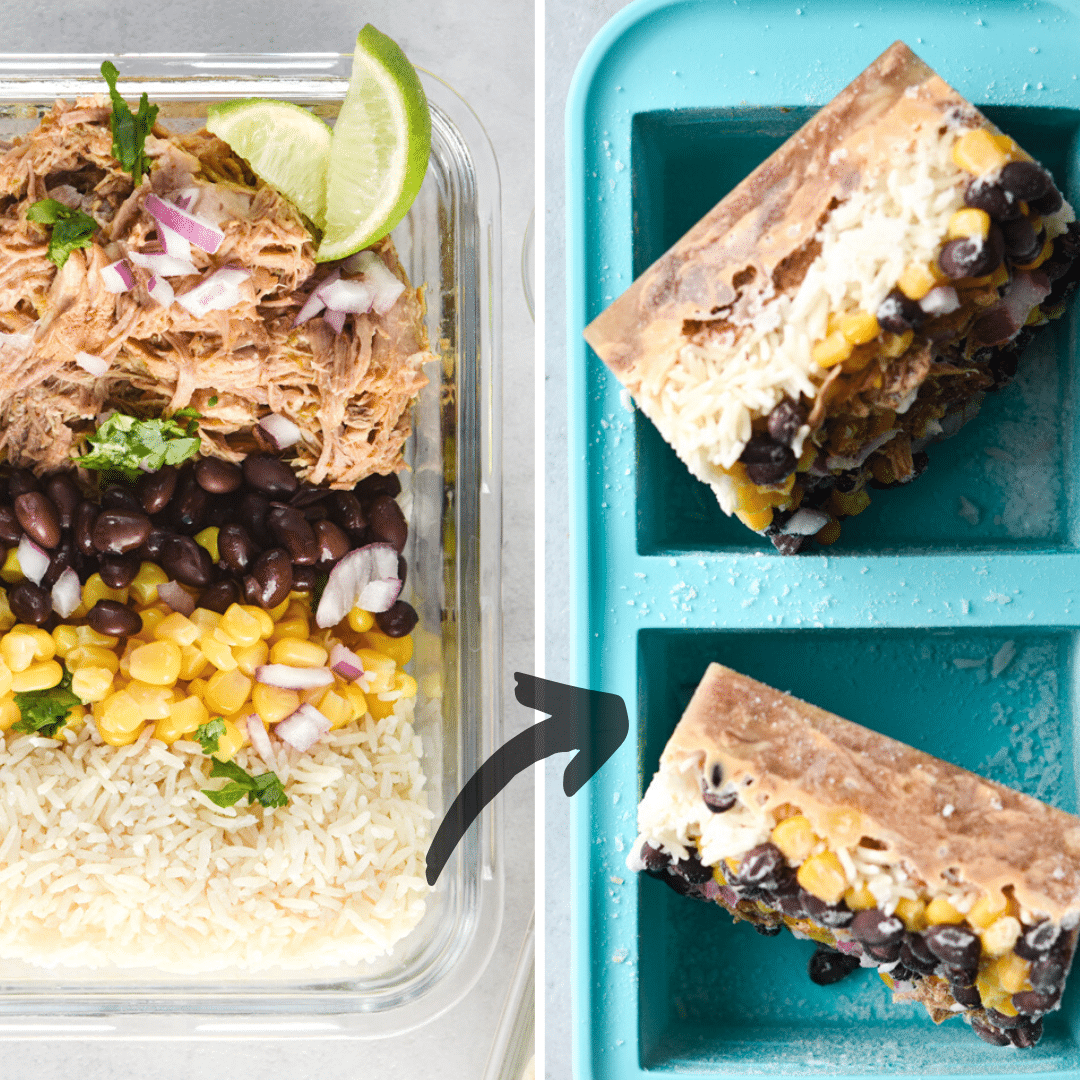 This is a pretty broad category. Basically any meal prep that is freezer friendly (which usually just means saucy), you can put into cubes!
Same with curries, I try and put the rice on the top.
PRO TIP - Use frozen veggies when you assemble your cube meals! Saves time and is less expensive.
My favorite meal prep bowls to turn into individual freezer cube lunches are the carnita bowls shown above, this shredded buffalo chicken with rice, ground beef stroganoff on rice, and these ground beef Philly cheesesteak bowls.
Soup & Chili

These trays were created for soups so of course I use mine for soups!
PRO TIP - avoid freezing soups with pasta, rice and potatoes. Those all soak up the broth and bloat and go soggy.
The best soups to freeze: Tomato Basil, Chicken Jalapeno,Cheeseburger Soup, Mexican Fiesta, and Veggie Loaded White Cheddar Soup.
For Chili - try this veggie loaded version!
Shepherd's & Cottage Pies
Fun fact: If you make these with beef it is a cottage pie, and if you make it with lamb, it is Shepard's pie - technically.
That said, I call mine (made with beef) Shepherd's pie ( I am a rule breaker!)
Souper Cubes has their how to for Shepherd's pie here on their blog!
Lettuce Wrap "Stuffing"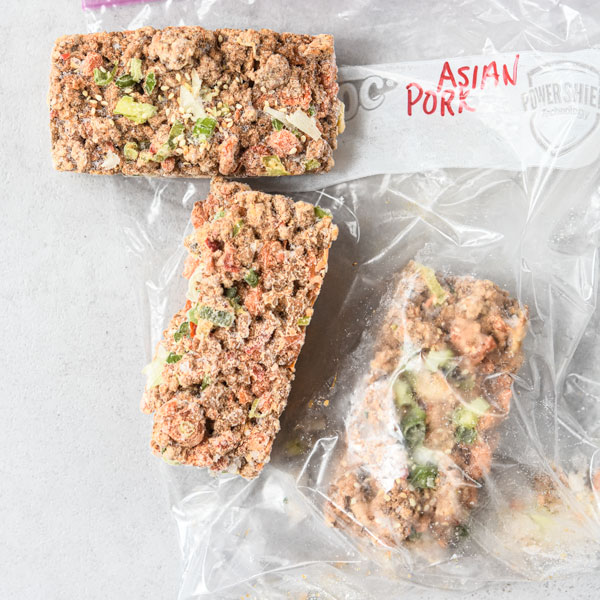 Ground meats freezer really nicely and I love to make lettuce wraps with them as lunches.
My go to "stuffing" recipes are this Asian Pork (pictured above), this ginger beef, and this Thai Turkey lettuce wrap "stuffing"!
Smoothie "Kits"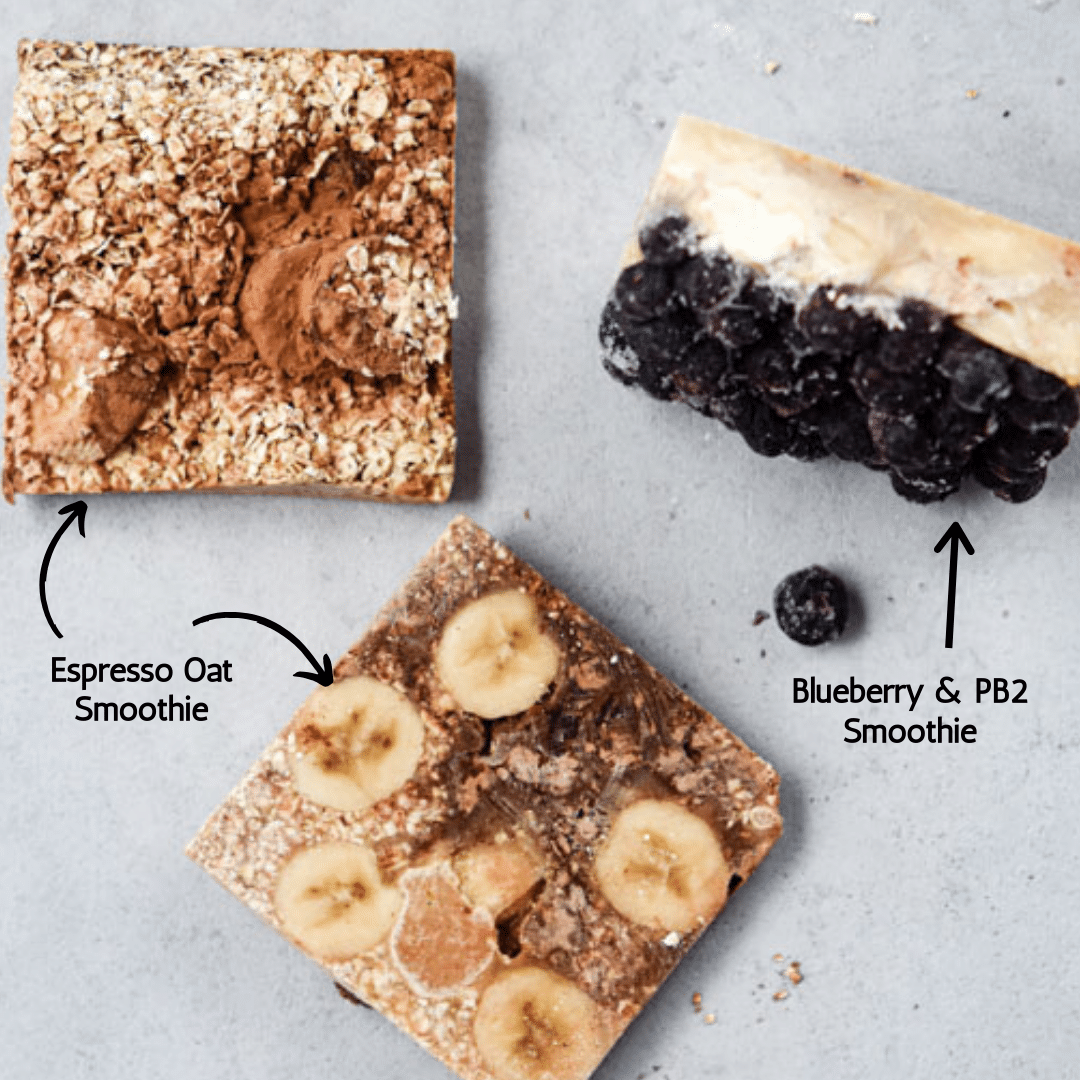 Turn almost any smoothie into a smoothie "kit" by loading your tray wells with the dry ingredients for smoothies.
Add the almond milk (or liquid of choice), and Yogurt (if using) at time of blending.
I do add about a tablespoon of almond milk or water to the well if it is really dry just so the ingredients will bind together.
I do think you need a high speed blender such as a Vitamix or Blend tech blender for this to work. If you don't have a high speed blender, I would take your cube out of the freezer and let it thaw a bit before blending.
There you have it! All the ways I love to use my Souper Cubes for single serve freezer meal prep!
Are there ways you love to use your trays for freezer meals? I would love to hear what kinds of things you do - down in the comments!