This beautiful greek salad recipe is perfect for quick or fancy dinners alike. Easy and satisfying, this salad recipe will be sure to impress!
Nothing says summer is finally here like a delicious chopped salad at lunch or dinner.
This quick and easy chopped greek salad recipe is the perfect way for you to stay away from the stove this summer, giving you the many bold and irresistible tastes of traditional mediterranean food in one sophisticated little package.
This chopped salad recipe is a real winner with guests, perfect for picnics, as a side dish, or even as a full meal for a light dinner.
The best part is that with a full range of possible protein additions, this recipe can be made for anybody!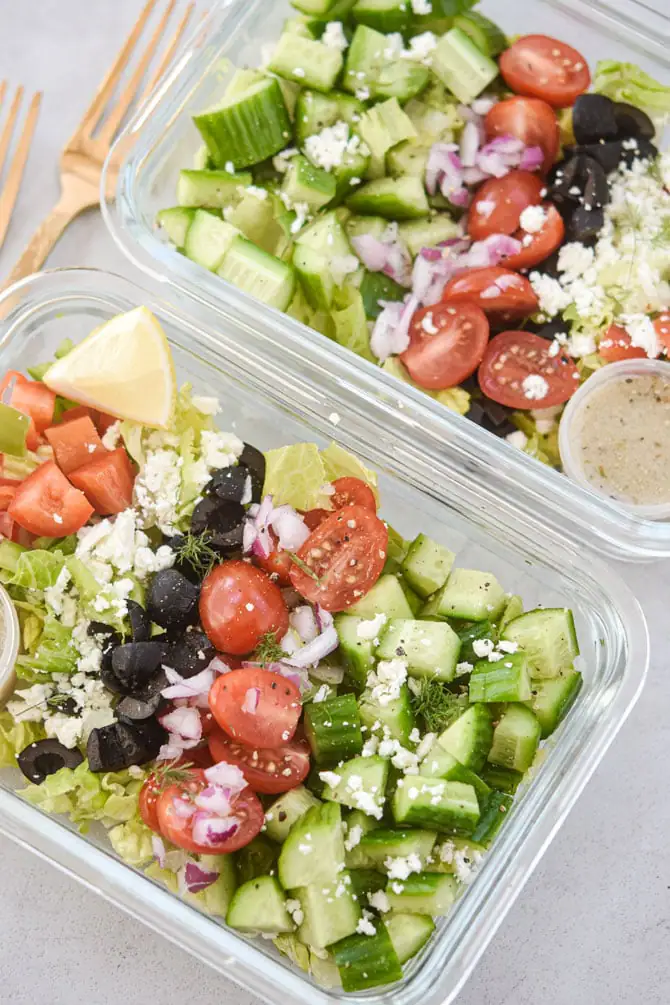 Chopped salad is great in a pinch, and just like most of the other recipes here at Meal Plan Addict, it'll keep well in the fridge so you can enjoy seconds and thirds. The most work you'll have to do is chopping and combining key ingredients.
This summer staple features the bold tastes of :
feta cheese
kalamata olives
the classic crunch of fresh veggies like romaine lettuce, red onion, green and red bell peppers, and garden favourites like cherry tomatoes and English cucumber.
PRO TIP - If you're looking for a way to mellow the harsh taste of raw red onions, soaking them in ice water for a total time of 15 minutes will neutralize the sulfur compounds found within, making them less pungent and easier for you to enjoy without ruining the onion's unique taste or crunch.
Once the chopped veggies have been combined in a bowl, toss them together and set it aside until you're ready for the pièce de résistance - the trademark vinaigrette.
Nothing beats the complex taste of a vinaigrette salad dressing, made up of Greek favourites like extra virgin olive oil, red wine vinegar, lemon juice , garlic, oregano, and a dash of salt and black pepper.
Once your Greek dressing is ready, drizzle it over the ingredients and voila - you're now the most popular person at the table!
Nobody likes a feta Scrooge
The key to a great Greek salad is the feta.
Choosing Greek feta made from sheep or goat milk will add a more refined character to your chopped salad. You can find it at the deli in most larger grocery stores. If you can't find Greek feta, don't panic - Canadian feta made from cow's milk can still do the trick, although it's blander than the real thing.
Feta is the star of the recipe and the red carpet should be rolled out for it. Don't be a feta Scrooge; nobody wants to eat a Greek salad made by somebody who skimped out on the best ingredient.
The olive question
The right olives are the second most important part of a chopped Greek salad.
Fresh black olives from the olive bar at your local grocery store add a bold, tangy character to the salad that just can't be matched by other ingredients. For this recipe, we recommend using kalamata olives, though any black olives will do in a pinch.
If you're looking for a quick substitute, don't look to green olives as an option - they'll throw off the entire recipe. Instead, just use canned sliced black olives.
Add some protein
This versatile recipe can please any type of eater, including those who are looking for a little protein in their salad. To complement the bold mediterranean tastes, we recommend adding some grilled boneless chicken. If chicken isn't quite your style, you also add grilled shrimp to the mix
Looking for more great salad recipes that are perfect for meal prep lunch? Check these out !
If your chopped Greek salad recipe was a smash hit, tag your Instagram photos with @mealplanaddict or post a pic to our Meal Plan Addict Facebook and be the envy of the whole community.
Recipe
Crunchy Chopped Greek Salad
Servings:
2
people / personal salads
This beautiful greek salad recipe is perfect for quick or fancy dinners alike. Easy and satisfying, this salad recipe will be sure to impress!
Print Recipe
Ingredients
Salad
½

cup

finely diced red onion

2

small/medium

romaine hearts, washed, spun and chopped

1

cup

cherry tomatoes, halved (keep whole if doing this as a make ahead lunch)

½

cup

pitted Kalamata olives sliced in half

¾

cup

crumbled Feta cheese

1

cup

diced red and/or green peppers

salt and pepper to taste
Greek Vinaigrette Dressing
¼

cup

Red Wine Vinegar

½

cup

Olive oil

¼

cup

Water

½

teaspoon

Oregano

1

teaspoon

Lemon juice

1

very small

Garlic glove minced. Be careful with raw garlic. A little goes a long way.

¼

teaspoon

salt

pinch

fresh ground pepper

1

teaspoon

Dijon mustard
Instructions
In a large bowl, combine all salad ingredients and gently toss to combine.

For meal prep version, split the ingredients in half to create two separate salads. Keep the dressing separate.

Pour desired amount of dressing over salad just before eating.

Store for up to 4 days in the fridge (without dressing mixed in)
Notes
The ingredient measurements are just estimates, go ahead and go rogue!