You need this perfect, easy pasta salad recipe in your life! With this quick, delicious recipe you can feed your family affordably and with little prep.
Pasta doesn't need to be a dirty word.
There are few things more satisfying than a delicious cold pasta salad on a hot summer day. It's perfect for bringing on camping trips, picnics, and it's always the go-to item at potluck dinners.
This easy pasta salad recipe can let you enjoy pasta the way it's meant to be enjoyed.
The great thing about this dish is that:
there really are no rules - you can get crazy and add protein
throw in all your favourite veggies,
and top it off with whatever seasonings you're in the mood for.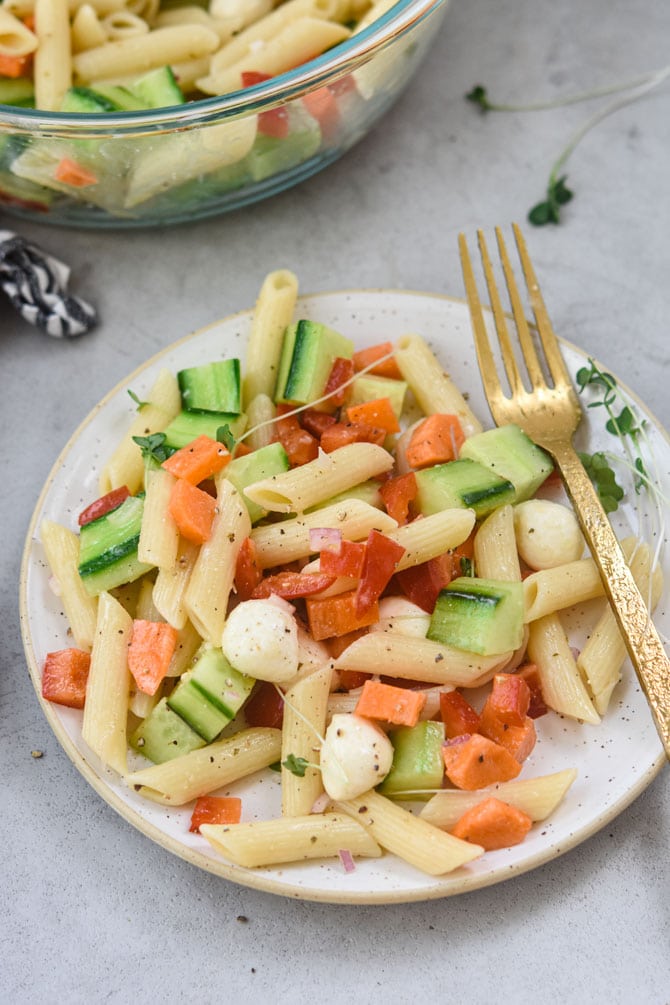 Pasta salad is a real winner when it comes to keeping in the fridge (if it makes it that far), giving you days worth of leftovers for work, lunches, and side dishes.
For this easy pasta salad recipe, I like to use:
bell peppers
red onion
carrots
mozzarella
black pepper,
and Italian dressing for some added zest. I use my favorite bottled dressing, but you can make your own if you prefer using this easy recipe from Spend with Pennies.
Combine this with some al dente pasta noodles (penne is my go to) and you've got yourself a surefire summertime (and really any other time) favourite.
Getting pasta just right - and by right we mean al dente
A pasta salad is only as good as the quality of your pasta - cooking pasta al dente is absolutely key to nailing this recipe.
Without cooking al dente, your pasta will have a mushy texture and the salad will blend together poorly and become a mess.
If you're not sure how to cook pasta al dente, don't panic - I got you. The main difference between al dente and how most people make pasta is the amount of time taken - many boxes or packages will have directions for al dente, which if you stick to you should be safe.
Start by preparing pasta as you normally would, bringing a pot of cold water to a boil, and then adding the pasta.
Around the six minute mark, taste the pasta. At this point, it should still be fairly crunchy. Repeat this tasting every 30-60 seconds until the pasta is firm, but not crunchy, when you bite down on it. As soon as you reach this texture, drain the water and voila - you have perfectly made al dente pasta!
Keep in mind that the time may change based on the brand and noodles you buy; stick to what the box says but definitely taste it as we've described here to make sure it's perfect.
Low carb pasta substitutes
I get it - pasta has a bad rep, mostly because of the carb factor.
For those of you looking for less carbs, there are a few tasty alternatives you can use. Check your local grocery store or Amazon for low carb pasta that you don't have to make yourself.
Other low carb options such as spiralized zucchini noodles could be interesting, but won't really make this recipe the traditional pasta salad that guests may be expecting. It could be fun to experiment with them on your own though!
What noodles should you use for pasta salad?
The real answer is that you can really use any type of medium-sized noodle in your pasta salad.
The best type will be whichever has the most nooks and crannies - this lets the pasta absorb more of the dressing and veggies, making for a more balanced salad.
I highly recommend using:
penne
fusilli
rotini
bow tie (farfalle)
macaroni
Unless you're in a real pinch, you probably want to avoid large pasta types like cannelloni or large shells as they just won't give you the fit-it-all-on-a-fork factor. When mixing the salad, make sure to give it a few extra tosses to make sure that the dressing, veggies, and cheese is spread evenly throughout.
What substitutions can I use?
You can use vegan cheese for the mozarella to make this a vegan-friendly favourite.
I use soft bocconcini balls (usually found in the deli area at the grocery store), but you can easily cube regular mozzarella
If you don't want the sharper onion taste of red onions, go with green onions (both white and green parts).
Looking for more easy salad recipes ?
Check out all of the awesome make ahead salads we have on the blog, right here.
Did you love this easy pasta salad recipe? Tag us on Instagram at @mealplanaddict, or post your pics to the Meal Plan Addict community to share with the entire community.
Recipe
Easy Pasta Salad Recipe
You need this perfect, easy pasta salad recipe in your life! With this quick, delicious recipe you can feed your family affordably and with little prep.
Print Recipe
Ingredients
2

cups (250 g)

dry, uncooked penne.

1

red pepper, diced

¼

cup

diced red onion

1

cup

mozzarella, cubed or use bocconcini balls

1

medium

carrot, peeled and diced

1

long english cucumber peeled and diced

fresh ground pepper to taste

Italian Dressing to taste and preference
Instructions
Boil the penne to al dente according to the directions on the box.

Pour the pasta into a strainer and then rinse with cold water to stop the cooking process.

Gently combine all of the ingredients in a large bowl.

Refrigerate at least one hour before serving.

Store in the fridge for up to 4 days.
Nutrition
Calories:
334
kcal
|
Carbohydrates:
38
g
|
Protein:
12
g
|
Fat:
15
g