1 rotisserie chicken, 4 easy prep lunches is a meal prep hack I like to use! On Sunday, make (or buy!) a rotisserie chicken, and pulling together a few things from your fridge, BAM! 4 meal prep lunches!
This is a super simple meal prep hack. You can roast (or Air Fry!) a whole chicken and create 4 non repeated lunches.
Take this hack to an even simpler level, and just buy a pre cooked chicken. Better yet, the ones roasted the day before, are usually already cold, and at a discount (where I live!).
So, here are my 4 lunches I make with my Air Fryer rotisserie chicken:
Meal Prep Lunch 1 | The Muscle Meal
Chicken Leg,
and Basmati rice!
Meal Prep Lunch 2 | Chicken Spinach Salad
Spinach salad with red peppers & sliced almonds,
Chicken breast and,
Hard boiled egg.
I drizzle balsamic vinegar and olive oil on this one and eat it cold.
Meal Prep Lunch 3 | Chicken Veggie Hummus Plate
Tender juicy chicken breast with a
Carrot Sticks and red peppers
Hummus.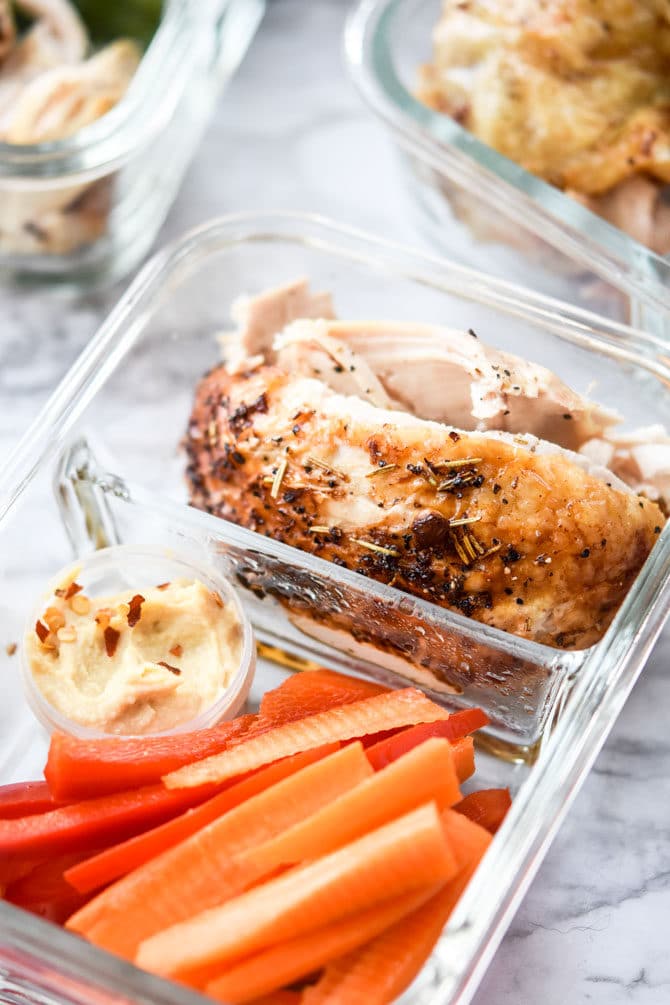 Meal Prep Lunch 4 | Chicken Keto Box
Crispy chicken leg,
Cheese cubes, and cashews.
So simple, yet so much variety. So, there you have it, 1 Rotisserie Chicken, 4 Easy Prep Lunches!
Do you use rotisserie chickens in your meal prep? Come post some ideas over in the Meal Plan Addict Community and tag me @mealplanaddict on Instagram!