Mediterranean chopped chicken salad is an easy meal prep with fresh produce, and the most moist and juicy chicken. It is all drizzled with easy home made dressing, too!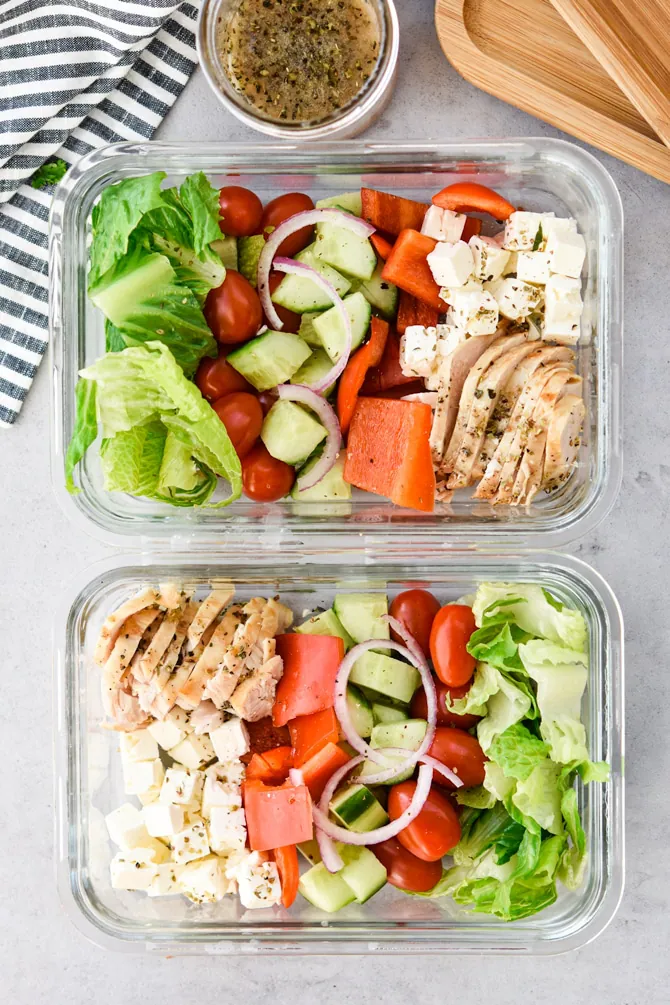 Meal prepped salads can be easy and not boring at all. Promise.
The textures of this Mediterranean inspired salad is what makes it probably my #1 meal prep salad of choice.
Here is why this chopped salad is THE BEST:
the crunchy crispy veggies.
the soft saltiness of the feta, and
the amazingness of the home made dressing. YES. ALL THE YES.
Cool, you are all in. You want this Mediterranean chopped chicken salad. But, you have so many meal prep salad questions.
How long will this last as a meal prep?
This chopped salad is best consumed within 4 days. Day for is a wee less crunch and fresh, but not soggy. At all.
How to make your chopped salad stay fresh and crunchy
This salad is a combination of all of my meal prep tricks.
First, use grape tomatoes. These babies hold up so well for meal prep. Cut tomatoes are going to go soggy instantly, and will mess with the rest of your chopped salad, too. Keep the grape tomatoes whole.
Wash and use a salad spinner for romaine. The salad spinner really does make a difference in removing excess moisture from your romaine hearts.
Cucumber and Peppers need to be dry! To do this, I cut my veggies and then lay them on a clean tea towel or paper towel to remove the excess moisture. This is essential for keeping meal prep salads fresh and crunchy.
Keep the dressing separate until time to enjoy. Some salads, do well with the dressings mixed right away, and even make the salad better (like in this Mediterranean chickpea cauliflower salad), but for salads with lettuce, always keep it separate.
How to cook moist chicken and slice it so thin.
First, you want a HOT HOT oven. 450F to be exact.
Cook to temp, not based on time. Not all chicken breasts are made the same size, so a one size fits all time won't work. You want to have an instant read thermometer and you want to cook your chicken to 165F. Not under - because, food safety. Not over, because it will dry out. Roughly you are looking at 20 minutes for an average 8 ounce chicken breast. But only use the time as an estimate and use a thermometer.
Let it rest after cooking. After your chicken hits 165F, remove it from the oven and cover it with foil. Also essential.
Once it is cool to the touch, place your chicken in the fridge. The key to thinly sliced chicken is to cut it COLD with a very sharp knife.
Tools I use for this meal prep:
These are affiliate links.
Instant read digital thermometer
Are you adding this Mediterranean chopped chicken salad to your next meal prep day?
If you do, I want to see how it turns out! Tag me @mealplanaddict on Instagram or come post a photo of your prep in the Meal Plan Addict Community.
Mediterranean Chopped Salad Meal Prep
Mediterranean chopped salad meal prep is an easy meal prep with fresh produce, and the most moist and juicy chicken. It is all drizzled with easy home made dressing, too! 
Equipment
3 cup Pyrex glass containers

Instant read digital thermometer

Very sharp Chef's knife
Ingredients
1

lb

boneless, skinless chicken breasts

1

tbsp

olive oil

2

cups

cucumber, ½" chopped

2

cups

grape tomatoes, whole

2

cups

red pepper, ½" chopped

thin red onion slices (to preference)

1

cup

feta, crumbled

1

head

romaine, copped into ½" pieces
Dressing
¼

cup

red wine vinegar

¼

cup

olive oil

1

tsp

grainy Dijon mustard

1

tsp

dried basil

1

tsp

dried oregano

1

tsp

honey

salt & pepper to taste
Instructions
For the Chicken
Drizzle the chicken with oil and season with salt and pepper

Bake until 165F (approx 15-20 minutes)

Remove from oven and cover and let rest until cool to the touch.

Place the chicken in the fridge.

Once cooled, slice into thin slices.
Dressing
Combine all of the dressing ingredients into a bowl. Whisk together.

Transfer to condiment size containers
Salad Assembly
Divide the veggies, feta, and chicken evenly between 4 containers.
Nutrition
Calories:
354
kcal
|
Carbohydrates:
7
g
|
Protein:
42
g
|
Fat:
22
g