The makers of the ever-popular Instant Pot have come out with their version of an Air Fryer. I bought it, and here is my Instant Vortex Plus air fryer oven review!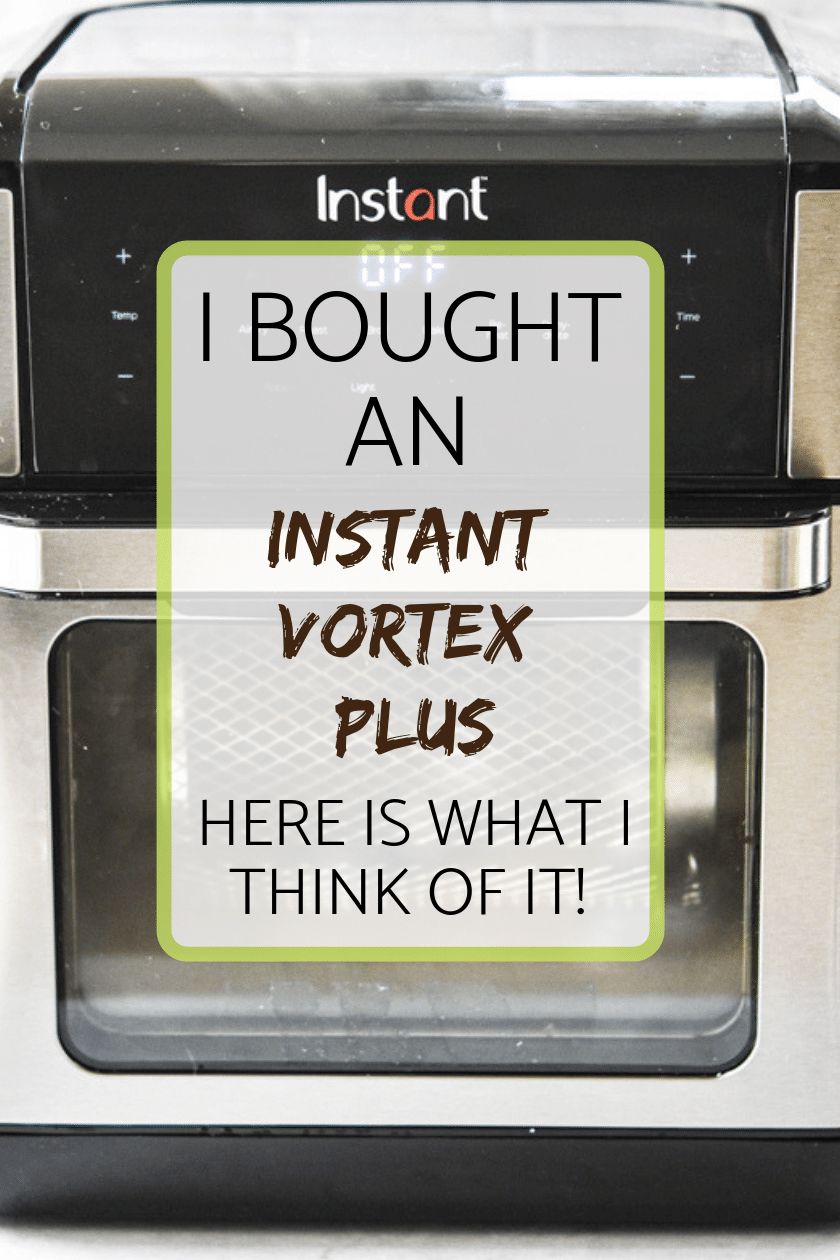 This is not a sponsored post. I purchased the Instant Pot vortex with my own money, and all of these opinions are my own.
I am a self-proclaimed kitchen gadget junkie. But, only if it makes my life easier in some way.
Kitchen storage real estate is precious (and filled with meal prep containers), so I do need to be a bit selective in what I bring in the kitchen. But, I really wanted to try the Instant Vortex Plus!
First of all, let's just chat real quick about what the Instant Vortex Plus is and what it can do.
This is not a pressure cooker.
It is made by the makers of the Instant Pot (an electric pressure cooker), but it is not a pressure cooker.
This is primarily an Air Fryer.
What is an Air Fryer?
Air Fryers use hot air convection to cook food. Not cooking oil submersion. Air Fryer is a bit of a misnomer.
These units are basically small convection ovens, using super heated circulating air, and there is actually no frying or deep frying at all.
But, your food comes out crispy, like it was fried.
This air fryer oven model has some additional smart program functions: dehydrator, food reheat, bake, roast, broil, and rotisserie.
I have written about why I love Air Fryers in general, you can find the "Why I bought an Air Fryer and Love it" Post here.
So, here is what I think about the Instant Vortex.
I use the good 'ol grade school A- F grading system for my review. A being awesome, F being fail.
EASE OF PURCHASE / AVAILABILITY (F)
Ok, let's get the bad grade out of the way early. I give this category a BIG FAIL.
I am Canadian, and at the time of writing this, the Vortex was available only in one store (Walmart), and only in the United States.
So, to get one, I bought it on vacation in Texas and FLEW with it home (as a checked fragile package in its original packaging).
So, the positive here is that the factory boxing is A+. It got to Canada with me in one piece.
Dear Instant Brand, you are a Canadian company. Not having this available in Canada is ludicrous.
Ok, rant over. Moving on.
EDIT: I am so happy to report that the Instant Vortex air fryer is now in Canada, I have changed the availability score to C from F. I still have it as average because it is not easily found everywhere in Canada and only at a few retailers.
SIZE / WEIGHT (B+)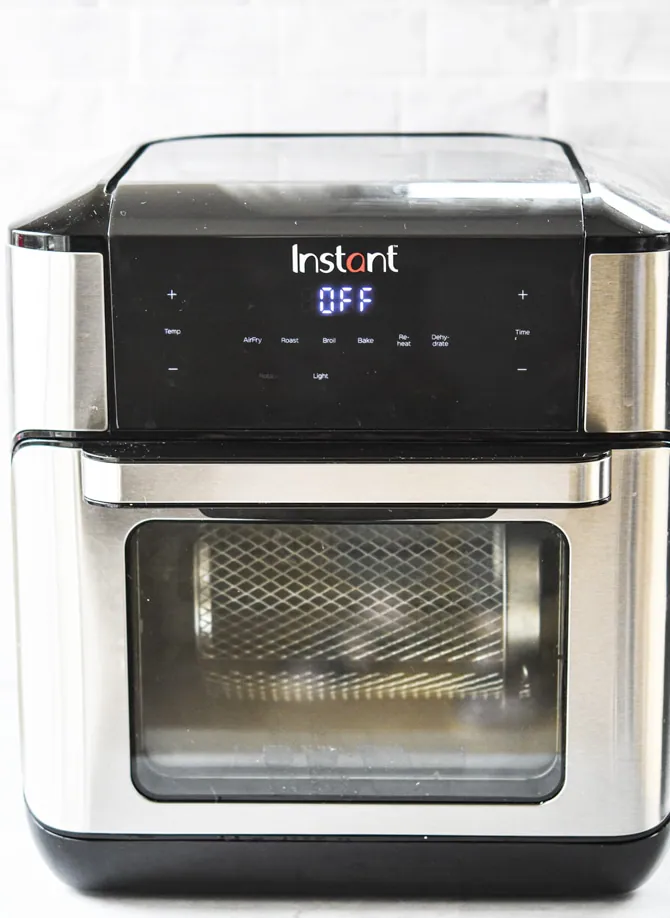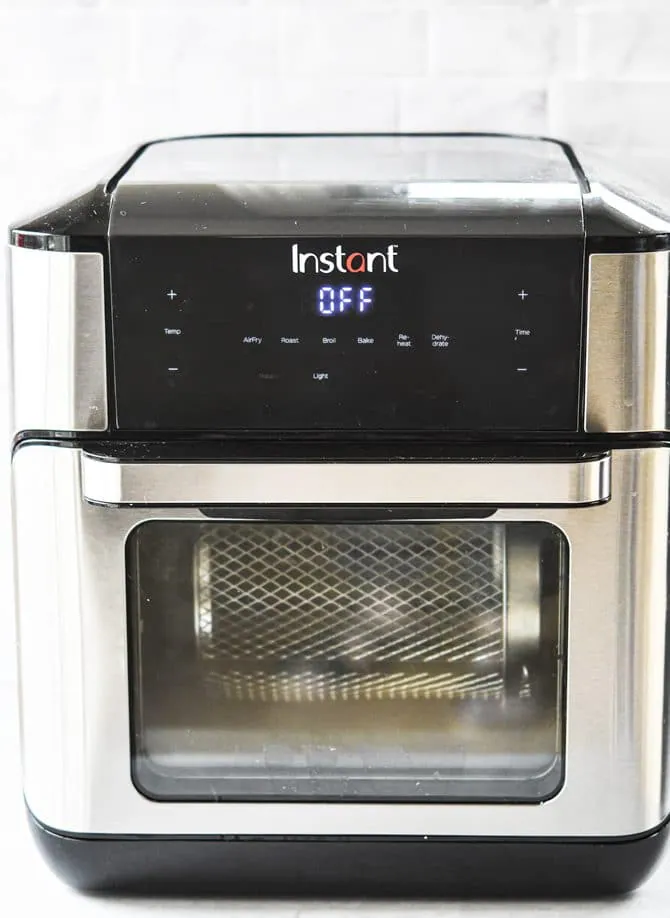 Because I flew with this, I know that in the box, with the packaging, this thing weighs 20 pounds. Once you unbox it, it is a few pounds less at 17 pounds, but she isn't small or light.
This is not one of those kitchen appliances you pull in and out of a cupboard. Unlike small appliances, it is one that stays on the countertop.
The best comparison for size is that it is a taller version of a toaster oven. It measures 13.4 inches long, 13.9 in width, and 14.4 inches in height.
My previous air fryer was a bit of a strange roundish shape, and I find the nice square shape nicer aesthetically, and less awkward to carry, move, and put things beside.
My biggest complaint about air fryers, in general, is about their cooking capacity.
You typically can't layer foods and compared to the size of the whole unit, the available cooking surface can be quite small (depending on your model and size). This results in sometimes having to do multiple batches – especially if you have a larger family.
Air Fryers typically come in 3qt – 6qt sizes. The vortex has 10-quart capacity. This means you can fit more in it - and I am a fan!
ACCESSORIES (A+)
The instant vortex comes with accessories - and they are super useful!
Rotisserie Basket - At first, I wasn't sure what to do with it or if I would use it, but I actually use it a lot. Chicken wings have been amazing with it. I also put anything that won't fall apart with the tossing into it. Hard veggies have been a hit in it. Oh, and fries and sweet potato fries.
The constant shaking of them, makes them come out perfectly crispy!
At first, though, I thought maybe my Vortex wasn't working. The basket doesn't automatically rotate. You have to press the "rotate" button!
Rotisserie Fork - This little gem makes getting the rotisserie basket off the track so easy. At first, I was using oven mitts and swearing at it. Then I realized the fork was for this. whoops.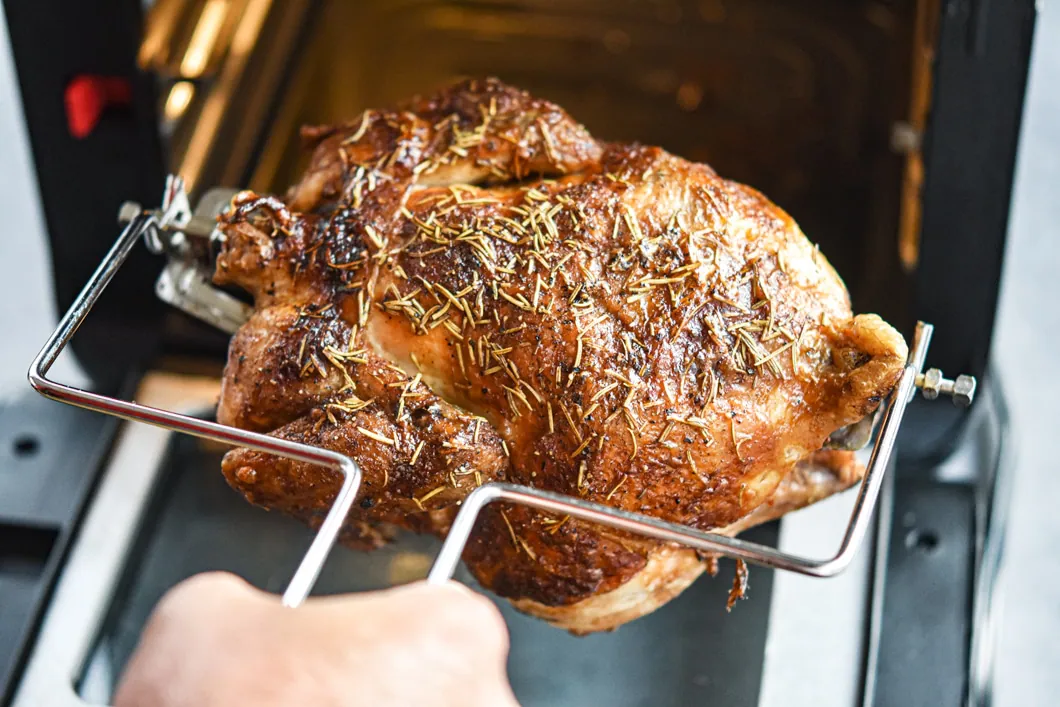 Rotisserie Spit - This is so awesome. I have made a rotisserie chicken and rotisserie-style roast beef and loved them both!
Cooking trays - two of them!!!! This means you can layer your food and fit more in! YES YES.
This is probably the #1 reason why I like this over my previous basket style air fryer. This has also allowed me to cook two different things at the same time. note: put the meat on the bottom so it doesn't drip onto your other food.
Drip Pan - this pan goes on the bottom of the unit and comes in and out so easily and makes clean up a breeze. Love love love that I don't have to mess around cleaning the bottom of the actual unit.
There are some reviews that the coating on the accessories is flaked off from the factory. Mine were just fine, so I can't speak to that.
FUNCTIONS / VERSATILITY (A+)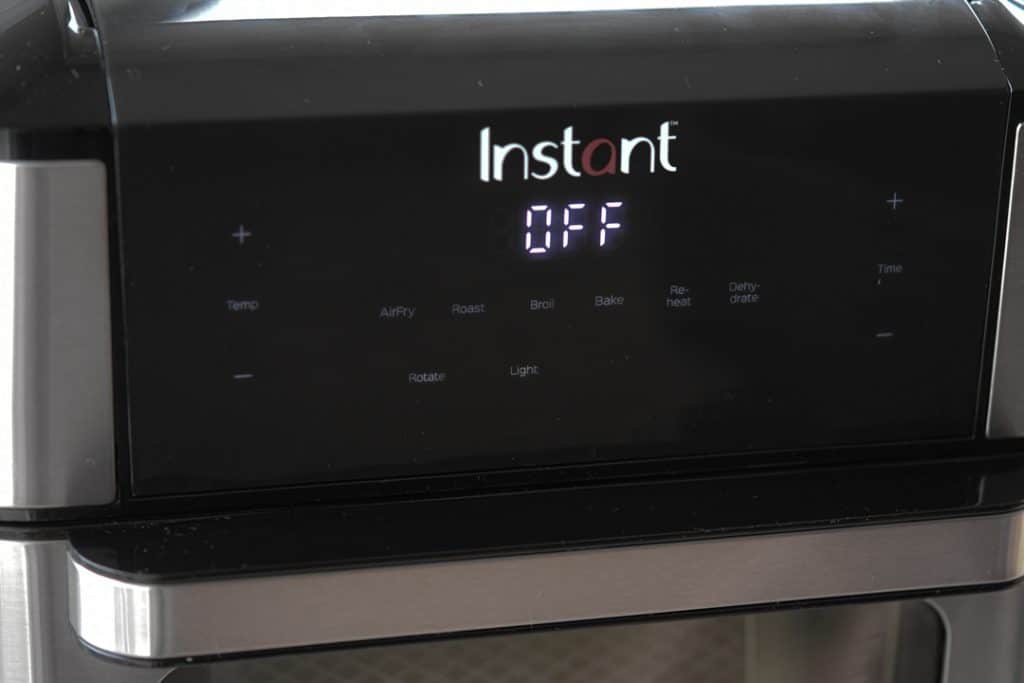 This unit is more than an air fryer and gets major points for being able to function as more than just that.
You can bake, broil, reheat, and dehydrate food in it. Plus you can use it as a rotisserie.
Other common air fryer models don't do most of these. I did use mine to reheat a few things, though.
EASE OF USE (A)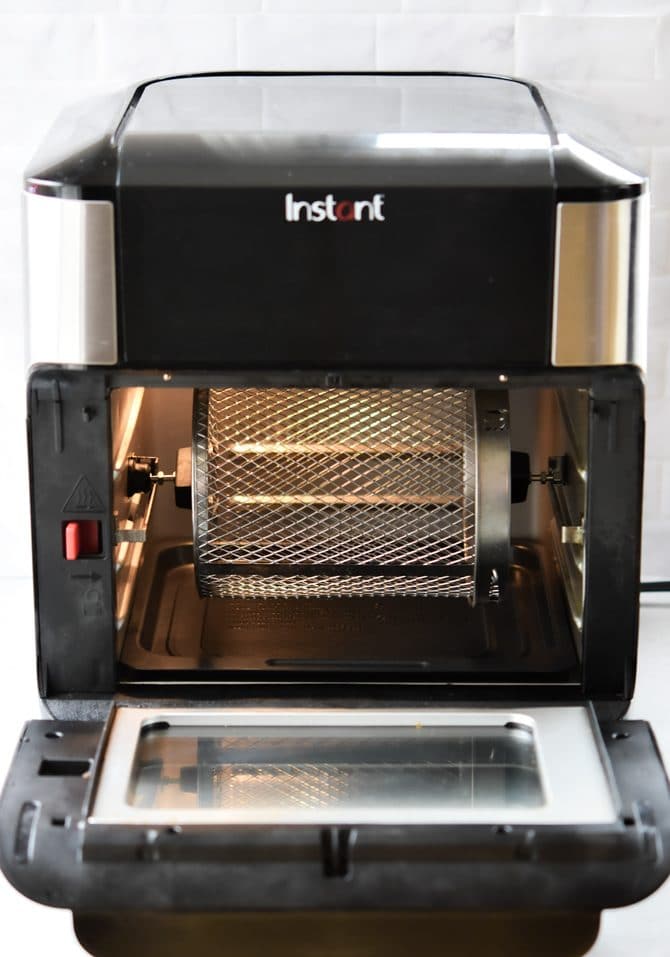 The accessories are pretty easy to use. Getting the rotisserie basket in the first few times is the hardest part. That red button you see on the left. That releases the rotisserie basket.
The touch panel interface is also super user friendly. Unlike the Instant Pot, there are no excess buttons that are redundant and not needed. Each button on the screen does something unique and there are not too many of them to be confusing.
What is cool about this, is that halfway through your cook cycle, it will beep at you and tell you to flip your food. That is a new function I am not used to. Not a necessity, but a nice little extra.
EASE TO CLEAN (A)
All of the accessories and the cooking trays are dishwasher safe and the trays take up no more space than a plate!
This is a huge win for me. I hand wash very few things. I won't buy something if I have to hand wash it (except cast iron!).
The front door is removable so it is easy to detach and hand wash. The manual however, does not give instructions on how to remove it. Open the door halfway and pull up!
The vortex comes with a removable drip pan on the bottom that is easy to clean. AMEN. This means I am not scrubbing inside the unit. The drip pan is dishwasher safe, too. Another AMEN.
PRICE POINT (A)
In comparison to other air fryers on the market, this is in the lower range but does more. So, I give this an A.
I have seen these priced as low as $60USD at some Walmarts. Regular price at time of writing this is around $110 USD. I paid $110 USD for mine not on sale.
DRAWBACKS
The pans are Teflon coated
Many people don't like to cook with Teflon coating for various different reasons that I won't get into here, but this is a drawback for some people.
The door surface gets hot. Not like a traditional oven where the door face is cool to touch.
You can't get this in Canada, and yes, I am extremely irritated by this!
When you put food on multiple trays at at time, it doesn't cook evenly, so you must swap the trays halfway through your cooking time. But, this isn't a deal-breaker at all for me.
Just like the earlier generations of air fryers I don't think these are great products for large families (5+). You may still have to work in batches.
It takes up permanent counter space. This isn't a deal-breaker for me, but if you have limited counter space, this could be a deal breaker for you.
FINAL THOUGHTS
I like it. I like it a lot, and I think it is 100% worth the price tag (approx $120 USD).
It heats up faster than my oven. Food finishes air frying in the Vortex Plus before my oven is even done preheating.
I like that this has replaced my conventional oven - especially in the summer months!
LOVE the "crisp factor" that you won't get with a traditional.
I love the stainless steel rotisserie basket more than words can even explain!!!!
There is a light! Just like your oven. I love that I can see the food without having to open the door!!
Lastly, I haven't had to adjust any cook times from my regular air fryer recipes found here on the blog! I can now cook larger portions of the recipes at once though!
Do I think you need to replace your current Air Fryer? No. But, if you are in the market for one, this is a good one to go with - in my opinion!
So, let me know in the comments. Do you have one? Love it? Hate it?
Do you want one? Tell me how you feel about the Instant Vortex Plus below!