Easy No Bake Energy bars are soft, chewy, and come together in under 10 minutes for your 3 pm snack attack.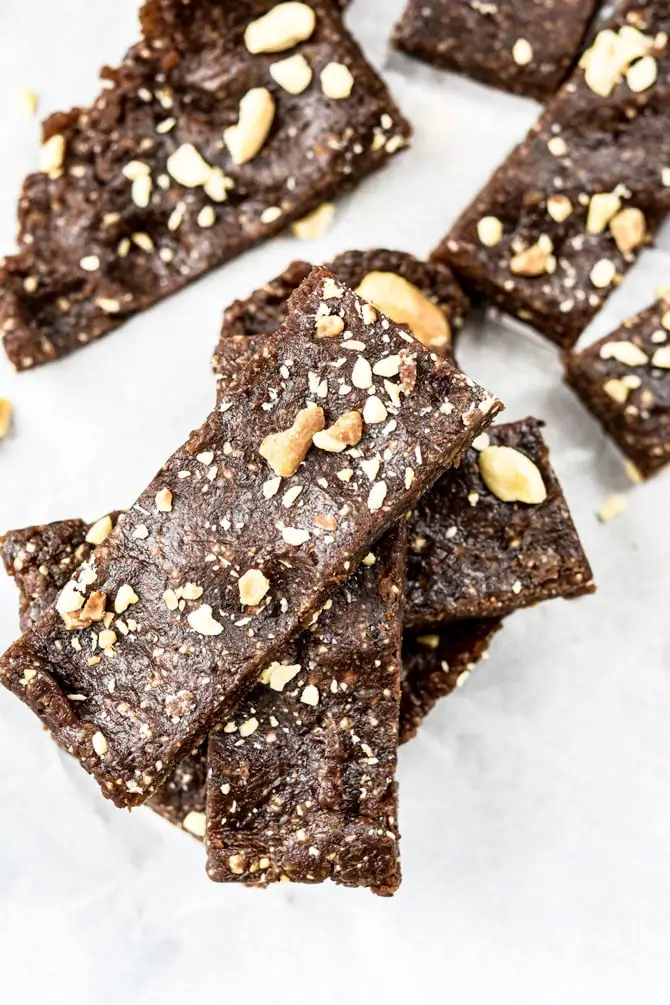 Easy No Bake Energy bars are inspired by my favorite chocolate bar, and my desire to not bake. Ever.
I have come to learn that Eat More bars are a Canadian thing. Who knew?! They are my absolute favorite chocolate bar, with skor as a very close second.
In an effort to recreate my most favorite candy bar, I created this easy no bake version.
In my version, there is no added sugar, and they are sweetened by the dates. Yes, dates.
The additional sugar in these is completely dependent on the brand of peanut butter you use. So, if you are looking to cut the sugar down, be mindful of the peanut butter you use.
I make my own amazing vanilla chia seed peanut butter, but you can use whichever peanut butter you prefer!
But, whatever you use, it is likely a good alternative to commercially made chocolate bar!
I am not a baker - at all. Hence the no bake recipe. But, I am a snacker, with a sweet tooth.
I also can't fuss with things like "use one bowl for dry ingredients" and "use another bowl for wet" ugh. NO.
With this easy no bake energy bar recipe, it is just that - EASY.
Put ingredients into a food processor. Pulse a few times. Bam. Done.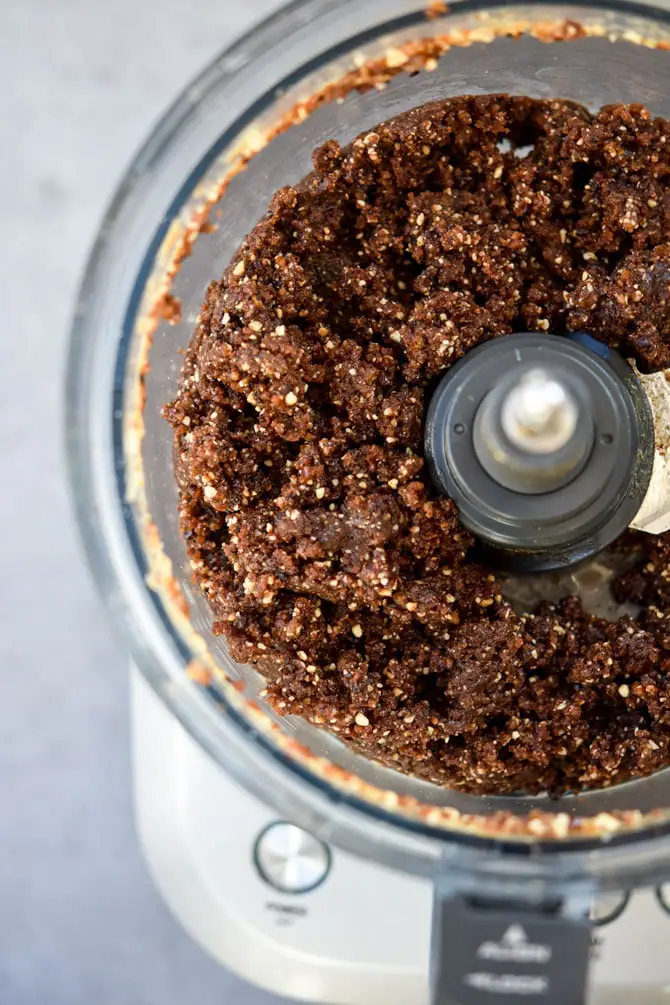 Depending on the dates you use, you will have to potentially add water to get this crumbly, but not too crumbly texture.
My preference is to use Madjool dates ( I find them in the produce section in most grocery stores). They seem to be a much softer date.
They can be a bit more expensive, but they are hands down the best date - especially for a nice bendy, chewy bar recipe. Also save yourself some work and get the ones with the pits already removed!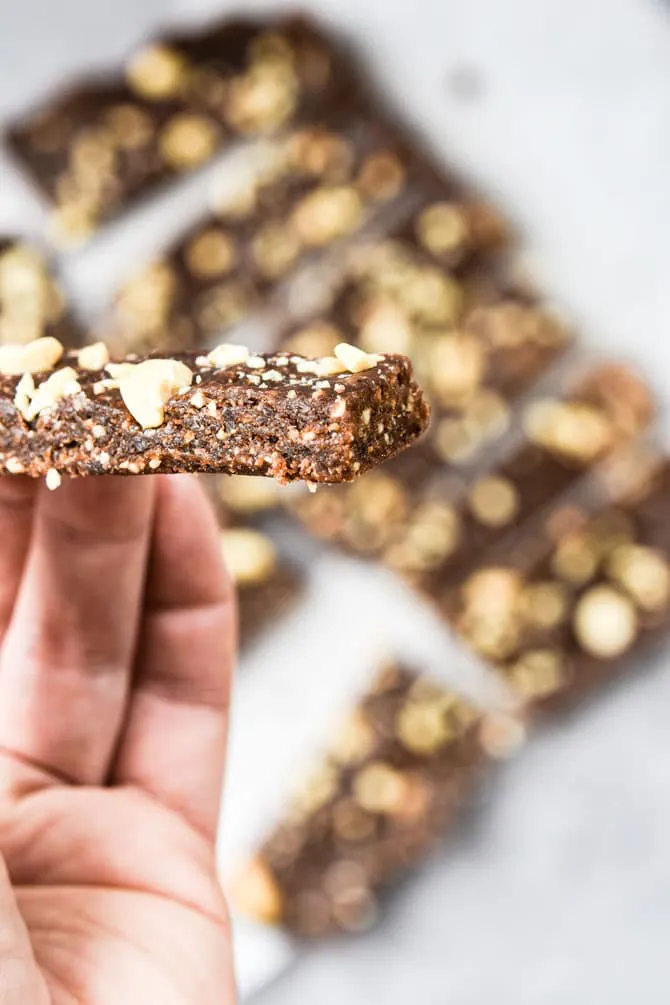 Even if dates are not really your jam, I promise that this recipe is more like a chocolate bar, and less like a date.
If energy bites are more your thing vs energy bars, go ahead and roll these bad boys into balls - I am just super lazy and putting them in a pan and cutting them is less work!
I simply take a 8 X 8 baking dish, line it with parchment, and dump the mix in and flatten until you get an even height throughout.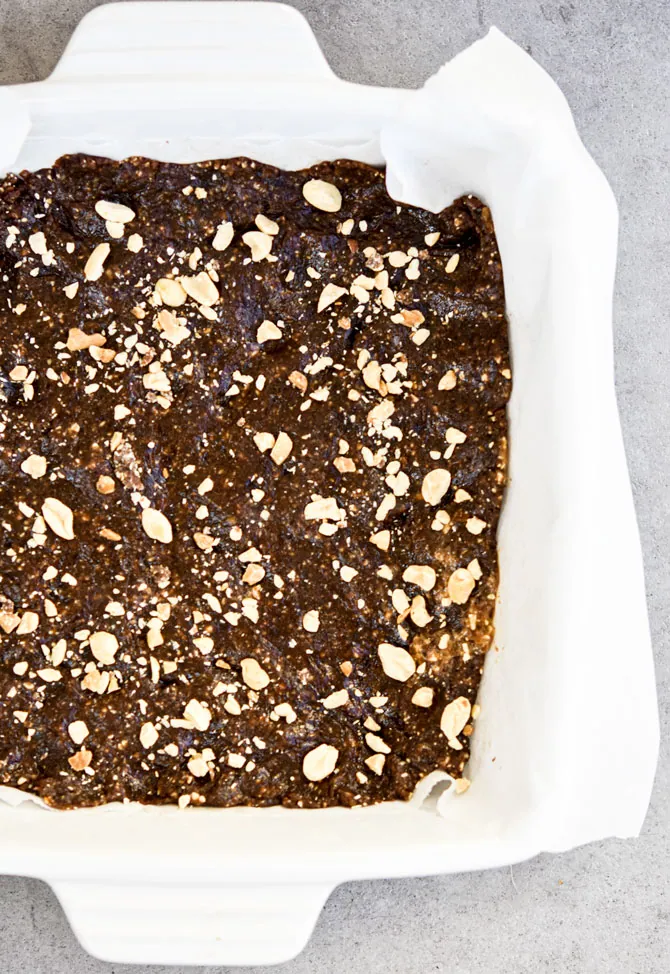 Are you ready to get your Easy No Bake Energy Bar snack on?!
I want to see you make this! Tag @mealplanaddict on Instagram, or come over to the Meal Plan Addict Community and post a photo!
Recipe
Easy No Bake Energy Bars
Servings:
12
bars (approx)
Easy No Bake Energy bars are soft, chewy, and come together in under 10 minutes for your 3 pm snack attack. 


Print Recipe
Ingredients
15

Madjool Dates, pites removed, cut in half

note, if you use another type of date, you may need to soak in water at least 1 hour to make soft.

2

tablespoon

peanut butter

¼

cup

semi sweet chocolate chips

¾

cup

unsalted peanuts

1

tablespoon

water

variable, depending on the texture of your dates. if your mixture isn't blending well, add water 1 tablespoon at a time until it sticks together
Instructions
In a food processor, add the dates and peanut butter.

Pulse the food processor 5 -6 times just to break up the dates a bit.

Add the chocolate chips, ½ cup of the peanuts, and 1 tablespoon of water, and pulse again until all combined and sticky.

If your mixture is not combining well, add more water 1 tablespoon at a time, until it starts to come together. The main blog post has a photo of what the mixture should look like.

Line a 8 X 8 baking dish with parchment and transfer the mixture to the pan.

Push down the mixture and spread it over the surface of the pan until a flat layer is made.

Add the remaining ¼ cup of peanuts to the top of the bars.

You could also roll into energy bites using 1 tablespoon of mixture per ball, if you prefer.

You don't have to, but I suggest letting the mixture harden up in the fridge for an hour before slicing, but it is not necessary.

Once cut into bars, store in the fridge in an air tight container for up to a week, or in the freezer for up to 3 months.
Nutrition
Calories:
165
kcal
|
Carbohydrates:
26
g
|
Protein:
3
g
|
Fat:
6
g
|
Fiber:
3
g
|
Sugar:
22
g
Looking for more ideas like this? Check out my Choco Cherry Trail Mix Bites too!