Buffalo Chickpea Pinwheel Meal Prep is a no cook, quick and easy vegetarian lunch box for your on the go life. Prep these for 3 days and just grab and go in the morning!
I could have done buffalo chicken for this, but I have really been playing with plan based meals and buffalo chickpea pinwheel meal prep seemed like a good approach!
If you haven't made pinwheels yet, well, let me show you the light! I first saw this Turkey Pinwheel Meal Prep from Project Meal Plan and then created my Honey Mustard Turkey Pinwheels, and now I am going vegetarian with them.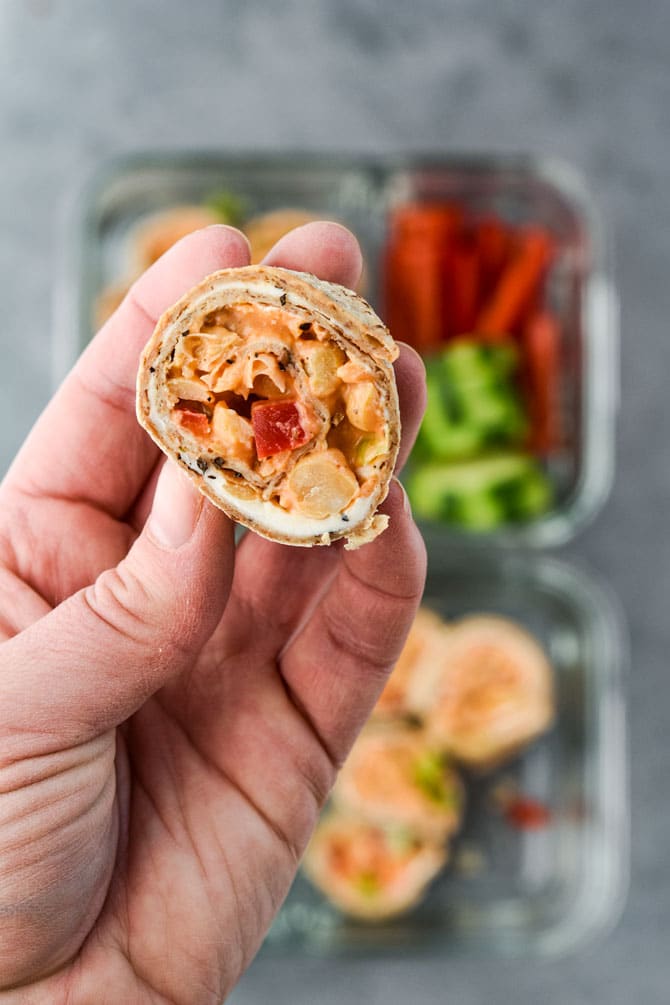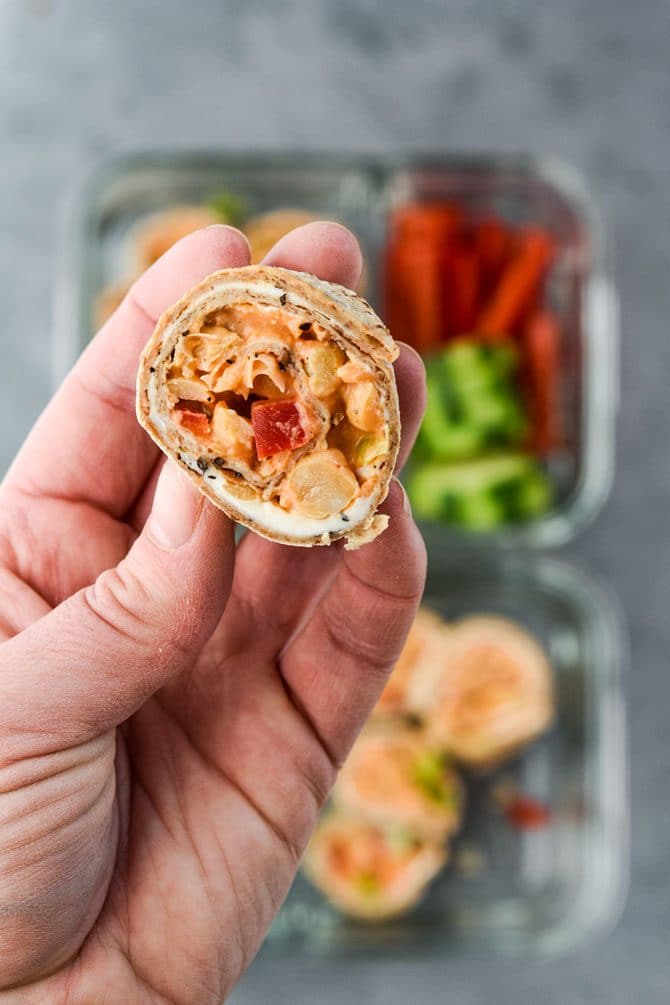 The first time I made pinwheels, I used regular round tortillas, but since I am now able to find Flat Out bread in Canada, that is what I use now!
Before we get into the details of assembling the pinwheels, let's start with the chickpeas.
I think mashing them a bit makes this work a bit easier. Otherwise, I had visions of chickpeas falling out everywhere.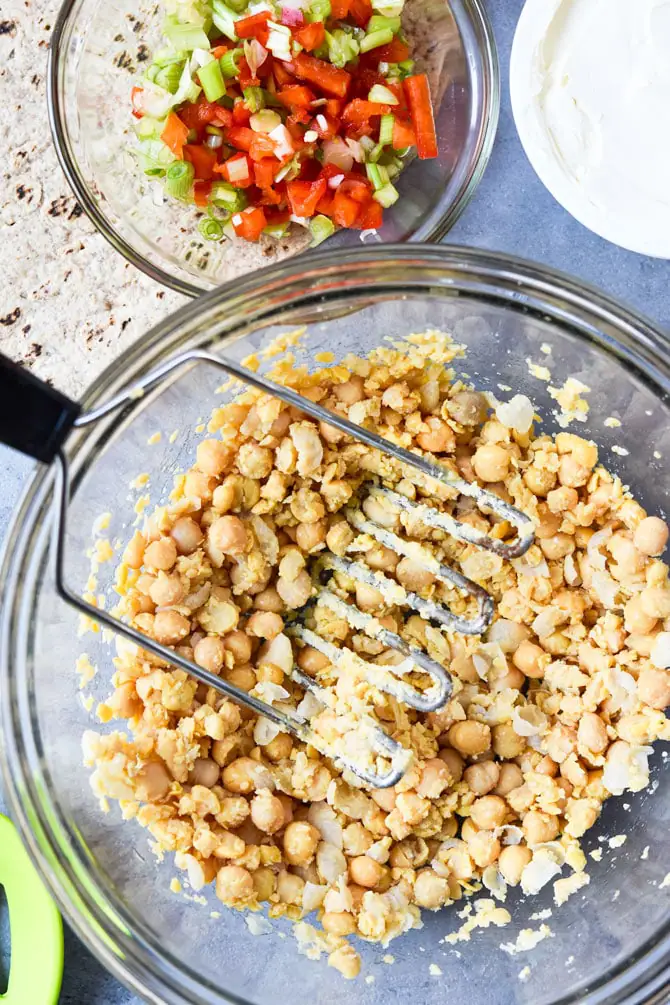 To pump the protein a little more, I went with plain Greek Yogurt to bind it all together. Oh, and I tossed in a bit of red pepper because having a bit of crunch is my style!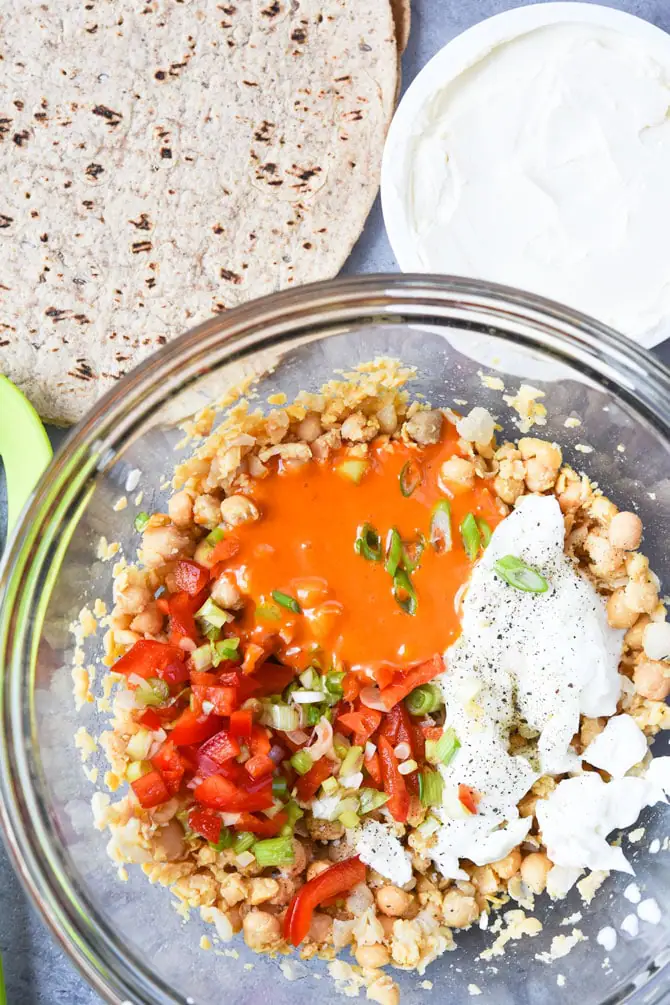 Once you have the buffalo chickpea mix done, you are ready to roll. Ha ha.. see what I did there.
Now, the magic in pinwheels not falling apart is the "condiment glue".
You need something sticky, like my home made honey mustard or cream cheese. Buffalo hot sauce is born to be with cream cheese, so this was an obvious choice.
Now, you want at least the top third of your bread to cream cheese. The bottom ⅔ is your chickpea mix.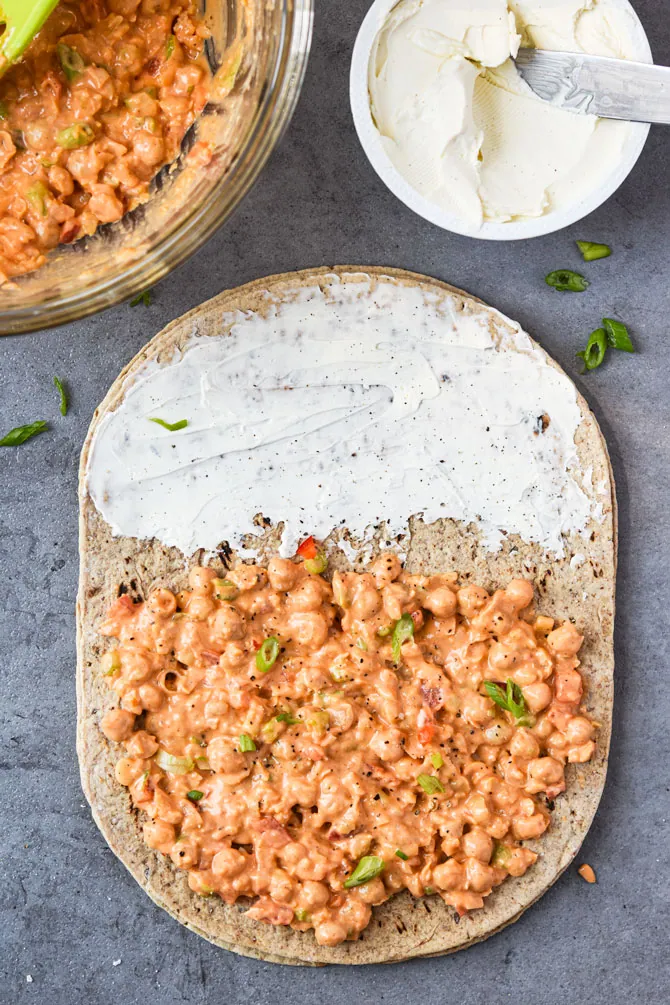 Then, you roll from the non condiment side.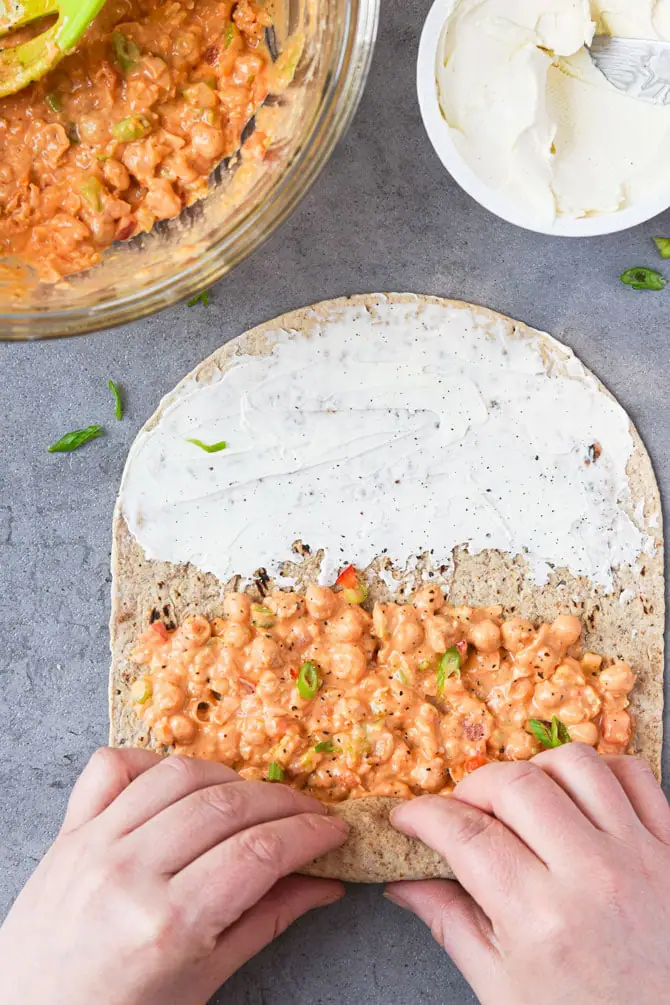 PRO TIP # 1:
You want your chickpea mix cold before you slice the rolls.
I like to roll them but then let them stay in the fridge for an hour before I cut them. This is not necessary, but I found it holds together better this way.
PRO Tip #2:
Use a cerated knife. Think bread knife.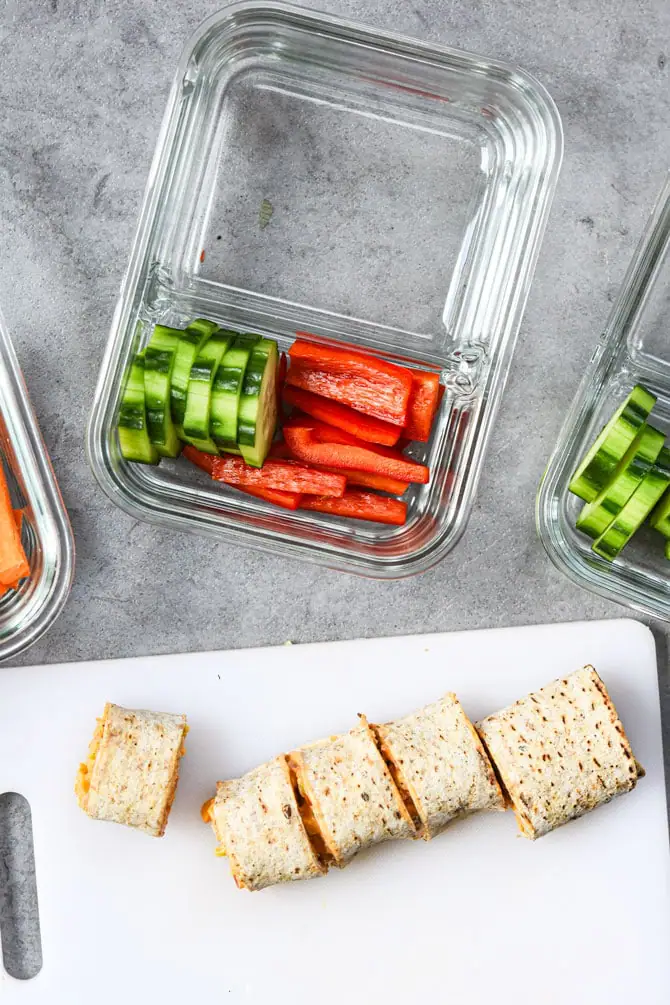 Now it is assembly time!
I use these 2 compartment containers, and these 3 compartment glass meal prep containers, and these 2 compartment glass meal prep containers, but feel free to use any container you like! You can also swap out for any raw veggie you like!
PRO TIP #3
If you use sliced cucumber, cut them and lay them on a towel or paper towel and dry them as best you can. They will hold their crunch to day 3 if you do this!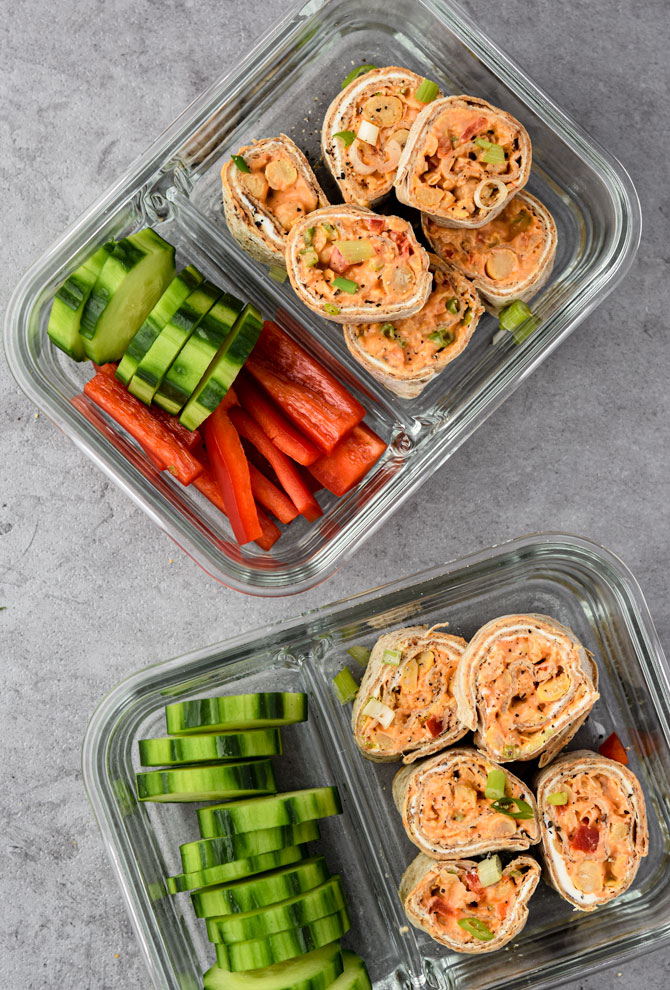 Now, you have Buffalo Chickpea Pinwheel meal prep done for 3 days. If you really don't want the integrity of the bread compromised, mix up your chickpea mix and roll them the day of!
Are you ready for this meatless meal prep?!
If you make this Buffalo Chickpea Pinwheel Meal Prep tag me @mealplanaddict on Instagram, or come post a photo in the Meal Plan Addict Community!
Recipe
Buffalo Chickpea Pinwheel Meal Prep
Buffalo Chickpea Pinwheel Meal Prep is a no cook, quick and easy vegetarian lunch box for your on the go life. Prep these for 3 days and just grab and go in the morning!


Print Recipe
Ingredients
14 oz

can

chickpeas, drained and rinsed.

3

10" tortillas, or flat out breads

¼

cup

buffalo hot sauce

I use Franks Red Hot buffalo sauce and you can add more if you like it REALLY hot.

¼

cup

plain Greek yogurt

3

tablespoon

cream cheese (room temperate)

¼

cup

sliced green onion

¼

cup

diced red pepper

salt & pepper, to taste

1

whole

cucumber, peeled and sliced into medallions

1

whole

red pepper, sliced into sticks

2

large

carrots, peeled and sliced into sticks
Instructions
In a large bowl, mash the chickpeas with a potato masher to desired texture. I personally like to leave it chunky. I also remove the skins of the chickpeas, but that is a personal preference.

To the bowl, add the buffalo hot sauce, the Greek Yogurt, scallions, and red pepper. Combine all of the ingredients and add in salt and pepper to your taste preferences.

Lay out your tortilla or flat out bread and spread approximately 1 tablespoon (or more if you like!) of cream cheese on the top ⅓ of your bread.

Spoon the chickpea mixture onto the bottom half of our tortilla. Divide the mixture evenly between 3 tortillas.

Starting at the end with the chickpea mixture, roll up to the cream cheese end.

I now like to let these sit in the fridge for an hour. They are MUCH easier to slice and they will bind together much better this way.

Once set in the fridge, slice with a cerated knife in 1 to 1.5 inch pieces

Assemble your meal prep boxes, dividing up the raw veggies evenly between each box.
Notes
These are best served on days 1 and 2, they do go to 3 days, but this is when the tortillas go soft. Another option is to mix everything up, and just roll them up for 2 days, and roll the third one on day 3, if you prefer.
Nutrition
Calories:
438
kcal
|
Carbohydrates:
71
g
|
Protein:
16
g
|
Fat:
16
g
|
Fiber:
11
g
|
Sugar:
8
g
Loving the chickpea meal prep life? Make sure you check out my Greek Chickpea Salad Pita Meal Prep too!