Instant Pot stuffed acorn squash is all of the savoury flavours of fall in one bite.
Shaved Brussels sprouts, mushrooms, Italian sausage, and acorn squash… all made in your Instant Pot!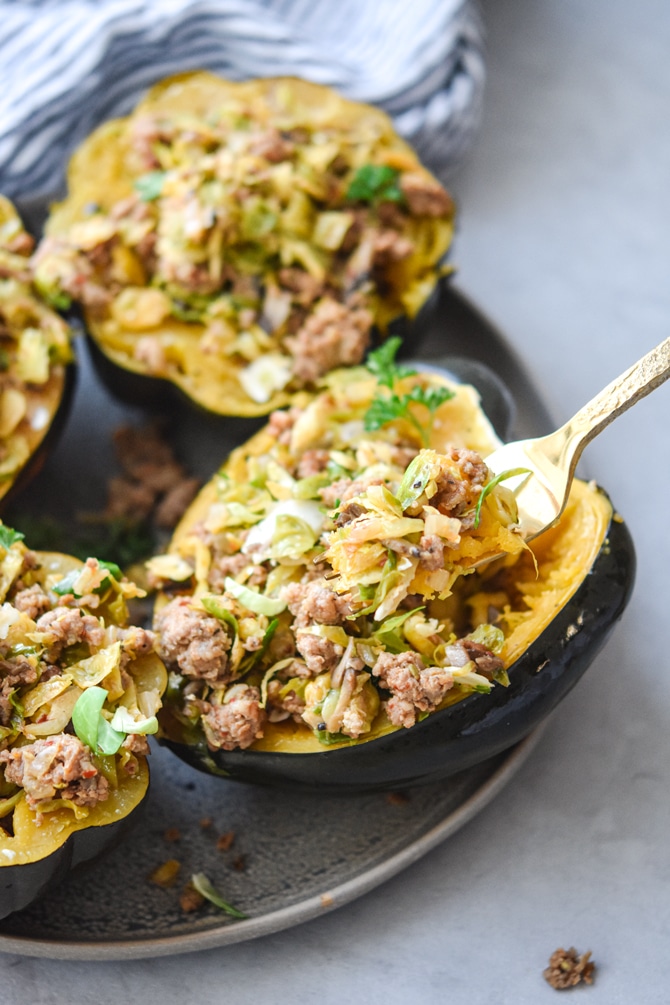 Fall flavours, edible bowls, and Instant Pot cooking. Just about all of my favourite things in one easy instant pot recipe.
Most stuffed acorn recipes have you baking the squash, and then preparing the stuffing on the stovetop. No there, friends.
My Instant Pot Stuffed Acorn Squash recipe has you making the stuffing right in your Instant Pot (hello treasured saute function), and then steaming your squash for a 6-minute high-pressure cycle (take that 45 minute oven time!) for a cooking total time of about 15 minutes.
This stuffed acorn squash will have even your "I hate squash" family members asking for seconds!
Cutting Acorn Squash
Cutting winter squash can be a pain. I am looking at you butternut squash! Here are some tips to help you:
It is very important that when cutting a hearty veggie like an acorn squash, you have a VERY sharp knife.
Carefully place the knife onto the squash to cut in half. It doesn't matter if you go lengthwise or not. I do both ways.
Put a tea towel in your hand and push down on the end of the knife furthest from you.
If the knife doesn't go through the whole acorn squash completely, bang the squash (which now has the knife partially inside it) on the cutting board. This should get the knife all the way through.
Now, use a knife to scoop out the seeds and strings.
Cooking Instant Pot Acorn Squash
To cook acorn squash (or any hard root veggie), use the steam function on your Instant Pot electric pressure cooker. This is the highest heat, most intense function so you MUST use the trivet that came with your Instant Pot or a steamer basket to pressure cook the squash.
Once your squash is loaded up (with 1 cup of water in the liner below), you lock the lid, close the pressure valve, and set the cooking time for 6 minutes with a quick pressure release.
How to prep the stuffing
I love the saute feature of the Instant Pot. This means I don't have to dirty a pan on the stove. Before you load up the squash to cook, use the saute feature and cook the filling on the saute feature, right in the Instant Pot. When it is cooked, remove it from the Instant Pot and place aside in a bowl.
Then, get your acorn squash into the Instant Pot.
Shaved Brussels sprouts? How ?!
For this recipe, you don't want chunks of the fall classic, Brussels sprouts. You want them shaved. Think of it almost like a slaw that you cook down.
I have the Breville sous chef food processor, (affiliate link) and it has a blade attachment to do this. If you don't have a food processor, have no fear, you can cut them thin with a very sharp knife (like this).

To broil or not broil after
This is 100% a personal choice! I like the topping crispy so I do broil for 5 minutes, but you certainly do not have to.
Can this be a meal prep?!
Sure can! This recipe reheats perfectly. Cook fully. Allow to cool, then transfer to a container and place in the fridge for up to 4 days.
I want more Holiday Recipes!
I got you!
Instant Pot Garlic Mashed Potatoes
Instant Pot Eggnog French Toast
Holiday Hasselback Butternut Squash
Are you ready to add Instant Pot Stuffed Acorn Squash to your holiday meal plans?!
If you make this, I want to see your creation! Tag me @mealplanaddict on Instagram so I can see it.
Recipe
Instant Pot Stuffed Acorn Squash
Instant Pot stuffed acorn squash is all of the savoury flavours of Fall in one bite.Shaved Brussels sprouts, mushrooms, Italian Sausage, and acorn squash... all made in your Instant Pot!
Print Recipe
Ingredients
2

acorn squash, sliced in half with seeds and strings removed.

1

lb

ground Italian sausage (mild or hot)

½

cup

onion, diced

½

cup

sliced fresh mushrooms

2

cups

shaved Brussels sprouts

½

teaspoon

dried oregano

½

cup

fresh grated Parmesan (I love using pedals for this recipe)

1

teaspoon

salt

1

cup

water (to get the pot to come to pressure)
Instructions
Stuffing
Select saute feature on the Instant Pot, and once hot, add the ground Italian Sausage, mushrooms, and the onion. Saute until cooked.

When the sausage is cooked, at the salt, oregano, Brussels sprouts. Stir for 1 minute until the shaved sprouts cook down.

Remove the stuffing mixture from the Instant Pot liner and place it into a large bowl.

Add the Parmesan to the mixture and stir. Cover with foil and set aside.

Pour 1 cup of water into your Instant Pot liner.

Place your trivet (it came with your Instant Pot) into the water.

Stack your acorn squash halves into the pot.

Secure the lid, set to sealing, and set the function to STEAM for 6 minutes.

When the pressure cycle is complete, quick release the pressure.

Carefully remove the squash from the pot using tongs.

Stuff the squash with the sausage mixture.

OPTIONAL: broil the stuffed squashes if you prefer a crispy topping.
Nutrition
Calories:
505
kcal
|
Carbohydrates:
28
g
|
Protein:
31
g
|
Fat:
38
g