Sweet Chili Chicken Meal Prep Bowls are loaded up with vermicelli noodles, home made sweet chili sauce, chicken and crisp veggies and are perfect for your work week lunches this week!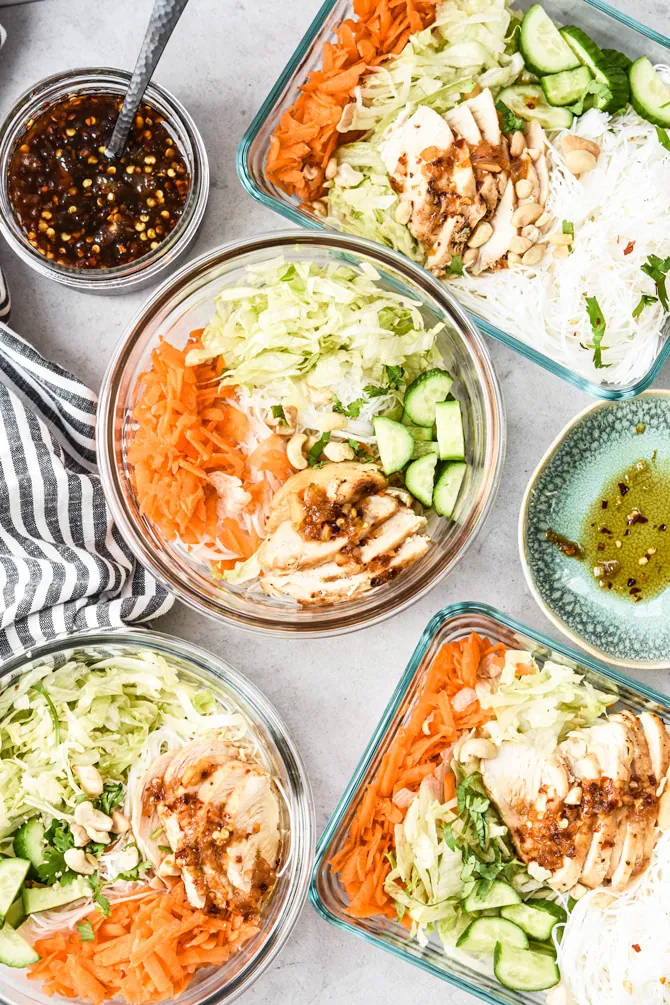 Skip the pricey restaurant lunches this week, and make our own take out fake out meal with these sweet chili chicken vermicelli meal prep bowls!
My love of sweet chili sauce runs deep (along with pickle anything).
Here on the blog you can find freezer friendly sweet chili chicken burgers, baked sweet chili chicken drumsticks (freezer meal!), and even a a sweet chili chicken noodle soup!
But this meal prep bowl might just by my #1 pick!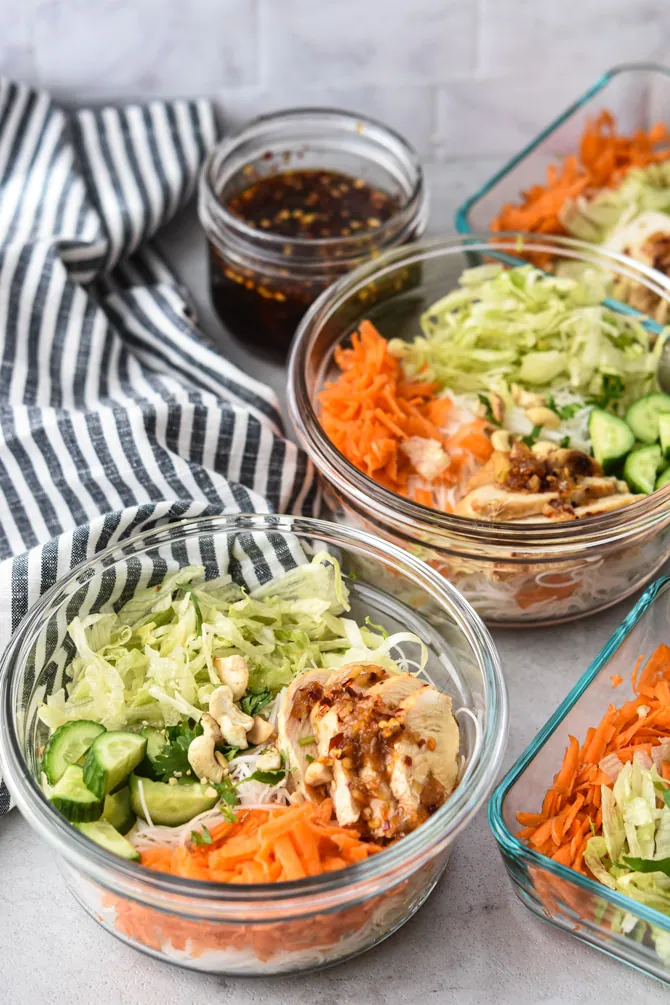 The best part of this meal prep is 100% the stove top made sauce.
I am pretty sure a meatball recipe using this sauce is going to hit the blog one day.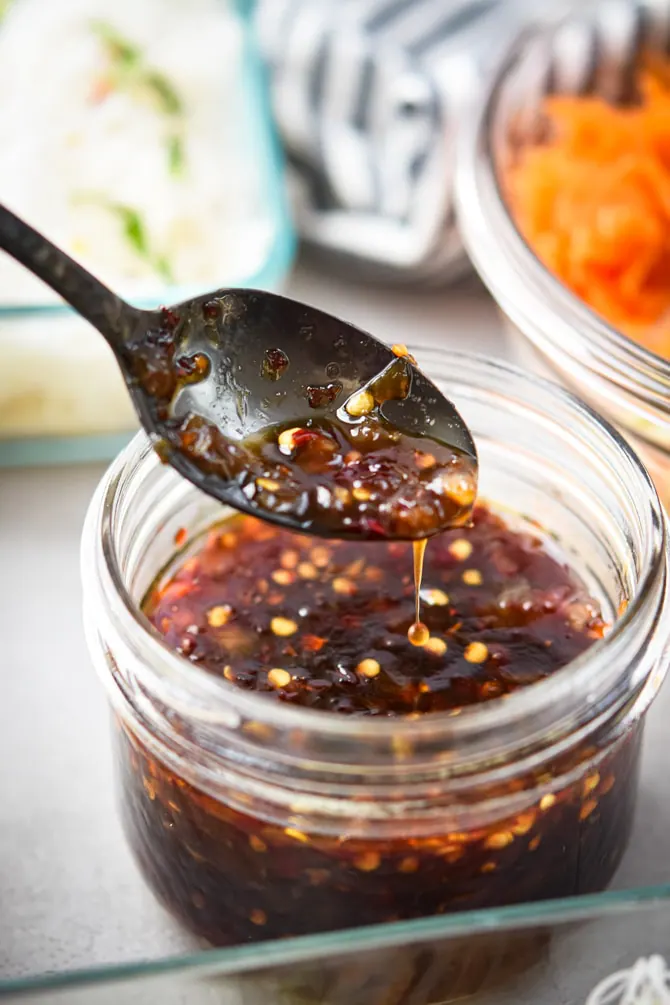 If you have never meal prepped with vermicelli noodles before, I know you have questions.
What are vermicelli noodles? How are they cooked?
They are very thin rice noodles that you simply put into hot water and let soak a few minutes. It is really that simple.
Can I scale this recipe down?
This recipe makes 4 hearty meal prep bowls.
I promise it is so good, you will want to eat it for the whole week, but in case you don't just cut the recipe in half. Except the sauce. Leave the sauce recipe as is.
Do I eat sweet chili chicken meal prep bowls hot or cold?
Cold! But, you can remove the chicken, heat it in the microwave and add back into the salad if you prefer. I do both ways - depending on my mood.
What is the best way to store this meal prep?
You can put everything except the sauce together for storage. You want to make sure that your chicken is cooled so it doesn't make your crunch veggies go soggy.
Store your sauce separately, and drizzle on it right as you are about to devour your bowl.
Only store these for 4 days max in your fridge.
Lastly, you want your veggies as dry as possible to prevent things going soggy!
Is it okay to put this amazing sweet chili sauce on every single thing I eat?
Yes, in fact it is encouraged. We don't judge your sauce drizzling habits around here.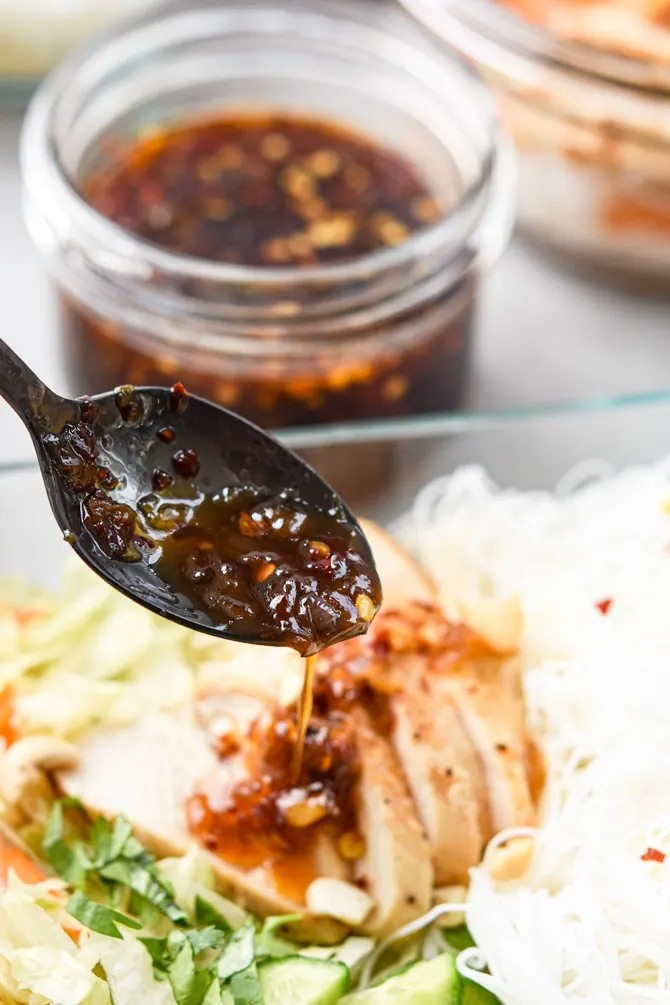 When you prep these, I want to see your preps! Tag me @mealplanaddict on Instagram or come post a photo in the Meal Plan Addict community!
Recipe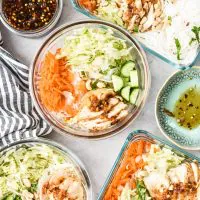 Sweet Chili Chicken Meal Prep Bowls
Sweet Chili Chicken  Meal Prep Bowls are loaded up with vermicelli noodles, home made sweet chili sauce, chicken, and crisp veggies and are perfect for your work week lunches this week!
Print Recipe
Ingredients
Sweet Chili Sauce
2

tsp

olive oil

¼

cup

fine diced onion

4

cloves

garlic, minced

½

cup

maple syrup

2

teaspoon

honey

¼

cup

soy sauce

½

teaspoon

red chili flakes

1 teaspoon if you like things more spicy

1

lime

juice and zest
Chicken Ingredients
1

lb

boneless, skinless chicken breasts

1

teaspoon

garlic powder

1

tablespoon

olive oil

salt and pepper to season chicken
Bowl Ingredients
2

cups

cucumber, chopped into bite size pieces and pat dry

1.5

cups

shredded carrots

2

cups

shredded iceberg lettuce

1

200g

package of vermicelli noodles

cilantro, optional garnish

peanuts or cashews, optional garnish
Instructions
Preheat the oven to 375°F

Season the chicken with garlic powder, salt, and pepper.

Heat the oil on medium high heat in a oven safe pan.

Sear the chicken on both sides and place the pan into the oven to cook until chicken is 165°F. Then remove from oven and put aside.

While the chicken bakes, prepare the sauce.

In a small pot, heat the oil on medium heat.

Add the onion and garlic until well caramelized and lightly browned. Take care not to burn this.

Add the remaining sauce ingredients and allow to simmer on low for 3-4 minutes.

Set sauce aside to cool. Once cool. Divide the sauce into 4 portions in small containers. You want to store the sauce separately from your chicken and veggies.

Prepare the vermicelli noodles as per the package. Then, strain and set aside.

To assemble your bowls, divide the chicken, veggies, and noodles evenly between 4 containers. Make sure the chicken has cooled before placing a lid on the preps.

At time of serving, drizzle the sweet chili sauce on each bowl and enjoy!