Using leftover roast beef to make freezer friendly Shepard's pie is a great way to reduce food waste, and add variety to using up leftovers!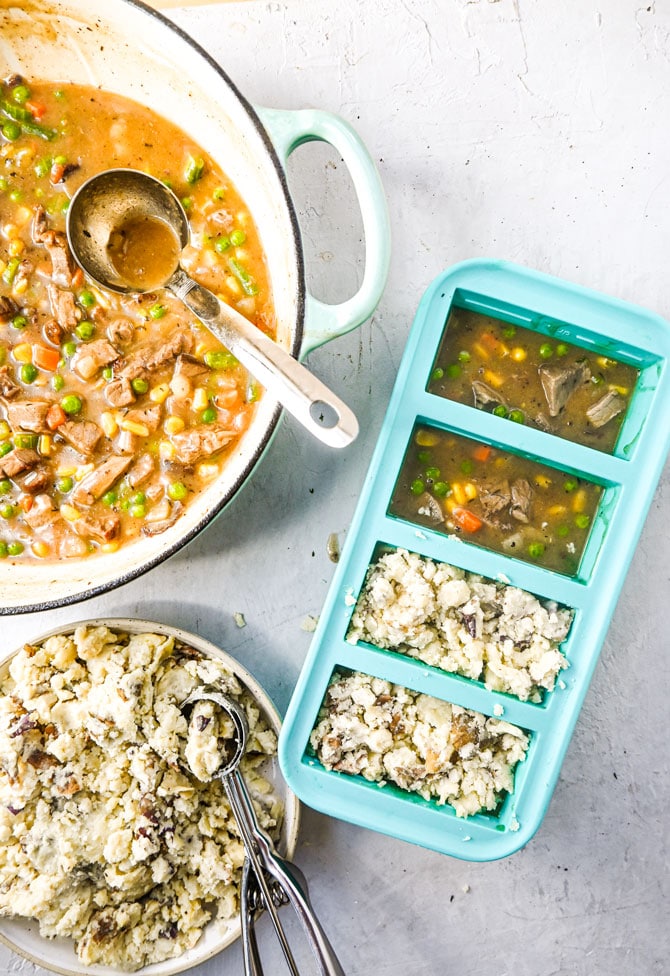 Globally, each year, 1.4 billion tons of food is wasted (source here).
We can do better.
One way to help decrease this is to repurpose your leftovers into new meals. Even better when they can be freezer friendly so you don't get tired of eating the same thing all week.
If you have leftover Sunday roast and potatoes, and even veggies, you can easily repurpose that into this freezer friendly Shepard's pie.
I know that technically if this is made with beef it is a Cottage Pie, and if it is made with lamb it is a Shepard's Pie, but here in Canada we seem to call both versions Shepard's pie so I am going with that.
Repurpose these simple ingredients!
The best part of this recipe is how minimal the ingredient list is. You can always add more of the flavors you like and bump up the spices. Adding thyme and Worcestershire are ingredients I will often add to my Shepard's Pie!
A few notes on the ingredients I use:
I use a really high quality gravy mix (From Bone to Broth) that already has a thickener added, so if you don't use this, then you will need to add some flour in the step where you sauté the roast a bit.
Use any veggies you want to! Bonus if you have leftover carrots to add in!
No leftover potatoes, you will have to make some for this recipe.
Note that this is not a hard and fast recipe that should be followed to the exact measurement. More like a starting spot because your quantities of leftovers will vary.
How to make (and freeze) Shepard's Pie
Once you already have your leftover ingredients at hand, assembling your meals is super simple!
[1] Dice up your leftover roast beef and saute in a pot with butter, onion, and celery (if you don't have celery, don't worry, leave it out).
[2] Add in the gravy packet. If you don't have a thickener in your gravy mix, add 2 tablespoons of flour to step 1.
[3] Add water. Start with the amount of water called for on the gravy package. Add additional water until the gravy is the desired thickness. I often add almost double the water the package says because for these Shepard's pies, I don't love a really thick gravy, but it is up to you.
[4] Add in your frozen (or leftover) veggies. Simmer until desired consistency. You don't want to overcook this.
[5] Assemble with the beef gravy mixture on the bottom and add mashed potatoes on top.
How to freeze this?!
I love to assemble mine in individual mini pies using my Souper Cube trays (affiliate link).
I do not bake before freezing. I worry about everything drying out doing that.
You can freeze it in any freezer safe container - the most important thing to remember is to use a size that makes sense for how you want to consume it. If it is just you, the individual cubes is the way to go, but if you have a family to feed, consider using a larger casserole dish or foil pan.
Pro Tip - to prevent freezer burn, you must let it cool completely. Even put it in the fridge for an hour to cool.
How to reheat?
Yes, you can reheat this right from frozen, but of course, the time will increase.
I suggest thawing it before re heating.
The time needed to reheat will be entirely based on the size. As a very general guide:
From frozen - oven at 375F will take approximately 45- 60 minutes. Microwave will take 5-10 minutes.
Thawed - Oven at 357F will take approximately 20 minutes. Microwave reheat will take 3 -4 minutes.
If you make this version of Shepard's Pie, I would love to see your version! Tag me @mealplanaddict on Instagram!
For other ways I use Souper Cubes for freezer meals, check out my dedicated post with recipe links here!
Recipe
Leftover Roast Beef Shepard's Pie (Freezer Friendly)
Using leftover roast beef to make freezer friendly Shepard's pie is a great way to reduce food waste, and add variety to using up leftovers! 
Print Recipe
Ingredients
2

tablespoons

butter or olive oil

3-4

cups

diced, left over roast beef

3-4

cups

left over mashed potatoes

½

cup

diced onion

1

cup

diced celery (optional)

45g

packet of dry gravy mix

2-4

cups

water

start at 2 cups and add to thin out to desired texture

2-4

tablespoons

flour

use this if your gravy doesn't have an added thickener only. General rule is to use 1 tablespoon flour to 1 cup of gravy mix

2-3

cups

frozen veggies

salt and pepper to taste
Instructions
In a medium pot or Dutch oven, heat the butter on medium high heat.

Once melted, add onion and celery, sauté until onions are translucent.

Add in your cooked, diced roast beef.

If using gravy without a thickener, add 2 tablespoons of flour to the pan.

Add water. Let simmer until desired consistency. To thicken, mix 1 tablespoon of flour with water and add to pot. To thin out, add more water.

Once desired consistency is reached, add frozen veggies. Let simmer for 2 minutes and then remove from heat.

Assemble your pies in your freezer friendly containers of choice (see above blog post for my suggestions). Add the gravy mixture to the container first, then top with mashed potatoes.

If enjoying this right away, bake at 375°F for about 20 minutes, until warm throughout.

If freezing, ensure it is fully cooled before covering and placing in the freezer.
Notes
Nutrition information is an approximate for one, 1 cup cube. If you are tracking macros, I suggest you calculate exact information based on the quantities and brands of ingredients you choose to use. 
Nutrition
Serving:
1
cup cube
|
Calories:
320
kcal
|
Carbohydrates:
26
g
|
Protein:
17
g
|
Fat:
18
g