Lazy lasagna is all of the lasagna ingredients, but no messing around with boiling noodles, making sauce, and then baking it. Oh, and 4 minute pressure time in your Instant Pot for this recipe!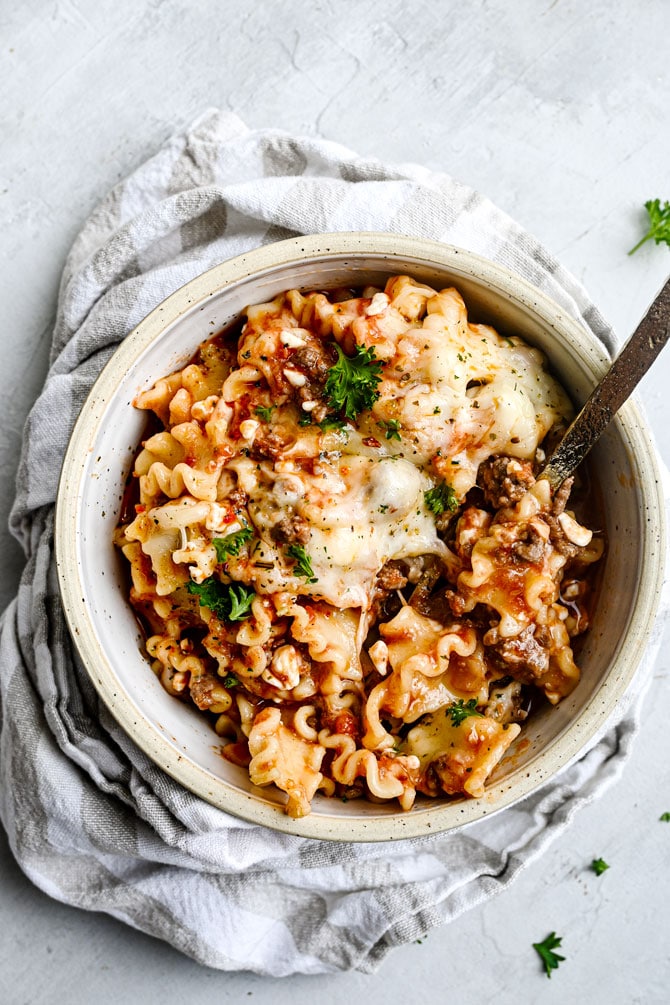 This post was originally published in 2018, and was updated with new photos in 2021.
This lazy lasagna is a reader favorite, and for good reason! With only 4 minutes under pressure, you get all the same comfort flavors, ingredients and textures of traditional lasagna, but with a fraction of the effort.
Ingredients Swaps and Modifications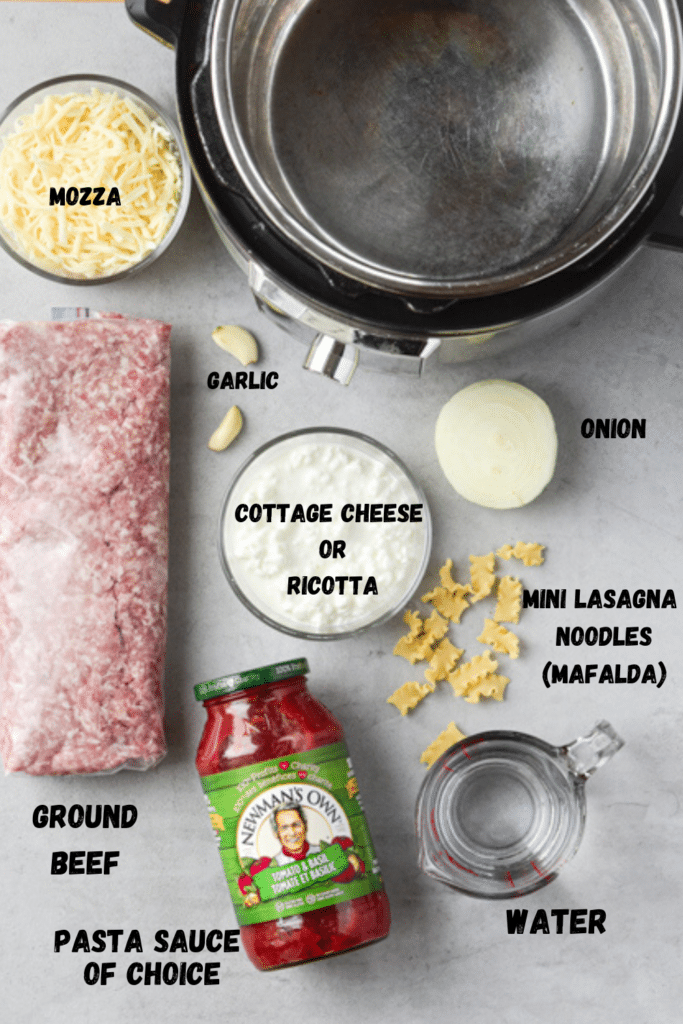 The recipe calls for cottage cheese, but you can swap for ricotta, no problem
Yes, you can use gluten free noodles, modify the pressure time by looking at the package and setting the pressure time to half the cook time suggested.
Swap the water for chicken or beef broth for a richer flavor.
For an ultra rich lazy lasagna, you can add half a block of cream cheese after the pressure cycle.
You can use pre shredded mozzarella but you won't get that nice stringy cheese pull. Pre shredded cheese has cellulose to prevent clumping and thus is not as good at melting. I highly suggest using a block of mozza and shredding it.
I can't find the Mafalda noodles!?
When I originally posted this recipe in 2018, I had no idea that Mafalda noodles are hard to find outside of Canada.
In Canada they are easy to find at Sobeys, COOP, and Bulk Barn stores. You can even get them ultra cheap on Amazon Canada (affiliate link).
In the USA, these are much harder to find and Amazon US is not a cost effective way to get them - so I suggest campanelle for the best substitution.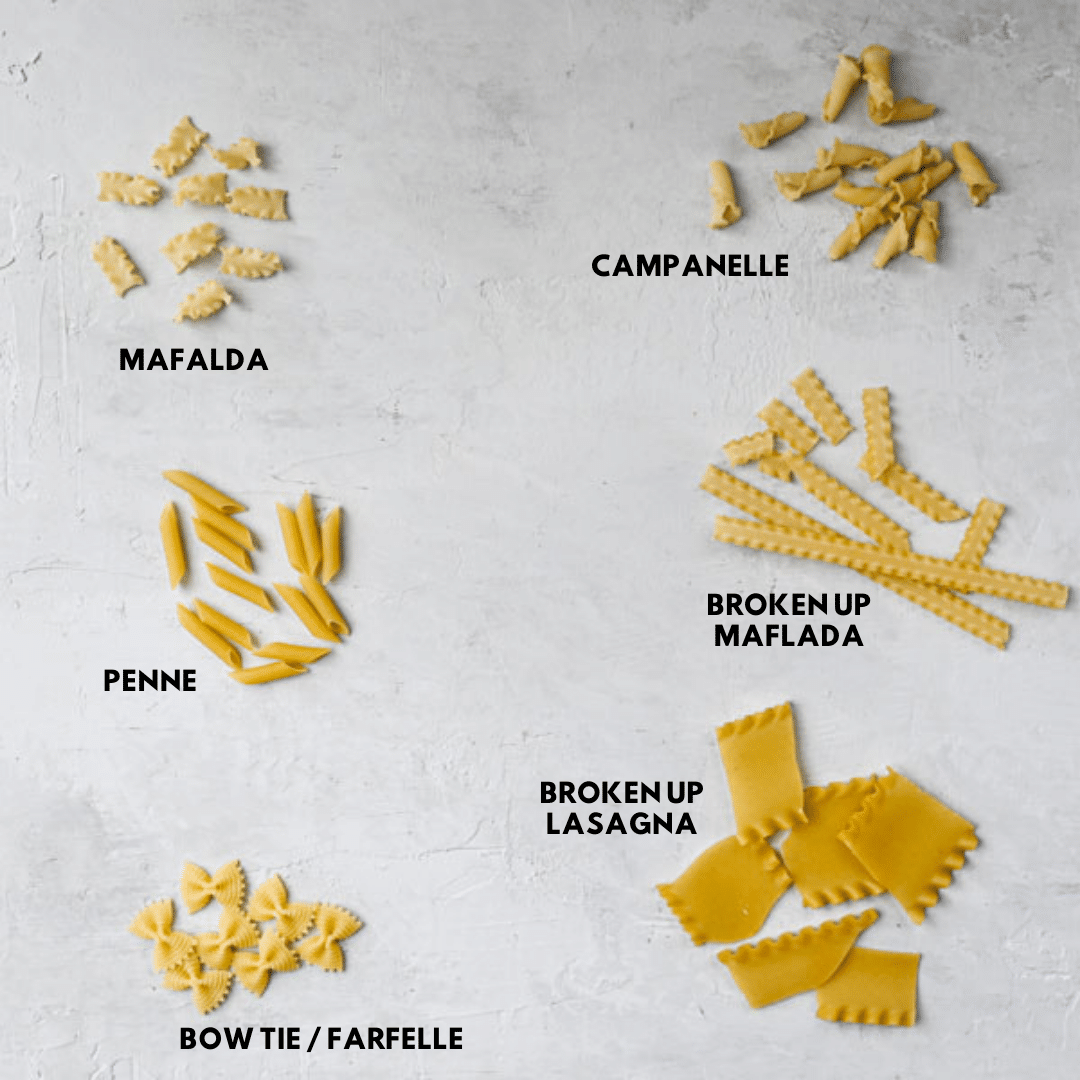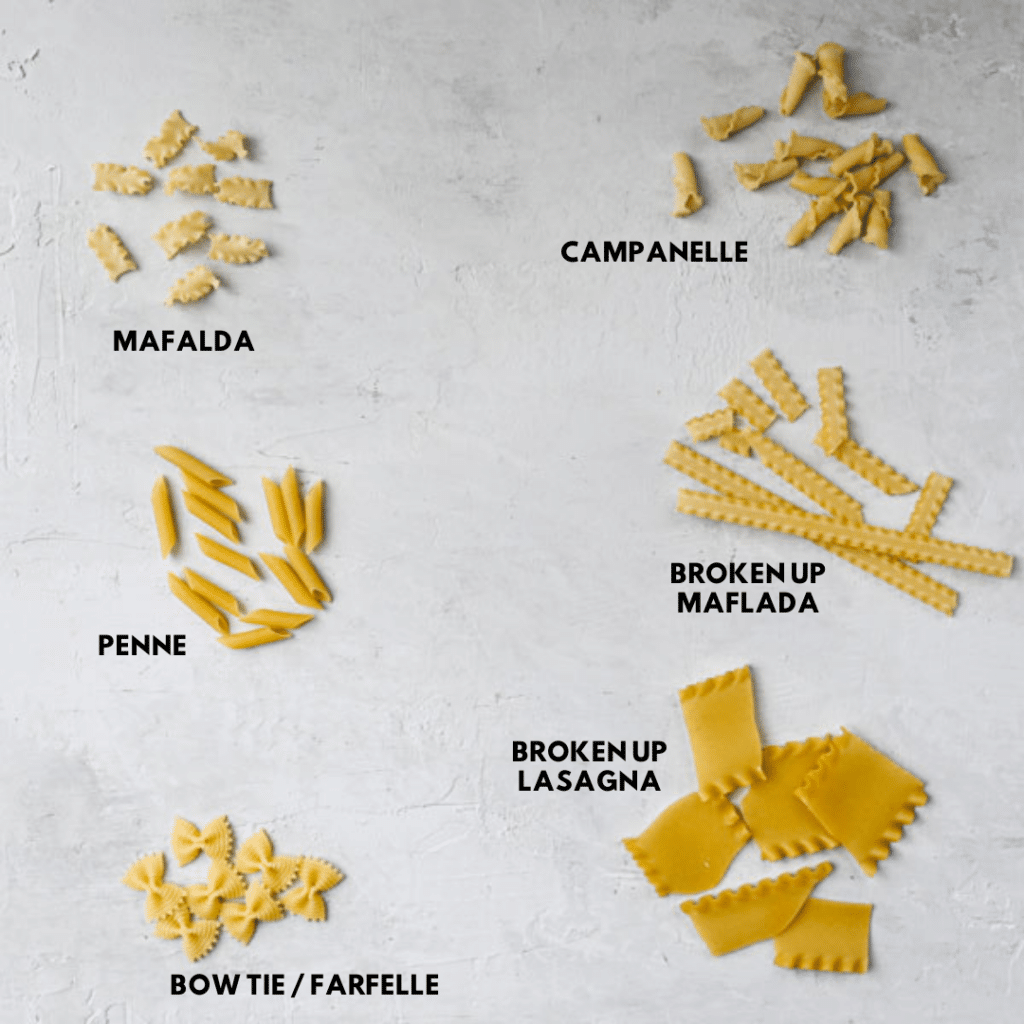 With the exception of the broken up lasagna noodles, no recipe modifications need to be made.
If you use broken up lasagna sheets, the water used will need to be modified so you don't end up with lasagna soup. You want the water to just barely cover the noodles. Anything more than that and you will have soup.
How to make perfect lazy lasagna (Step by Step)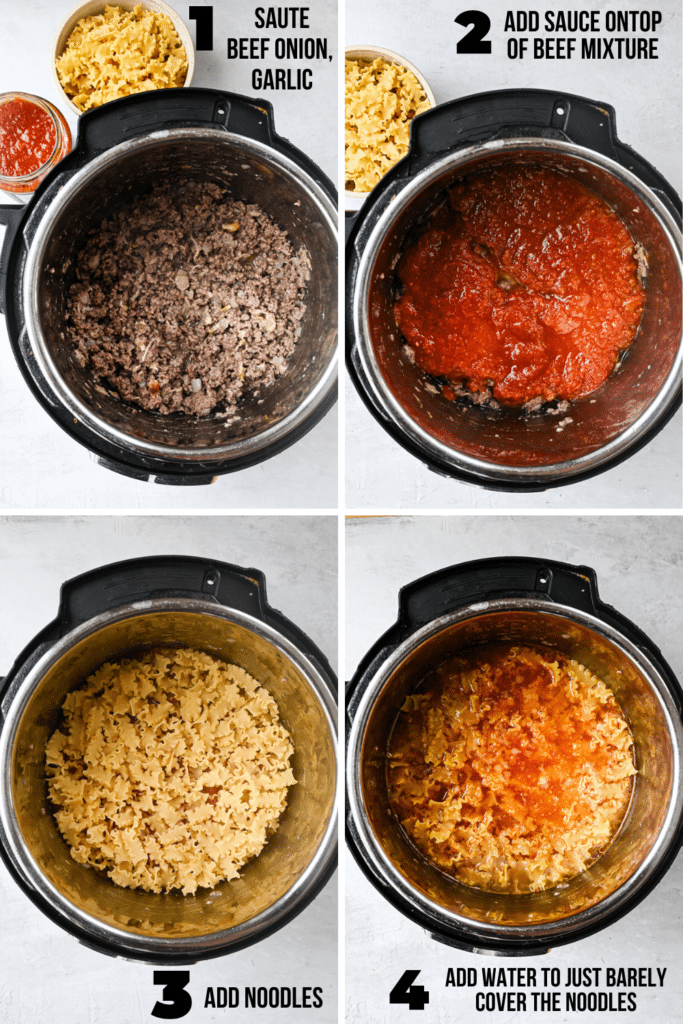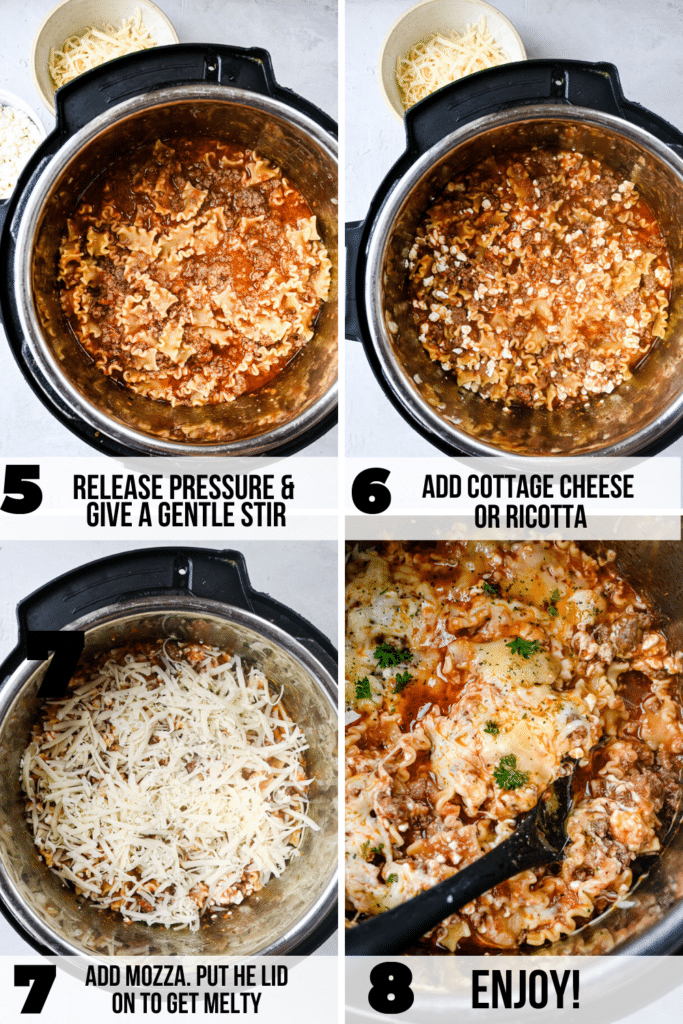 How do I double the recipe?
Do not double this recipe in the 6 quart - the capacity just isn't enough. You will need an 8 quart pot.
You do not need to modify any of the ingredient amounts.
Since your pot will be very full, I suggest decreasing pressure time by 1 or 2 minutes to avoid over cooking. This is because the pressure up time is significantly more with the increased volume and that is actually active cook time as well.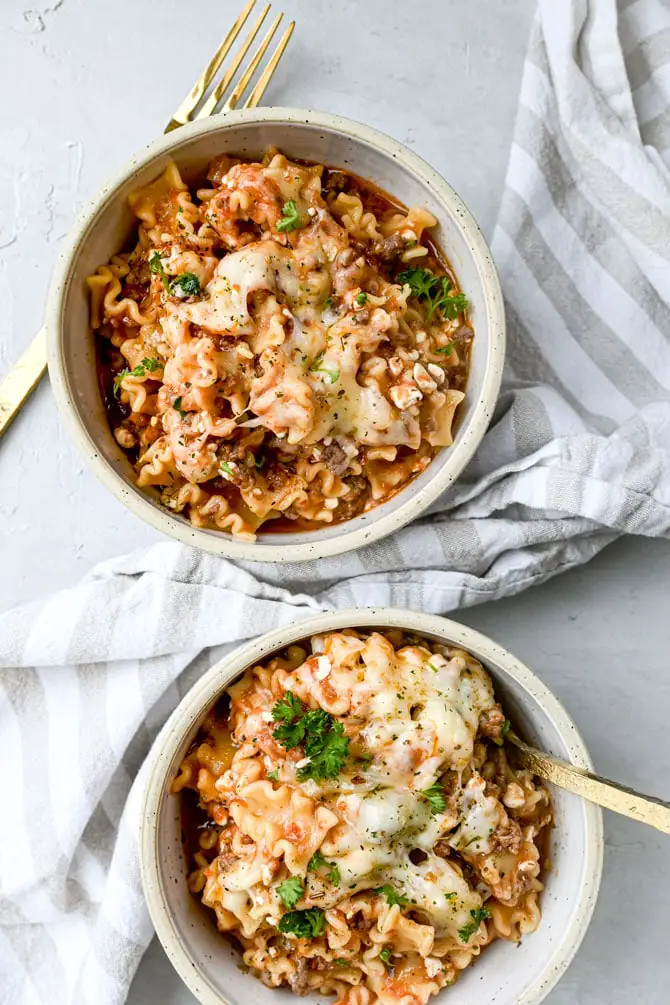 Avoid the burn notice
For whatever unknown reason, some pots are just more sensitive to the burn notice. Form what I hear personally, the 8 quart is much more sensitive.
To avoid burn you can try:
swapping when you add the water and sauce. This makes the sauce the last thing you add to the pot.
Really make sure there are no remaining browned bits after the saute step. This is the number one reason why you get the burn notice.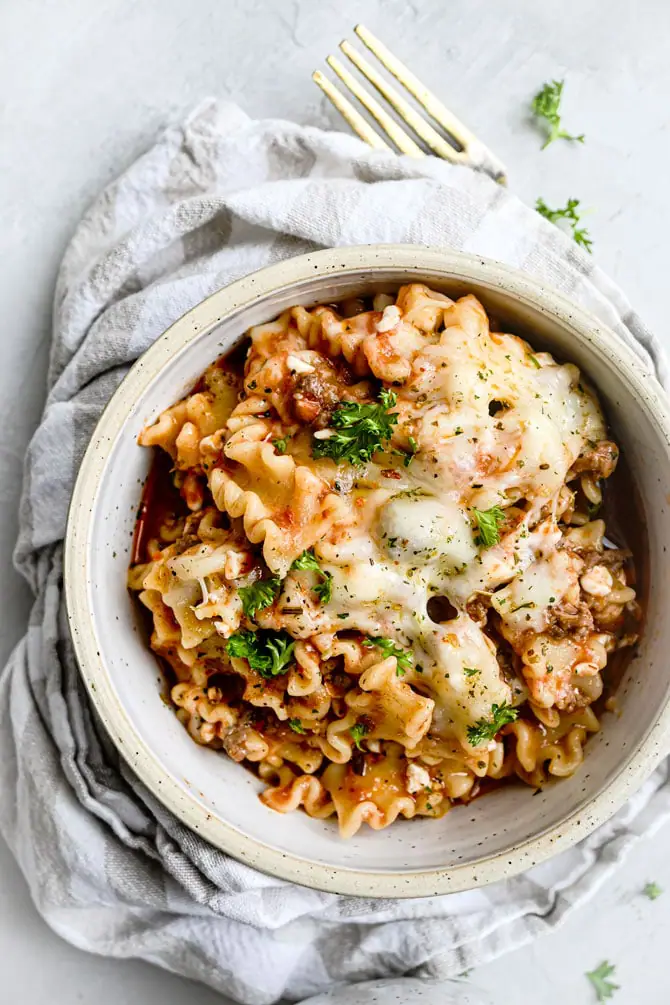 Can I freeze lazy lasagna?
Yes, you can! I use my Souper Cube molds for this.
In a perfect world you want to undercook the pasta by a minute of pressure time so that they are not soggy on reheat.
To reheat, it is best to thaw and microwave. You can also bake in the oven, but that method takes much longer.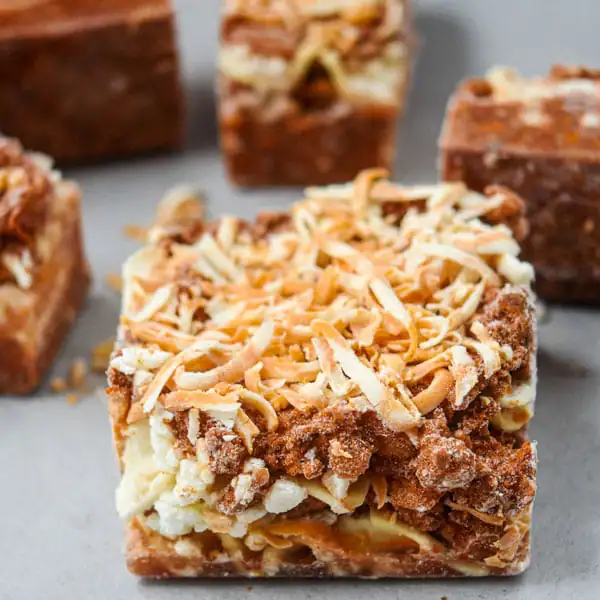 When you make this recipe, I would love to see your version. Tag @mealplanaddict on Instagram!
Recipe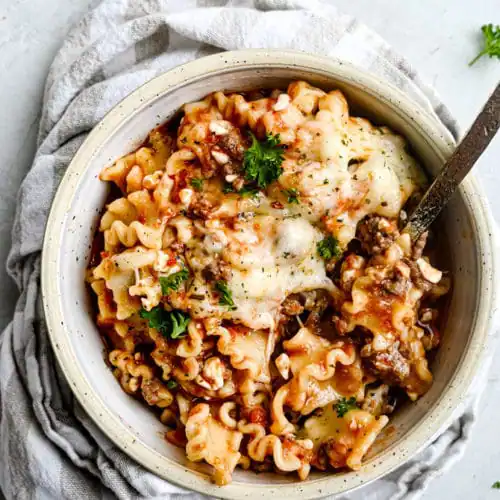 Instant Pot Lazy Lasagna
Lazy lasagna is all of the lasagna ingredients, but no messing around with boiling noodles, making sauce, and then baking it. Oh, and 4 minute pressure time in your Instant Pot for this recipe!
Print Recipe
Ingredients
1

lb

lean ground beef

1

cup

diced onion

2

cloves

garlic

minced

1

25oz jar

spaghetti sauce of your choice

2-3

cups

water

this will vary a bit based on which noodles you use. You want the noodles to JUST barely cover the noodles, or you will have soup.

4

cups

dry mini lasagna noodles (mafalda noodles)

1

cup

shredded mozzarella

1

cup

cottage cheese or ricotta

½

teaspoon

salt

¼

tsp

pepper
Instructions
Press the saute function and once the pot is hot, add the ground beef, salt, and pepper. When almost all of the pink is gone, add it the onions and garlic, and cook until the onions are translucent. Drain grease if there is any. Also scrape any bits off the bottom to prevent the burn signal.

Press cancel. Add in the sauce. Mix to combine.

Add the noodles on top of the meat and sauce mixture.

Add the water on top of the noodles. Do NOT mix. Gently press down any noodles that are not submerged in the water.

Place the lid on your pot. Secure and set to sealing. Set the time to 4 minutes (high pressure).

When the pressure cycle is done, quick release the pressure (you don't want the noodles to over cook). If there is foam it is spurts out. Close the valve for 3 seconds, open for 3 and repeat until spurting stops.

Stir in the cottage cheese.

Add the mozzarella on top. Place the lid back on to trap the heat. Let sit until it is all melted and amazing.
Nutrition
Calories:
376
kcal
|
Carbohydrates:
67
g
|
Protein:
18
g
|
Fat:
3
g
|
Fiber:
6
g
|
Sugar:
3
g