Meal prep doesn't have to be making one meal and reheating it all week. You can make individual freezer meals and have a variety of single serve meals ready to go!
Here are the 4 ways to freeze individual meals!
Why bother with individual freezer meals?
It can look overwhelming to make a bunch of individual freezer meals and stock up that freezer, but have no fear - it is not as daunting as you think.
There are many reasons for freezing individual meals:
Variation - if you are not a fan of meal prepping lunches on Sunday and reheating the same meal all week, you can slowly build up a freezer stock of various different meals, and each day pick and choose what you feel like that day.
You are a single, student, or have an elderly family member living alone is can feel like so much work to cook a whole meal for one.
You are a new mom and are home alone with kids for most of the day.
You have different food preferences in your house and don't necessarily all want to eat that same casserole.
There are 4 main ways to freeze single serve meals!
I have been freezing meals for years and have tested just about every type of container or vessel and there are 4 main products I use for my single serve freezer meals.
Foil Pans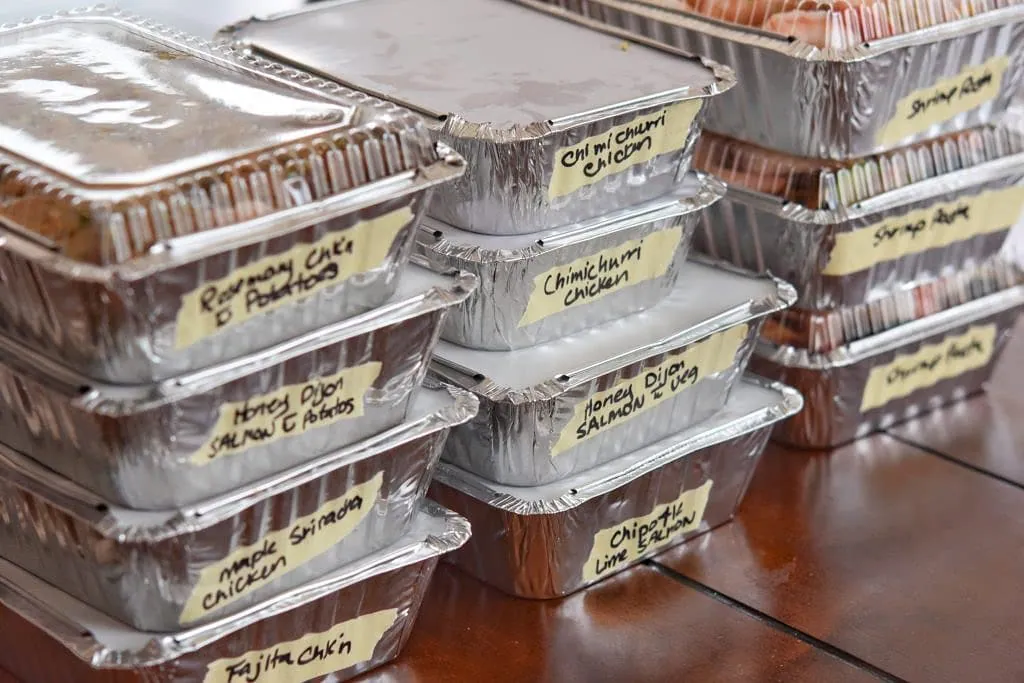 Foil pans work best for casserole style recipes and for pastas.
The pros for using foil pans are that they are inexpensive, no dishes created on reheat, fairly resistant to freezer burn (depending on how you prep them), are highly accessible, and come in various sizes.
The drawbacks for using foil pans is that you cannot microwave them, and they generate excess non recyclable waste, and many people do not like their food coming in contact with tin materials.
Souper Cubes
Souper cube trays are a new-ish product to the market and have been an absolute game changer for individual meal prep.
These high quality silicone trays come in various sizes ranging from ½ cup to 2 cup portions. I own all 3!
With this product, you can freeze individual portioned meals and then freeze. Once frozen they pop out and you can store in freezer safe container.
Bonus points because you can actually bake in these trays too!
The pros for using Souper cubes are that they make portioning meals incredibly easy, they are dishwasher safe, they are high quality silicone and don't smell or retain stains. The best part is that you don't have to thaw anything before reheat. I reheat frozen cubes almost daily!
If you have limited freezer space, this is the method for you. The cubes stack so nicely and take up far less space than other methods.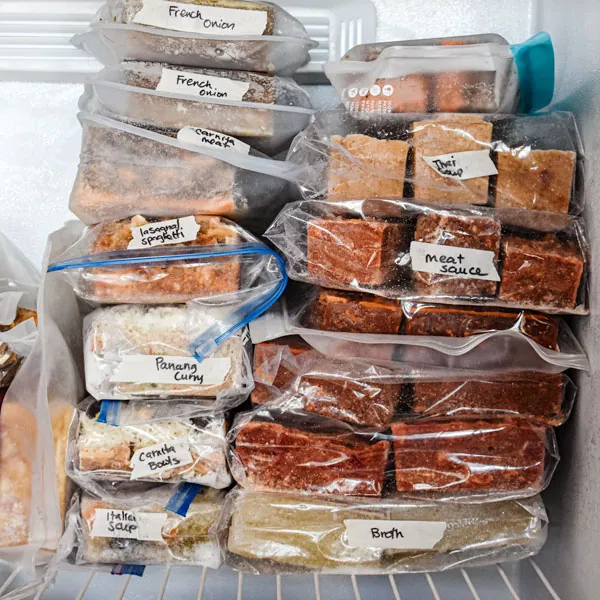 The drawbacks for using Souper cubes is that they are a more expensive alternative to other options. It took me a while to accumulate a stash of trays - but it is worth the investment.
You might also be interested in my post on all the EASY WAYS TO USE SOUPER CUBES
American friends can get Souper Cube trays right from their website, and Canadian friends can get them on Amazon. ca (affiliate links)
Mason Jars
I have used mason jars to store soups and stews in the freezer for years. I have had only one jar break.
Yes, there is some risk using mason jars, but, if you follow these guidelines, you won't have any broken jars!
The pros for using mason jars are that they are a fairly inexpensive plastic free option.
The drawbacks for using mason jars is that you do have to thaw the jars before you warm up the contents. You cannot put a frozen jar in the microwave. So, if you use this method, a bit of planning ahead is needed.
Glass Containers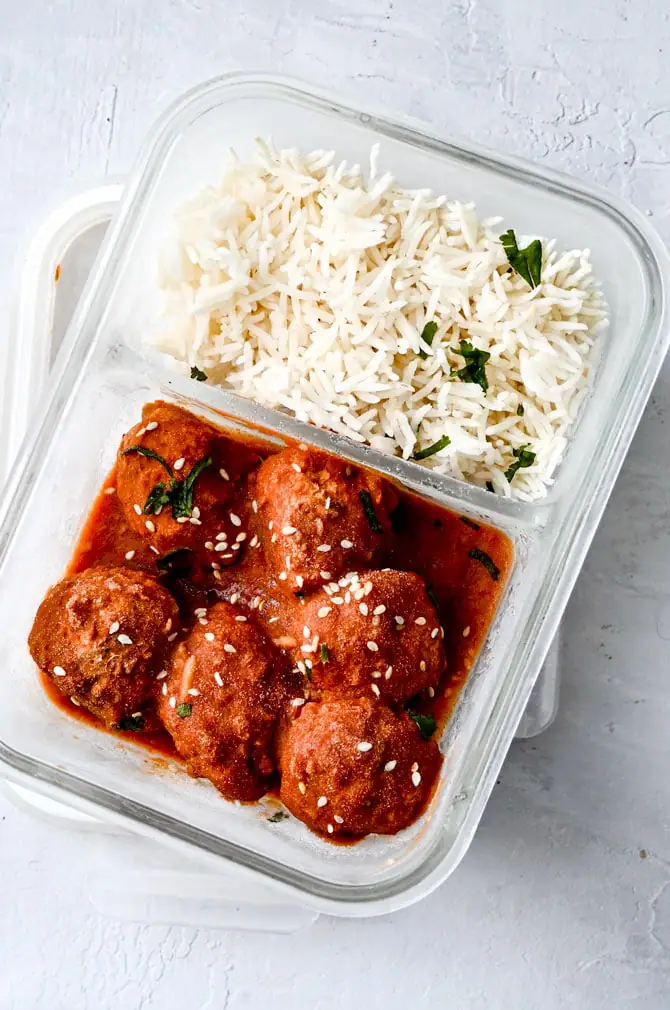 When sourcing glass containers make sure they are rated for the freezer. These can end up costing a bit more, but I have never, not once, had mine break or crack.
I use these 2 compartment glass meal prep containers and these 3 compartment glass meal prep containers to freeze my single serve lunches.
Is there a good method for freezing single serve meals that I have missed? I would love to hear it in the comments!
Don't forget - once you get going with prepping these freezer meals, you want to organize your freezer so you actually consume them!
Head over to The Best Freezer Organization Tips to get you #freezergoals !
I want to see all of your hard work! Tag me @mealplanaddict on Instagram when you make your meals and organize your freezer!