Your Instant Pot can make some of the most simple veggie sides - all hands off for you!
These 14 veggie sides are tried, true and tested in your Instant Pot, and I bet you didn't know all of these worked so well in your electric pressure cooker!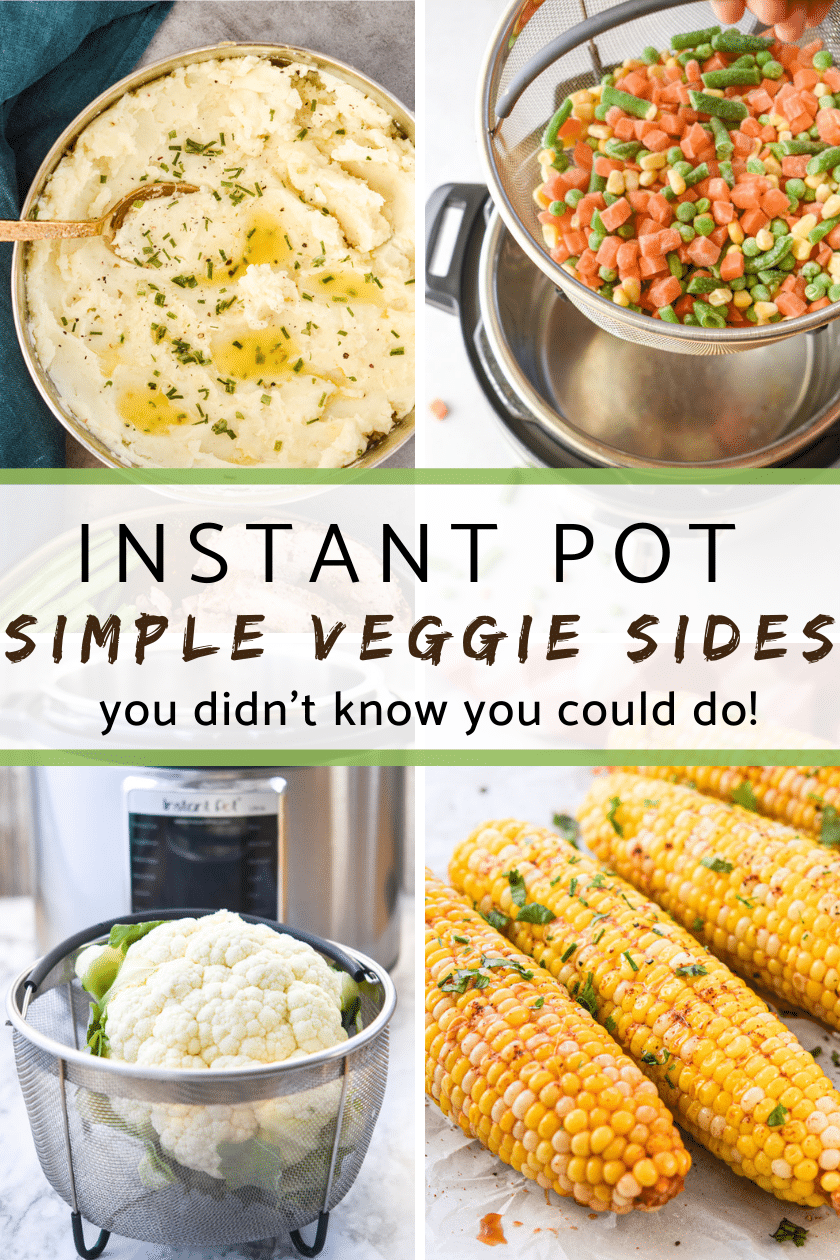 When choosing a vegetable for pressure cooking root vegetables are the most forgiving while vegetables like broccoli and cauliflower kept whole or left in larger pieces work well too.
Not all vegetables are suited for pressure cooking, if you wouldn't normally steam or boil it then you probably won't want to pressure cook it.
Don't forget that even with a 0 min cook time the Instant Pot still needs time to come to pressure, give yourself a 10-15 min window until you get a better feel for your timing.
This Instant Pot steamer basket (affiliate link) is a great tool to have but the trivet can be used if you don't have one.
Add one of these simple veggie sides to your meal plans this week!
Instant Pot frozen veggies is the easiest, handsfree dinner side or batch prep meal prep side you could ask for. Hands off and zero minute pressure cook time, plus ideas to make veggies more exciting!
"Just did up a batch of Green Valley carrots and beans with some fresh basil, salt and pepper and extra Virgin Olive Oil and thinly sliced red onion. HP and 1 minute. And QR. Delicious."
- Rod
Instant Pot chili lime corn cobs takes boring old corn on the cob to the next level, and almost in an Instant! Top these off with a little seasoned butter, and bam, you have game changing corn cobs!
"This recipe was a hit at our last BBQ"
- Jackie
Instant Pot savory garlic mashed potatoes kick your holiday mashed potatoes up a notch, and will impress all of your guests, and is super easy for you!
"Mmmm garlic, delicious! Also loved the fact that my oven was free for all the other holiday dishes"
- Colleen
Not only are they delicious with the sweet and savory honey butter sauce, but they are insanely easy to prep as well!
"Excellent! I made these as a quick last minute decision. My family raved about them, and I could not be more pleased with the ease of preparation."
- Rachel Shimon
Perfect Instant Pot sweet potatoes each and every time, with perfect, creamy insides. A time chart based on the width of your sweet potatoes ensures they are perfectly cooked each time.
"I did three sweet potatoes and followed the instructions to the T. Absolutely brilliant result. Thank you"
- Stephen
Instant Pot Green Beans: A recipe for fresh green beans steamed perfectly in the pressure cooker.
"This turned out perfect! Thanks for the recipe."
- Brittany
Instant Pot whole cauliflower is THE BEST way to use your instant pot pressure cooker to make cauliflower. No mess. No mush. Just perfect florets.
"Oh WOW!! Wonderful, easy recipe. It came out perfect.."
- Donna
This Instant Pot broccoli is so fast, it's got a zero minute cook time! It comes out perfectly steamed in the pressure cooker.
"I was skeptical about this, because other methods I've tried made the broccoli mushy. But this came out perfect!"
- Marsha Maxwell
Whip up a batch of this Instant Pot Spaghetti Squash to replace your pasta! Best part? This is the easiest and fool-proof method to make these long, yellow strands.
"This is the only way I make spaghetti squash now. Super easy and perfect every time."
- Jill
Easy roasted sweet and spicy Instant Pot cauliflower. It makes the perfect side dish to accompany any meal.
"Very delicious..perfect mixture of sweet and spicy!! I will be definitely making this again!!"
- Grace
Never risk cutting through a rock hard squash again. The pressure cooker makes it quick, easy, and manageable for anyone.
"I may never bake a butternut squash again, this was super easy & I had no trouble peeling the cooked squash"
- Priscilla Wallace
Quick and easy to make, using the Instant Pot to cook beets is a game changer. See how you can get perfectly cooked beets in the pressure cooker!
"The peel just slides right off, so easy"
- Hannah
If you thought that Roasted Brussels Sprouts are the best and only way to enjoy this vegetable, let me show you how to turn them into flavor-packed super quick side dish with bacon and sautéed onion and garlic, cooked right in your Instant Pot
"Wow! I would never think to make Brussels sprouts in the IP like this. LOVED it!! I can't wait to make them again!"
- Lauren
This is a simple, vegetarian vegetable side dish. If you replace the butter with olive oil, it becomes an Instant Pot Vegan side dish recipe!
"Excellent! I need more!"
- Naomi
Have you used your Instant Pot for veggie sides? What have you made that worked well? Let me know in the comments!