Instant Pot Apple Honey Pork tenderloin is ready after 7 minutes under pressure, and only 7 ingredients!
This recipe comes from my friend Kaidy. Her and I used to teach Instant Pot classes together and this was always on our menu.
After such rave reviews, every class, I asked if she would be willing to let me publish her ever popular Instant Pot apple honey pork tenderloin here on the blog, and she has so kindly let me do that!
Perfect anytime of the year, this recipe is super popular on the blog for fall.
Move over pumpkin spice, honey apple with cinnamon is in town... and much better!
But, is it really only 7 minutes?
7 minutes of pressure time - yes. This is for a 1 pound pork tenderloin. Pork tenderloin can go overcooked really fast, so you want to quick release this, and not forget about it in your pot!
Can I use pork loin instead of pork tenderloin?
Yes, you can. But know that pork loin and pork tenderloin are not the same.
Pork loins look long and thin. Pork loin looks more like a roast.
Because of the difference in weight and shape, a pork loin is going to take closer to 20 minutes of pressure time vs 7 minutes.
Is this just a dump everything in and go type recipe?
Yes, seriously.
Put the tenderloins in whole with the rest of the listed ingredients, and set for 7 minutes.
If this isn't on a Fall meal plan for you, it needs to be!
Can I make Instant Pot Honey Apple Pork tenderloin a prep and freeze meal?
Heck ya!
To make this a prep raw and freeze meal, pile in all of the ingredients (except the broth) into a freezer safe container of choice (here is what I use), and bam! freezer meal made.
You can cook this from frozen, but I find pork tenderloin easy to overcook, and a bit more finicky so I prefer to thaw it overnight (in the fridge), and cook from thawed.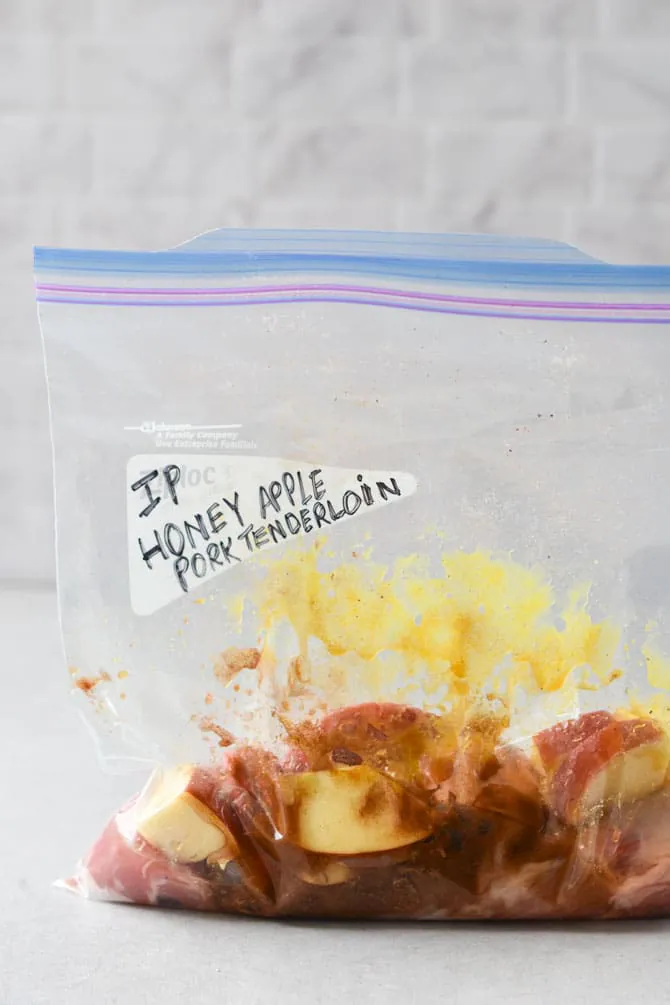 Kaidy's original recipe is for 2 pork tenderloins for 4-6 servings. Given my family consists of just 2 meat eating people, when I do this as prep ahead I follow the recipe and include only 1 tenderloin. The only modification I make is to reduce only the cinnamon by half. You need all of the liquid in the original recipe to get the pot to pressure.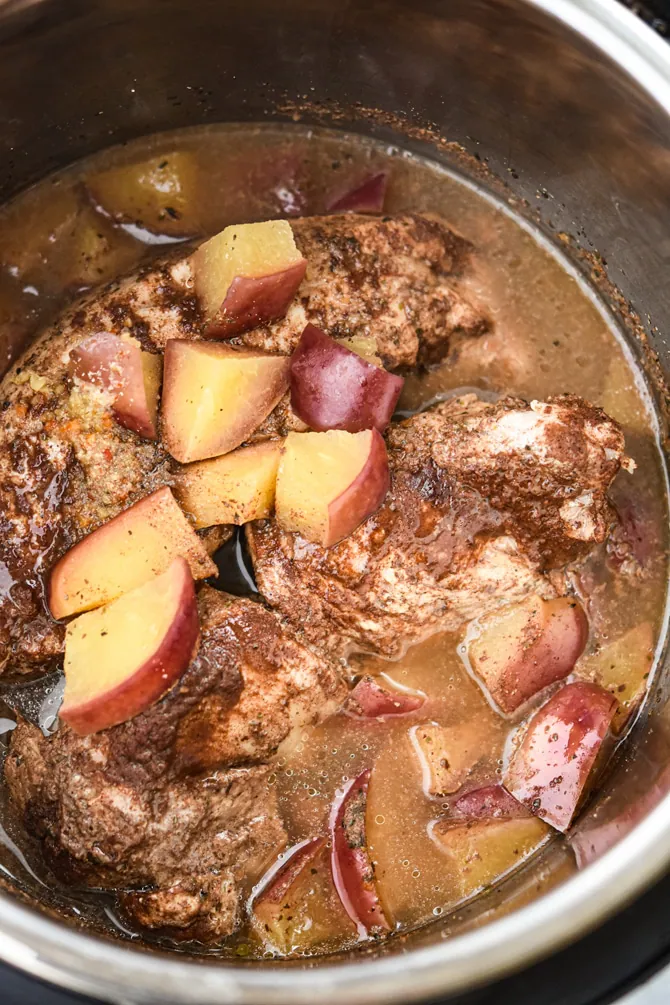 Are you ready to add this simple Instant Pot Honey Apple Pork Tenderloin to your next meal plan?
When you make this, tag me @mealplanaddict on Instagram, or come post a photo over is the Meal Plan Addict Community!
Looking for more things to cook in your Instant Pot?! Me too! --> Here are all of my Instant Pot Recipes to try!
Recipe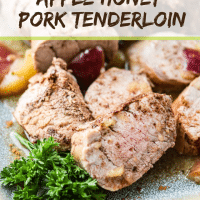 Instant Pot Apple Honey Pork Tenderloin
Instant Pot Apple Honey Pork tenderloin is ready after 7 minutes under pressure, and only 7 ingredients! 


Print Recipe
Ingredients
2

pork tenderloins

1 pound each

2

cups

diced apples

¼

cup

Honey

1

cup

Broth of choice (I prefer veggie broth here)

1

Tbs

Cinnamon

1

Tbs

palm or brown sugar

½

teaspoon

Nutmeg
Instructions
Mix all dry ingredients together and rub on tenderloin.

Add the honey, broth/stock to the instant pot insert.

Add tenderloins and apples to instant pot insert.

Set on manual high pressure for 7 minutes.

Quick release the pressure when the timer goes off. I have found that natural release on pork tenderloin causes it to overcook.

Slice tenderloins into medallions and pour the now apple reduced sauce on top.
Notes
FOR MAKE AHEAD FREEZER MEAL, toss all ingredients into a freezer save bag. You can omit the liquid and add that only on the day of cooking.
Nutrition
Calories:
359
kcal
|
Carbohydrates:
34
g
|
Protein:
46
g
|
Fat:
5
g
|
Fiber:
3
g
|
Sugar:
30
g