Weeknight ribs in your Instant Pot just brought your weekend favorite meal to any day of the week!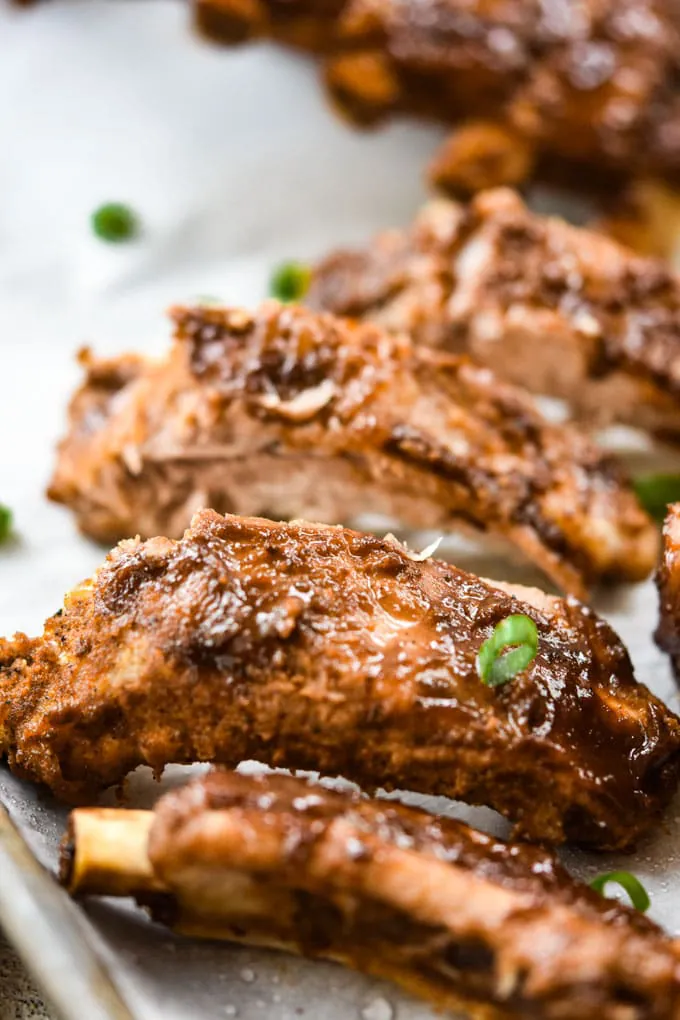 Ribs at our house have always been sloooow cooked all day in our backyard smoker. "Slow and Low" is usually a pretty good rule for many meat based meals – including ribs. So, ribs have typically been a weekend treat… until I fell in love with my Instant Pot.
My husband was highly skeptical about the quick instant pot version of one of his beloved meat dinners, and to be honest – so was I.
I have done ribs many different ways in the instant pot now, and here is my personal preference for quick weeknight ribs – that are as tender as the classic "slow and low" versions but in a fraction of the time.
Are we giving up our tried and true backyard cooking method?! – oh heck no… but having the option to whip these up on a weeknight after work is a nice option for our busy, instant pot loving family.
FOR MAKE AHEAD FOR YOUR FREEZER - I season the ribs with the dry rub and seal in a food saver package or zip bag. Don't for get to label! Do not add liquid to this if you are doing these make ahead. Add the liquid at time of cooking.
Thaw in the fridge overnight, and on the weeknight you want these, add the broth and the ribs to your insert and that is it!
It is possible to cook ribs directly from frozen - but I found the ribs cook unevenly, so I choose to cook these from thawed.
Pour in your broth, and set the timer (as per directions below).
EXPERT TIP – use the saute function to heat the broth for a couple of minutes then press cancel. This will SIGNIFICANTLY decrease the time needed to get the pot to pressure. When I do this, my pot gets to pressure in under 3 minutes.
Once the pressure time is complete – let the pot naturally depressurize. This step is important. Do not quick release ribs.
Coat the ribs with your favourite BBQ sauce and put under the oven broiler to get a crispy coating.
All in all this is about 1 hour to get to the table. This recipe breaks my general rule of having dinner on the table in 20 minutes… but fall off the bone ribs in under an hour… I will make the exception.
Recipe
Weeknight Ribs.... in Your Instant Pot
Print Recipe
Ingredients
Approx 4 pounds Pork back ribs

fat trimmed off.

1

Tablespoon

onion powder

1

Tablespoon

Dry Mustard

1

Tablespoon

Cumin

1

Tablespoon

Paprikia

2

Tablespoons

Brown Sugar

1

Tablespoon

Chili Powder

1

Teaspoon

Celery Seed

1

Tablespoon

Garlic Powder

1

Cup

Beef Broth

Your choice of BBQ sauce
Instructions
Make it now
Combine all of the dry rub ingredients and rub onto the ribs.

Cut ribs into pieces that fit into the instant pot

Pour in the beef broth

Lay the ribs inside the pot (as shown in the picture in the blog post)

Set the lid to sealing and manual setting for 25 mins.

Let the pot release pressure naturally (approx 20 mins)

Place ribs on baking sheet and lightly coat with BBQ sauce. Place under the broiler until desired crispiness.
Make it a Freezer Meal
Combine the rub ingredients and season the ribs.

Cut the ribs into 4 rib chunks.

Place seasoned ribs into the freezer zip bag. Do not add broth.

Remove as much air as possible.

Freeze flat for up to 2 months.

To cook, allow ribs to thaw in the fridge, and follow the directions for "Make it Now" above.
Notes
This recipe will work in an 8 quart Instant Pot.
Nutrition
Calories:
160
kcal
|
Carbohydrates:
16
g
|
Protein:
9
g
|
Fat:
7
g
|
Fiber:
2
g
|
Sugar:
10
g
Now, go amaze the meat lovers in your house with some weeknight ribs in your instant pot!!!