Veggie loaded breakfast pockets are here to help you skip that morning drive through! Make these once, and have 12 breakfasts ready with zero effort in the morning!
Veggie loaded breakfast pockets are a freezer staple for sure.
This is one of those recipes that you can make once, and have ready to go in the freezer for many breakfasts to come.
I have quite a few photos for this post so that I can show you exactly how to prep your breakfast pockets.
This is also a pretty flexible recipe. You can sub out and sub in any veggies you want!
This time, I went with spinach and peppers, and I always add a bit of cheese. Hi Feta!
To get started, cook up your egg mixture as if you are making scrambled eggs. When it has finished cooking, set it aside to cool a bit.
Now, you start to create your pockets.
These breakfast pockets are not any sort of special product. They are regular whole wheat tortillas.
Your first step is to cut your tortillas in half.
Then lay it out and bring the bottom part up, to basically create thirds
I like to pull mine up a bit higher to result in a bigger pocket.
You then use some of the flour and water paste to create glue, and pull down the other side.
Now you have a breakfast pocket to stuff!
Add 2-3 tablespoons of your egg mixture.
Add the flour and water "glue" to the seam and press down to seal.
Once assembled and sealed, you lay on a cookie sheet on parchment and flash freeze for 2 hours. After they are frozen, you can put them all into a freezer safe container and they won't stick together!
I promise, these veggie loaded breakfast pockets only look a bit complicated, but once you do one, you will see how easy it is!
If you make these, tag me @mealplanaddict on Instagram so I can see! Or come post a photo over in the Meal Plan Addict Community!
Recipe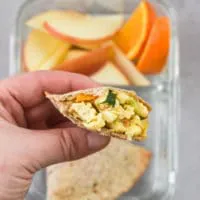 Veggie Loaded Breakfast Pockets
Veggie loaded breakfast pockets are prepped once, and reheated for a super easy on the go meal prep breakfast!
Print Recipe
Ingredients
6

10"

flour tortillas

12

eggs

2

tablespoon

butter

1

yellow pepper, diced

¾

cup

crumbled feta

1

cup

diced onion

2

handfuls

spinach

salt & pepper, to taste
Flour "Glue"
1

tablespoon

flour

3

tablespoon

water
Instructions
In a large skillet, melt the butter.

In a large bowl whisk together the eggs.

Add the veggies and cheese to the bowl. Stir to combine.

Pour egg mixture into skillet and scramble the egg mixture. Once cooked, set aside to cool.

Cut the tortillas in half.

One by one, assemble the egg pockets.

Start with one of the tortilla halves and fold the bottom corner up (see photo in post) to create thirds.

Pull the top corner down to create a tri angle. Add a bit of the flour "glue" where to 2 sides of the tortilla meet.

In the opening, add 2-3 tablespoons of egg mixture.

Put flour "glue" along the top seam and press it closed.

To freeze, lay on a parchment lined cookie sheet and let set in the freezer for 2 hours.

Once frozen they can be kept for up to 6 months.
To cook in the microwave
Put the pocket on a paper towel and cook on high power for 30-40 seconds on each side. If cooking from frozen change time to 1 minute each site. Time may vary a bit, depending on microwave.
To cook in the airfyer
Wrap the pocket in foil and set to 370F. If cooking fresh, cook for 5-7 minutes. If frozen, cook for 10-15 minutes, until warm throughout.

If you don't use foil, the tortilla will be extremely crispy, like a cracker.
To cook in the oven
Place pockets on a baking sheet. Heat oven to 350F and bake for 10 minutes. If frozen bake for 20 minutes until warm throughout.
Nutrition
Calories:
215
kcal
|
Carbohydrates:
18
g
|
Protein:
11
g
|
Fat:
11
g
|
Fiber:
1
g
|
Sugar:
1
g