Dill pickle salsa is a crunchy flavor bomb of fresh red pepper, onion, and dill pickles.
This perfectly salty, crunchy, pickle based salsa is a perfect appetizer or topping to your dinner!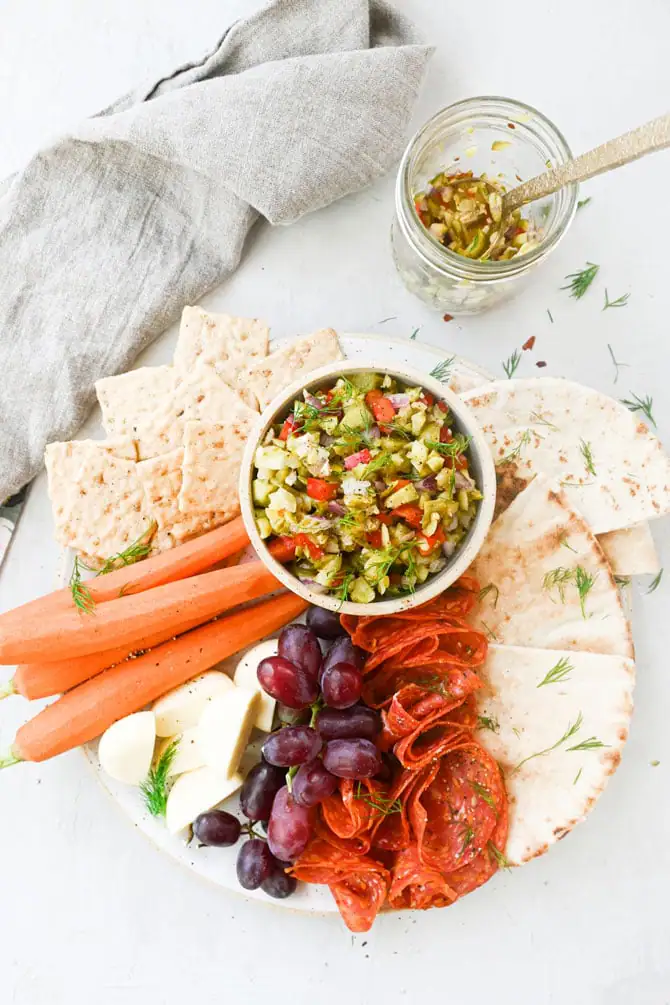 When I first saw Grillo Pickles Pickle De Gallo, I thought all of my dreams had come true.
But, being in Canada, I don't have access to Grillo Pickles and had to recreate it as best I could.
If I ever get to travel to the USA ever again, I will get my hands on some of the real stuff, but until then, this is the best alternative.
Salsa vs Pico De Gallo
Salsa is typically a cooked down mixture, where as a pico is a thicker type of salsa with fresh, uncooked ingredients chopped finely.
Pico de gallo is a type of a salsa so I am going with calling this a salsa.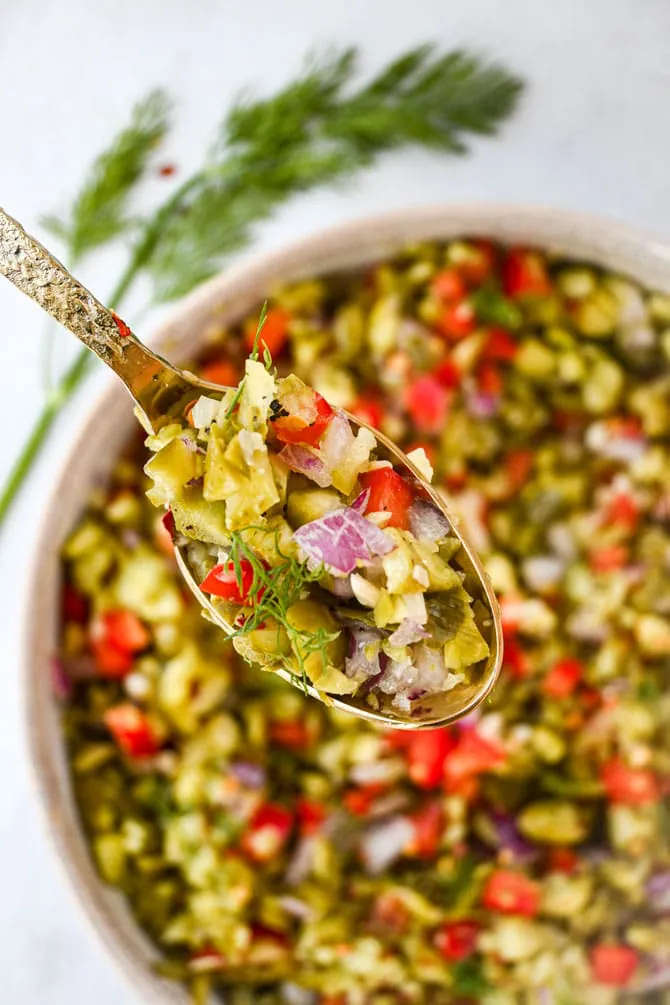 You want to use crunchy pickles for this!
I have made this a few times, with a few different kinds of pickles and I have found the mini pickles work best to keep the salsa crunchy.
I also personally think garlic dills are the best approach here, and adding in the pickled garlic from the jar is less in your face as fresh garlic. But, feel free to add fresh garlic and see how you like it!
Of all my trial runs, my favorite was Steinfeld's Kosher Petite Dills from Costco, but any petite dill pickles will work for you.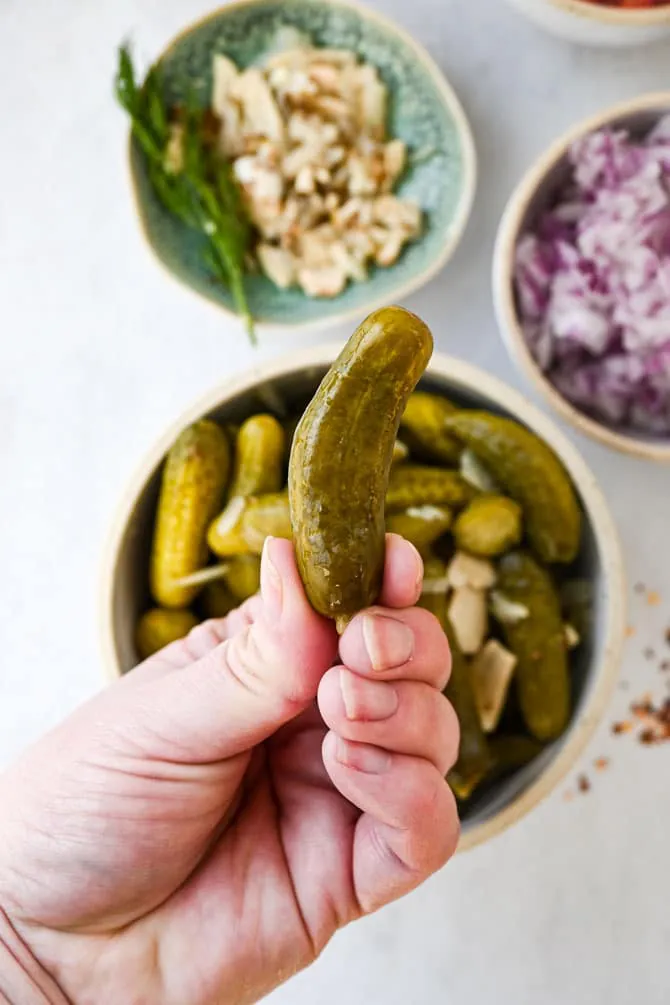 Let's make this salsa!
All fresh and pretty minimal ingredient list makes this a super simple, cost effective appetizer or star of a grazing board!
The red pepper is to add a bit of sweetness to the bold brine and salty dill flavors.
I prefer to use red onion as it is a bit more mild when used raw like this, but a yellow onion would be good too, if you like are bit more aggressive onion flavor.
Red Chili flakes are optional - go easy! Taste and then adjust. These little specks of spice are powerful and you don't need much to add a little punch to your pickle salsa.
Fresh dill is not the same as dried dill. If you don't have fresh dill, I would skip it altogether vs adding dried dill, personally.
Make your chopping life easier
I have had this little pull chop for years and if it used for nothing but making pickle salsa for the rest of it's life, it will be worth it.
To avoid chopping for longer than you need too, I highly suggest a using this little kitchen tool for dicing the ingredients for this salsa!
You basically put rough copped ingredients in, put the lid on, pull the string and bam, 2 seconds later, diced ingredients.
DO NOT USE A BLENDER for this.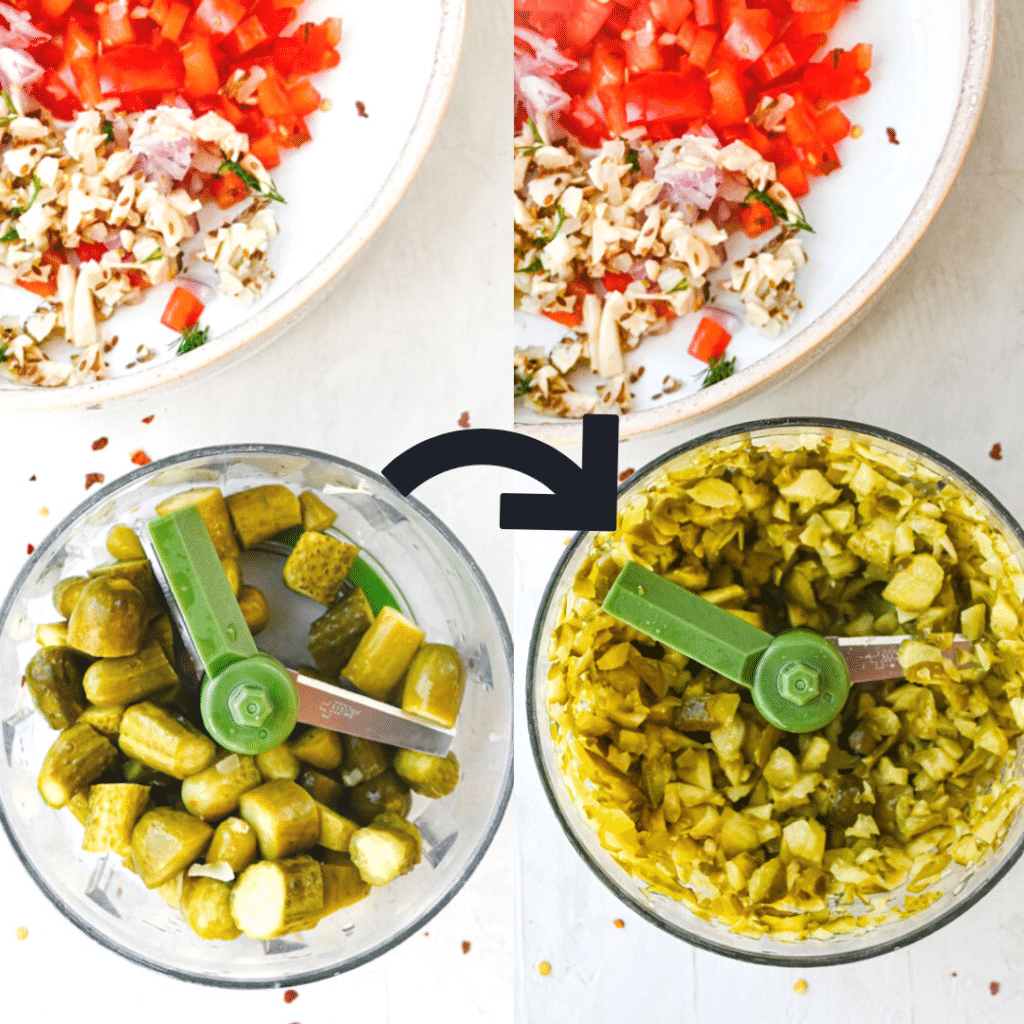 How to serve pickle salsa
Use pickle salsa just as you would use a traditional salsa or pico de gallo.
Scoop it with crackers, chips, or pitas!
Use as a topping for burritos, tacos, and on eggs at breakfast!
Perfect edible gift idea!
Most importantly, you can easily gift this to your pickle loving friends ! It looks so vibrant and delicious in these small jars, and are perfect for dropping off to friends!
Pair it with crackers, chips, or any delicious dipping side kick that your friend would enjoy!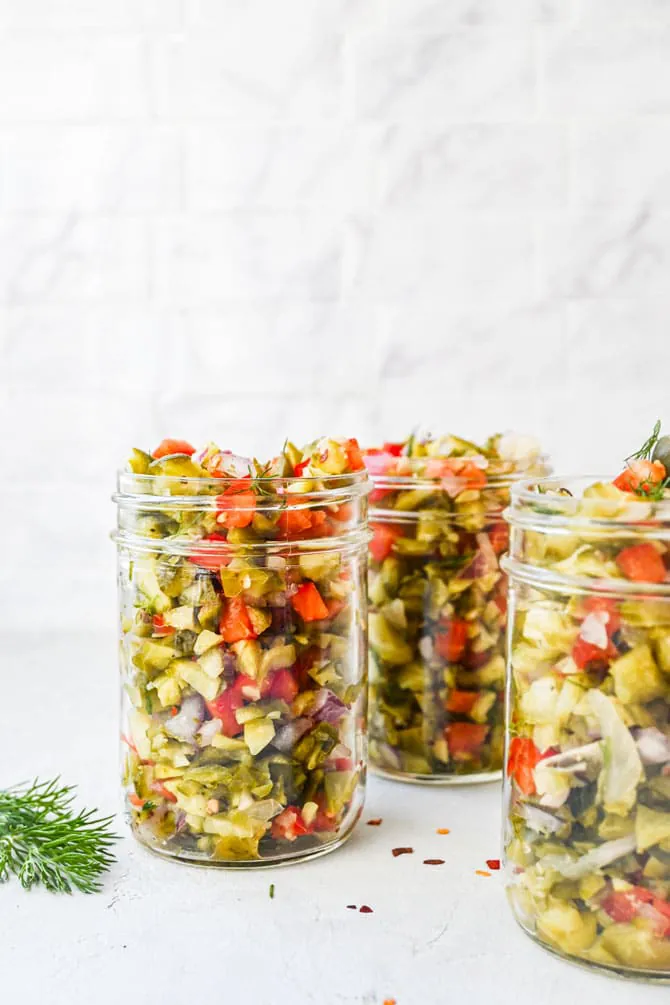 For my pickle lovers, you can see all of my pickle centric recipes here in the Pickle Category on the blog!
When you make your pickle salsa, I want to see it! Tag me @mealplanaddict on Instagram, or come inspire someone in the Meal Plan Addict Community to make it!
If you love it, please leave a 5 star review in the recipe card below!
Recipe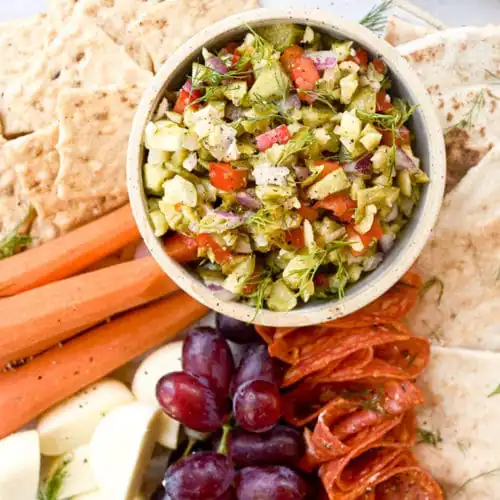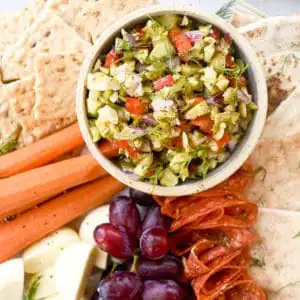 Fresh Dill Pickle Salsa
Pickle salsa is a flavor bomb of fresh red pepper, onion, and dill pickles. This salty, crunchy, pickle based salsa is a perfect appetizer or topping to your dinner!Adjust ingredient ratios to your own tastes- this is a really flexible recipe.
Print Recipe
Ingredients
40

ish

Petite dill Pickles

½

cup

fine diced onion

1

medium/large

red pepper, diced

2

Tablespoons

fresh dill

⅛th

teaspoon

dried red chili flakes

adjust to taste

all of the pickled garlic from the pickle jar (chop it if it is whole)
Instructions
Dice your pickles, and the garlic in the jar if it is whole.

Add all ingredients into a bowl and gently toss.

Allow to sit, refrigerated for a minimum on one hour.

This salsa will last about 3 days in the fridge.
Notes
Nutrition information is for pickle salsa only - no crackers or pitas included. 
I have omitted sodium from nutrition info because this will vary alot depending on the brand of pickles you use. If tracking sodium is important for you, please use my fitness pal to calculate the sodium content using the exact brand you choose to use. 
Nutrition
Serving:
1
cup
|
Calories:
20
kcal
|
Carbohydrates:
5
g