Ground beef can be used for much more than hamburgers or tacos!
Staring at that pound of ground hamburger meat in your fridge or freezer doesn't have to be boring. Use this versatile ingredient for these creative beef dinner recipes!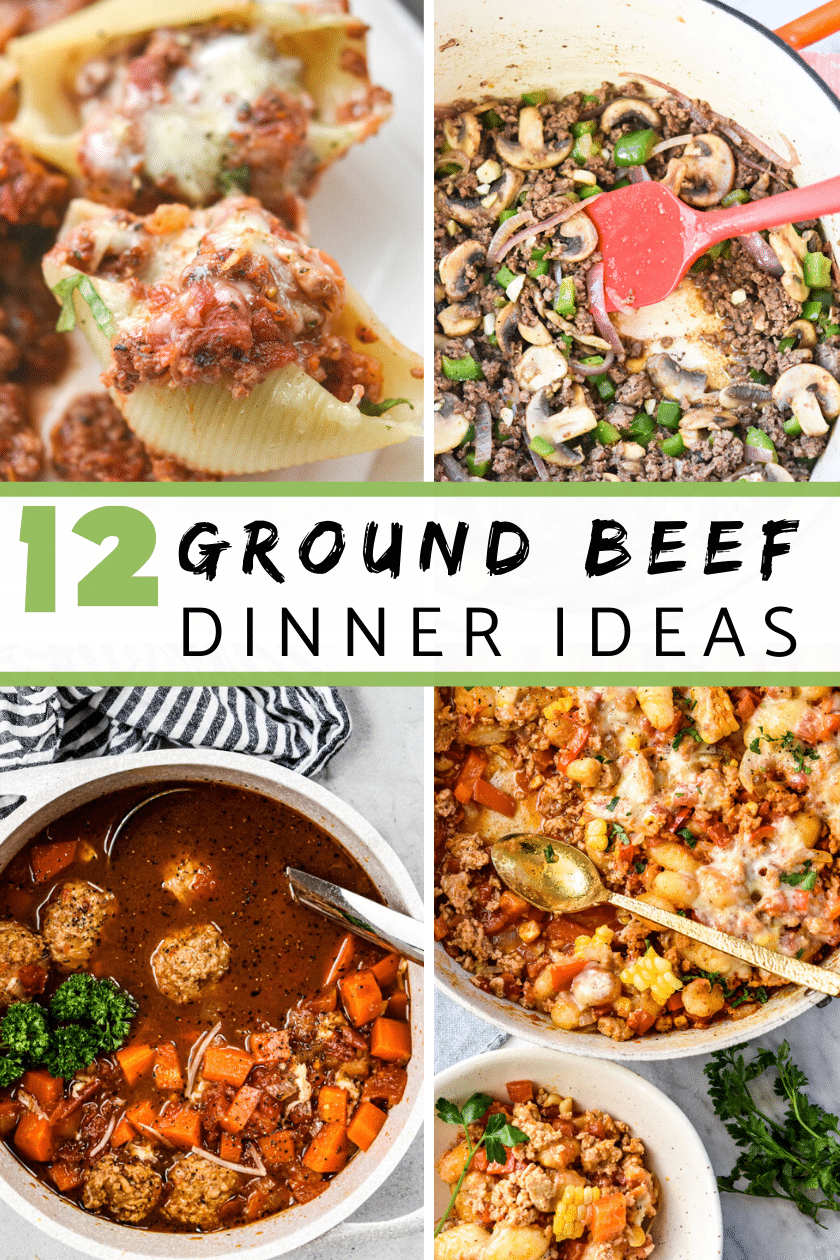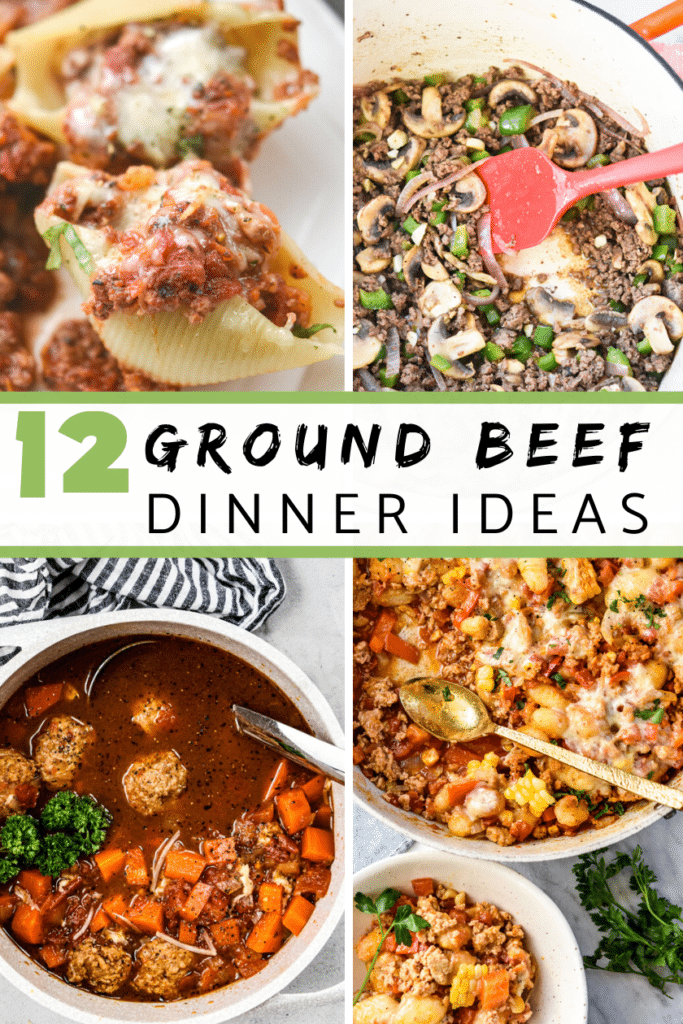 Ground beef ( also known as beef mince) is quite the versatile ingredient, and if you are making only tacos, spaghetti and chili with your beef, you are missing out on a ton of ways to shake up dinner time!
Tips for Buying Ground Beef
There are quite a few options in local grocery stores for purchasing ground beef. It can be a bit confusing.
Here is a quick run down of the labelling you might see:
Regular Ground Beef - This is often the most cost effective. This is the "juiciest" ground beef with 70-79% lean. Because of this, it will loose quite a bit of it's size as it cooks down. Use this one for the juiciest burgers.
Ground Chuck and Ground Round - 80-84% and 85-90% lean, respectively. This is a bit drier so you want to use this for dishes with sauce!
Ground Sirloin (aka lean), and Extra Lean - 90-92% lean and 93%+ lean, respectively. This is the one to use if you are watching your fat intake or trying to decrease it
Storage Tips for Ground Beef
Ground beef has a short shelf life in the fridge - 2 days. If you are not using ground beef the day you purchase it, you want to freeze it.
To avoid freezer burn, minimize how much air is in your storage container. My tried and true trick is to place 1-2 pounds of ground meat into a gallon size zip bag, and then use a rolling pin to flatten.
Then, freeze it flat (see image below). Once frozen you can stand them up to save space in your freezer!
To thaw, always thaw in the refrigerator (on a plate or container), and not on the counter.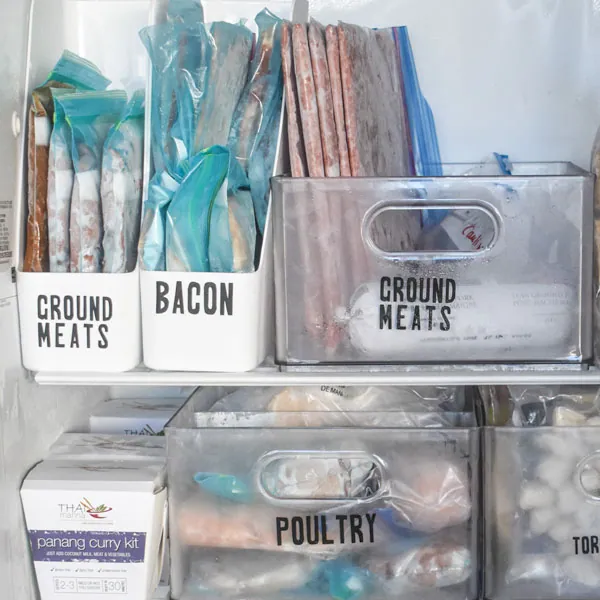 Which of these ground beef focused recipes will you be adding to your next meal plan?
One Pan Tex Mex Gnocchi Skillet is your work week savior that the whole family will love! Using only one pan and topped with cheese with oh so delicious bites of gnocchi, this is your new work week go to quick and easy dinner!
"Made this tonight and you're right it feeds a crowd! Can't wait for leftovers."-Melinda
This Easy Mongolian Ground Beef Noodles recipe comes together in 15 minutes and is one of the most delicious meals you will make this year.
"SO delicious. I would totally suggest doubling the sauce recipe, as we love our sauces around my household. It's quick. easy. and SO MUCH more reasonable than carry-out! We will DEFINATLEY make this again! Thank you for such a gorgeous recipe!" - Laura
Prep Ahead Sweet Potato Nachos are piled high with ground beef and are veggie loaded!
A lighter version of a pan of nachos means all that nacho goodness, and so many more nutrients and veggies! Say hello to healthy sweet potato nachos.
" Genius! Love this for a Friday dinner!" - Jenn
Ditch the traditional style Philly Cheesesteak sandwich this week, and make this super quick and simple ground beef version with rice, instead!
" I can't believe how these simple ingredients made such a great flavorful and EASY dinner. Thanks!" - Sue
Beef Enchilada Casserole is layers of seasoned ground beef, cheese, enchilada sauce, and soft flour tortillas baked until everything is hot and bubbly. It's an easy weeknight dinner that the whole family will love!
"This was our first beef enchilada we've ever made. We always make chicken and my wife found this and said I'd like to try it. It was fantastic! " - Richard
Pantry staple meatball soup uses up pantry items, and frozen meatballs to make a savory, hearty stovetop soup for dinner, lunches, or even to load up your freezer stash!
" Love how easy this was. The tomato rich broth was perfect! Will make this over and over" - Tara

This Quick and Easy One pot Cheeseburger Soup is the perfect for fall and winter. It only takes 30 minutes to make, and its perfect to freeze for meal planning.
" I think I died and went to heaven when I ate this. On repeat over and over" - Steph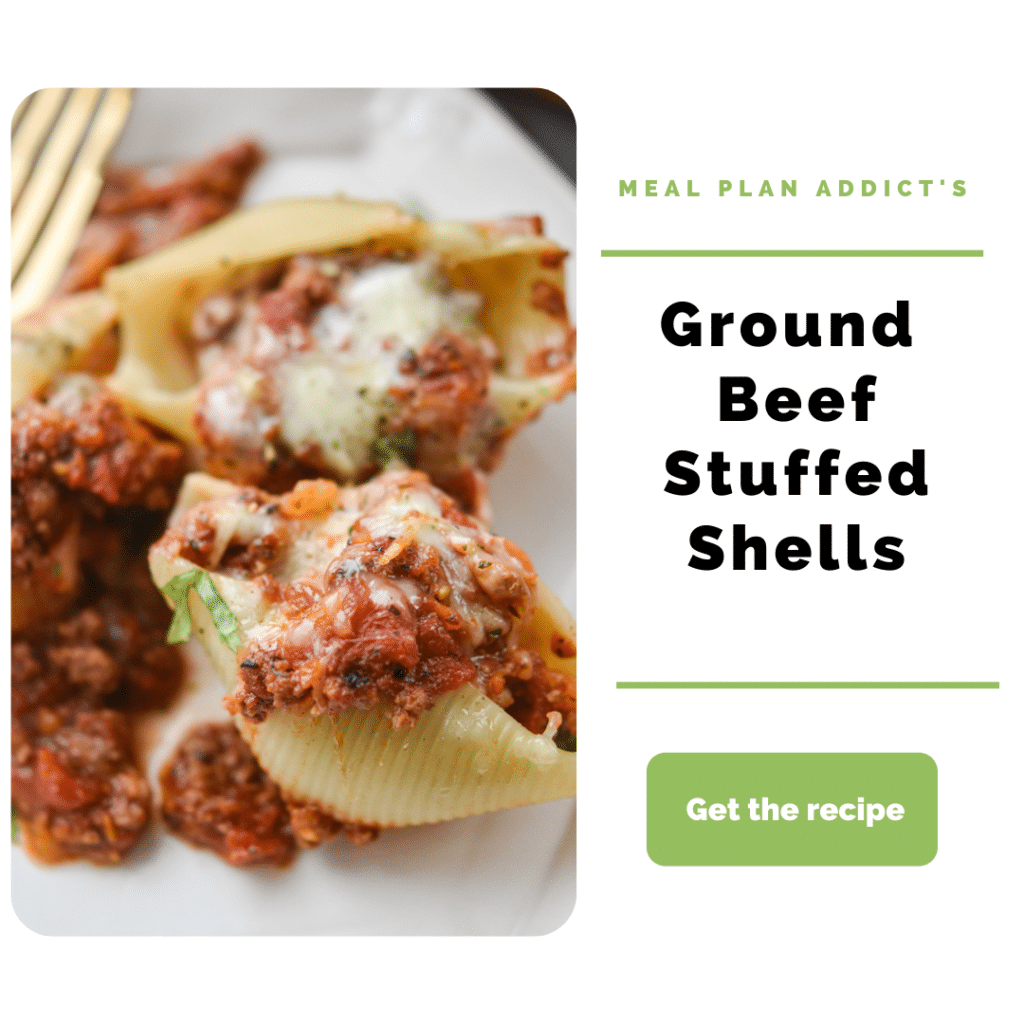 Cheesy beef stuffed shells are a fun twist on the every day spaghetti and meat sauce. You will have the whole family wanting to help with this pasta dinner!
" Next time I make this, I am making one for dinner and one for the freezer! The whole family loved this recipe. Thanks!" - Dana
Whole30 Ground Beef Burrito Bowl Recipe – Keto + Paleo Mexican taco bowls with seasoned ground beef, fajita veggies, cauliflower rice and lettuce. Gluten free, grain free, dairy free, sugar free, clean eating, real food.
"These bowls were so good! We went with your optional suggestion of cashew queso, avocados, and lime juice and they were delicious 🙂 First dinner recipe of the New Year! " - Heather
Ground beef stroganoff is classic comfort food, but this time with ground beef in the savory mushroom gravy gravy! Serve this on rice or noodles !
"This is seriously one of the best Healthy comfort foods! We had this over Cauliflower rice and it was SO delicious! We've also blended steamed cauliflower like mashed potatoes and put the stroganoff over it. It is the best on cold days when you're craving a warm meal. The left overs are insanely good too! 10/10 will make this again!" - Amy
Low carb cheeseburger stir fry is ready in less than 15 minutes, and has all the flavors of a cheeseburger, but without all of the carbs. But rest assured, you can have this on noodles or rice if carbs are your jam!
"Ok! This one snuck up on me! I was not expecting to love it as much as I do! I'm definitely keeping it on hand, printing it out and putting it in the quick recipe binder! I wasn't sure how I'd feel about the mustard in there but it was the PERFECT flavor to make it taste like a cheeseburger. SO SO Good! If you haven't made this yet, you HAVE to give it a try, especially if you're low-carbin' it up!" -Amy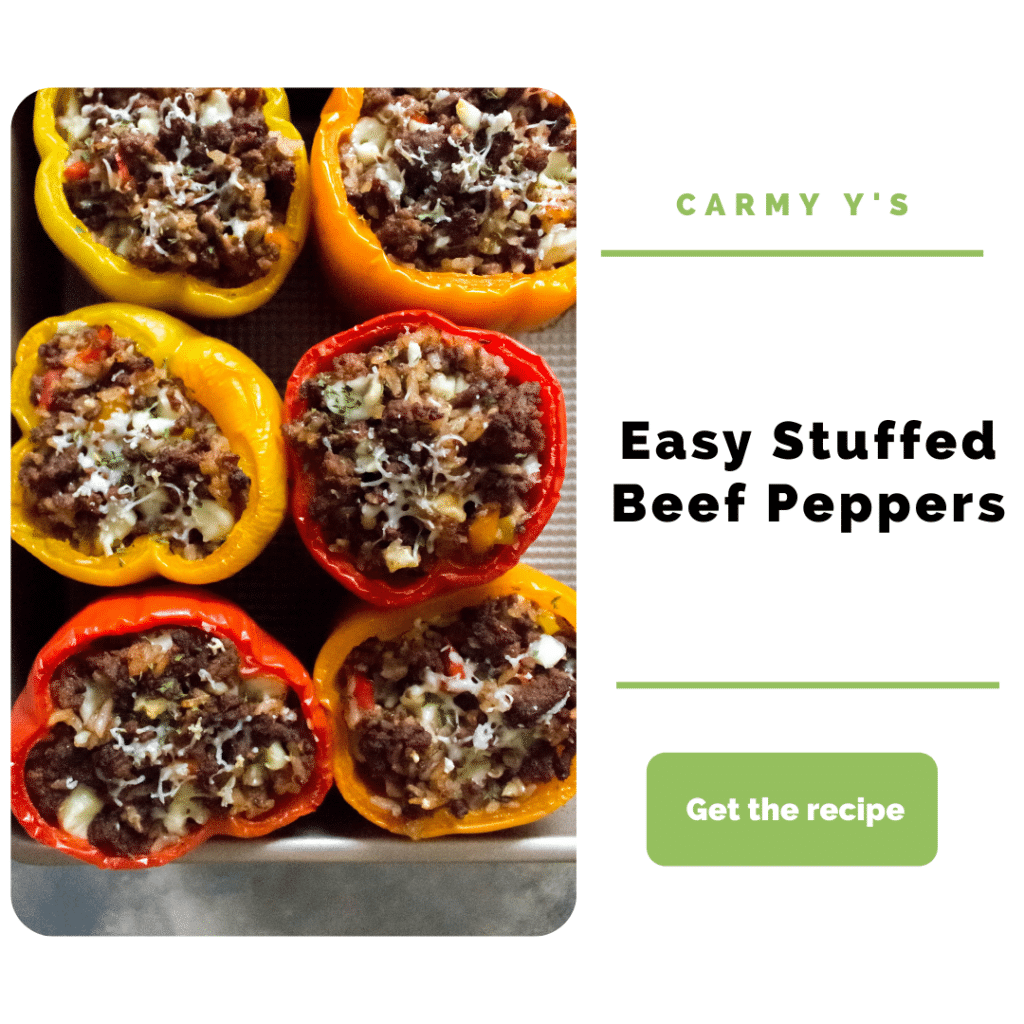 This easy stuffed bell peppers with ground beef is a delicious and healthy dinner idea for any night of the week!
" Such a simple recipe, I was shocked. LOVE this version of stuffed peppers. Will make again!" -Joan
If you love the look of ground beef dinners here, make sure you check out the Ground Beef Meal Prep version of this post too! Check that out here.