Load up that freezer, and make dinner, breakfast, and lunch times easier with these batch cook and freeze recipes!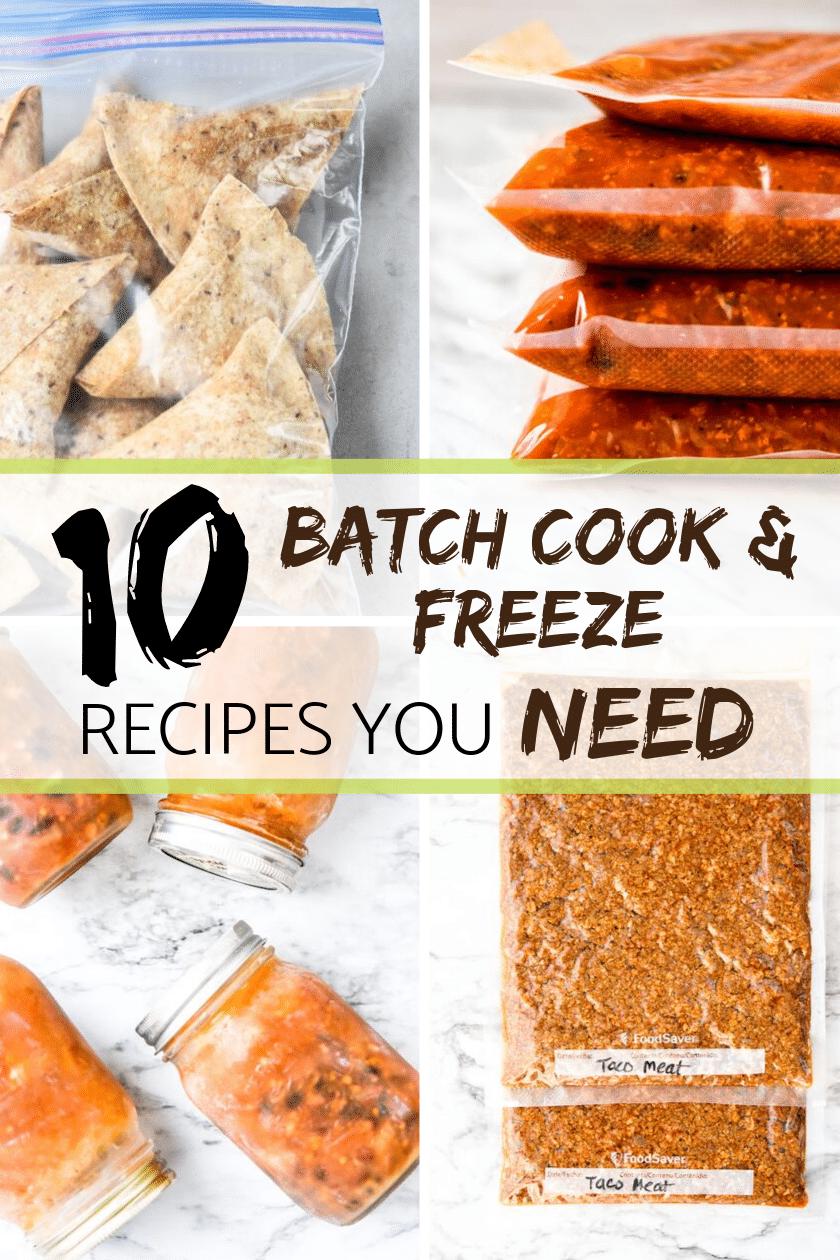 Batch prepping meals and freezing them is life for me.
I am a huge fan of putting effort in once, and having multiple meals.
Freezer batch prepping is also a big part of my meal prep strategy because you don't have to eat the same thing all week - if you freeze in individual portions!
Why is freezer batch prep the best?
Taking the time to make batch recipes means less time in my kitchen on meal prep Sunday because I can rely on my freezer meals for at least half of my weekly meal plan.
Bulk purchasing is boss. Buying meats in bulk, turning them into meals, is the most cost effective way to do freezer prep (in my opinion!)
Which containers to use?
This is all going to come down to preference.
I love to freeze in glass, but that can get really heavy on your shelves, and you have to put up quite a bit of expense to build up a collection of glass containers.
Gallon size freezer bags, gallon size zip bags work as well.
Tin foil pans (from your local dollar store) are another great option in terms of cost and weight.
Mason jars are also a good option for single serve.
Freeze your meals in usable portions!
Freeze meals in sizes that make sense for your family and lifestyle.
For lunches, freeze your foods in single serve portions. For dinners, freeze in sizes that are appropriate for your family size.
Mason jars are perfect for single serve soups and stews! Here is how to freeze soups and stews in mason jars!
Freezing meal preps for lunches? I use these 3 compartment glass meal prep containers, and these 2 compartment glass meal prep containers.
Don't want to wait for soup to thaw before heating. Use a souper cubes silicone mold instead!
How can I prevent freezer burn?
My best 2 tips are to make sure your food cools completely before you freeze it, AND remove as much air as possible!
Condensation will build up if you freeze warm food, and that leads to freezer burn almost instantly!
I love using a Foodsaver vacuum sealer system for my freezer meals to remove as much air as possible. This also allows me to lay them flat to freeze (to create more space) AND they won't leak.
For more of my freezer organization tips, you can head over to this post " 7 tips for freezer organization to save money and reduce food waste"
Ready to get that freezer filled up?!
Try these 10 batch cook and freeze recipes.
So, there you have it the 10 Best Batch Cook and Freeze Recipes you NEED!