I am definitely well on my way into setting my freezers (yes, 2 of them) up for fall. This weekend I spent a quick 1.5 hours making a few grab and go lunches, and on Saturday afternoon, a couple friends came over and we stocked up all three of our freezers with ready to go soups. Yes, you can freeze soup in glass mason jars if you follow these steps.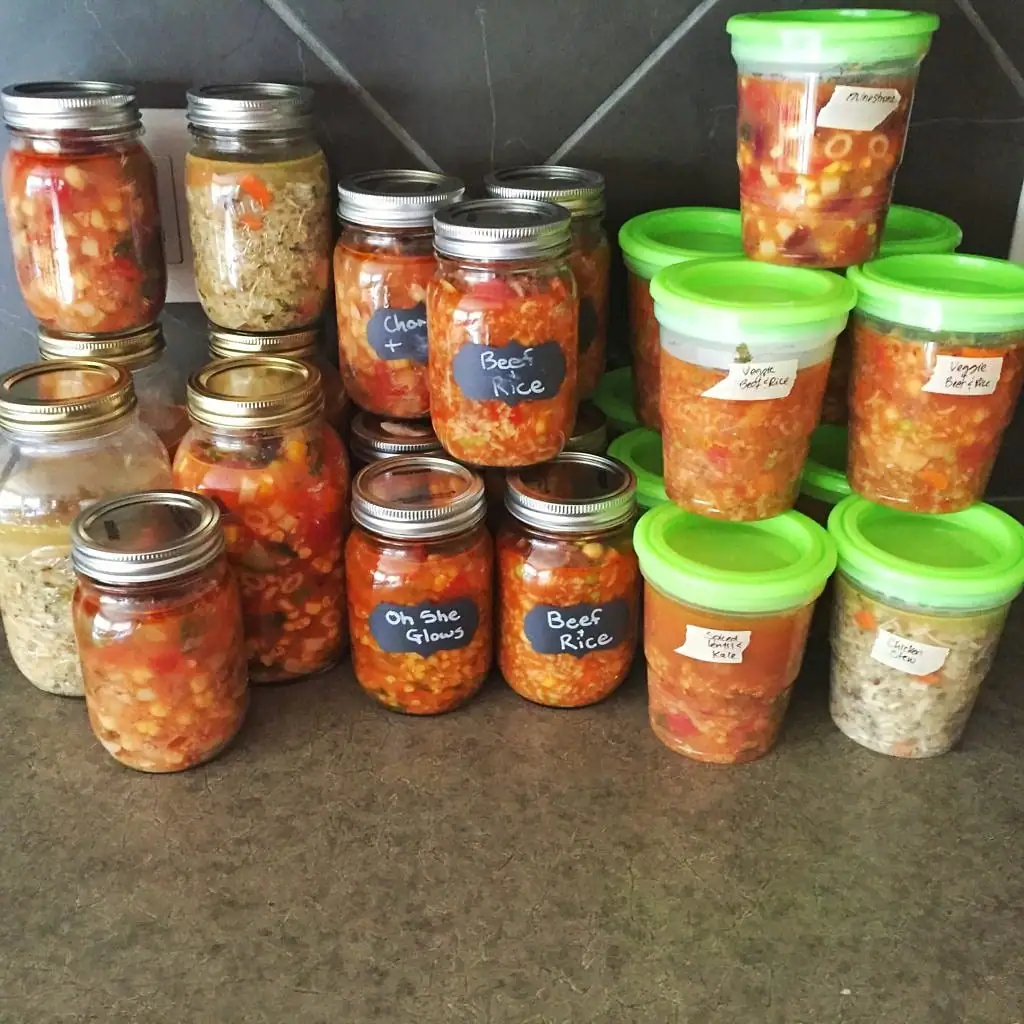 I typically don't do group meal prepping, but after this experience, I am totally doing it again.
The best thing about a group prep session is that you end up with more variety. Instead of 10 servings of the same 3 soups, you can have 3 servings of 5 types of soups – much better.
To set up for our soup prep day, I set up an ingredient matrix so that we could lay out everything we needed for each recipe. I use this as my grocery list and make a matrix like this anytime I do a big cook. Click here for the printable version - Fill Your Freezer Soups Matrix PDF.
Then, we each tackled parts of the list. In hind sight, I think it is probably easier for one person to do the big shop and then just split the bill.
We decided to have four soups going at once – with 3 people managing all of it! To do this, we set up 3 stations with each person managing that station.
Station 1 – Person 1 at the stove top managing 2 recipes in 2 pots.
Station 2 – Person 2 managing 2 pressure cookers on the countertop.
Station 3 – Person 3 chopping, getting yelled at, and running ingredients to the other 2 stations.
We chose to try this using pressure cookers because doing 4 soups on the stove top at once with multiple people would be a gong show. I was also intrigued by the 4 minute cook times for soups.
NOTE: You do not need a pressure cooker to do any of the recipes we did. You would have to do less soups at a time, and adjust the cook times longer (20-30 minutes per soup).
I will say that I didn't notice a huge difference in the total start finish time for the stove top vs pressure cooker soups. With all of the liquid and ingredients in the pressure cookers, it took quite a bit of time for them to come to pressure.
The benefit of setting up our cook this way was that we didn't have all of us at the stove, and we could do 4 recipes at one time.
I am including the 5 recipes from other great food blogs that we cooked and turned out well and taste amazing!
Chorizo, Chicken and Kale Soup
The only change we made here was instead of peeling, seeding and chopping 3 pounds of tomatoes, we used 2 large cans of diced tomatoes (draining the liquid).
Spiced Red Lentil, Tomato, and Kale Soup
Easy Chicken & Sprouted Rice Stew
If you want to grab a couple of friends and do this too:
Print each recipe using the links in the soup names above.
Print the Fill Your Freezer Soups Matrix PDF
Find a couple of friends and get cooking!
So, there you have it, how three girls turned a whole bunch of healthy ingredients into a freezer full of single serve frozen soups.