When I find something easy and awesome for breakfast, I basically eat it for a month straight.
If you are watching my Instagram stories, you have been seeing A LOT of these 3 Ingredient Make Ahead Breakfast Bento Boxes.
I have been working with my dietitian, Kristin at Grounded Health again and she is helping my with the meal I struggle with the most. Breakfast.
My criteria for breakfast:
Filling
Make Ahead
Portable
No reheat required
Protein packed
No muffins or pancakes
So, Kristen advised me to make the balanced breakfast of 2 eggs, fruit, and 1 ounce cheese.
Well, was this ever life changing!
These breakfasts met all of my demands! And.... there are SO MANY combinations to be made to keep it interesting.
My little printable cheat sheet (below) creates over SIX HUNDRED different combinations!
Half the battle of meal planning is deciding what to make.
With this, the decisions and prep are so simple.
Each week I prep a dozen hard boiled eggs, I select 1- 2 cheese types, and 1-2 types of fruit from my printable cheat sheet / inspiration page.
For Assembly:
I assemble 2 days of breakfasts at a time, and each box has:
2 eggs
1 oz cheese, and
1 small piece or ½ cup of fruit.
For Containers:
For containers, I typically lean to plastic for these.
Mostly because there is no reheat or need to freeze anything, and I already carry so much glass!
If you are in the market for containers, I really like these Minimal Bottle ones where the walls are adjustable depending on what you have in them!
I am also a fan of these Rubbermaid Brilliance containers
For Inspiration:
I created this little one pager for my fridge so each week I just select a new cheese (or 2!) and a new fruit choice (or 2) and my breakfast planning is done for the week!
The printable PDF version is here.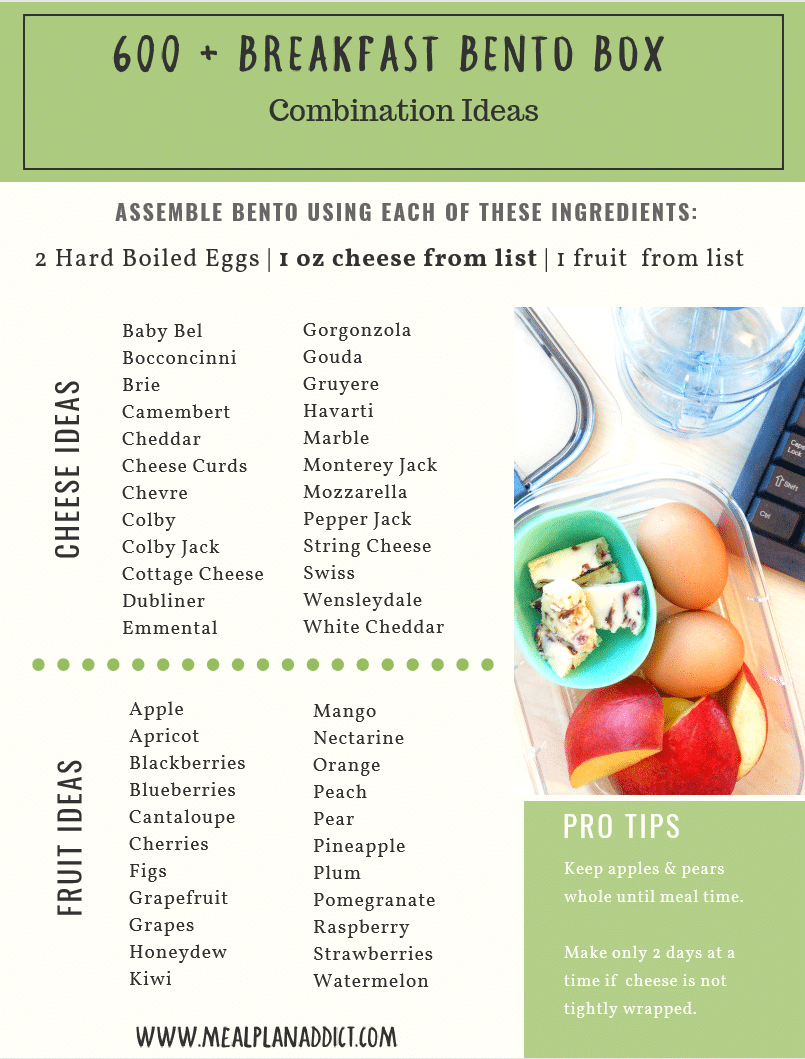 So, there you have it, a simple set of base ingredients that can be combined in hundreds of ways to create a different breakfast bento box each day!
For more make ahead meal inspiration, come see me on Instagram, or in my Confessions of a Meal Plan Addict Community!