I have a few of my best meal planning and prep tips for camping for you! Easy things you can do to make camping prep a bit more painless. Plus I added in my free printable planning template for you!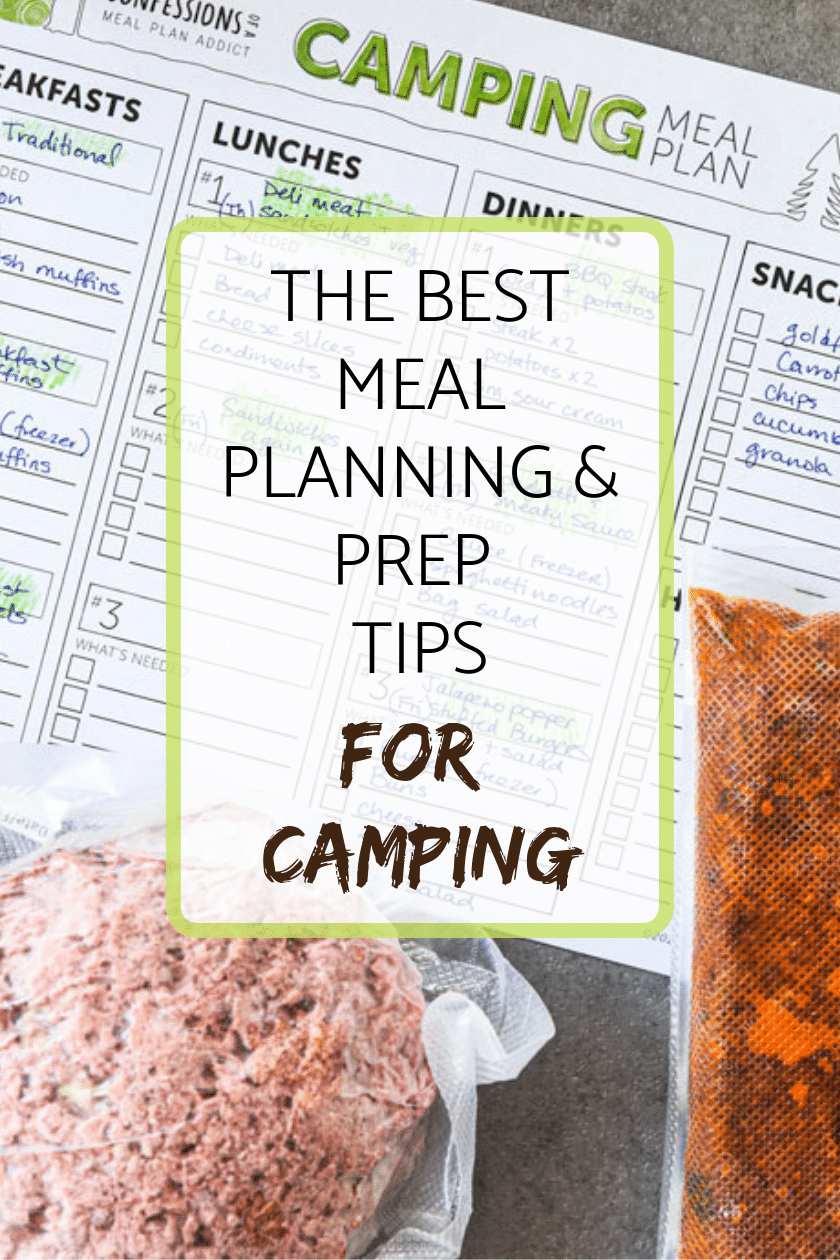 CAMPING MEAL PREP TIP #1 | Wash and chop your meal ingredients
Nobody wants to pull out cutting boards and knives and spend the time washing and cutting with a camper sink and counter space... or outside of a tent.
If your veggies are already all cut up and prep it is much easier to grab them as a snack and use them up.
For meats, I will often cut and marinate them so I can avoid cutting raw meat in the wilderness!
For my camping meal prep, I may not assemble a recipe at all, I just have everything ready to go so at the campsite, it is just tossing it together onto the BBQ or fire.
CAMPING MEAL PREP TIP #2 | Meal Share with your camping group
If you are camping with multiple couples or families, try meal sharing.
This means each couple or family is responsible for planning a dinner during the trip.
Think about it like this. If a group of 3 families camps for 3 nights, instead of each family planning 3 dinners for 3 nights (9 different dinners), each family plans a dinner for one of the three nights and cooks for everyone.
CAMPING MEAL PREP #3 | Prep using tin disposable pans or foil packs.
I know this is not the most environmentally friendly tip, but if you have ever tried to carry a cooler filled with glass containers, you know that it is crazy heavy.
You could most definitely use reusable plastic too, but the added benefit of the foil pans, is that you don't need to transfer the food into foil later to cook. I cook right in my foil packs or tins!.
CAMPING MEAL PREP TIP #4 | Make a conscious plan.
Just like making a weekly meal plan, sit down, and think about how many breakfasts, lunches, dinners and snacks you will need.
Going to the grocery store without a plan or list will end up in 24 hot dogs and only 12 buns.
What are all the ingredients you need for each meal? List them and shop for them.
Use my FREE printable camping meal prep template to get organized!
CAMPING MEAL PREP TIP #5 | Strategically pack you cooler
OMG please don't just toss everything in all willy nilly.
There is a right way to pack a cooler!
Here is how:
Put the ice in the bottom of the cooler.
Place your meat on top of the ice. This way if it leaks, you only have raw meat juices on your ice and not on all of the rest of your food. This also keeps the meat closest to the cooling source.
Place the veggies and other items on top of the meat. Make sure your veggies are in a bag or container.
Do not open your cooler a million times! This means we put our drinks in a separate cooler as that is is opened ALL.THE.TIME.
CAMPING MEAL PREP TIP # 6 | Pack frozen items.
I like to pack frozen items - especially meat, because then I don't worry nearly as much about having food in the danger zone.
Also the frozen things function as added ice and keeps the cooler colder!
CAMPING MEAL PREP TIP #7 | Rely on some pre packaged items.
I know, I know, I normally am not one to be all about processed or packaged food... but everything in moderation, and since we only get 2 months of summer here in Canada, I am not too concerned about relying on a few pre packaged items.
It is easier and lighter to pack some individual packed items than whole boxes and containers.
Think of the individual packed oatmeal and cereals, individual cheese strings/sticks, yogurt, granola bars, pre popped pop corn.
These are all perfect for camping.
CAMPING MEAL PREP TIP #8 | Don't waste money or space buying condiments you already have in large containers.
Take the condiments you already have and put portions of them into smaller containers to bring with you. Packing a full size of ketchup, mustard, and relish will unnecessarily take up half of your cooler!
So, now you have a few tips to get you started...but now you need some inspiration for some camping friendly meal ideas. I have got you covered. Check out this post I did on Prep Ahead Camping Meal Ideas. and get your meal planning going!
So, get planning and prepping for your next camping trip, and don't forget to show us your photos in the Meal Plan Addict Community and give some inspiration to the rest of us!