Most weeks, my meal prep is 1-2 hours on a Sunday putting together a plan for the week.
I cut up a ton of vegetables, portion out snacks, and prep most of my dinner recipes all the way to the actual cooking step. I end up with a nicely stocked fridge, and then I don't worry about what's on the table or in our bellies for another week.
Buuuut, sometimes I want to spend my time doing other things on Sunday, and I need to have some ready to go meals (or at least parts of a meal) from the freezer for the week.
Once every couple of months, I take a day or weekend and stock up my freezers to make my life a little bit easier. I have been doing this for a couple of years now and thought I would answer one of the most popular questions I get: " How can I get a freezer like that?!" and "How can I cook once and eat for a month?!"
Here are the 4 steps, and the (FREE) planning template I use to get my beautiful freezer full of ready to go meals.
Step 1 | Plan what to cook
The first step is just figuring out what to put on your plan. I get inspiration for my freezer cooking days from a few places.
Tried and true family favourites - in my house this is my sneaky spaghetti sauce!
Pinterest - A quick search of "freezer meals" in Pinterest will have you knee deep in freezer meal inspiration in no time.
Instagram – Search #freezermeals, #freezercooking (oh and follow me @mealplanaddict to see what I am filling my freezer with)
Look in your freezer and pantry and work with what you already have. Do you have 10 pounds of ground beef? Get searching ground beef recipes! Got a ton a chicken, get searching chicken recipes.
| EXPERT TIPS|
Don't over plan. Start with only 3 -5 recipes. See how long that takes you and how tired you are and then next time, add a couple recipes if you are up for it.
Don't plan, shop, and cook all in the same day. That is insane. I did that once. It was a long day and I would never do it again.
Don't try all new recipes. Start with recipes you already know how to make.
Not all recipes are great frozen. My approach to freezer meal prep is to make dinner "starters". It is usually the main, I then add fresh veggies and sides the day I cook.
Step 2 | Make a list and Shop
I am such a classic list maker. I have lists for everything! I especially have a grocery list for big cook days.
I have found the best way to do this is to have my list divided by grocery store area. I read all the recipes I have on my plan, and add each new ingredient to the list; I add quantities as I see each ingredient come up again. (see page 2 of the free template)
Step 3 | Prep and Cook
If you are going to do this type of cooking often, get a food processor. Nobody wants to hand chop 12 onions and 50 cloves of garlic. NOBODY. For frequently used ingredients, use a food processor and get those chopped and ready to go.
I will typically haul out all of the ingredients from my pantry that I will use for the day, and cut and chop up everything I need. Keep the meat in the fridge until you need it for a specific recipe.
Once you do this, you have everything ready to go like a salad bar and it's just a matter of assembling the recipes. Depending on the size of my cook day, I sometimes shop and chop on Saturday, and then assemble Sunday.
Step 4 | Label and Store
Ah yes, this is where you get to build your beautiful freezer!
As for containers, there are many options and I use them all depending on what is on my plan. I have an entire post dedicated to containers here.
For many of the prep raw and freeze meals I do, I use a food saver system. This allows me to store them flat (space saver!). Don't have a foodsaver system? That's ok, you can use Ziplock freezer bags. Make sure you buy the freezer grade if you are doing this!
Tin containers – These are good for pastas and casseroles of any kind.
Disposable plastic containers – these are a really great inexpensive way to store sauces and soups.
Mason Jars – I love mason jars because I can easily store things in single serve lunch sizes, and they don't stain.

Freezer Jars – this is the plastic and freezable version of a mason jar. I have been loving these for my big soup cooks, but do find they stain easily.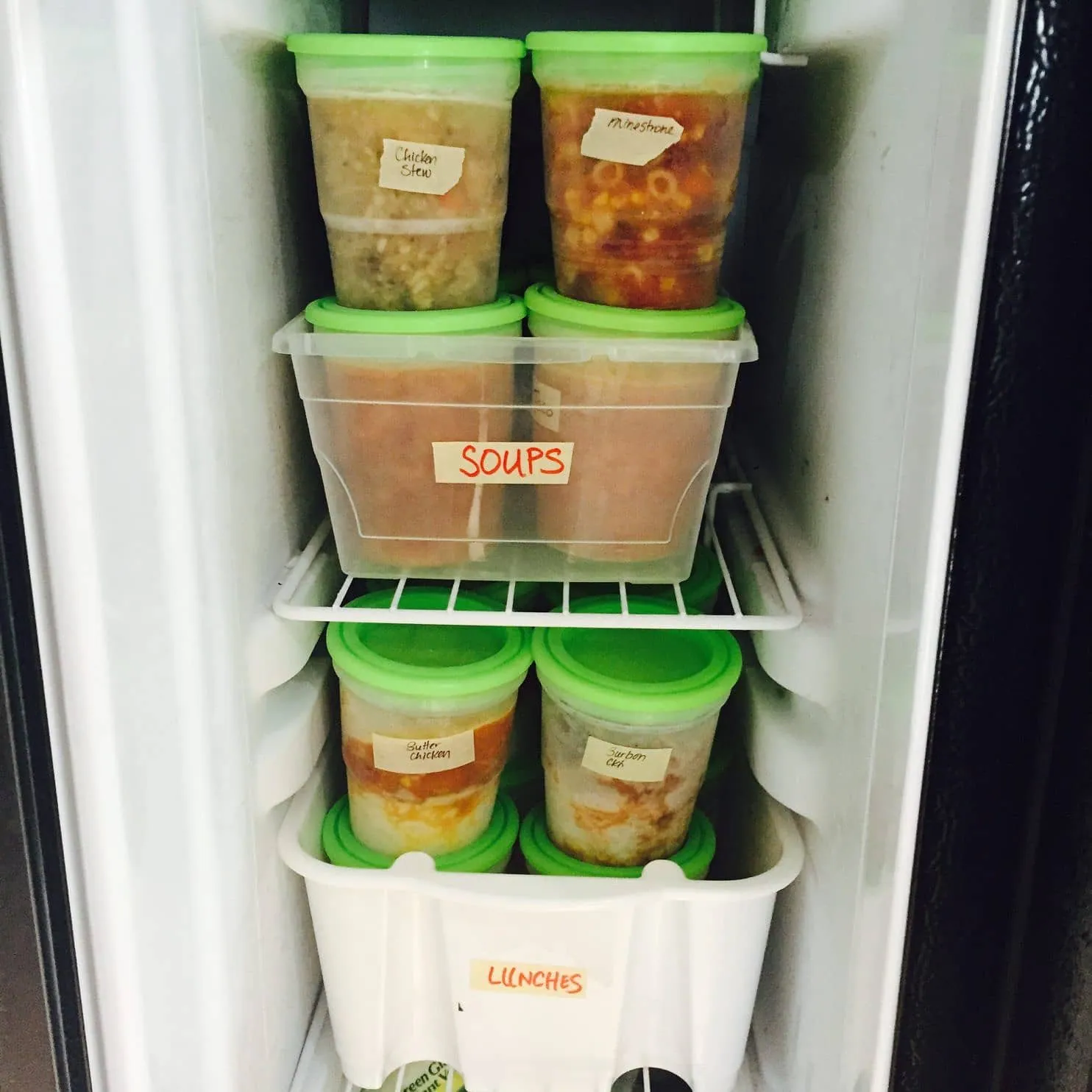 As for labelling – I have tired just about everything and here is what works!
Freezer tape – Masking tape WILL NOT stick to any container once it is frozen. 3M knows this, so they made a freezer specific tape! In Canada, this can be found at Home Hardware and Canadian Tire. It is a really inexpensive way to label everything.
Freezer labels – I get freezer labels from freezerlabels.net. These are great if you want to have a lot of text with directions and don't want to write it out 10 times.
Sharpie – Sharpie marker works well on foodsaver bags and ziplock bags.
Chalk Marker – I use chalk marker on glass. It washes right off my reusable containers.
| EXPERT TIP| If you really get into this type of cooking, investing in a freezer for your garage or basement might be a good idea. I highly suggest an upright vs a chest style.
If you want to see of the things I make for batch freezer cooking, check out these posts:
Need even more inspiration and motivation? Come join the Confessions of a Meal Plan Addict Community on Facebook!
So, there you have it – 4 steps to Filling Your Freezer in a Day…. With a free Freezer Planning Template to get you going!