Hamburgers and hot dogs are ok, but that gets old fast.
Here are my favorite prep ahead healthy camping meals that you can fill your freezer with, and then just grab and pack up a cooler on those summer camping trips!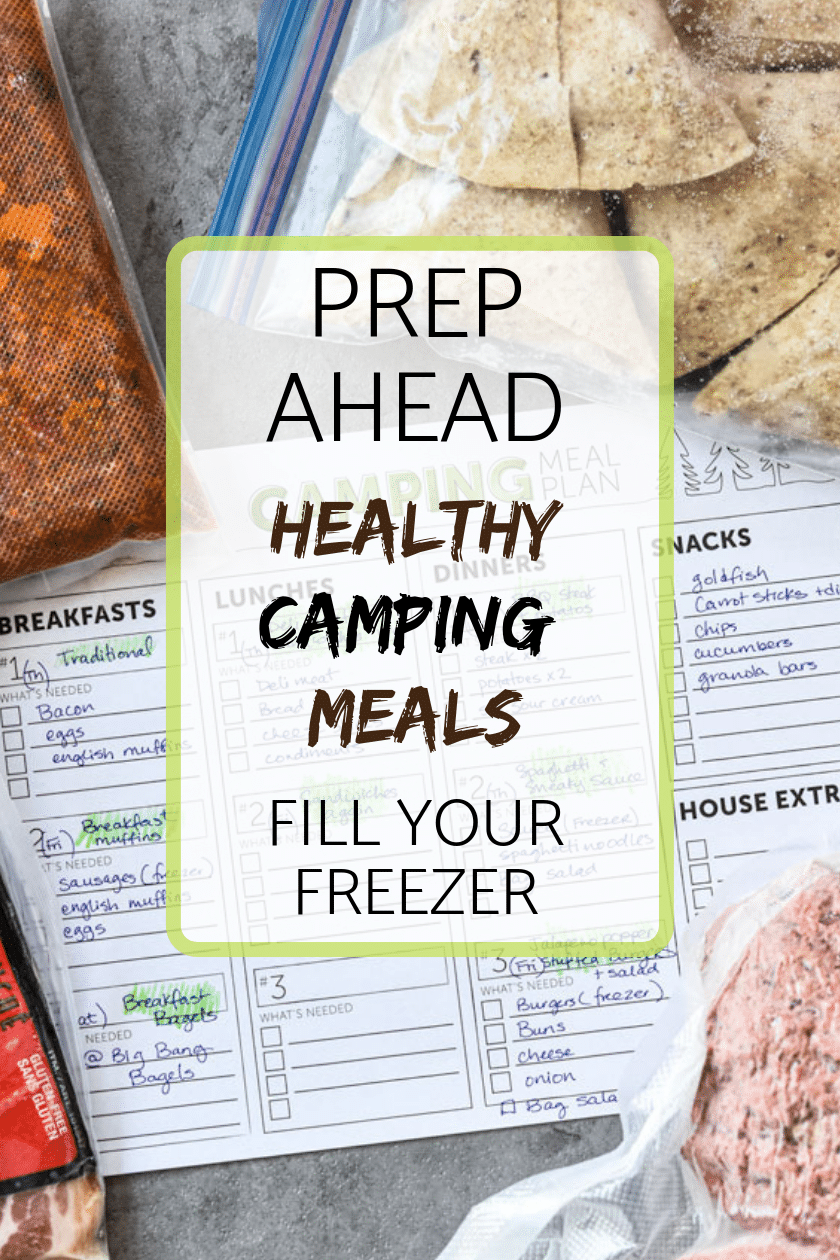 Camping season is officially in full swing… and so are all of the camping foods!!
The problem is, I struggle to stick to my healthy eating goals if I am not prepared.
The smell of melted cheese on giant burgers and loaded hot dogs gets me every.single.time.
I have to admit that so far, during this camping season, it feels as if I prep twice in the week (boo!).Once for the work week, and once for the weekend.
I had to find a way to try to not derail all of my healthy eating success each weekend … and not spend 2 times a week meal prepping.
So, I started my search for freezer friendly meals that would be great to cook while camping.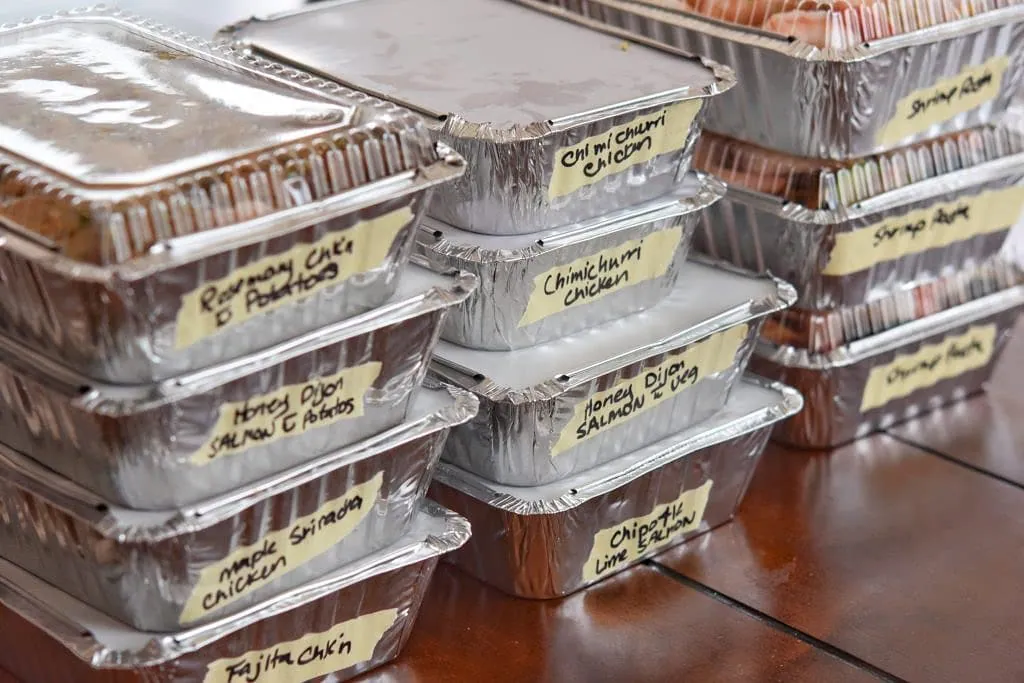 Here are some of the things on my camping meal prep plans this summer, that you might want to
prep ahead before you head out on your camping trips:
FOIL PACKETS
My friend Kaidy over at Social Supper always seems to have foil packs on her rotating menu – so I finally gave them a try and I was honestly shocked at how good the meals come out when it is merely cooked over the fire in tin foil.
These are so simple to put together – wrap (usually) raw ingredients in foil.. and done.
I like to prep a few different recipes, freeze them, and just grab a few and load up the cooler.
I always put them in a zip bag or container before they go in the cooler. These are known to leak.
I have also been known to prep them in foil pans (see photo above) to prevent all the leaking issues.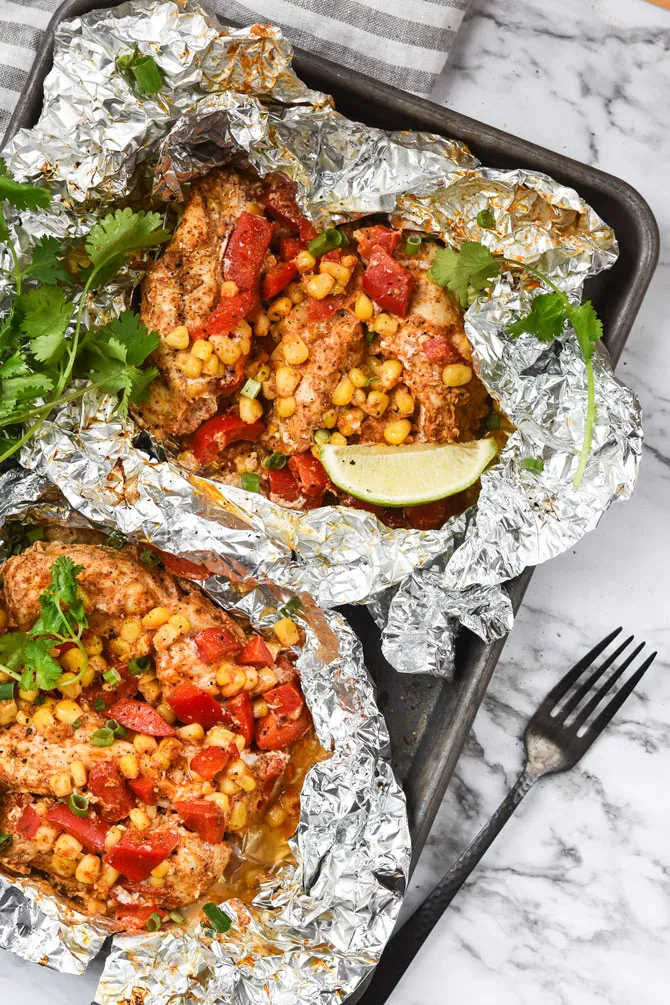 I am all about LESS dishes when camping!
These are also great options even if you don't camp. They are great to throw on the backyard grill right after work – especially on those hot days you don't want to cook!
This summer, I am sampling my way through ALL of these bad boys:
Summer mojito turns campfire dinner. Hello Mango Mojito Chicken!

Also known as "walking tacos" this leaner version is a perfect alternative!

Chili lime combo. You can't ever go wrong with this one!

Photo Credit: www.thekitchenmagpie.com

Look a the melty cheese. Do I need to say more?

Photo Credit: happymoneysaver.com

Fajitas hit the campfire with these Easy Steak Fajita Foil packs!

Photo Credit: www.dinneratthezoo.com

Salmon while camping. Yes please! Don't forget to load up on veggies with this one!

Photo Credit: www.lecremedelacrumb.com

Bring the South to your campsite with these Shrimp Boil Foil packs this summer!

Photo Credit: www.chelseasmessyapron.com

HELLO! I use frozen veggies when I prep something like this! So easy, so much yum!

The next easiest way to prep is to make skewers!
You can also prep all of the ingredients in a container and then just put them on the skewer when you are at the campsite! Easy Peasy!
FOOD ON STICKS
Photo Credit: sweetpeasandsaffron.com

Look at these colors! Time to eat the rainbow this summer!

Photo Credit: thefamilyfreezer.com

The family freezer mastered freezer meals, and I lover their shish kabobs!

Photo Credit: therecipecritic.com

This recipe has my at pineapple. Grilled pineapple. All summer long!

Last but not least, you can't forget Breakfasts!
There is nothing better than simply putting one of these recipes on the grill to reheat while you sip your coffee.
Double points, almost no dishes used with these ideas!
BREAKFASTS
From freezer, right to the grill while you sip your coffee. Doesn't get any easier!

Veggies while camping! I know, sounds impossible. Fear not friend, veggie loaded breakfast pockets heat up right on the grill AND have you getting those veggies in!

Breakfast taquitos. YAS! Another recipe where you can prep a whole bunch and have some for a couple of camping trips!

When I make this for camping, I cook it fully in foil pans, then just reheat on the grill at the campsite!

These reheat super quick on a grill and make a breakfast you can eat in one hand, and coffee in the other. My kind of breakfast multi tasking!

Photo Credit: projectmealplan.com

Classic breakfast, perfect for camping, too!

I am well on my way to trying my way through all of these recipesand am actually looking forward dinners this summer – both at home and at our campsite!
As I make my way through these recipes this summer, I am posting my reviews on my Instagram, so come follow along and see how these all turn out!
Looking for more tips on how to meal plan and prep for camping this summer?! I have you covered with tips, ticks, how to's and a FREE printable planner!
So, there you have it, some lean protein based, prep ahead, freezer friendly, super portable, camping meals!