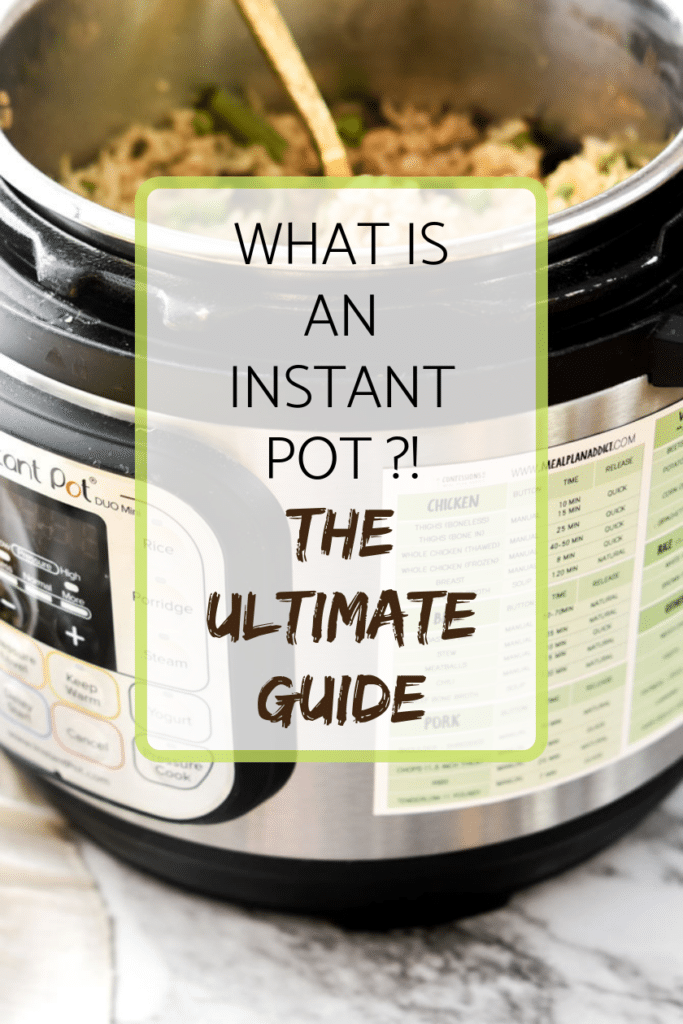 I think it is safe to say that the Instant Pot is taking kitchens by storm these days as one of the hottest new kitchen appliances. Questions about the instant pot come up almost daily now on my Instagram and Facebook Community.
With all of the questions I get about the Instant Pot, I wanted to have one post that answers the most common questions I get about this kitchen tool!?
What is an Instant Pot?
An Instant Pot is a counter top, programmable electric pressure cooker created in Ottawa, Canada.
Instant Pot (not instapot) is a brand name for an electric programmable pressure cooker.
It is one brand of many programmable pressure cookers on the market today. Just like blenders come in multiple brands, so do electric pressure cookers.
It is also known as a multicooker.
How does it work, and what does it do?
Think of the IP much like a slow cooker. You put ingredients in, put a lid on, set it, and walk away until your food is cooked.
The major difference, much like the name suggests, is that food cooks much much much quicker in and instant pot, than in a slow cooker. Instead of cooking chicken in a slow cooker for 8 hours, you cook it (hands free) for more like 10-20 minutes.
Beyond replacing your slow cooker, the Instant Pot has other functions that are dependent on the model you have.
All models can function as a slow cooker, a rice cooker, saute pan, and a steamer, on top of the manual pressure cooking functions.
Some models also include a yogurt making function and a sterilizing function.
The newest Ultra model also allows a home chef to cook sous vide with their machine.
The buttons on the face of the Instant Pot differ depending on the model and generation.
Some of the buttons are simple pre set times, but some of the buttons have special functions and differ in heat and intensity, or are "smart" functions - such as the rice button.
See this post for a more detailed overview of all of the buttons.
Which Instant Pot should I buy? What is the difference between them all?
I have to admit that keeping up with all of the Instant Pot models is challenging!
They release new models frequently, and a few months ago they released two different models at essentially the same time. This makes it a bit confusing to know which one to buy.
This post (Which Instant Pot Model is Right for You) from Hip Pressure cooking does the best job of comparing the models and this specific link appears to be updated with each new model release. Instead of recreating the wheel here, I am suggesting you take a look at that article for the full comparison, but at a high level here are the options:
LUX model

- This is the 6 in 1 model. It is the most basic option - this is the one I currently own. The six functions are pressure cook, slow cooker, rice cook, saute, steam, and keep warm.

DUO model

- This is the 7 in 1 model. It has all of the functions of the LUX model but also has the option to cook at low pressure and has a yogurt function. There are 6 quart and 8 quart models. I have both sizes and I find the 8 quart quite bulky and use my 6 quart size the most.

Smart model

- this one is bluetooth enabled and can download scripts that allow it to switch between different temperatures.

DUO PLUS

-

is marketed as the 9 in 1. It has an added sterilizer function in addition to all of the functions of the DUO.
ULTRA - This model has a very sleek control panel and is different than any other model's panel with a dial to switch between programs, versus buttons. It also has a self closing pressure valve, and can cook sous vide.
Mini DUO - this is the smaller 3 quart version. I have one and it sits on the counter as my everyday pot. BUT.... it cannot do pot in pot cooking or a whole chicken so I don't suggest this as your only pot.
In my honest opinion, I don't think the growing list of functions beyond the Duo level model justify the added expense and so that is why I still have my LUX model and rave about it often. Since this was first posted, I have aquired a mini model as well.
What can you cook in it?
Pretty much anything can be cooked in it, but that doesn't mean everything should be made in it! If something already has a quick time there is no utility to the instant pot, in my opinion.
It is also not a good option for really expensive high quality meats such as prime rib.
I personally love my instant pot for cooking whole chickens in about 30 minutes total.
Pork tenderloin with 15 minute pressure cooking time.
I even do weeknight ribs in mine (25 minutes on manual)!
One of the best things about the IP is the ability to do pot in pot cooking. This means you can cook multiple parts of your dinner, in the pot, at the same time…. Yet separately. You do need some special accessories to do that and I talk about them in my pot in pot posts.
Related Pot in Pot Posts: Sneaky Veggie Lasagna, Chicken Souvlaki Dinner, & Coconut Curried Sweet Potato Stew with Rice
There is a large Facebook group that is moderated by Instant Pot that you can check out to see what at least half a million people are cooking in their Instant Pots!
Is it easy to use?
I personally think it is easy to use, but there is absolutely a learning curve to figuring out how to use it – and to become comfortable with it.
The concept of put stuff in, hit a button and be done is easy.... it is learning how long to cook foods for and which buttons to use. You also need to learn the different methods to release the pressure - but I assure you it is not too scary once you figure it out.
What makes it worth the money and kitchen space?
A few things make the IP worth it for me:
Dinners cook quickly on weeknights – faster than ordering takeout. But more importantly, I love the handsfree part of it. Food cooks while I do other things. Hello multi tasking.
You can cook directly from frozen if you forget to take your food out of the freezer.
I use it as a tool for once a week meal prep .
I use it as a tool for freezer meal prep.
It has helped me stick to my weight loss goals.
But I have to admit, there were a few things I was surprised by after I owned it for a little while. I talk about these 5 things in this post.
Where can I buy one?
The most inexpensive and reliable place to find an Instant Pot is on Amazon.
As with any kitchen appliance, some love it, some hate it. I happen to be in the "love it" camp.
Can I cook everything I cook in my IP with tools I already have? Yup.
Can I get dinner on the table after working my 9-5 job nearly hands free and usually in 30 minutes (depends on the recipe).... no.!!! That is why I have my IP!
But the bigger IP win in my house is that since I have the weekly dinner plan on the fridge, and the foods ready to go, my husband will often start dinner (!!!!) in the IP before I even get home. So, since the IP came into my life, I often walk through the door with dinner cooked. True story!
So, there you have it, a quick summary of the most frequently asked questions I get on the Instant Pot!
To see some videos of my Instant Pot in action, check out my Facebook Page!