Summer is coming to an end and the zucchinis are everywhere!
This year, we tried to grow a small urban garden and the ONLY thing that actually grew were zucchinis! I had high hopes for my lemon cucumbers and purple haze carrots. Super fail.
Turns out, I am good and cooking at eating veggies, I am not good at actually growing them. So, basically all I have from my backyard harvest is zucchini. A lot of zucchini.
There are only so many zucchini noodles one can eat in one week, and so I had to find a way to turn these zucchinis into freezer meals.
There are a few ways to use up all of that summer zucchini and prepare yourself for the back to school madness by filling your freezer with actual meals.
Here is what I did with my 2017 summer haul!
MEATLOAF | Oven or Instant Pot Ready!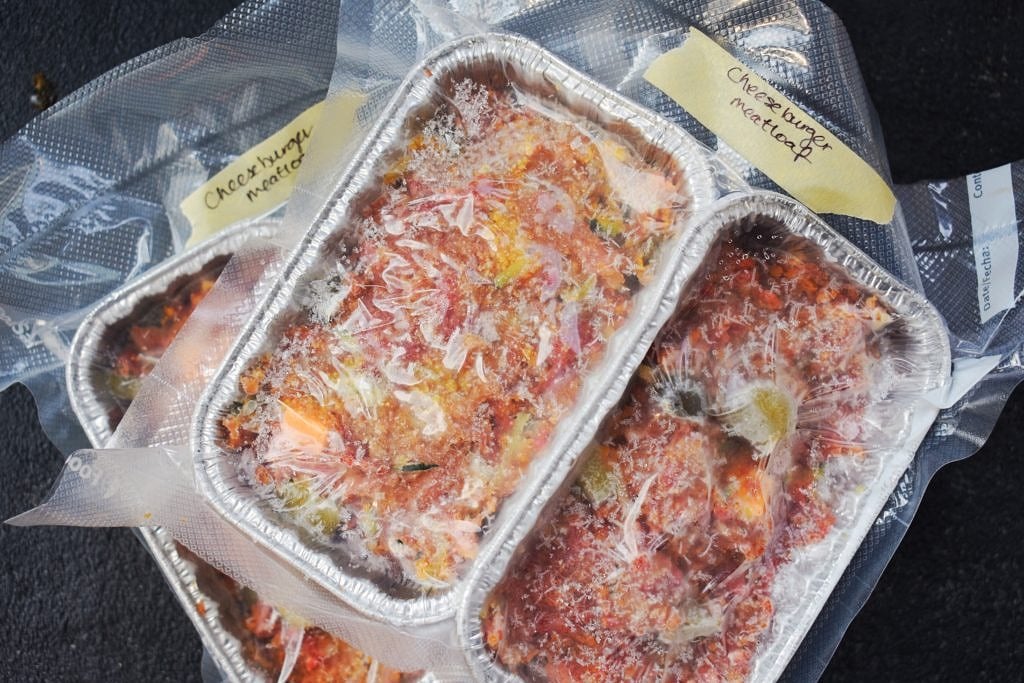 I am loving cheeseburger everything right now, so I loosely followed this recipe. But you can throw zucchini into any meatloaf and it will only make it better, in my opinion.
I opted for mini meatloafs that I will pop into my Instant Pot on busy weeknights. Not sure what an Instant Pot is? See this post.
EXPERT TIP | when doing freezer meals in disposable tin pans, freeze the RAW loafs on a cookie sheet overnight, and only when fully frozen, transfer to food saver. If you don't do this, the pressure of removing the air will simply squish your meals.
FREEZER BURGERS
Just like meatloafs, I think zuchinni can be added to any burger and it adds great moisture – especially if you are freezing them.
This time I used my Sweet Chili Chicken Burger recipe and added in shredded zucchini!
As with the meatloaf, I freeze RAW burgers overnight on parchment paper on a cookie sheet, and the next day, I transfer to a foodsaver.
VEGGIE LASAGNA ROLL UPS
Love this recipe from Pioneer Woman! This is a perfect freezer meal! And I always have one pasta meal in my freezer.
SHEPARD'S PIE
Shepard's Pie is a freezer cook's essential meal. I think of it as a perfect fall dinner so I stocked up with a few of them.
I took Gordon Ramsay's version of Shepard's Pie and put shredded zucchini not the meat mixture. Shhhhh don't tell hime!
As with the other foil meals I made this day, I froze these overnight and then put them in the foodsaver bags once they were rock solid!
SNEAKY MEAT SAUCE
A freezer staple for me is this meat sauce! Also a great fill your freezer recipe as this particular recipe helps you use up that zucchini and gives you approximately 5 litres of sauce for future meals!
You could even do double zucchini and put it on top of zucchini noodles.
So, there you have it – 5 Ways to Turn Summer Zucchini into Back to School Freezer Meals!
What else are you making to freeze with your zucchini? Come join the Confessions of a Meal Plan Addict Community to share recipes and ideas for freezer meal prep!
If you are ready to get going and need to stock up on supplies, here are the things I use (these are affiliate links):