The first time you use your Instant Pot, it can be a little intimidating. Fear not with this list of beginner meals to make in your new Instant Pot!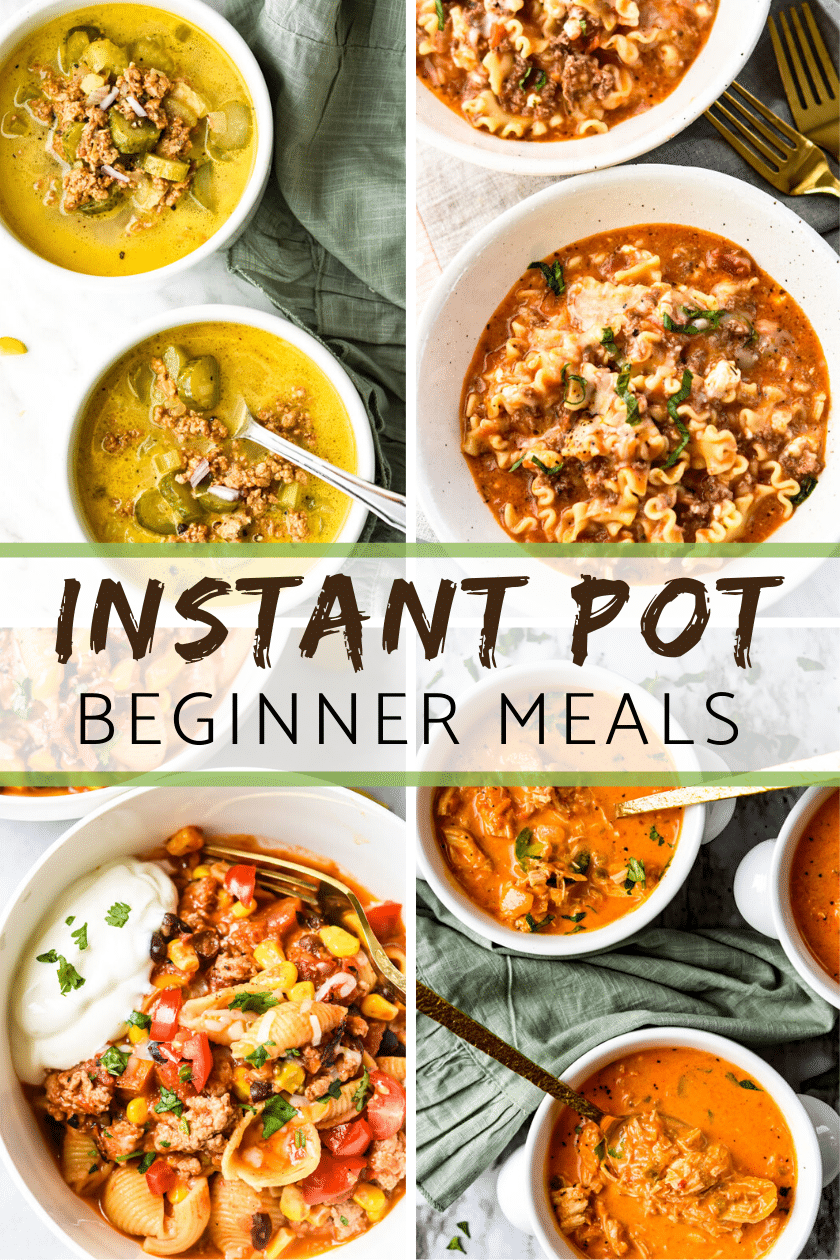 Let's get your Instant Pot out of the box and start making meal times a whole lot easier and hands off.
Instant Pots are so popular for so many reasons:
Some things (not everything) cook much faster. Not everything is Instant in the Instant Pot!
It is hands off - much like a slow cooker. No standing there stirring and flipping things.
No more worrying about forgetting and boiling anything over!
Multitasking - because of the hands free and no babysitting, I can prep more at once!
Before you get going, you are going to want to boil water. I am not even kidding.
This is called the water test. You want to do this to make sure your pot is functioning normally.
This is also a good way to understand the basics of the lid, the pressure release valve, and the touch panel, without risking ruining dinner!
Here is a video on how to do the water test!
Once you have tested your pot, it is time to get cooking.
What is a beginner Instant Pot recipe?
To get started, you are looking for easy beginner meals? But, what is an easy meal?!
A beginner Instant Pot meal is:
Not a ton of ingredients
Not too many steps
Not finicky recipes
Do I really need extra accessories?
It really does depend on what you want to do, but getting some of these fairly inexpensive accessories will really allow you to do more in your Instant Pot!
Okay, but which accessories do I need?
These are all affiliate links
Stainless collapsible steamer basket - this is perfect for hard boiled eggs, and when you start to layer your pot to make more than one thing at a time (called Pot in Pot!)
Instant Pot insert bowl. I have had a few, but these have been my favorite!
Tempered glass lid - this is for when you use the non pressure, slow cooker mode. Yes, your Instant Pot is also a slower cooker (here is how you do that!)
Instant Pot Cook Time Magnet - I make and sell these! They have the cook times (and which function to use) for 20 foods commonly cooked in the Instant Pot!
Instant Pot Steamer Basket - This is perfect for making broth. Load it up with your bones and goodies, and when your soup is done, simply lift it out and you are left with broth - no straining required. This is also perfect for veggies that are being cooked by themselves (this won't work for pot in pot cooking).
Long leg trivet - this is required for when you start doing pot in pot cooking (and you will be!).
What else do I need to know?
Well, cook times can be a bit deceiving at first.
This whole post talks about this.
Just know that the time you set your Instant Pot too (the pressure cycle) isn't the entire time. The pot needs to come to pressure (just like an oven pre heats) and that adds time to the whole meal prep time.
You are ready to get started!
Here are the best easy beginner recipes to get started with in your Instant Pot!
All the traditional tasty amazingness of a traditional lasagna, but this is the Instant Pot Lazy Lasagna version. No messing around with boiling noodles, making sauce, and then baking it. Oh, and 4 minute pressure time for this one!
Instant Pot Mexican meatballs are for those weeknights when you just don't have the energy for making dinner. 10 minute cook time from frozen, this dinner is on the table before you can get dinner delivered.
When tortilla soup meets jalapeno popper soup, you get this Easy Instant Pot Creamy Chicken Jalapeno Soup! I know.. sounds different. Trust me!
Healthy Dill-icious Cheeseburger Soup is my lightened up, Instant Pot version of cheeseburger soup. The dill pickles are definitely the co-star here. Haven't done pickles in your soup yet? Just trust me and thank me later.
Easy Instant Pot taco pasta turns taco Tuesday into a one pot wonder! Jam packed with lean protein, corn, black beans, this is a weeknight meal that is your next family favorite.
These Instant Pot Salsa Verde Chicken tacos are super easy Taco Tuesday option that changes things up just a bit with a green salsa – with a special kick of black beans!
It typically takes hours and hours of simmering to get a tender beef ragu, but not today. This Instant Pot Beef Ragu is fall apart, melt in your mouth tender in 45 minutes, and freezes well, so you better double up the recipe!
8 Minute Spicy Beef and Broccoli dish is a great alternative to take out, not only because it is healthier, but it also comes together in an electric pressure cooker in less time than delivery!
Weeknight ribs in your Instant Pot just brought your weekend favorite meal to any day of the week!
Taking quinoa in the Instant Pot up a few notches… to Instant Pot Mexican Quinoa! Super simple, all done in the IP, and makes a great meal prep side dish or burrito filling with a kick!
Once you get going with your new Instant Pot, you can start experimenting with using your Instant Pot to cook from frozen, and to do weekly meal prep, too!
I'd love to know what was the first meal you made in your Instant Pot? Tell me in the comments below!