Who doesn't love Black Forest Cake? These yogurt cups are a healthy alternative that you can eat everyday guilt free! Grab one for breakfast or a healthy after school snack for your kids.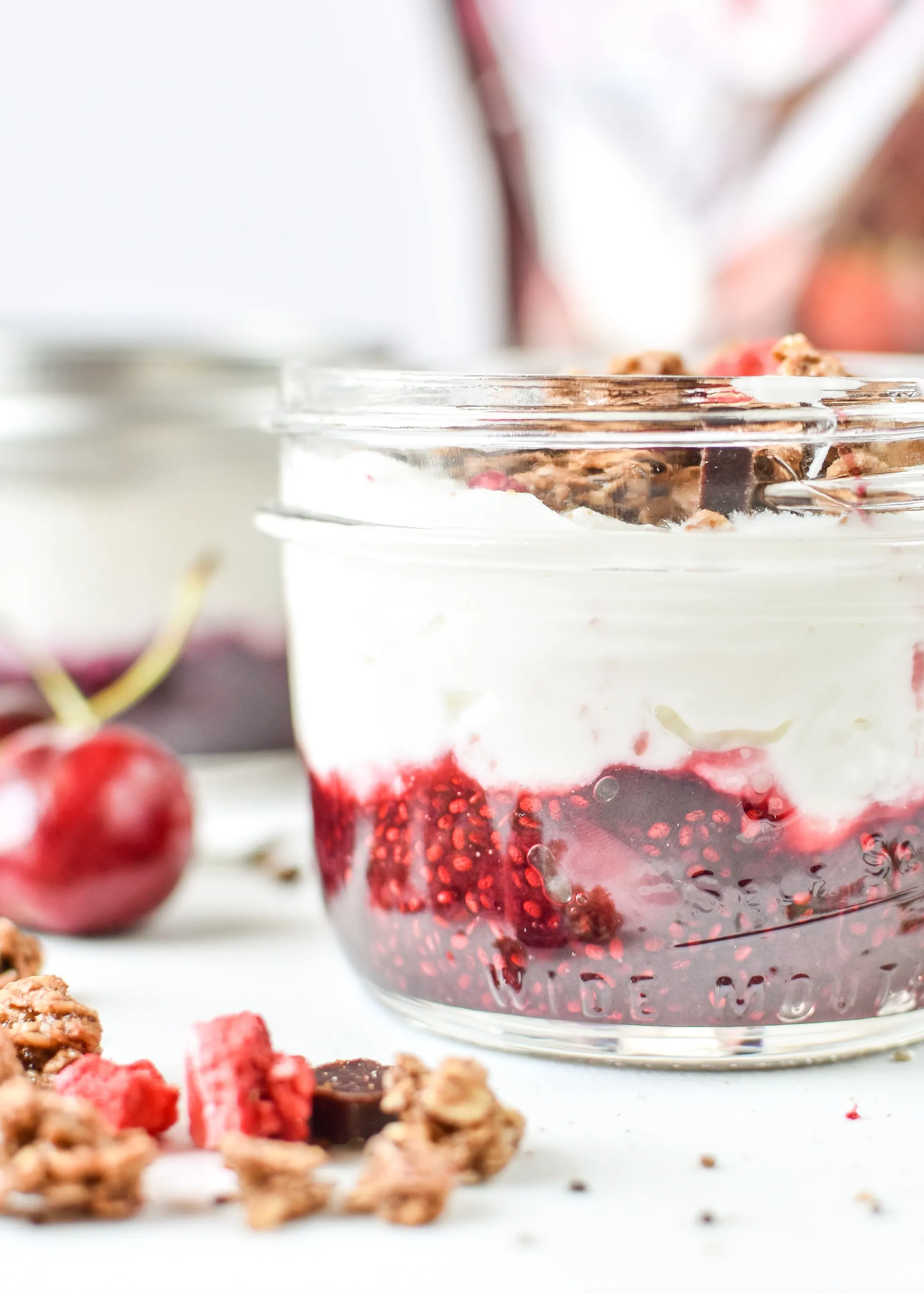 I seem to have gotten into the habit of turning desserts into breakfasts. Remember the Apple Pie Yogurt Parfaits?
That recipe worked perfectly to get through the abundance of apples I had this fall, and while I certainly don't have an abundance of cherries these days (it's the dead of winter in Canada), cherries are easily one of my most favourite fruit flavours. Cherry Coke, Cherry Milkshake, Cherry Slushie – I love them all.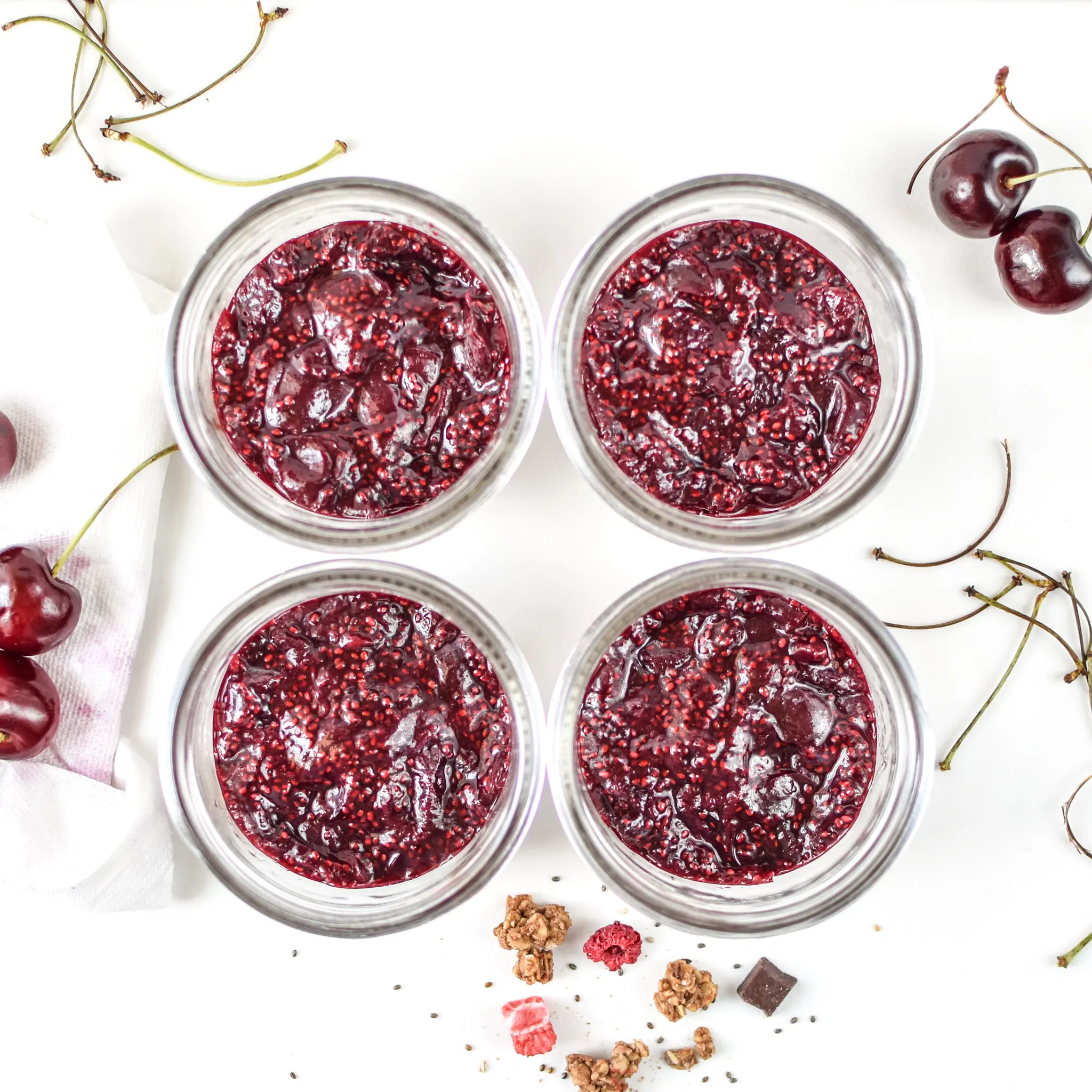 So, its about time Cherries came to the breakfast table.
Let me tell you about the "cherry filling". It is chia jam. Chia jam is amazing because it is so simple to make on the stovetop, doesn't require canning (freeze it), and chia seeds have so so so many health benefits.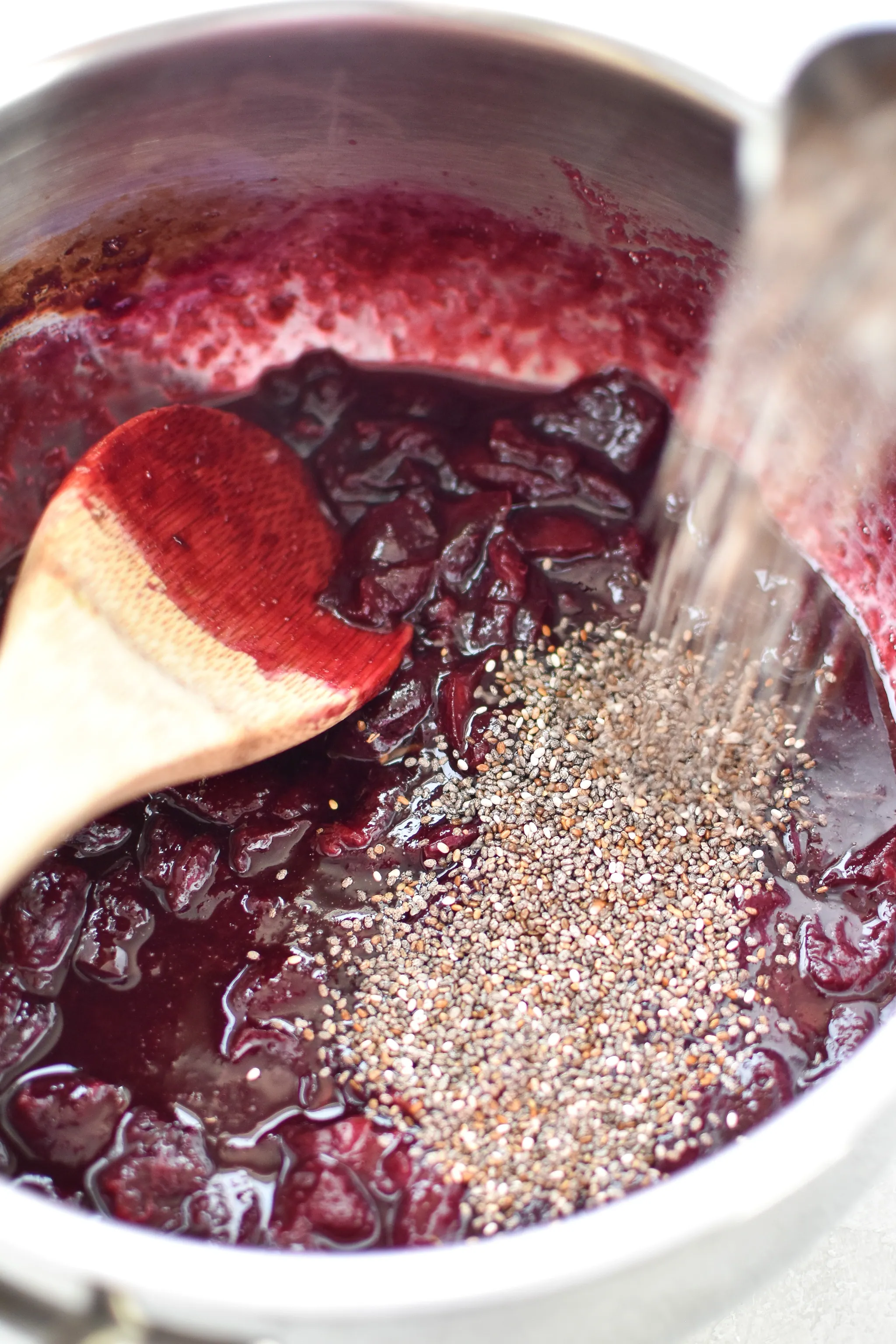 Chia seeds are high in fibre and are great for digestive health. They are packed with protein (without the cholesterol), they contain tryptophan, and are thought to help regulate mood. This is only a fraction of their health benefits!
So really, what you get here is cherries, protein, chocolate, and a dose of a good mood – at breakfast!
My advice here is to make sure you are using sweet cherries. The tart cherries with the tart plain yogurt would be too much in my opinion.
As for the Dark Chocolate Granola – I use Nature's Path Love Crunch. The granola has a dark chocolate taste PLUS it has a few dark chocolate bits mixed in and OMG. I find this in the natural foods section at our local grocery stores.
| Make Ahead Tip | Keep the granola topping off until the morning you eat this or the granola will go soggy.
Recipe
Black Forest Yogurt Cups
Print Recipe
Ingredients
2

cups

frozen

pitted SWEET cherries (or fresh, or partially thawed)

½

cups

water

2

TBS

chia Seeds

1

TBS

Honey

2

cups

yogurt

Nature's Path Love Crunch Dark Chocolate Granola for topping
Instructions
In a pot, on medium heat, add the cherries, water, and honey and cook down for approx 20 minutes. Use a potato masher to break up the cherries.

After about 20 minutes, remove the cherries from the heat.

<span class="mceItemHidden" data-mce-bogus="1"><span></span>Add the chia seeds and let sit for for 5 minutes to allow the chia seeds to absorb the liquid.</span>

Once the chia jam has cooled, layer the jars with jam (approx 2 tablespoons) and yogurt.

On day of serving, add dark chocolate granola.
Nutrition
Calories:
140
kcal
|
Carbohydrates:
26
g
|
Protein:
5
g
|
Fat:
2
g
|
Fiber:
4
g
|
Sugar:
18
g
I use wide mouth mason jars (175mL) and this recipe makes 4 of them. This makes grab and go breakfast for 4 days… which works perfectly given I work a 4 day work week at my 9-5 job.
So, there you have it, a portable, healthy, high protein breakfast you make once, and eat all week!
If you love the chocolate cherry combo as much as I do, make sure you check out these too!