Containers to buy for meal prep and freezer meals are in investment in your organizing habits - I have tested so many containers for meal prep, food storage, for both the fridge and freezer.
Here are the containers that are worth the money.
This post contains affiliate links for the containers I use and love.
Every week when I post my Sunday meal prep picture on my Instagram, you guys are interested in my meal plan, but you are even more interested in the meal prep containers I am using!
Over the last year I have swapped out some of my inexpensive containers for some really great products.
I genuinely like and use these, and have landed on them after some trial and error. While this is not a sponsored post, if you like them too, and purchase yours via the links here, I do receive a small commission at no extra cost to you.
For meals you will be reheating in the microwave...
Avoid plastic for meal preps and freezer meals that you will be reheating in the microwave. Stick to glass for these!
Divided Glass Containers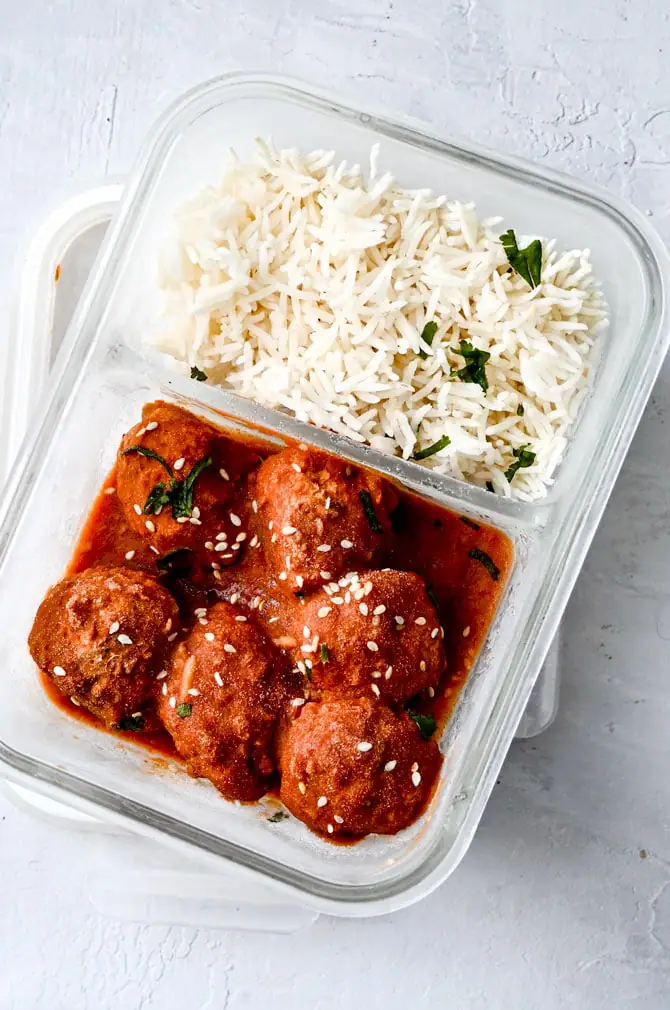 These are freezer and dishwasher friendly, and I love the divided compartments - especially for freezer meals.
What I love about these containers:
It is now pretty easy to find divided glass containers, but these prep naturals 2 compartment & 3 compartment containers are my fav.
These super durable and as a result, they are heavy!
The lids never leak and are very good quality.
The lids are easy to snap on and off.
They hold up really well in the freezer.
What I don't love about these containers:
In Canada, these are currently cost prohibitive. In the USA though, they are a great price.
In Canada, get these Starfrit divided glass containers. It is the best comparable and is much more reasonably priced for Canadians.
They don't nest to stack - so they do require some vertical real estate in your kitchen storage areas.
Single compartment glass containers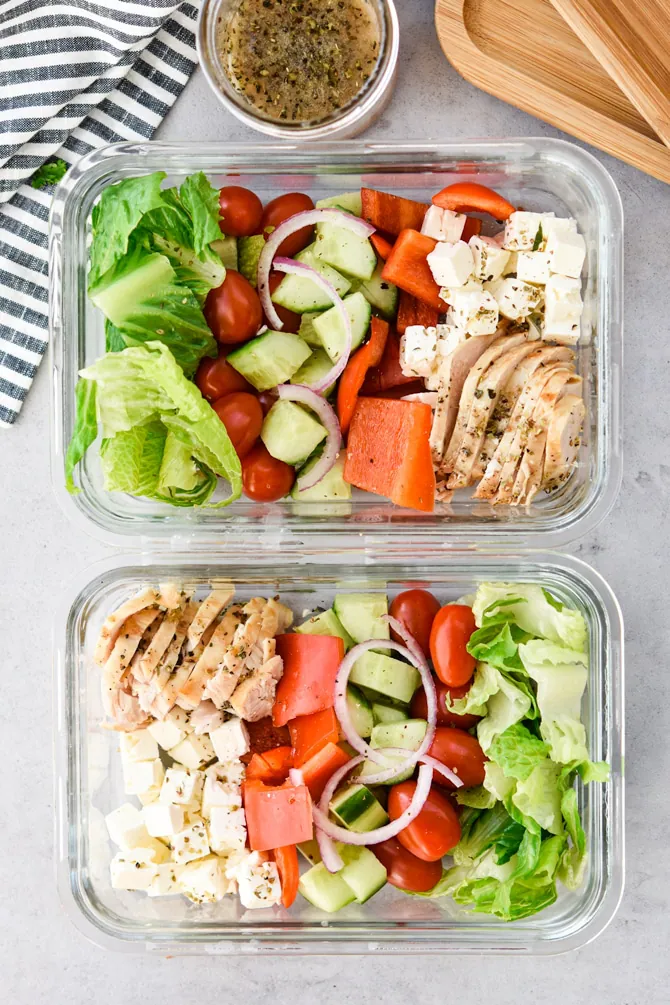 Ikea has now come out with some really great, cost effective meal prep and containers.
What I love about the IKEA 365+ line:
They come in various sizes and shapes to meet all your needs in one place.
You can pick the type of lids you want.
Most cost effective - yet still great quality.
These are the 20oz rectangular containers with the bamboo lids (not dishwasher safe - won't do that again). But I also have the snap lids and have zero complaints about those too.
You can check out their whole food prep container 365+ line here
I don't have any disadvantages to share about these.
Ingredient Storage
If you are like me, and on Sunday your prep is mostly making a meal plan, then prepping many of the ingredients so that meals come together quickly, you want to get a nice collection of Rubbermaid Brilliance containers.
What I love about the Rubbermaid Brilliance Line:
Clear plastic! I can see exactly what is inside.
I can label them with a paint or chalk pen!
Lids snap on easily and stay put!
Dishwasher and freezer safe
Huge variety in size and shape options.
I also use these containers for storing my dry goods in my pantry.
The most used sizes in my house are the 3.2 cup and 4.7 cup containers.
I have seen the multi packs at Costco and they are by far the best price and a way to get a variety of sizes at once.
Jars are not just for canning!
Mason jars and all kinds of jars are now used for many meal prep and freezer prep ideas.
From mason jar salads, to mason jar instant soups, individual freezer soups, and freezer smoothie prep, individual omelets, and even yogurt parfaits.
These are really quite versatile in your meal prep adventures!
I use these Weck jars (see noodle cup above) and wide mouth mason jars, the most. Don't forget to get these no leak plastic lids for your jars too - no more rusting lids!
Vacuum seal to extend food life!
The Zwilling Fresh and Save system is fairly new and has made vacuum sealing food so much easier. The starter kit comes with glass containers and their reusable bags.
Both the bags and the containers have ports that connect to the hand held vacuum pump.
Get your starter set here.
This quick video shows you how easy this system is for food prep!
Souper Cube trays for individual freezer meals
These trays are a major game changer for freezer meal prep!
They come in various sizes, but the 1 cup and 2 cup trays are the most used trays at my house.
For all of the ways I use Souper Cube trays, beyond soup, are here!
What I love about them:
They have never stained or retained smells
High quality silicone and steel rod keeps it sturdy.
Oven safe - hello mini loaves.
Dishwasher safe.
Great for gifting single serve foods to family and the new mom!
In the US, the best place to order these is from their website here, and in Canada, you need to head to amazon here to get them.
To see how I use these containers each week, you can follow me on Instagram, and on stories, I show my prep routine each week!