I can't believe I have had this blog for these few years, and have never actually done a post on my weekly meal planning and prep routine.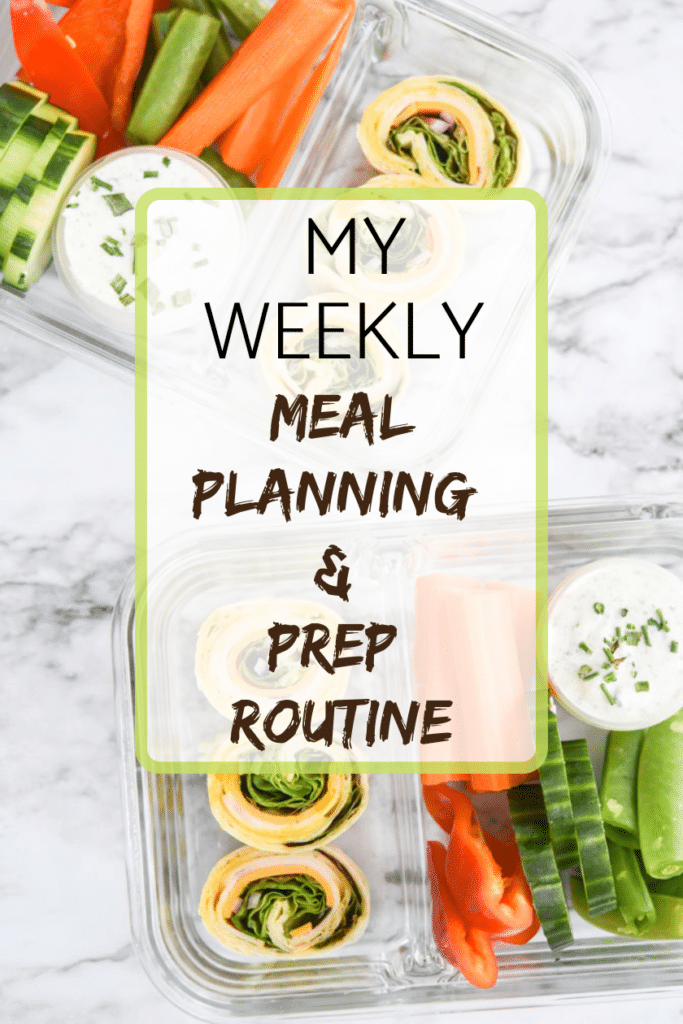 I do post tips and tricks over on my Instagram and in the Meal Plan Addict Community but I suppose it is better late than never to put my weekly meal planning and prep routine into a post for you!
First of all, I am NOT one of those meal preppers that cooks the whole week of meals, portions them into containers, and then just reheats them all week.
If I had the meal planning and meal prep habits I have now when I was a student, or single, I probably would have been that kind of meal prepper.
But, I have become a bit of a foodie that really likes delicious healthy food – but, no boring repeat chicken and broccoli for me.
So, here is what my meal planning and prep routine looks like.
Make a Meal Plan
This probably doesn't come as a surprise, but this is very first step for me. I normally do this on Saturday and put my grocery order in for delivery on Sunday morning. If I don't get to it, my husband will often take the list and shop while I get started on prep and Sunday things.
I created my own template that I use (that you can have for free here), and I use it each week.
I try and buy only what we need for the week, and plan is critical for this.
If meal planning is hard for you, you can grab my 4 step guide and all my templates over on amazon (click here).
Pull out anything from the fridge that is now a health hazard and wipe down all the shelves.
If you make a plan, buy only what you need, and stick to your plan, this step takes a whole minute.
This takes me less than 5 minutes and is not daunting at all when you keep up with it. This also helps keep expired things to a serious minimum.
Make hard boiled eggs
The first thing I start each week is hard boiled eggs.
They work for on the go breakfast or snacks. Yes, I use my instant pot for these – and I love my low carb bacon and eggers.
This is why I love my instant pot. I can get them going and forget about them and move onto something else – hello multi-tasking.
Chop, wash and peel veggies
If they are prepped – they get eaten.
This is the single most important thing I prep each week. If I don't, bags of mushed veggies get tossed – and my heart breaks just a little bit.
I personally like to use clear containers so I can see everything that I have. I really do think that having your veggies stare you in the face on the daily- and having them ready to eat, they will get consumed.
You can find the run down of all of the containers I use right here.
Assemble a few dinners (usually Monday – Wednesday)
This doesn't mean cook. This means make marinates or cut up meats and make sauces.
I look at each recipe I have planned for the week and try and get all of the prep work done. This makes dinner come together in a fraction of the time.
And since I have meal plan, the whole "what's for dinner game?" that wastes time and energy – doesn't happen.
Forget to switch laundry over… again.
I am so bad at laundry. Fridge is always ready. Laundry never is.
Meh. We all have our own strengths and weaknesses in life.
Pull things out of the freezer to use up this week.
I have a dedicated "thaw bin" that I put all of my things I need from the week from the freezer.
The last thing you want is raw meat leaking everywhere. In my Instagram Fridge pictures, you can see by bin, bottom shelf, on the right – every week.
If my plan has meat from the freezer on Thursday or Friday, I pull that out Wednesday instead. This also allows flexibility if things change, it just stays in the freezer – no waste.
Another pro tip – when you make your plan, start by looking at what you already have, and build your weekly plan around what you already have.
That's it! This is what my Sunday typically looks like. There are also horse back riding lessons for my daughter, and some serious Netflix time in there too, but I suspect you care less about that!
So, there you have it, a glimpse into my weekly meal planning and prep routine – and how I get my Sunday fridge.
For even more meal planning and prep inspiration come follow me over on Instagram, and come join our Meal Plan Addict Community!