Instant Pot whole cauliflower is THE BEST way to use your instant pot pressure cooker to make cauliflower. No mess. No mush. Just perfect florets.
Here is how!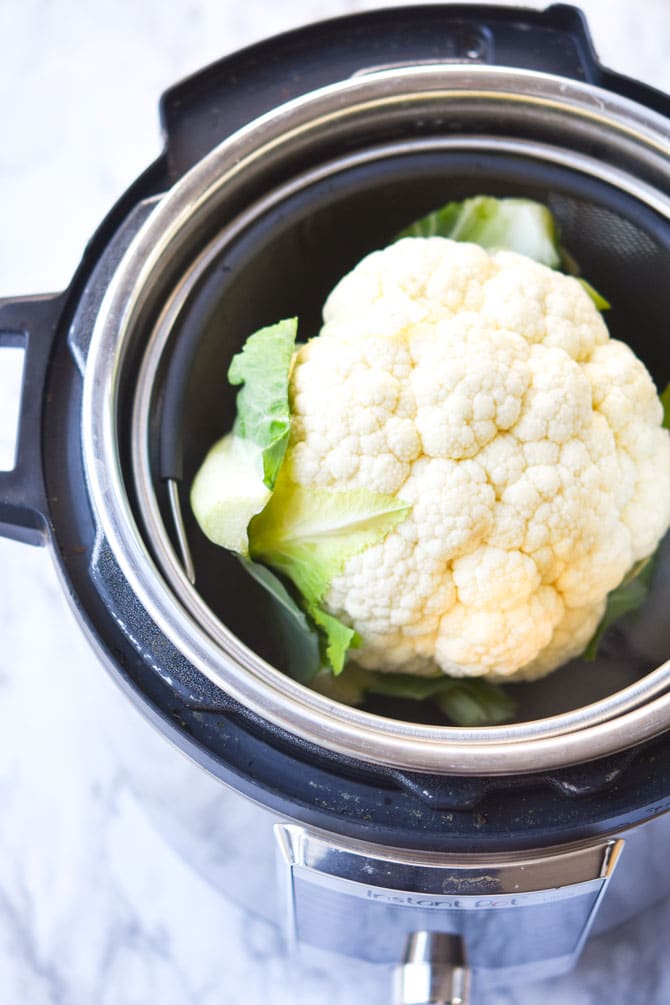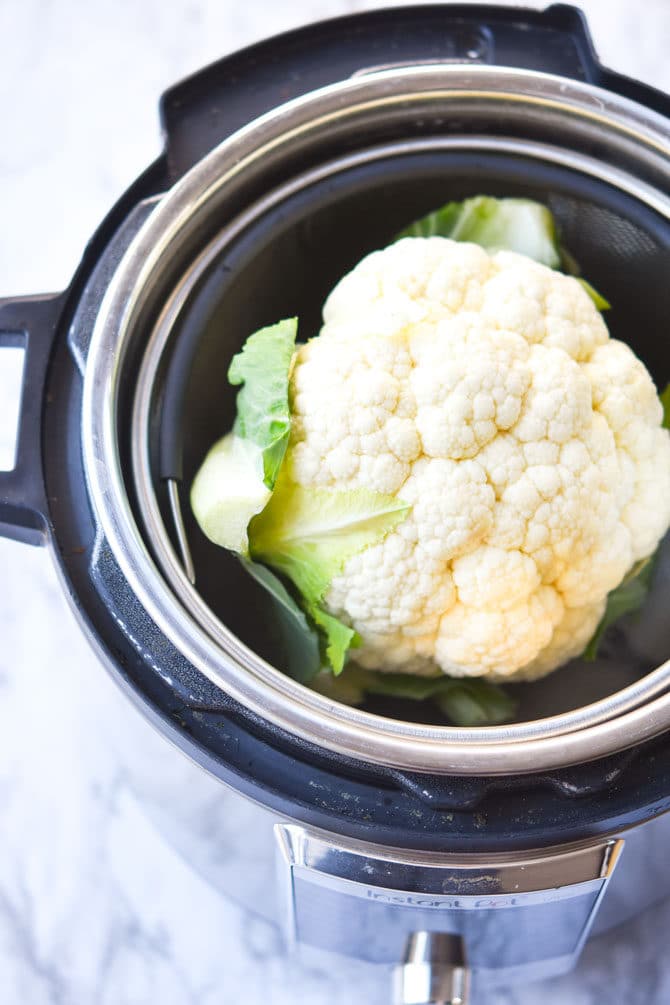 I have heard nothing but horror stories of mushy cauliflower trying to cook cauliflower florets. So, I wondered how it would go by putting the cauliflower into the Instant Pot whole.
A major win for this method is the NO mess.
You know how when you cut cauliflower there are little bits of it EVERYWHERE. Yeah, those days are gone.
With this method, you cut it up AFTER it is cooked.
I leave it fully intact and find the green leafy part just pops right off, usually in one piece. I then just use my hands to break the head of cauliflower up into the size of pieces I want. This method is a quick and easy way to make a healthy side dish, a low-carb, vegan snack, or to add some veggies to a weeknight meal.
In my method, I say to use the steam button.
While most of the buttons on the instant pot are just preset times, the steam button is special.
When you use this function, you must use a trivet or steamer basket - the bottom of the pot gets hotter than when you use the regular manual/pressure cook function. This function also has the instant pot getting hotter, faster.
I use this steamer basket.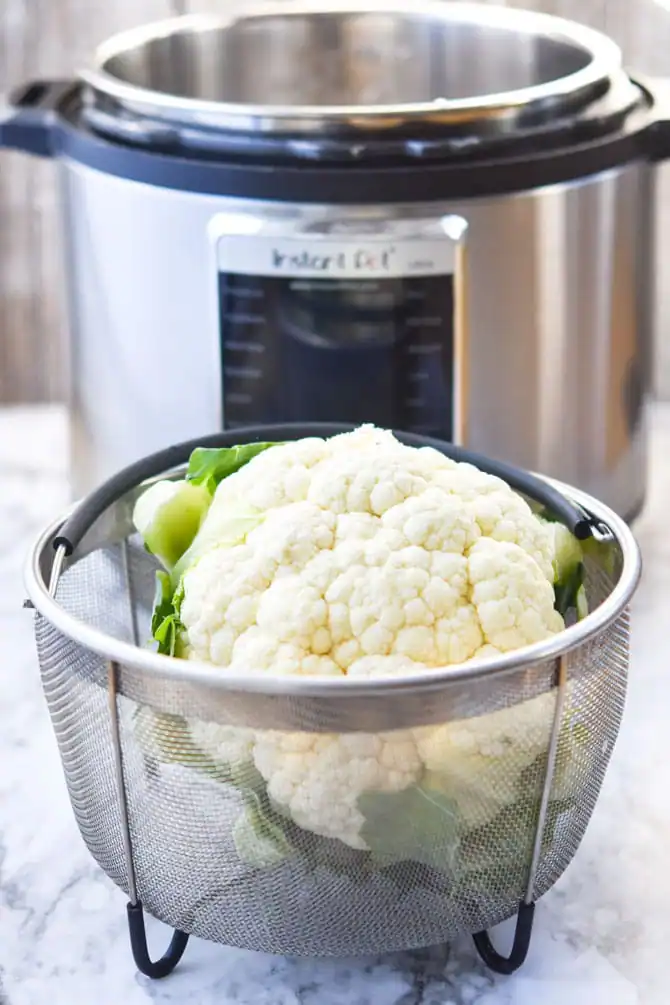 Could you use the pressure cook button for this? Oh probably, if you try it, leave a comment and let me know how it goes.
Another little thing I do is put the green leaf part DOWN. This way the florets on the bottom don't over cook before the ones on the top cook.
Are you ready for this easy, no mess cauliflower method?
Recipe
How to Make Instant Pot Whole Cauliflower
Servings:
1
cauliflower head
Instant Pot whole cauliflower is THE BEST way to use your instant pot to make steamed cauliflower. No mess. No mush. No prep time. Just perfect florets.
Print Recipe
Ingredients
2

cups

of water

1

whole

head cauliflower
Instructions
Add 2 cups of water to the Instant Pot liner.

Place the whole cauliflower into the steamer basket (or onto a trivet) leafy side down.

Secure the lid, and set to seal position.

Using the steam button, set the cooking time to cook on high pressure for 1 minute.

When the high-pressure cooking cycle is complete, quick-release the pressure.

Remove the basket from the pot to prevent the cauliflower from continuing to cook.

Allow the cooked cauliflower to cool for 5 minutes. Then cut and serve!
If you make this recipe, I want to see it!
Tag me @mealplanaddict over on Instagram, or come post a photo in the Meal Plan Addict Community!