As summer seems to finally have made its way to Alberta, Canada, I have been on an epic smoothie kick for breakfasts. I have been taking down an Espresso Oat Smoothie daily for 4 solid weeks, Monday to Friday.
Weekends though, I am usually camping, and have the time to actually sit down and have some dedicated breakfast time. While I do have the time to cook from scratch Saturday morning, I actually prefer not to, and so just like my weekdays, I want to prep once and eat many, many breakfasts!
Breakfast burritos, taquitos, and quesadillas are good make ahead, freezable options and are all over the internet. But…. I wanted one with lean protein, and added veggies… so I created this version of a breakfast taquito.. aka rolled taco that is crispy.
As for the tortilla part – I used Mountain Bread flour wraps. I saw them on my last trip to Costco and decided to give it a try and it worked PERFECT for this - but they are much more delicate/thin than a traditional tortilla.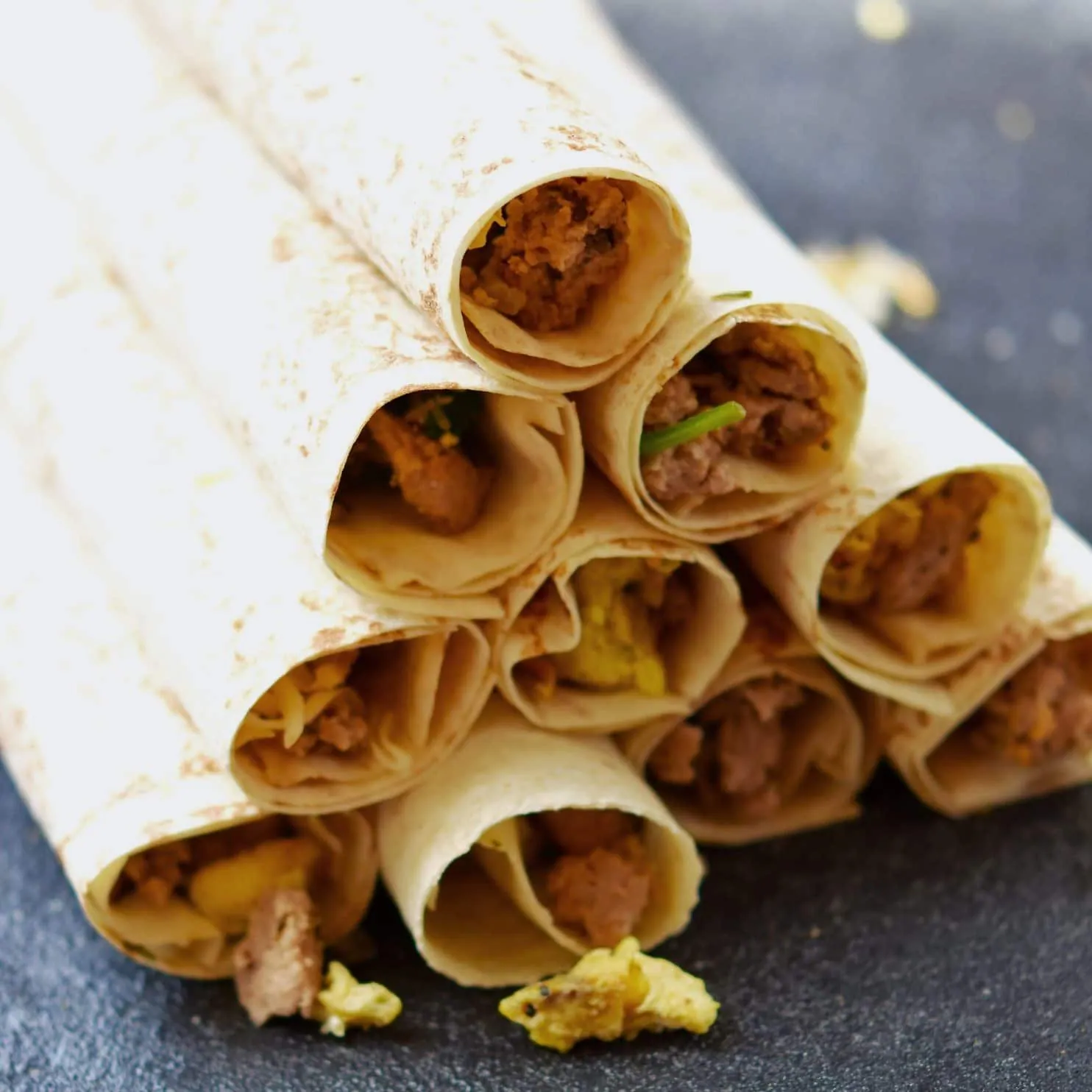 When I heat this up on my countertop griddle/Panini press it is so nice and crispy. When I am camping, I heat these up on the BBQ, peel pack the tin foil and have a no dishes breakfast!
The quantity of taquitos you get is dependent on how much you stuff yours, and which size of tortilla you use, but with my square Mountain Bread, I got 9 of these for my freezer.
Breakfast Turkey Taquitos
Ingredients
1

pound

ground turkey

1

Tablespoon

oregano

1

teaspoon

rosemary

pinch

red chili flakes

6

eggs

1

Tablespoon

butter

2

cups

spinach

⅓

cup

diced red onion

¾

cup

shredded cheese

8-10 to

rtillas
Instructions
In a skillet, cook ground turkey, adding the oregano, rosemary, and chili flakes as it cooks.

Once cooked, transfer to a bowl.

In the same skillet, melt the butter.

Combine the eggs, onion and spinach in a bowl and whisk together.

Once butter is melted, add the egg mixture and cook and stir until you have a scrambled egg mixture.

Remove from heat.

To assemble your taquitos, evenly distribute the egg, and turkey onto each tortilla. Add the filling in a line on one of the edges and roll until taquitos until all ingredients are used up.

To freeze, wrap each taquito in tin foil and freeze in a freezer bag.

To re-heat, place on a flattop grill or BBQ  (with tin foil on) to get the best crispy results. Heat until warm throughout. Time will depend on if you cook from frozen or thawed, as well as how thick you rolled them.
Nutrition
Calories:
243
kcal
|
Carbohydrates:
18
g
|
Protein:
18
g
|
Fat:
11
g
|
Fiber:
2
g
|
Sugar:
1
g
Adding salsa is a good option when you go to eat these, and I have experimented with adding the salsa right into the taquito but I find that can make the tortilla go soggy so I stick to adding it after it is cooked.
So, there you have it, a make ahead, freezer friendly, protein packed, breakfast!