I love to use cookbooks to get creative and try new things on my meal plans! Here are my 7 must have cookbooks to inspire your meal plans!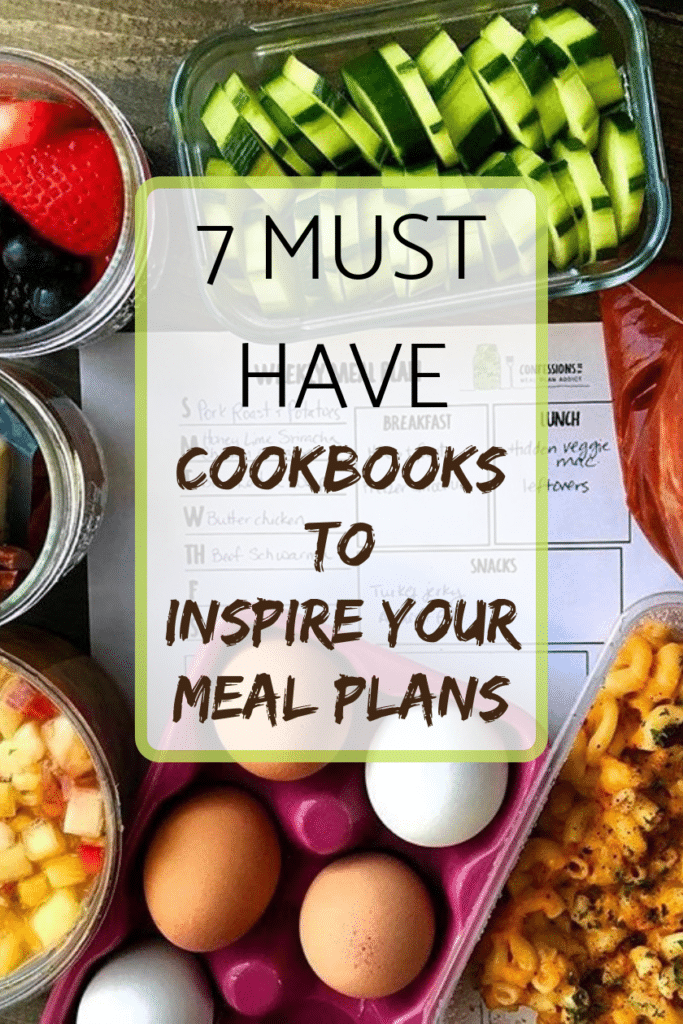 I am on a mission to declutter, and redecorate basically every room in my house.
First stop, my insane amount of cookbooks.
I love love love cookbooks and have accumulated more than a few over the years. The reality is though, is that I don't LOVE them all. I haven't touched so many of them in YEARS, and my style of cooking, and foods that make it onto my meal plans has changed. A LOT.
So, some of them need to go.
After I showed my cookbook de cluttering on my Instagram Stories, I got lots of questions about the books I am keeping.
So, here they are, the ones that made the cut and are my favs… and what I love to put on my meal plans from them!
Instant Pot Cooking
The Electric Pressure Cooker Cookbook is my go to every day cookbook for the Instant Pot! Barbara is the blogger at Pressure Cooking Today and every single thing I have tried out of this book is amazing.
My favs from this book: Apple Cinnamon Steel Cut Oats, Mexican Breakfast Casserole, Cashew Chicken, Broccoli and Cheese Soup, just to name a few!
Indian Instant Pot Cookbook was my gateway in to trying restaurant style meals I never would have the confidence to try. Urvashi runs Two Sleevers Blog and her recipes have always been a win at my house.
My favs from this book: Butter Chicken! Aloo Gobi (Cauliflower and Potatoes), Tomato Coconut Soup, and the Schwarma
Another book from Urvashi is on my shelf. This Keto Instant Pot Cookbook...and I am not even a keto diet follower!
My favs from this book: Cauliflower Mac and Cheese, Chicken Tortilla Soup, and Spicy Beef Basil Bowls!
Make Ahead and Freezer Cooking
Seriously Good Freezer Meals is hands down my go to and favorite freezer meal cookbook. Modern, and no cream of anything soup recipes! Lots of great prep tips in this book too! Karrie runs the blog Happy Money Saver Blog and I love having a collection of her best recipes in a book!
My favs from the book, Pad Thai, Cashew Curry Soup, Breakfast Burritos, and Herbes de Provence chicken!
America's Test Kitchen, The Make Ahead Cookbook
I love any book from America's Test Kitchen, because they do just that. TEST EVERYTHING. This book is a great resource for how to do everything and anything make ahead meals!
Everyday Meals
Inspiralized and Beyond is the third book from Ali at Inspiralized, and this one focuses on non spiralized ways to eat yo veggies.
She is a creative wizard in the kitchen and I always reach for this book when I am tired of the same ol veggie routine.
My favs from this book - hands down it is the Pork dumplings where the dumpling is made from zucchini! Also, how awesome is using zucchini for the buns in meatballs subs! Let us not even talk about philly cheese steaks in green pepper halves!
Cravings by Chrissy Teigan is packed with some indulgent meals my husband loves, but also some awesome salads I take for lunch. But recipes aside, this is the most entertaining recipe book you will ever read.
My favs: Chipotle Chicken and the Asian Slaw

So, there you have it. My most favorite books that are inspiring my weekly meal plans!
This post contains affiliate links. I receive a small commission for introducing you to these books. But... I did buy eat and everyone of them and have them in my own kitchen!